Christmas only comes round once a year so we think it's totally acceptable to drink your body weight in chocolate, sugar and egg nog. Christmas cocktails are always such a treat – we wish you could drink them all year. There's a whole host of fantastic Christmas pop-ups, event and special menus in the capital, here's our favourite festive cocktails for those cold December nights:
1. The Pine One

: Christmas cocktails
What: Paramount, the bar and restaurant at the top of Centre Point, are offering the Mistletoe & Pine cocktail, made with pine-infused Bombay Sapphire, Pimento dram, lemon juice, cinnamon syrup and an egg white.
2. The Holly One

: Christmas Cocktails
What: Cartizze has created the Jolly Holly Christmas cocktail with holly and vanilla-infused vodka, King's Ginger Liqueur, Somerset Cider Brandy and Agave Nectar dusted with torched cinnamon. Expect a sprig of holly on your glass.
3. The Cute One

: Christmas Cocktails 
What: Drake & Morgan are offering Rudolf's Revenge, featuring a unique blend of homemade venison stock, mandarin vodka and juniper berries. If that's not your thing, try their Sugar & Spice with Chairman's Spiced Rum, sweet vermouth, pomegranate and bitters, topped with Prosecco and garnished with a Christmas sugar rim and orange twist.
4. The Spiced One

: Christmas Cocktails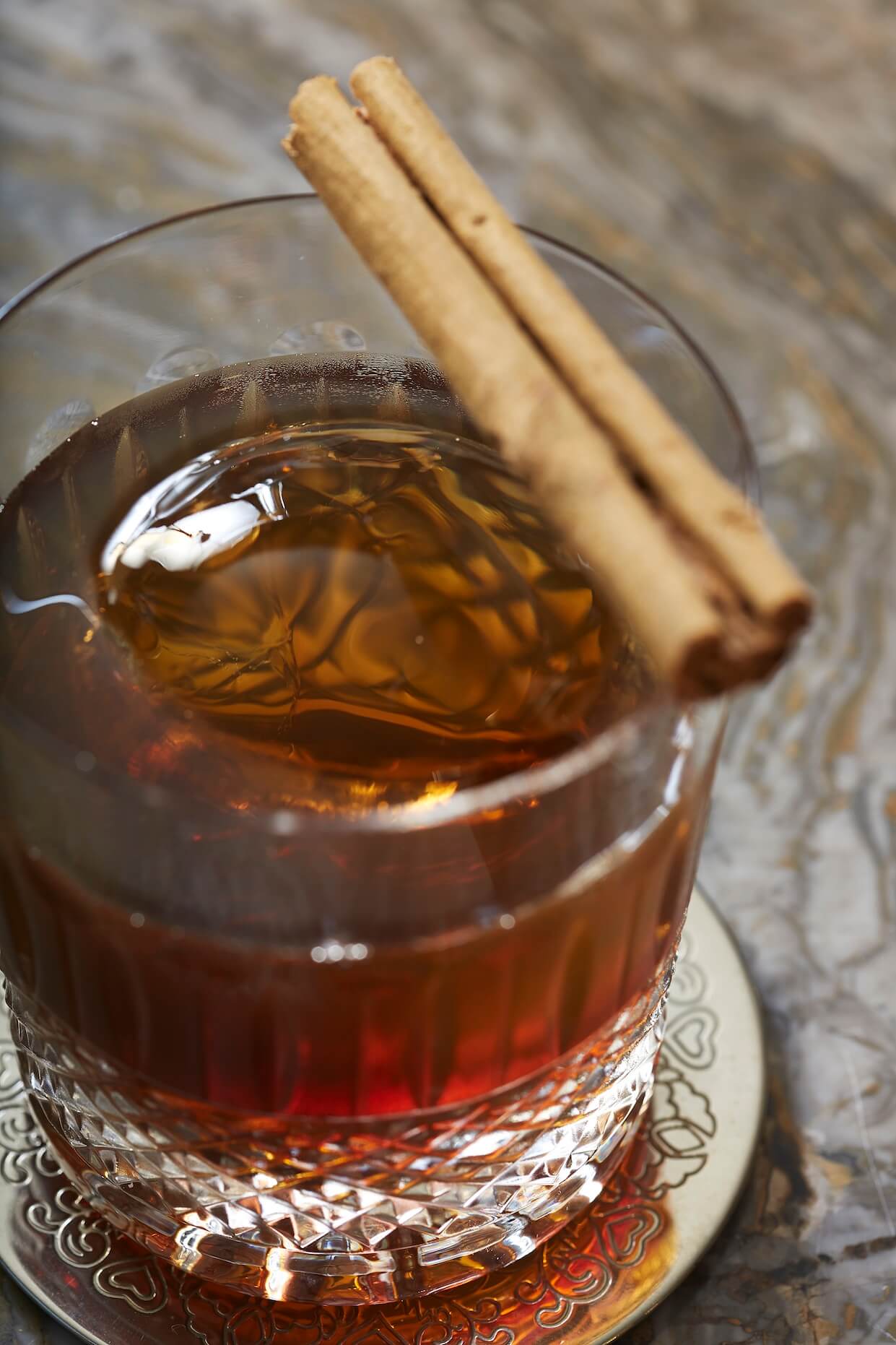 What: At Gong, in the Shangri-La Hotel at The Shard, they are serving up The Nutcracker which is a spice-infused cocktail of Scotch whisky, Pedro Ximenez sherry, a hint of French herbal liqueur, Dom Benedictine and pimento dram to create the spices of a traditional mulled wine.
5. The Chocolate One

: Christmas Cocktails
What: York & Albany are serving From The Hip, which is everything you'd want it a winter cocktail. It features Buttered Bacardi Oakheart rum (the best sounding thing ever), fashioned into hot chocolate with homemade marshmallows.
6. The DIY One

: Christmas Cocktails
What: Bread Street Kitchen are offering Hot Buttered cocktails. Choose from your favourite spirit – be it rum, mezcal, brandy or whisky – and get it heated up with their spiced butter mix. Perfect to warm you on a cold winters night.
7. The Naughty One

: christmas cocktails
What: The Golden Arrow Bar & Lounge at Pullman London St Pancras' offering is a Santa's Chocolate Gift – a warming blend of Bacardi, Mozart White, Kahlua, cinnamon syrup and chocolate powder, served in a martini glass complete with cinnamon syrup glaze rim. Delicious.
8. The Bailey's One

: christmas cocktails
What: You can't beat the view from aqua shard at The Shard. Try The Snowball with Ketel One vodka, Bailey's, chocolate and nutmeg and the Old St Nick with Johnnie Walker Black, Bulleit rye, clementines, mince pie syrup and cloves.
9. The Naughty One

: christmas cocktails
What: Ron Zacapa has partnered with Bounce to launch Ron de Replay – with Aperol, Grand Marnier, Liqueur 43 and Mozart Chocolate Bitters. The drink is crowned with a bespoke luxury Rococo chocolate ping pong ball, especially created for Bounce.
10. The Japanese One

: christmas cocktails
What: YO! Sushi's Group Executive Chef Mike Lewis has created a mulled Sake. Served warm, it includes a selection of festive ingredients including lemon, ginger, orange zest and cinnamon. Delicious.