About Time: You Drank All the Bubbly Cocktails in LondonBy Angelica Malin
The sun is shining. The weekend is upon us. It's time to drink your way through an entire bottle of the fizzy stuff in the attempt to be classy… Here's 15 ways to drink fizzy cocktails in London this weekend:
1. Berry Fizz: Cinnamon Kitchen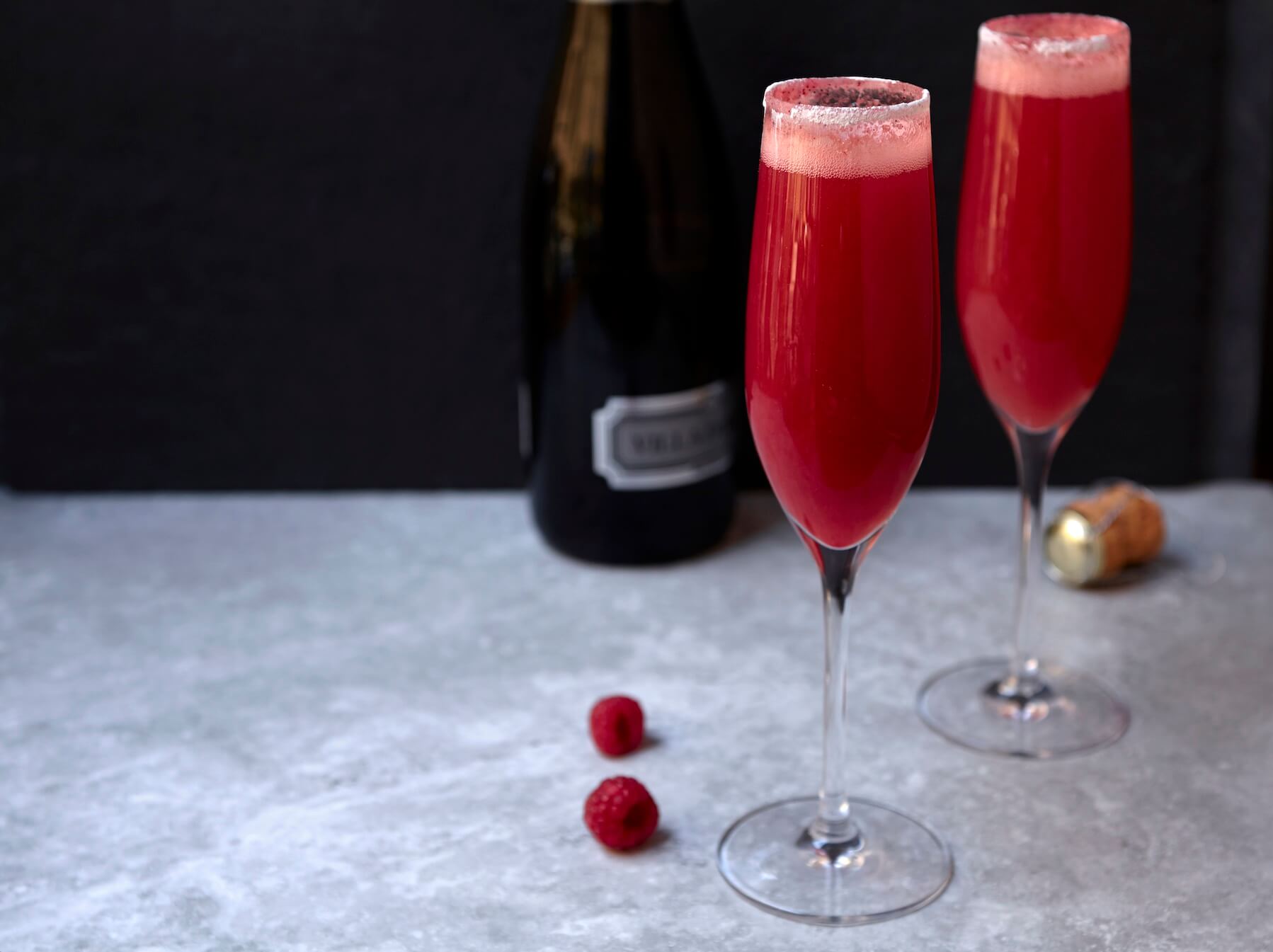 The Cocktail: Raspberry Fizz (£11) with fresh raspberries and strawberries, topped with Prosecco & served with a hibiscus rim 
Why: Cinnamon Kitchen's adjoining cocktail bar, Anise, has been revamped and relaunched to become the place for after-work cocktails in the City of London. Think spice-infused cocktails, a menu of modern Indian bar snacks and super sleek interiors. They've got a delicious new cocktail menu, including this great fruity creation, go check it out.
Where: 9 Devonshire Square, London EC2M 4YL
2. Rose Fizz: Gong at Shangri-La Hotel
The Cocktail: Bermondsey Bubbles (£17) with Jensen's Bermondsey Dry gin, rose liquor, creole bitters and Champagne
Why: They've got a new cocktail menu, inspired by the Orient, that's well worth trying – and not just for the stunning views at the bar. The Bermondsey Bubbles – one of Gong's most popular cocktails  – is constructed around Jensen's dry Bermondsey gin, distilled on The Shard's doorstep, in a railway arch beneath the main line from London Bridge. Mixed with a subtle rose liquor, creole bitters and the hotel's house champagne, Deutz Brut, the long, blush coloured drink is finished with a sugar shard and a rose petal. It's a girly dream, and we love it.
Where: 31 Saint Thomas Street, London SE1 9QU, United Kingdom
The Cocktail: Date Kir (£9.50) – date liquor topped up with Champagne 
Why: Because Grain Store is very lovely, and there's nothing finer than fizz in the sunshine – their outdoor terrace is perfect for soaking up the fleeting rays. If you fancy it, try the Caesar Salad here – it's like nothing you've tasted before.
Where: Granary Square, King's Cross, 1-3 Stable Street, London N1C 4AB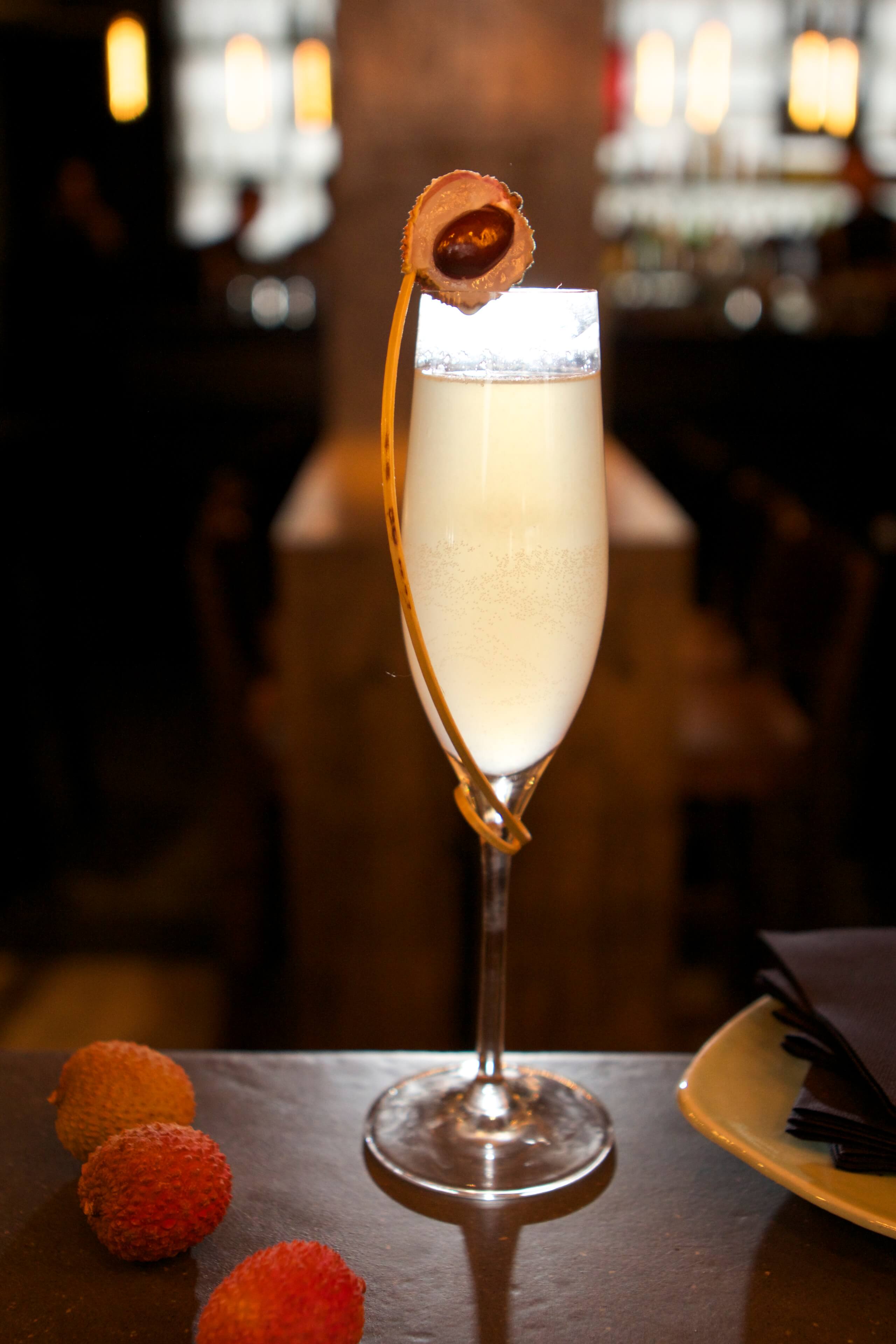 The Cocktail: Jinjuu's Lychee Lover (£10) – lychee soju, lychee liqueur and aromatic bitters with Champagne 
Why: Dreamt up by bar manager Kristian Breivik,J injuu's Lychee Lover brings London a Korean twist on the traditional Champagne cocktail with house-infused lychee soju and champagne. Jinjuu is the first restaurant by Korean-American chef, presenter and authoritative expert in Korean cuisine, Judy Joo, who is leading the current Korean food boom. Go see for yourself.
Where: 15 Kingly Street, London, W1B 5PS 
The Cocktail: No Money For Butter (£16) with Pisco, lavender syrup, lemon juice and Champagne 
Why: A popular spot for celebrating anniversaries, birthdays and bank holidays, the bar at aqua shard offers a fun selection of champagne cocktails with which to toast the occasion – big or small. A slightly sour take on this sparkling sweet drink, No Money For Butter, created by Bars Manager Myles Donneky, is a refreshing take on the classic champagne cocktail.
Where: Level 31, The Shard, 31 Saint Thomas Street, London SE1 9RY
6. Grey Goose Fizz: Rocket Holborn
The Cocktail: Grey Goose Fizz (£10.50) with Passoâ and Champagne 
Why: Rocket in Holborn do an amazing and very refreshing Grey Goose Fizz – with Grey Goose, Midori, Passoâ, fresh lemon & a white sugar cube topped with lashings of Champagne. Why not tuck into one of Rocket's signature pizza's after a couple of these? We recommend their new N'duja, cherry tomato and prosciutto number with smoked mozzarella, Kalamata olives, sun dried tomatoes and fresh basil.
Where: 36-38 Kingsway, London WC2B 6EY
7. Loquat Fizz: Salon at Spring
What: Loquat Bellini (£9.50) – these are always changing, reflecting the daily-changing menu.
Why: You can't not fall in love with the Salon at Spring – the daily changing, seasonal menu served in a restored 19th-century drawing room within Somerset House is always delicious, and the atmosphere so light and feminine. Skye's restaurant is perfect place for the celebrate the weekend – come for delicious small plates at lunch time, and seasonal beautiful dishes for dinner. Don't leave without trying their constantly changing special Bellini.
Where: Somerset House, Lancaster Place, Strand, London WC2R 1LA
8. High Fashion Fizz: The Ritz
What: The Tallulah (£20) with Piper Heidsieck Champagne and geranium
Why: The Ritz's homage to the legendary American actress Tallulah Bankhead, captured in a famous picture while drinking Champagne from her shoe at a reception at The Ritz, is ultimate indulgence. Soshu Japanese Spirit, jasmine pearl tea, Cinzano Bianco, geranium essence and Piper Heidsieck Champagne – it's everything you could want and need. And because it's Bank Holiday, so why on earth not.
Where: The Ritz, 150 Piccadilly, London W1J 9BR
The Cocktail: Pimm's Cup Deluxe (£9.50)with ginger ale, Ayala Champagne, chopped strawberries, lemon, orange and mint
Why: York & Albany is a stylish townhouse, restaurant and bar serving a British dining menu, and has a super cute summer pop-up taking place at the moment. Think seaside bites and beach-inspired cocktails, it's very fun. Located between Regent's Park and Camden, it's perfect for weekend brunch and a stroll in the sunshine afterwards. This cocktail is everything you need for a Summer's day.
Where: 127-129 Parkway London NW1 7PS
10. Elderflower Fizz: The Strand Dining Rooms
The Cocktail: Nelson's Collins (£12) with Hendricks Gin, St Germain Elderflower Liqueur, fresh lime, cucumber and Lampo Prosecco
Why: This polished brasserie with a lofty space, modern British menus and a bar stocked with great whisky, this bar is exactly what your Bank Holiday needs. It's cool and relaxed – come for delicious all-day dining, and classic dishes such as hake with butter roasted charlotte potatoes, pickled cockles and monk beard.
Where: Grand Buildings, Trafalgar Square, 1-3 Strand, London, WC2N 5EJ
11. Secret Fizz: The Zetter Townhouse
The Cocktail: The Secret Garden (£9.50) – Rosei liqueur, eau-de-vie d'eglantine & Jacques Picard Champagne 
Why: Set in a Victorian townhouse on a cobbled square, behind its sister hotel, The Zetter, this boutique hotel is a 5-minute walk from Farringdon train and tube station, and is perfect for the Bank Holiday. They've got an eclectic cocktail menu – think Somerset Sour with cider brandy, lemon juice, sugar & Breton cider, and a great Bloody Mary with horseradish vodka, homemade tabasco & tomato juice.
Where: 49-50 Saint John's Square, London EC1V 4JJ
12. Sea Salt Fizz: Sea Containers
The Cocktail: Sea Co Spritz (£12.50) – Cocchi Rosa, Cocchi di Torino, peach brandy, Averna, Prosecco 
Why: You can't not love the Mondrian – the cool hotel on the Southbank has fantastic waterside views and a great atmosphere, especially on the weekends when the sun shines through. Come for their weekend brunch (pancakes, all the pancakes) and don't leave without popping into the Dandelyon bar for this beautiful Prosecco creation.
Where: Mondrian London, 20 Upper Ground, London
13. Rosé Fizz: Beaufort Bar in the Savoy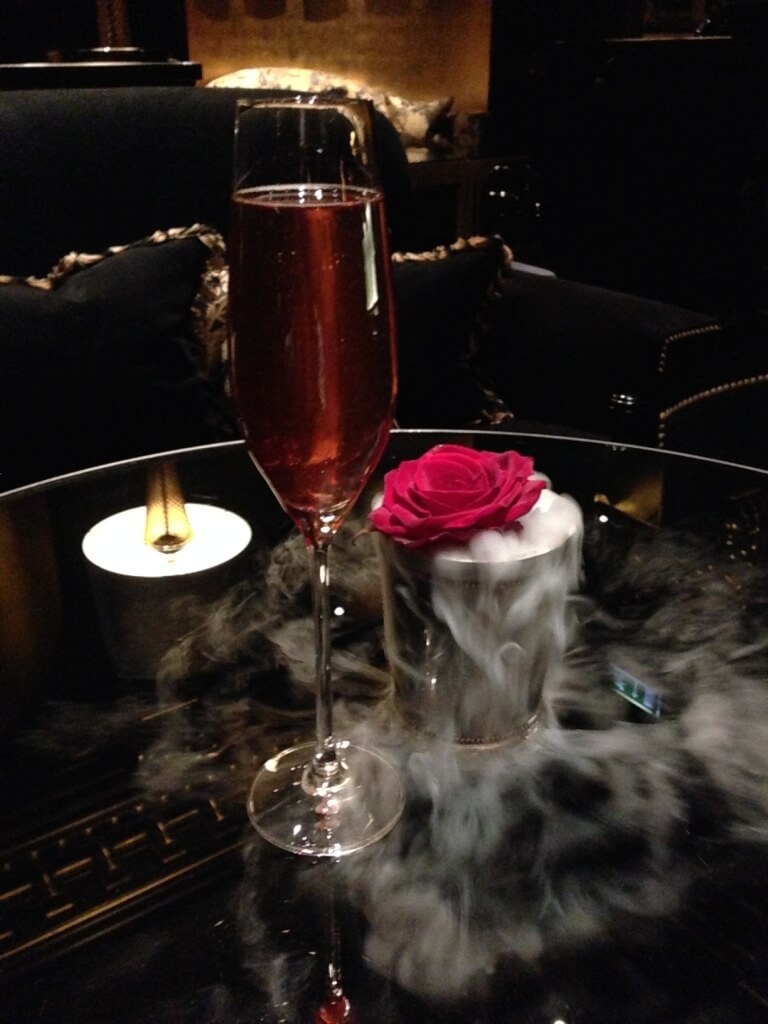 The Cocktail: The Impressionist (£24) – Grey Goose Vodka, Miclo Violette Liqueur, Cherry Marnier, Raspberry, Ruinart Rosé, Rose Fog 
Why: This grand hotel has been synonymous with the art of mixing drinks. A pioneer of the sophisticated drinking scene in London, the bars here have popularized and created some of the most famous classics ever known, and have seen the rise of a new generation of educated drinker. Come for The Impressionist, leave happy.
Where: Strand, London, United Kingdom, WC2R 0EU

14. Historic Fizz: The Athenaeum Hotel
The Cocktail: Lord Snowdon: Snowdon 75 (£14.50) with Lanson Black Label Champagne 
Why: Royal roots provide the inspiration for this tipple, the Snowdon 75 is an all time classic with a prestigious history. Using the very best Lanson Black Label Champagne, this delicious cocktail is effortlessly elegant providing an edge with malts of Bols Genever and a refreshing zing of Lemon Juice. Come try it and other special cocktails at The Athenaeum Hotel – they have created a collection of cocktails inspired by world-famous photographers that can't be missed.
Where: 116 Piccadilly, London W1J 7BJ
15. Rhubarb Fizz: Leicester House
The Cocktail: L'harmony Champagne Cocktail (£12) –  rhubarb purée & Champagne 
Why: Newly opened Leicester House is well worth a visit. Co-owners Elliott Blum and Mark Cutler, have transformed this boutique Georgian townhouse, creating an exciting new boutique hotel in the heart of Chinatown. The restaurant serves French Vietnamese cuisine, drawing on the influences of its location in the beating heart of Chinatown and its bustling community of businesses. Come for this beauty of a cocktail.
Where: 1

Leicester

Street, London, WC2H 7BL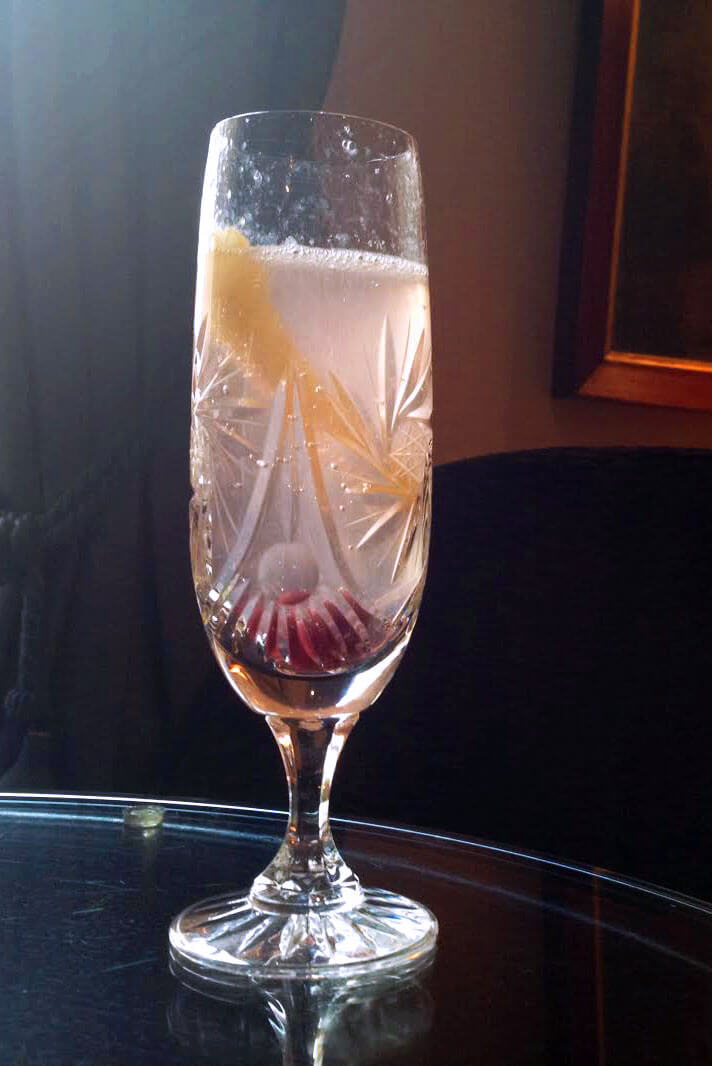 The Cocktail: The Classic Champagne Cocktail (£18.00) – Champagne, grand Marnier, remy martin Vsop Angostura bitters, sugar cube. 
Why: Hidden down a quiet cul-de-sac in upmarket Mayfair, this luxury boutique hotel has the most incredible bar with great Martini cocktails and a seriously cool vibe. Very James Bond. Come for one of their classics, now famous all around the world, or the Vespar Martini that will knock you for six, but leave you very happy.
Where: 35 Saint James's Place, London SW1A 1NY