About Time: You Went to the World's First Negroni-Only BarBy Angelica Malin
Calling all Negroni lovers! This May, enjoy the world's largest collection of Negroni cocktails at The Negroni Bar by Campari from 11th–21st May. Sounds cool? Read on:
Campari are inviting cocktail lovers from across the city to #RediscoverRed as they present The Negroni Bar, a celebration of the iconic serve and the integral ingredient that makes it so delectable. Taking over the iconic Red Gallery in Shoreditch, The Negroni Bar will feature the largest selection of Negronis in the world, inviting guests to choose from over thirty different combinations and flavours.
From the Carpe Diem Negroni made with Cocchi Barolo Chinato fortified wine and Punico Zahare liqueur, to the Tu Vuò Fa' L'Americano with sweet Vermouth and Pale Ale Beer there is something to suit every palate as each variant brings a new twist to the classic cocktail, with Campari as the central ingredient throughout.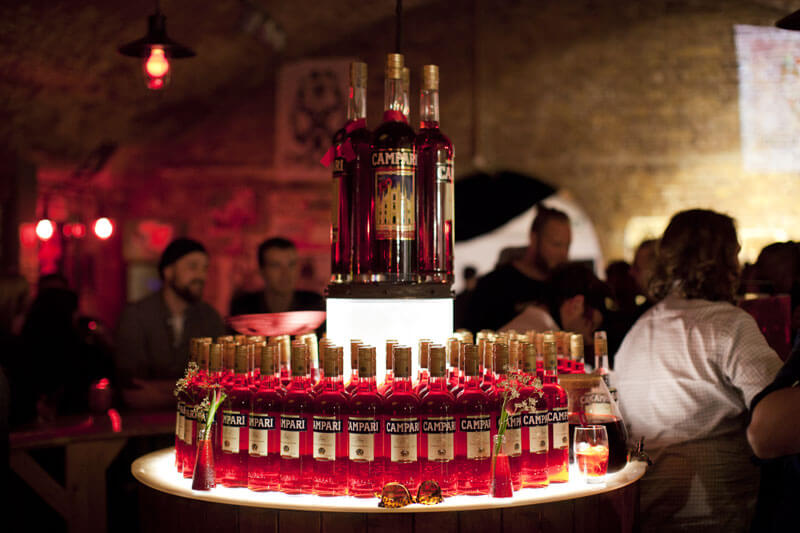 The Negroni was first created in Florence in 1919, by the flamboyant Count Camillo Negroni. Tradition tells that Count Negroni, inspired by his recent trip to England, asked his bartender to strengthen his classic Americano by replacing the soda water with gin and thus the Negroni was born. Adapting this classic recipe the selection of Negronis on offer at The Negroni Bar have been taken from Campari's Contemporary Classic Compendium – a compilation of classic recipes including the Negroni and Americano, created by leading bartenders from across the globe.
As well as an unparalleled selection of Negronis, the pop-up draws on Campari's rich creative heritage, incorporating classic Campari artwork to create a bold and vibrant space for guests to enjoy as they delve deeper into the history of the humble Negroni. For those struggling to choose The Negroni Selecta will help narrow down the choices, while the interactive 'Negroni Code' allows visitors to win vintage Campari prints by discovering hidden clues within the bar.
Whatever its origin, there is no doubt that The Negroni has made its mark on the drinks world and Londoners can now enjoy a host of twists on the original recipe as they attend The Negroni Bar. A host of guest DJ's and masterclasses will make this a must visit destination for all cocktail lovers. Those with a penchant for the captivating flavour of Campari can continue to #RediscoverRed at one of the 15 partner bars that will be serving their own bespoke Negroni twist for the duration of the pop-up including Casita, The Gibson, Loves Company, Satan's Whiskers and The Looking Glass
Popping-up from 11th -21st May at the Red Gallery, Shoreditch will be open from 6pm to 12, Wednesday – Saturday. For further information on Campari's Negroni Bar follow @CampariUK #RediscoverRed on twitter and @campariuk on Instagram.