World Cup Final: 5 Football Cocktails We Totally InventedBy Rosie Crossman
The World Cup is here! Whether you want something to sip during the game, to help you block it out, or to transport your mind to the warm breeze of the Brazilian coast, we have something for you. Let us run you through our top five cocktails:
#1 The Crowd Tamer
The World Cup wouldn't be the same without the chants, face paint and overpriced memorabilia of the onlooking crowd. When watching imbibe when the camera men get distracted and pan over to a scantily dressed females. If you have your own crowd over to watch the game, (or to complain about everyone else who is watching the game) make sure you have a bowl full of Brazilian punch at hand.
Drink: A vibrant blend, with the refreshingly exotic flavours of Brazil. This is the nearest you will get to sipping a coconut on Copacabana Beach.
Make (for a crowd): 150ml The Wild Geese Classic Blend Whiskey
Handful of Basil
50ml Coconut Cream
50ml Lime Juice
50ml Sugar Syrup
Blend a handful of basil leaves, with the coconut cream and lime juice. Pour into a punch bowl/ jug and stir in the sugar syrup, whiskey and plenty of ice.
Serve: Blue curacao
Lemon Peel
Passion Fruit Shell
Pour into glasses, add crushed ice and the float the passion fruit shell on top. Fill the shell with blue curacao and finish off with lemon zest.
Drink it in London: 'Kings Cross Caphirinha' If you really want to treat yourself, head to The Great Northern Hotel – Kings Cross for their delicious Gin based take on the Caphinihia- Hayman's Gin, Fresh lime Juice, Elderflower, and Kiwi. Garnished with Yellow Pitaya.
The Great Northern Hotel, Kings Cross St Pancras Station, Pancras Road, London, N1C 4TB.
#2 The Brazilian 
This cocktail is not as painful as the name might suggest. It would be dishonest to write about Brazilian drinks, without mentioning their national cocktail: The Caphriniha. Many of us are already getting into the spirit of things, Amazon.co.uk has reported a whopping 1,500% increase in sales, week on week of the base spirit Cahaca.
Drink: Add a bit of the Brazilian passion into the mix, for a three dimensional result: As bitter-sweet as watching the English Football team, refreshing enough to cut through the Brazilian heat and humidity, and as brash as the carnival vibes of the host nation.
Make (for one): 1/2 lime, cut into 4 wedges
2 tsp of soft brown sugar
The pulp (sieve the seeds out) of 1 passion fruit- alternatively use: 3 tbsp of Funkin Passion Fruit Puree
Add a handful of crushed ice, stir and add:
50ml of Cahaca
Muddle together (lightly crush) the lime, brown sugar and passionfruit in a glass, add some cruched ice and the Cahaca.
Serve: Top with a little more crushed ice, and serve with some slivers of lime peel.
*If you are strapped for time, opt for splashing a measure over ice in a tall glass. Top up half way with Funkin BRAZILIAN Cocktail Mixer and fill the rest of the glass with soda water- perfection.
#3 The Lagerita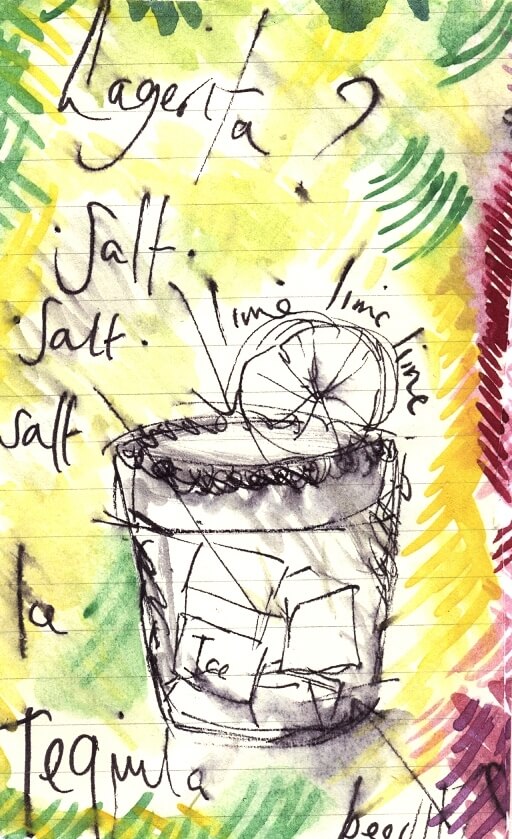 If a touch of tummy pokes out under your seam-stretched England shirt and you are considering nipping down to the barbers for a World Cup style Mohawk. Or if you are simply getting into the fever and want to spice up your lager.
Drink: Our beer cocktail, a twist on an all-time classic Tequila based tipple. We recommend sipping this adorned with plenty of mini England flags, in salt rimmed goblets.
Make: Juice of a Lime,
50ml Blanco Tequila,
30ml Orgeat- (an almond liquor)
2tbsp Soft Brown Sugar
Mix together the lime, Tequila, sugar and Orgeat
Serve: Pour over the ice filled glasses and top up with a chilled slosh of Meantime London Lager (4.5% abv, Sainsbury's and Tesco). Add a wheel of lime and watch out for the… GOAL!
Go Out: Head to Floridita, where you are unlikely to get a truly authentic Brazilian experience, but are likely to have fun. Catch the games on three big screens and explore the Latin-American inspired cocktails- the cocktails of the competing teams are half price.
100 Wardour Street, London, W1F 0TN
#4 The WAG
If you know your St Tropez Tan from your Jimmy Choos and that the real competition is between the WAGs and their World Cup Fever fashion statements. Or if you are a fully fledged 'World Cup Widow',  and need something to satiate your sense of humour until Thierry Henri graces your screen at half time with that delicious French accent… Keep it simple and keep it classy:
Drink: Dye your Brazilian bubbles pink and watch the hibiscus flowers bloom.
Make: Hibiscus Flowers in Syrup
Coconova Brut  (£8.99 from Marks and Spencer)
Pop one hibiscus flower into your Champagne Flute, with a little of the syrup from the jar.
Serve: Add the Brazilians answers to Champagne– done.
Have it in London: The Refinery is serving its very own sassy slice of Rio with the World Class Beach-Bum World Cup Cocktail (£6.95). Topped off with an football- shaped ice boulder, this is a tantalising concoction of Abelha Cachaça, lime juice, agave, red-chilli, mint leaves, splash of soda.
The Refinery, 110 Southwark Street, London, SE1 OTF.
#5 The Lost Bikini
This is the cocktail of the moment. One for those who are desk bound trawling the internet for the perfect swimsuit, bitter to not be bikini clad on the beaches of Rio (don't ever sneak to the loo and check your white bits out in the mirror)!
Drink: Simply entice them over, under the illusion that you have misplaced your bikini and mix up:
Make: 3 tsp Galliano 
3 tsp Amaretto
2 tsp White Rum
3 tsp lime juice
3 tsp orange juice
Shake all of the ingredients together with ice.
Serve: Strain into two sugar topped glasses, and garnish with a cherry.