When we were brainstorming feature ideas in the office, we came up with some rogue ideas (note: Jerusalem artichoke dishes for two was never going to go viral). But then it came to us: hot chocolate. But not just any hot chocolate, we're talking about salted caramel hot chocolate. And thus, we found ourselves exploring the city on the hunt for the best salted caramel hot chocolates in London. It was a tough job, but someone had to do it.
As we find ourselves faced with the chillier months ahead, there's only one thing we crave when cuppas don't quite cut it anymore: we want a proper hot chocolate. None of this synthetic crap out of the tub, oh no, we mean the real deal. Proper chocolate, with steamed milk, made right. We sipped out way round London's finest salted caramel creations to find you the ultimate winter drinks:
Order: Salted Caramel Hot Chocolate (£3.80)
The Drink: The hot chocolate game in London has reached tasty to heights thanks to the arrival of this salted caramel beauty by Fatties Bakery. Without a doubt, one of the best salted caramel hot chocolates in London. Homemade Camberwell salted caramel is blended with decadent chocolate, and is finished with a torched marshmallow rim and a chocolate chip cookie for dipping. It's the stuff of absolute legends. Only sold for a limited time, so keep your eyes peeled on their social media.
The Run-Down: Visit Fatties Bakery at Druid Street Market for a selection of sweet bites, like the dark Valrhona chocolate cookies sandwiched with an excitingly grown up tahini salted caramel, which keeps it just the right side of not-too-sweet. And don't get us started on the brownies – they're life changing.
Where: Druid Street Market, 126 Druid St, Bermondsey, London SE1 2HH
Photo Credit: @the_lazyfoodie
Order: Caralimelicious Hot Chocolate (£3.30)
The Drink: Caramel and lime may seem like strange combo, but trust us. This is not just any hot chocolate, this is proper hot chocolate. The team use high quality, ethically sourced single-origin chocolate from small producers and combine the dark chocolate nibs with fruit oils and spices. The mixture of refreshing, fruity lime and sweet caramel is truly special – get it with dairy-free almond milk for a full nutty experience.
The Run-Down: Jaz and Jul's Chocolate House located in Islington's Chapel Market is where you'll find some of the best chocolate in town. There's everything from bars, drinking chocolate to truffles. If you're after some more coco goodness, a menu of cocoa-themed light bites is also available and includes, sweet chewy rocky road slices, gooey brownies, chunky cookies, and savoury Mexican-inspired chocolate black bean chilli
Where: 1 Chapel Market, London N1 9EZ
Best Salted Caramel Hot Chocolates in London: Top 5
Order: Salted Caramel Hot Chocolate (£3.50)
The Drink: When a restaurant has a dedicated hot chocolate menu, you know you're in for a good time. These little shots of chocolate are the perfect sweet treat to end a meal at Borough Market's sensational chocolate-inspired Rabot 1785. One of the best salted caramel hot chocolates in London – thick, indulgent and absurdly delicious – this hot chocolate is happiness in liquid form.
The Run-Down: If you like quirky chocolate dishes, this restaurant by Hotel Chocolat is for you. The restaurant's name is inspired by a cacao estate purchased in 1745 in the Caribbean, and chocolate flavours run through the entire menu. Repeat: the entire menu. Think sweet twists on classic starters, such as cacao balsamic, cacao-cured salmon and cacao guacamole. For mains, try the 'Choc Au Vin' chicken with cacao red wine sauce, or, get this, a mac n' cheese in cacao nib pastry.
Where: 2-4 Bedale St, London SE1 9AL
Order: Salted Caramel Kiss (£8)
The Drink: When a hot chocolate costs the same as two meal deals from Boots, you really have to commit. But it's totally worth it. All the hot chocolates sold are made with the finest Valrhora chocolate and they're all heavenly. The  Salted Caramel Kiss combines Caramelia 34% milk chocolate with milk, and the drink will make your taste buds sing – it's creamy, nutty and just the right sweetness.
The Run-Down: Hotel Café Royal needs no introduction, but we'll give you one anyway. It's one of London's most iconic hotels for gourmet patisserie, and the Papillon celebrates the European tradition of café culture; think seasonal dishes, plus an espresso bar and counters lined with cakes, pastries and chocolates, all made in-house by Hotel Café Royal's executive pastry chef, Andrew Blas.
Where: 68 Regent Street, London W1B 4DY
Order: Salted Caramel Drinking Chocolate (£4.99)
The Drink: This is a drink you'd long for as a kid, but your mum would never buy because it way too sweet (thanks Diane). Let your inner six-year old run free with this edible masterpiece – one of the best salted caramel hot chocolates in London. Not happy with just the whipped cream and caramel button topping, the hot chocolate is finished off with a caramel Stroopwafel. So bonkers, but so bloody good.
The Run-Down: This place is on crack. And by crack, we mean chocolate crack. Tacky, decadent, brilliant, they make amazing one-of-a-kind custom cakes and outrageous scrummy chocolates which are (almost) too pretty to eat. At their shop just off Carnaby Street, you can find fantastic chocolate, gifts, and upstairs in their cafe they serve incredible, decadent hot chocolate and great homemade cakes.
Where: 30-32 Foubert's Pl, Carnaby, London W1F 7PS
Image Credit: Halal Gems 
One for luck…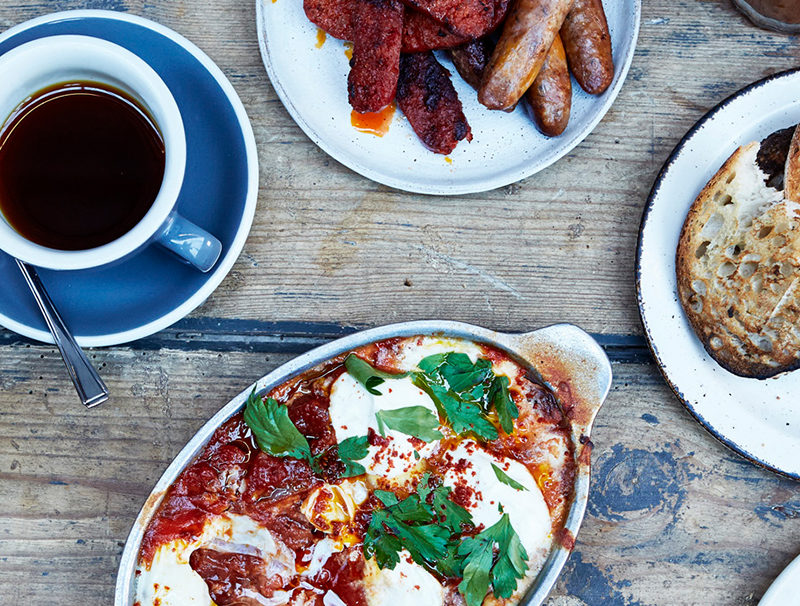 Order: Salted Caramel Hot Chocolate (£3.50)
The Drink: A salted caramel hot chocolate is a bold shout to feature on a brunch menu, but that's what we like about Caravan – they don't play by the rules. One of the best salted caramel hot chocolates in London; it's warming, soothing, sweet, salty and rich all at the same time. The perfect antidote on a cold winter's day.
The Venue: Caravan is simply the best place for brunch in London. We're sorry, but it's true. If you can't handle an hour-long waiting time on weekends, try the Exmouth Market or Bankside branches which tend to be a little calmer than its King's Cross sibling. They do fantastic cornbread, avocado on toast and sensational porridge with date syrup, dates and banana.
Where: 1 Granary Square, Kings Cross, London N1C 4AA
Photo credit: Caravan Restaurants