If you're anything like me, all you want to do at this time of year is curl up with a cup of Horlicks and wrap yourself around a radiator. But we must remain strong. Forget the television, some of the best restaurants in London offer incredible warming dishes; warm up by trying one of London's finest nourishing dishes and drinks. From fiery cocktails to hearty stews, here's something for everyone in this cruel, cruel month:
1. The Best Warming Treat: Ginger Hot Chocolate, The Providores
What: Ginger hot chocolate with ginger liqueur, cinnamon, cloves and nutmeg (£4)
Why: Warm, spicy, sweet, this drink is festive in all the right kind of ways. Hot chocolate is the ultimate winter warmer – and the added cheeky tipple makes this drink truly perfect for the winter months.
Where: The Providores, 109 Marylebone High St, London W1U 4RX
2. The Best Warming Porridge: Black Rice Porridge, Nopi
What: Black rice, mango, banana and coconut milk (£8)
Why: This truly is the month for porridge. And there's one rule with getting porridge out in a restaurant: it has to be something you can't make in your own kitchen. This coconut-y, sweet black rice dish is both gluten-free and vegan, and will keep you going all day long. Nopi succeeds on so many levels; the atmosphere of the place is justso laid-back and casually cool. We love.
Where: Nopi, 21-22 Warwick St, London W1B 5NE
Read about Nopi's Granola Bowl here
Read Top 7: Breakfast Winter Warmers in London here
3. The Best Warming Drink: Matcha Latte, The Good Life Eatery
What: Although it's traditional to warm up on hot chocolate, we'd opt for the healthy, unusual matcha latte any day. The Good Life Eatery's matcha latte (that's a green tea caffeine-free latte) is made with frothed almond milk, which makes it super indulgent and delicious. One of the best in London, actually.
Why: They also serve gluten-free, vegan cake which happens to be quite the delight. Come here for a healthy indulgence and amuse yourself watching the trendy crowd.
Where: 59 Sloane Avenue, London, SW3 3DH
Read Top 7: Places to Spend Time on a Rainy Day here
4. The Best Warming Breakfast: Great British Fry-Up, Dishoom
What: Smoked streaky bacon from The Ginger Pig, peppery Shropshire pork sausages, masala baked beans, grilled field mushroom, grilled tomato and buttered pau buns (£11.50)
Why: Dishoom's breakfast is exactly what the cold winter months needs – hearty portions, warming spices and lots of naan. If you order the House Porridge with dates and banana, the portion never stops – they will keep filling it up until you say stop. Plus, we all know that Chai is the ultimate winter drink – sweet, spicy and topped up as much as you like. Wintery heaven.
Where: Covent Garden, Kings Cross + Shoreditch
5. The Best Warming Curry: Mildred's, Soho
What: Sri Lankan sweet potato and cashew nut curry with yellow basmati rice with peas and coconut tomato sambal (£10)
Why: Mildred's is one of our favourite vegetarian restaurants in London; it serves food so tasty, it will suit all kinds of eaters – so you don't have to worry when taking your meat-loving Boyfriend along, too. This curry has got to be one of the most warming, tasty and nourishing winter dishes ever – the cashnew nuts make is super creamy, and the coconuty tomato salsa is absolute perfection.
Where: 45 Lexington St, London W1F 9AN
6. The Best Warming Pasta: Rabbit Ravioli, Rabbit
What: Rabbit ravioli, bone marrow, chanterelles, lovage pesto (£9.5)
Why: Rabbit is all about fresh and seasonal food; you know it's going to be good as its the brainchild of the Gladwin brothers, who created the utterly amazing The Shed restaurant. You have to try the rabbit ravioli when you come; it's one of the restaurant's most popular dishes. Served with a tangy pesto and beautiful fresh mushrooms, it's got winter written all over it.
Where: 172 Kings Road, Chelsea, Sw3 4UP
7. The Best Warming Cocktail: Peru Bravo, Andina
What: Pineapple and limo chilli infused pisco, pomegranate juice, lime and Fever-Tree ginger ale (£8)
Why: Controversially, I opted against a warm cocktail for this guide. Although hot toddies have their place, this cocktail will truly warm you. Made with homemade chilli-infused pisco, it's really, really hot, although the sweet pineapple really balances it out, and the ginger ale gives a nice additional kick. One of the best spicy cocktails I've ever had in London – guaranteed to make you forget all about the cold outside.
Where: 1 Redchurch St, London E2
Read: Peruvian Christmas Feast at Andina here
8. The Best Warming Soup: Pasta e Fagioli, Carluccio's
What: Pasta e Fagioli with borlotti beans, red chilli and tubetti pasta (£5.45)
Why: It's part of their year-round menu, and pretty much everyone's been there once, but, hey, I love Carluccio's. There's nothing wrong with a chain restaurant when they serve up good quality food at reasonable prices, and this soup is one of my favourite lunch time warmers in London. The main reason is that the mixture of beans and soft pasta makes it truly filling – and the vegetables make it nourishing at the same time. Winner.
Where: Throughout London
9. The Best Warming Chips: The Gate, Hammersmith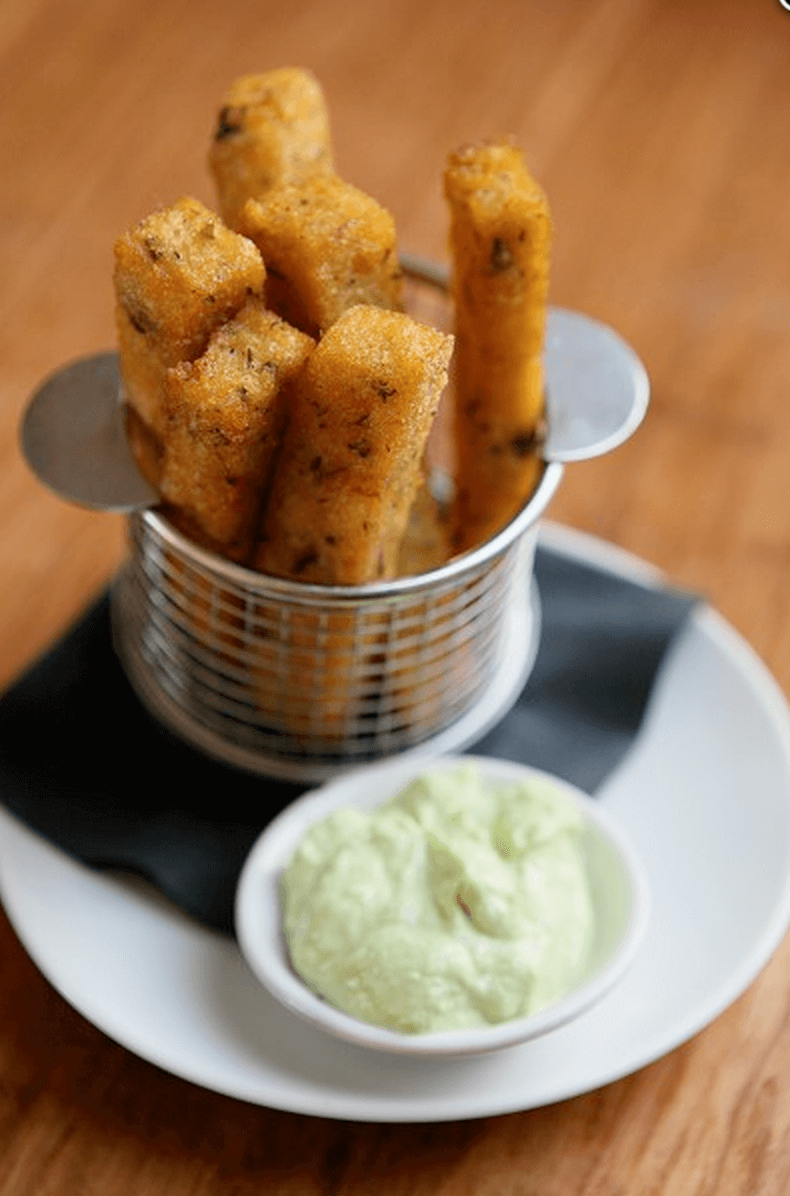 What: Chunky herb polenta chips with a garlic aioli (£4)
Why: This was a hard one to choose; should I go with sweet potato fries, chunky chips or regular spuds? These chips do it all; there's something about the texture of polenta that's just so exciting, and the garlic sauce is heavenly. The Gate, with locations in Islington and Hammersmith, is a haven for vegetarians – their wild mushroom risotto cake is dreamy, as is their apple and plum crumble. Dreamy.
Where: 370 St John St, London EC1V 4NN
10. The Best Warming Sharer: Lamb for 2, The Cinnamon Club
What: Whole leg of Herdwick lamb (£70) with dried fruits and nuts, Montgomery cheddar and sprinkled with spices including cardamon, chilli and garam masala. Sliced and served alongside garlic naan, rich onion sauce and black lentils.
Why: This sharing dish for two at The Cinnamon Club is quite the show stopper. Set within the stunning surroundings of the Grade II-listed Old Westminster Library, The Cinnamon Club knows how to do winter in style – they've also got an amazing Winter Spice cocktail with rum, orange, line and mango. Tuck in.
Where: The Old Westminster Library, 30-32 Great Smith Street, London SW1P 3BU
11. The Best Warming Starter: Chestnut Hummus, The Parlour
What: Chestnut Hummus with Rosemary Pitta Bread (£6.50)
Why: We love the old school, retro feel of The Parlour in Kensal Rise. Don't expect anything too fancy from the menu – think things like Chicken Kyiv and massive Cow Pies. The food is ultimate comfort food, and this hummus, made with real chestnuts, is one of the most warming and delicious starters in the capital.
Where: 5 Regent Street, London, NW10 5LG
12. The Best Warming Stew: Chilli Con Veggies, The Grain Store
What: Chilli con veggie, mixed rice, sour cream (£11.50)
Why: You've got to love Grain Store for their fantastic veggie food; everything is seasonal, local and oh-so-fresh. This Chilli Con Veggie is the perfect hearty vegetarian dish for cold nights; it comes with a mix of white and brown rice, so is rather healthier than regular chilli, too.
Where: Granary Square, 1-3 Stable Street, Kings Cross, London N1C 4AB
13. The Best Warming Melt: Onion Soup, Bruno Bistrot Loubet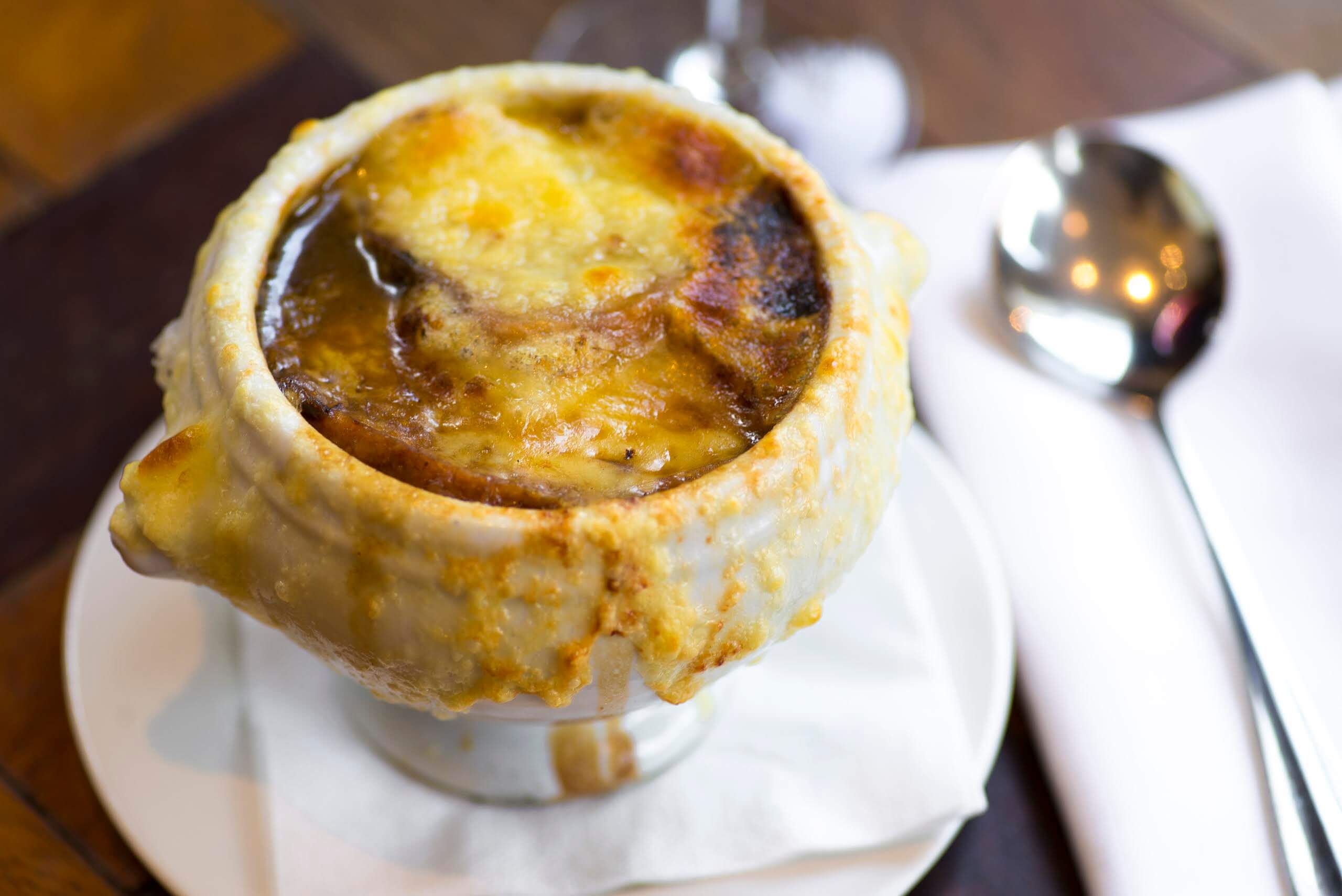 What: Vegetarian onion soup, caramelised onions, Marmite and mushroom broth, croutons, Emmental (£9)
Why: This is everything you could want at once. Cheese, marmite, mushrooms – it's ultimate umami in a bowl. Sure, it's not for everyone – but some people will absolutely love it. I happen to be one of them. With its crusty top and melting cheesey goodness, it's the kind of indulgence I'm more than happy to hide under a Christmas jumper for the month ahead.
Where: 86-88 Clerkenwell Rd, London EC1M 5RJ
14. The Best Warming Indulgence: Plantain Fritters, Wahaca
What: Plantain Fritters (£4.50) vanilla ice-cream, candied peanut and dulce de leche sauce
Why: Sweet-crumbed plantain topped with ice cream. Life doesn't get much better. This new dessert on the Wahaca's menu is the kind of thing to cross town for; the dessert is sweet, melty and crunchy all at once. Wahaca's a great winter warming spot; nothing beats the chill like Enchiladas Suizas – soft corn tortillas filled with tender poached chicken, topped with a creamy tomatillo sauce and melted cheese. Don't miss their amazing Mexican brunch too!
Where: Throughout London
15. The Best Warming Dessert: Ginger Cake, Maze Grill
What: Ginger cake with mulled wine soup
Why: Maze Grill is a fantastic spot for a fancy lunch. Their Christmas Menu this year features this absolute beauty; a spicy ginger cake with mulled wine 'soup' is about as Christmassy as it gets. Add in some mascarpone to cut through it all and you've got one seriously delicious dessert.
Where: 10-13 Grosvenor Square, London W1K 6JP
Read more about The Parlour here
Read: Top 7: Places to Spend Time on a Rainy Day
Read Top 7: Breakfast Winter Warmers in London here
Read: Amazing Granola Bowl at Nopi
Read: Top 7: Breakfast Winter Warmers in London
Read: Peruvian Christmas Feast at Andina here