'If you obey all the rules you miss all the fun'  – Katharine Hepburn
The rules of mealtimes are a set of iron-clad edicts; a universally acknowledged and widely followed system that cruelly forbids us from breakfasting on lasagne, that pours scorn on our dinner of Weetabix and fills us with guilt for a pre-9am Curly Wurly. Luckily for Londoners, ours is not a city that listens much to these sorts of regulations, preferring instead to turn these kinds of pesky rules upside-down. So forget the time of day and foods associated with it – some of the best restaurants in London do things very, very differently. Whatever the craving, whatever the hour: there's an establishment to suit your whim. Here are our top 5 picks:
1. Best for Brunch in the Evening: The Breakfast Club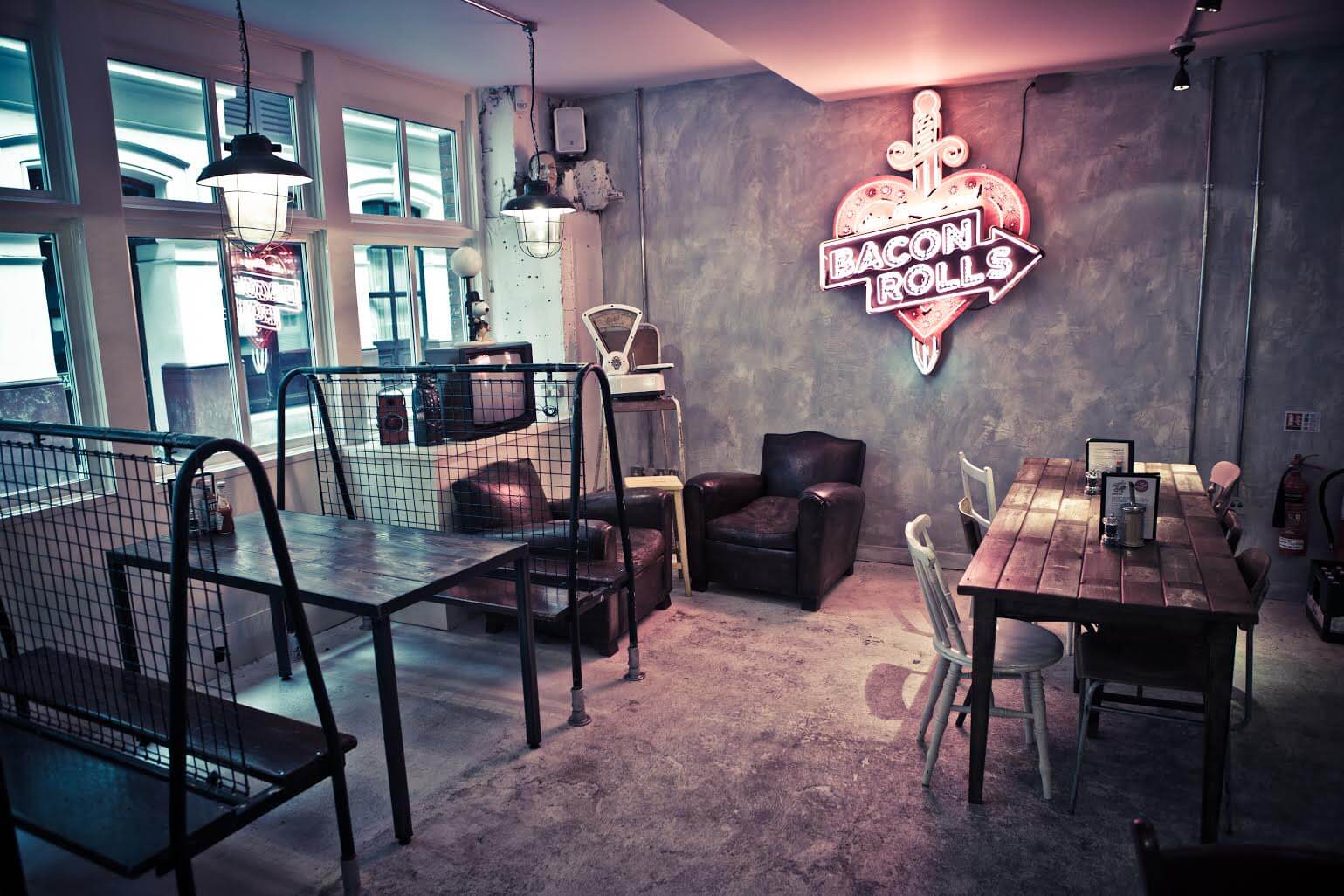 One of brunch's greatest virtues is that it's already a bit of a rebellious meal. One that makes it OK to have a bit of alcohol with your beans on toast, and one that – with a bit of subtle rebranding – makes the consumption of bacon butties acceptable to a much later hour. However, too many menus we've seen impose a harsh cut-off point, with brunch ending abruptly somewhere around the 3pm mark. The Breakfast Club does no such thing. Visitors there will never be refused a Full English, will never be too late for Eggs Benedict, and will never be judged for wandering in at 9pm and ordering pancakes and a glass of red wine. And where would we be without a few places like that?
The Breakfast Club has various locations in London – see here
Read Top 5: All-Day Brunches in London here
Read Top 5: Winter Warmers Breakfasts in London here
2. Best for Spoiling your Dinner: The Pudding Bar
Poor old pudding. Always pushed to the back of the line, shoved unceremoniously into last place by starters and mains, where it sits, praying you'll still have room when its turn finally arrives. Not so at The Pudding Bar. This Greek Street newbie is a temple to all things sugar-soaked, with a menu unsullied by savoury imposters. Next time you find yourself in Soho in need of a sweet fix, try the Banoffee Delight – a syrupy sensation of banana and caramel mousse sandwiched between two walnut shortbreads, and a side of white chocolate ice-cream on the side for good measure. Complete the picture with an amber-coloured glass of perfectly-paired dessert wine. Who cares if you're too full for dinner later? Everyone knows that pudding's the best course anyway.
The Pudding Bar is at 26 Greek Street, Soho, London W1D 5DE
Read about London's Heavenly New Desserts Bars here
3. Best for Midnight Munchies: VQ
From the first time you walk (or possibly stumble) through its door, Fulham Road's 24-hour diner VQ will become your reliable pal, welcoming you day or night into its arms, presenting you with a menu of familiar faces and leading you astray with its non-stop liquor licence. If the shops are shut and your fridge and stomach are empty, VQ has it covered. Ever woken up mid-slumber, unable to get back to sleep due to a monstrous craving for a burger? Ever left the pub with bangers and mash firmly etched into your brain? If so, bet you wish you'd known about this place. The club sandwich comes highly recommended – that combination of salty bacon, juicy chicken and an over-the-top extra slice of bread is exactly the right amount of naughty for a late-night feast. Oh, and it isn't a bad choice for soaking up booze either, just in case you were wondering. Since you're already indulging, cap it off with an uber-comforting apple crumble – it's utterly delicious.
VQ is at 111 Great Russell St, London WC1B 3NQ
4. Best for Anytime Eggs: Duck & Waffle
The City, filled as it is with bankers, lawyers, accountants and other such clever and hard-working folk, has been known to exist according to a different clock from the one the rest of us use. Meetings can take place before sunrise, offices open at the weekend and conference calls stretch on past midnight. This kind of work requires sustenance – the kind that can't always be gained from a Pret sandwich or vending machine coffee. Enter Duck & Waffle, which watches over The City from its 40th floor vantage point, and stays open 24/7.  When even the latest of late-night bars has stopped serving, when even the dodgiest of fast food joints has lowered its shutters, Duck & Waffle will be packed with a hotch-potch of hungry and discerning clients. There are super-sophisticated versions of all the greasy spoon classics – think organic eggs with grilled chorizo or homemade nutella on artisan sourdough – plus a selection of completely indulgent waffles worth writing home about. Sometimes, at 4 in the morning, simply nothing else will do.
Duck and Waffle is at the Heron Tower, 110 Bishopsgate, London EC2N 4AY
Read Top 5: All-Day Brunches in London here
Read Top 5: Winter Warmers Breakfasts in London here
5. Best for Giving you Bad Dreams: Voodoo Ray's
Our Mums always told us not to eat cheese just before bed, else we'd have nightmares. As children, we nodded obediently, forgoing an evening bite of cheddar for fear of bedtime bogeymen. As adults, our resolve faltered. And it's all Voodoo Ray's fault. This late-night pizza spot smothers its doughy bases with piquant tomato and lashings of cheese well past any acceptable dinner time, serving slices to Dalston party goers until the wee hours. If you find yourself in East London, regretting your decision to skip dinner and willing to take the chance of a mozzarella-induced nightmare or two, join the queue, take a pew and guzzle down. If the party's not over yet, wash it all down with a frozen margarita, and you'll still be in the mood for a post-pizza boogie.
Voodoo Ray's is at 95 Kingsland High St, London E8 2PB
Read: our Top 5 Bircher Muesli in London
Read: our Top 5 Healthy Halloween Recipes
Read: Exploring Kingly Court After Dark
Read: Seaweed Menu at Aqua Kyoto
Read: our Top 5 Avocado on Toast in London