About Time: You Discovered the Best of London Wine WeekBy Rosie Crossman
London Wine Week starts today – the hottest ticket to checking a few bars on your never-ending bucket list, or trying a couple of new grape varieties. All you have to do is buy a £10 LWW wristband here and you will gain exclusive access to incredible events, discounts and £5 wine flights at more than 100 London venues. With so much to choose from, we have rounded up our top bars and events to check out this week:
If you feel a little overwhelmed by the world of grapes, or buy the swankiest looking bargain basement red on the way to a dinner party, get help from The Wine & Spirits Education Trust. Held at Hixter Bankside, Master of Wine Michelle Cherutti-Kowal and her team will take you through the basics of the world of wine. If you want to extend the evening, guests are invited to enjoy free corkage, or 30% off wine.
Monday and Tuesday: 7pm-8:15pm, £20
16 Great Guildford Street, London, SE1 OHS
Following in the footsteps of Lord Byron who scoffed grouse and a pint of port for breakfast, is The Big 'Byronic' Brunch. Get Saturday off to a flying start with the help of Honest Grapes, and a selection of delicious nibbles, all paired with incredible sherries. In the words of Lord Byron: 'Man, being reasonable, must get drunk; the best of life is but intoxication.'
Saturday 11am-1pm, £50
Polpo @ Ape & Bird, Shaftesbury Avenue, WC2H 8HJ
Tour of West Sussex's Finest Vineyards + Wineries
Tours and tastings at three of West Sussex's finest wineries and vineyards. First guests will be taken to Redfold Vineyard (rarely open to the public), followed by Stopham Vineyard and lunch at a local pub. After lunch there is a chance oversee the sustainable methods of production at Upperton Vineyard and relax with a glass on the sun deck.
Saturday 23rd May
Pick up from Puborough Station, 9.55am-4:30pm, £99
Pop to Duck Soup for a glass of orange wine, served with fresh market pickles (£7.50). Stay for a bite to eat, the daily changing menu combines the best seasonal ingredients. Sip your way through the biodynamic and exquisitely compiled wine list, which like the food menu is constantly updated. You could eat at Duck Soup daily and never get bored. Escape the Theatreland throngs and grin ear to ear.
41 Dean Street, Soho, W1D 4PY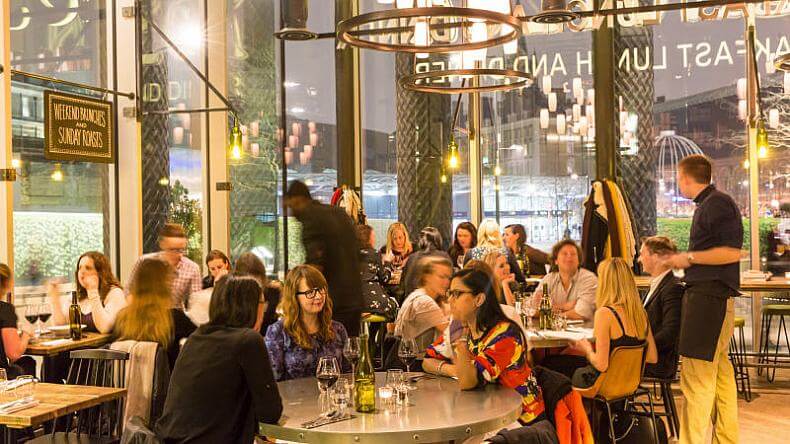 When it opened earlier this year, Vinoteca King's Cross and it's selection of 'Breakfast Wines' became the holiday drinking hole for Eurotrippers. At Vinoteca, you can choose one of three wines (NV Vinvita Spumante Raboso Extra Dry, Vouvray Sec, Vincent Careme 2013, or Impint Susumaniello 2014 with matching tapas for £5.
One Pancras Square, N1C 4AG
South: The Honest Grapes Challenge
Head to Brunswick House, where the Honest Grapes team will give you a crash course in being a  wine buyer. Things could get a little hazy as there are 15 wines to try, a whittle down. Guests will sample wines against their supermarket counterparts and subsequently determine their value and quality. After this, have you say. You are invited to be guided through a variety of reds and white, which Honest Grapes are considering stocking. Your decisions may just make it onto their new wine lists.
Friday 6:30-8:30pm, £20
Brunswick House Cellars, 30 Wandsworth Road, SW8 2LG
From the creators of Sager & Wilde, comes the magical Mission. Round off the week and let your hair down with 'Big Bottles Taste Better' a collaboration with Noble Rot. There will be a mind blowing selection of wines all served from magnums. Tickets include barbecue and glass of champers. If you are still thirsty, finish off your evening at Satan's Whiskers, Bethnal Green.