Bartender's Guide: Sorcha A Power, Consulting Mixologist at Mercer and CoBy Angelica Malin
Look what we have here – our new weekly column. In a nutshell, bartenders and cocktail wizards will be sharing their favourite drinking spots in London. Got it? Thought so. Time for a cocktail or three:
Name: Sorcha A Power
Job title: Consulting mixologist at Mercer and Co, and Senior bartender at The Chapel Bar.
Hey Sorcha! Can you give us a little background about your position and bar you're working at: 
At the moment I work between The Chapel Bar and Mercer and Co. both in Islington.
The Chapel Bar is a gorgeous venue to work in, and we do mostly private events, birthdays, engagements, corporate parties, that sort of thing. Every event is different and we pride ourselves on creating a bespoke experience for everyone who comes in, and making them just the right drink.
Mercer and Co. is an exciting new venture combining salt beef, cocktails and an an art space. It's a little informal but a lot of fun. The cocktail menu there is a one I worked on with the owners for several months – there's five very different beverages, and they've all been curated to go with the food offering. We will be opening late soon so come see us, skip rush hour and have a drink or two.
What's your first memory of cocktails?
The first cocktail I ever encountered and made was the ultimate in after dinner cocktails, the Irish Coffee. It was a favourite of my grandmother Sheila, who taught me how to make it.
I remember most the scent – something about the aroma of coffee and whiskey always makes me smile. This cocktail will always be a favourite of mine associated with many happy memories. Remember, while this might be a simple recipe, the care you take preparing this is what makes all the difference.
Start with good black coffee. If you must take sugar, make it Demerara sugar. Go with an Irish whiskey, I like to use Powers. And this is the important thing, dry shake, don't whisk the cream (and don't even think about using the stuff from a spray can). And finally to garnish, three coffee beans no more, no less! It should look like a Guinness.  Dark with a creamy layer on top.
Why did you get into cocktail making? 
I got into bartending whilst taking bar jobs in university. I found I had an aptitude for flavour matching, and I really enjoyed playing with different tastes and combinations.
What's the most unusual cocktail you've ever tried?
That has to be the Evil Manhattan by Nathen O'Neil of Dandelyan. Instead of using a standard Vermouth they used one made out of beer. It gave a nice grain taste and really made the drink something special.
Fondest cocktail memory:
Long before I came to London, while I was still living in Dublin myself and my other half decided to have a Cinq à sept at the Mint Bar on West Mooreland Street. Instead of having one drink and some nibbles before heading home we went for several flights of drinks. That's what happens when zombies are involved.
Favourite cocktail spot in London is:
I am very fond of Milk and Honey in Soho. It's a lovely quiet spot and they do an amazing job at all the classics plus they have the best house rules ever! My favourite when I'm there has to be the Penicillin, the peaty note of the scotch hits all the right notes.
London's best Bloody Mary can be found at:
I must be honest that I am not overly fond of this particular cocktail in general. However, that said there is a great breakfast spot in Dalston called Hash E8 and they have a fantastic Bloody Mary. They infuse the vodka with various herbs and spices, and it hits the spot when you are suffering after the night before (or just really don't want to get up). Have it with a pig muffin – you are most welcome.
London's best Negroni can be found at: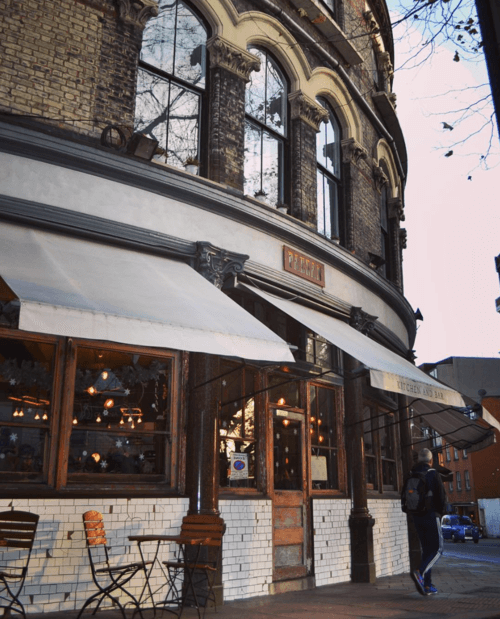 There is no substitute for Peasan on Mount Pleasant near Exmouth market. Their Negroni is wonderfully balanced and the price isn't painful. It is the benchmark to which I compare all other Negroni.
London's best Margarita can be found at:
I have to be shameless here and say Mercer and Co. Our Margarita is a bit different to the usual suspects, it's wonderfully smokey, and if I am completely honest one of my favourite creations to date. We smoke and bottle age our tequila. and for some extra kick use a blackened ginger syrup. But what makes the difference is our smoked seaweed crumb we rim around the glass. It gives that feel of a good Romeo y Julieta cigar. It took a long while to get this drink to the right points, and I really hope the hard work has paid off.
Favourite cocktail in London:
It depends upon my mood and what I am having with it. I will say that you cannot beat a well made gin and tonic. Perfectly poured and properly garnished. Nice big chunks of ice and a double measure of gin, of course.
Go-to cocktail if you're making:
My other half loves rum and is very fond of White seals. It's a really decadent dessert of a drink – Kahlua, dark rum (Flor de Cana works wonderfully), ice and double cream. Very easy to make and a lovely twist on the classic White Russian.
Where should everyone in London visit for cocktails: 
1. For boozy breakfast Hash E8 in Dalston.
2. For meat and booze Blacklock City off Fenchurch Street.
3. For booze and booze Milk and Honey in Soho.
4. Feeling like showing off Dandelyan at the Mondrian.
5. For something new visit your local independent, get into your own borough and explore!
Avoid the massive cookie cutter bars and show some love to places like Wringer and Mangle in Hackney, Seven at Brixton, and Mercer and Co in Islington. If you don't visit these places they won't survive, and London will be at a loss because of this.