If there's one thing we're gutted about when it comes to returning to the office, it's the coffee. Over the last two years of WFH, we've become accustomed to a certain way of living; gone are the days of cheap Nescafe or Kenco at your desk, we're now all about glorious roasts and cafetieres (or coffee machines if you're fancy).
Not having to fork out half our wages on Pret means we've been able to invest in local roasteries and coffee companies, really digging into flavour profiles and what each county has to offer. With that in mind, we wanted to round up our favourite roasteries for a spring of flexi-working, dig in!
The Lowdown: Roasting since 2008, South Coast Roast have been pioneers of the coffee scene in the south, leading the way in sustainability and ethics while making damn good coffee to boot. A big fan of the french press, we ordered their beautiful ceramic offering made in partnership with Frank Green, which looks gorgeous on the countertop and is a dream if like us, you habitually smash regular cafetieres.
Brewing equipment aside, we're huge fans of their Evergreen blend – made with a mix of Ethiopian and Brazillian beans, flavour notes of chocolate and almond cut through effortlessly, with a cherry pie aftertaste being a beautiful bonus. Perfect for your first of the day or a 4pm pick me up, this roast finds the perfect balance of punchy and light (plus, who doesn't like doing their bit for the planet?).
Buy online 
The Lowdown: Origin have been dons of the London brewing scene for some time now, and to be totally honest no longer being within walking distance of a branch throughout the pandemic was a devastating affair. Known for their fragrant, small-batch coffee, we truly believe their £2 batch brew is the best hangover cure money can buy. Thankfully, Origin's products are now available to buy online, so we can enjoy their own brand of rocket fuel at home.
Not ones to shy away from unique flavour profiles, we were excited to try San Fermin, a 'session coffee' as they call it for all-day drinking. Made with beans from the Colombian mountains, the flavour notes of this brew are truly remarkable; bringing smooth caramel, ripe berries and unexpectedly orange sherbet to the floor, all of these tastes working in perfect harmony to create a coffee that feels equal parts accesible and forward-thinking.
Buy online 
The Lowdown: When an acclaimed coffee shop opens up 100 meters from your house, it would be rude not to try it right? Housed in an old dairy shed next to Brighton's Royal Pavillion, this roastery began trading at the tail end of last year, and is already making waves as some of the best coffee in the city. To test this acclaim for ourselves, we picked up a pack of their  Santuario blend (who can say no to some Columbian?) and popped it in our machine.
With flavours of dark chocolate, vanilla and almond these beans are an effortless daily choice for us, but pack enough of a punch for you to only need one or two in a day. It's always nice when a product matches the hype, and The Milk Shed have undeniably made an impact in the seaside coffee scene.
Buy online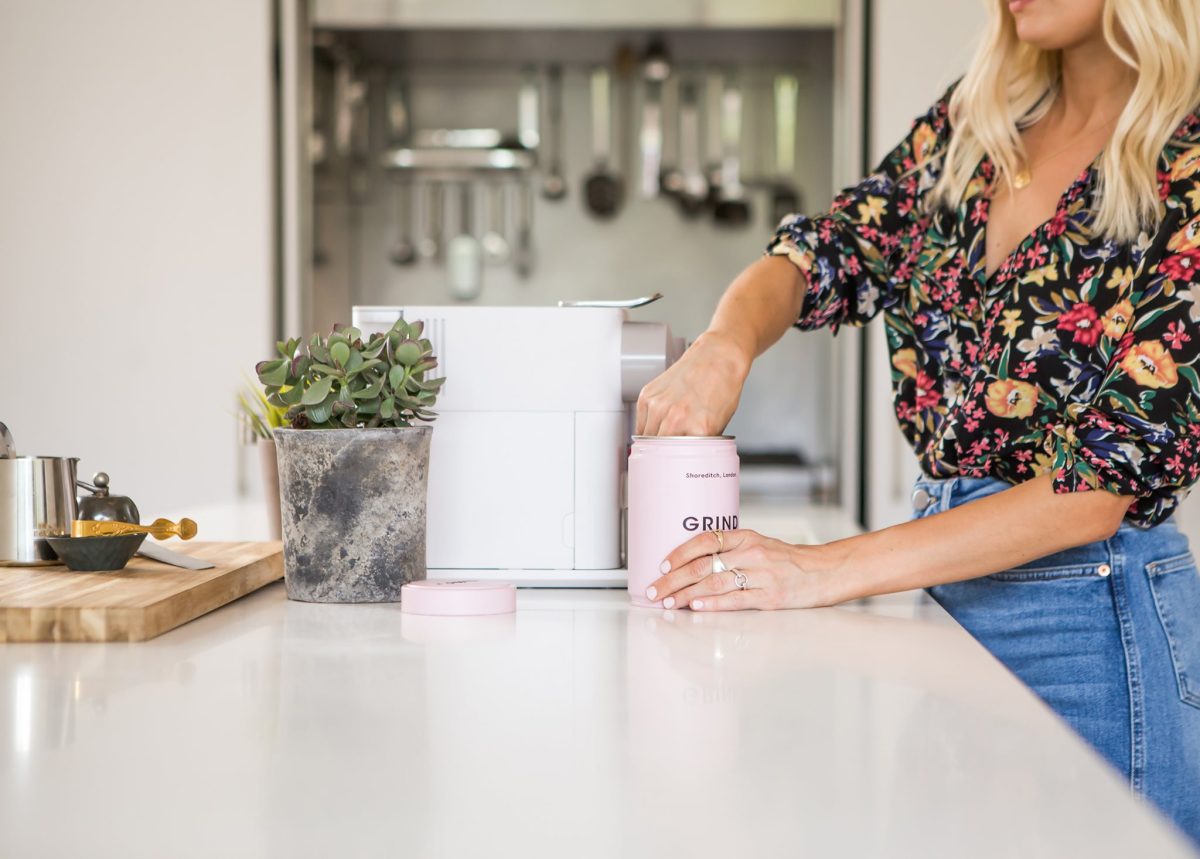 The Lowdown: Not just a place for meetings, the Grind collective in London are truly making some of the best coffee in the capital. We've waxed lyrical about their biodegradable Nespresso pods in the past, now it was our time to try the beans and see if they matched the high level the brand have set itself.
Arriving in a gorgeous pink tin which will give everyone Zoom-background envy, we decided to switch things up and try their light blend which brings more floral elements into play and is obviously way less intense compared to their traditional house blend. If you want to say goodbye to that afternoon crash, this blend is an absolute no brainer, and honestly, it's really refreshing seeing a brand create exciting, lighter brews in a world of strong coffees.
Buy online 
The Lowdown: Sticking purely to the home delivery system, Mont 58 have revolutionised the coffee at home experience. Roasting the freshest beans and sending them to your door, their produce comes from small farmers from all corners of the globe, pinpointing exactly where your coffee is from down to the hectare.
We tried their crowd-favourite Ethiopian blend (locally roasted in SE6, London) and were blown away by the complex mix of flavours. Possessing remarkable deep qualities, this coffee manages to bring new tastes to the fore with every sip, making it a firm favourite in our household (yes, we demolished a bag's worth of beans in under a week).
Buy online 
Spring Coffee Guide: The Machine
The Lowdown: Look, we're gonna open this bit by saying we know not everyone has the money to splash on a barista-level coffee machine, but if you're serious about home coffee, the Oracle Touch by Sage is an absolute gamechanger.
Easily the most used appliance in our kitchen, it's totally changed the way we drink coffee (without having to undertake any barista training too). It couldnt be easier to work, simply select which coffee you're making from the touch screen display, and the machine will guide you through every step of the process; from automatically grinding and tamping the beans to frothing the milk to the exact right temperature. Naturally, there's a few elements that are trial and error – setting the right water hardness, adjusting how coarse your beans should be grinded – but if you're a coffee snob like us that's all part of the fun. From simple espressos to full on latte art (or just frothy milk for a hot chocolate), the machine is literally perfect for any hot drink, and has somehow even stopped us going out for coffee altogether (sorry Pret). If you're working from home, enjoy your coffee and ultimately want to treat yourself to some fancy tech, The Sage Oracle Touch deserved a place on your worktop.
Buy online