Certain people are difficult to buy for at Christmas, but the beer nerds in your life? That's a whole different ball game. If you're not a craft aficionado, choosing the right bottles is a total minefield, and don't get us started on gift cards (i.e the ultimate cop-out). A crate of Stella? Too bland. A bottle of Spitfire? Too old school. A rogue sour homebrew? Too hectic.
Thankfully, certain independent breweries are making it incredibly easy to buy craft this Christmas, particularly newcomers to the game Lakedown Brewing Co.
Lakedown Brewing Co: The Lowdown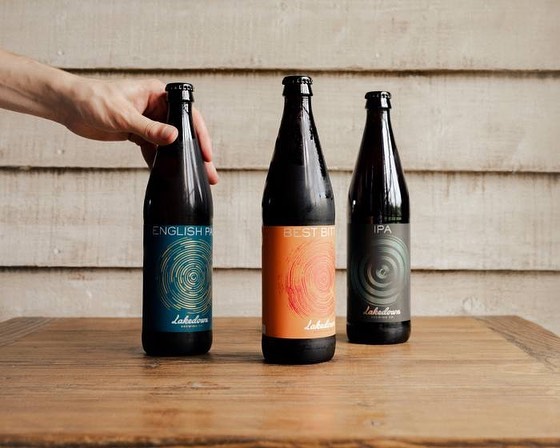 Founded in 2020 East Sussex, Lakedown is a lockdown business with heart. Based on a family farm and fishing lake, the pandemic saw these guys reevaluate what they wanted to do with their lives, turning their passion for beer into a viable, exciting new venture.
In just over a year, the brewery have crafted a remarkable selection of brews to cater to all beer tastes. For the older heads, their bitter hits the spot effortlessly with a mix of 7 grains and local hops for a biscuity flavour that isn't too heavy. Meanwhile, the Pilsner is perfect for casual sipping with a glorious German undertone in taste, while the Pale Ale brings together Cascade, Chinook and Citra hops for a taste of the West Coast.
Providing something for everyone and doing innovative things in the craft space, Lakedown have come on leaps and bounds since their inception, and we're excited to see what they do next.
This year, as beer fans, we beg you not to succumb to the 'Classic Beer Box' you see in Tesco, the craft equivalent of a Lynx Africa gift set, and instead choose Lakedown Brewing Co's beer subscription boxes. For a gift that keeps on giving long past December, the subscription boxes are available to purchase for three, six or 12 months, and allow beer lovers to receive a monthly delivery of Lakedown Brewing Co. beers (all vegan, and with a large portion gluten-free). There's everything from complex bitters to refreshing pale ales and New England IPAs. We'll drink to that.
For further information on Lakedown Brewing Co, see here.