About Time: You Pimped Up Your Christmas Drinks TrolleyBy Angelica Malin
There's never been more reasons to update (or start) your Christmas drinks trolley this year, thanks to some fantastic independent brands offering more Christmas tipples than you can shake a candy cane at. What's great about these boozy festive finds is their simplicity; you can serve some on their own or with simple mixers. From Christmas infused spirits and new cream liquors to festive fruity options, there is something for everyone. Even your nan may find a new favourite:
1. For a Liquid Mince Pie: Foxdenton 
Drink: Foxdenton Christmas Liqueur (£20)
The Lowdown: What's better than eating a mince pie? Drinking one, obviously. Made with Winslow Plums and a blend of traditional Christmas spices including ginger, clove, cinnamon, and star anise, this Christmas liqueur is the ideal winter warmer. Serve on ice or enjoy a splash in some fizz.
Stockists: Buy online here or visit independent wine merchants such as Slurp, Oxford Wines, and Tanners Wine Merchants.
2. For a Pre-Bed Tipple: Carthy & Black 
Drink: Carthy & Black Yorkshire Lemon Cream Liqueur (£12)
The Lowdown: There's a new refreshing cream liqueur on the block that uses gin instead of whisky, and you know what – we're into it. Locally sourced cream from Yorkshire's Paynes Dairies packs a lemon-drizzle citrus kick that's silky smooth, yet refreshingly moreish. Best served over ice.
Stockists: Tesco, Morrisons, ginspiration, and 31DOVER
3. For a Seasonal Spirit Staple: Two Birds 
Drink: Two Birds Christmas Spiced Vodka (£37)
The Lowdown: We're calling it: spiced vodka is going to be the next big thing in 2019. Join the movement early, and invest in Two Birds Christmas Spiced Vodka. This English Vodka is left for a few days to infuse with a blend of mixed spices, cloves, dried fruit, cinnamon, and nutmeg. Try 50ml of this with 30ml of fresh lemon juice, 10ml of white chocolate liqueur and 10ml of strawberry liqueur all shaken together. The result: a liquidised festive trifle.
Stockists: Online, Master of Malt, Fortnum and Mason
4. For a Festive Spritz: Malfy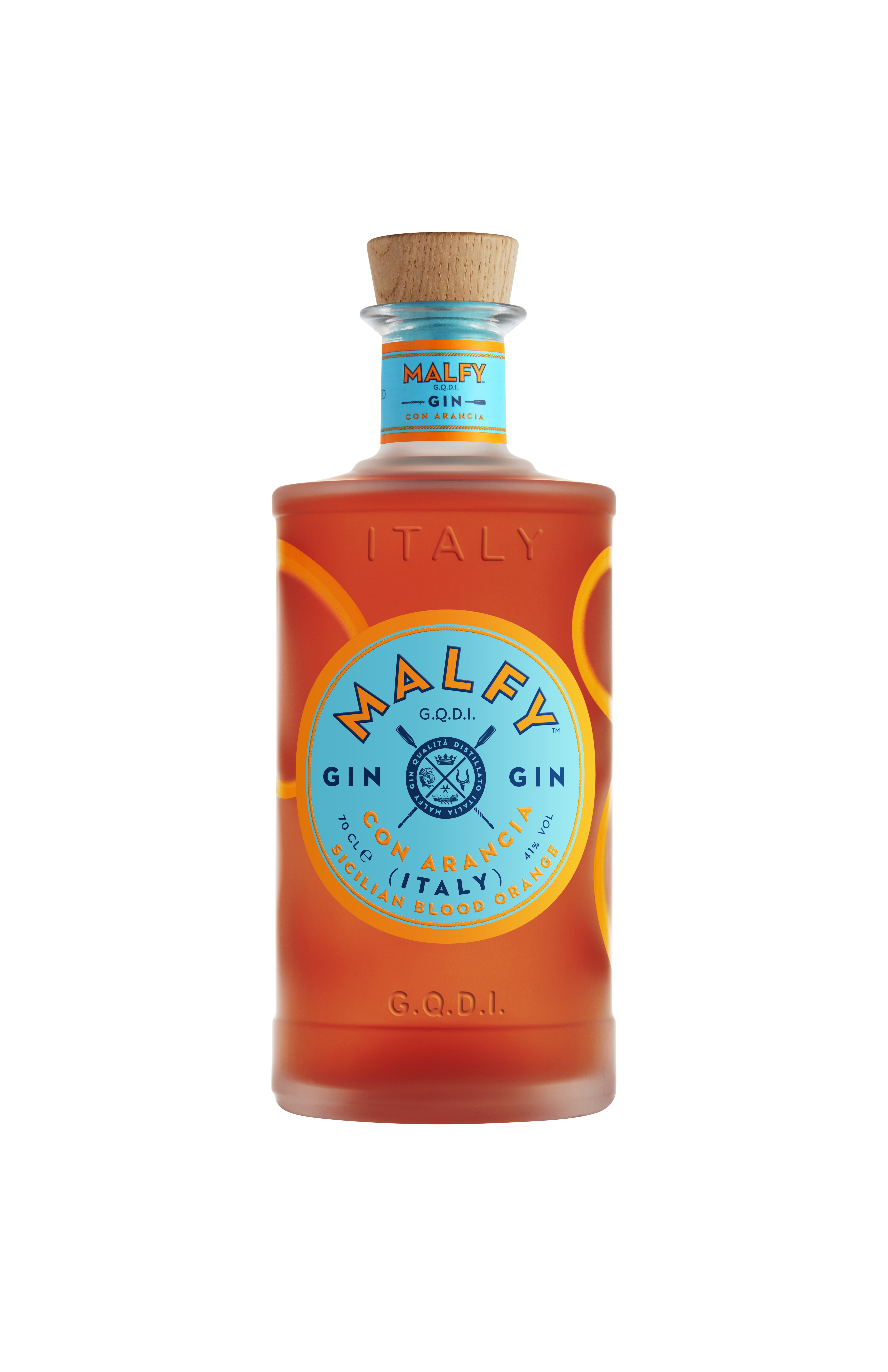 Drink: Malfy Blood Orange Italian Gin (£28)
The Lowdown: Originating from Italy and distilled with juniper and lemons from the Almafi Coast, Malfy's Blood Orange Gin has a sweet, juicy flavour profile that hits all the Christmassy notes. The festive frosted bottle and vivid orange liquid makes for stunning vibrancy on any drinks trolley and is best served with either tonic, soda or a splash of vermouth.
Stockists: GinKiosk.com, Amazon, 31Dover.com, Harvey Nichols, M&S, and Master of Malt and other good retailers.
5. For a Fruity Surprise: Slingsby
Drink: Slingsby Rhubarb Gin (£39.99)
The Lowdown: Yorkshire rhubarb is the star of the show in this pink gin that features the sweetness of both rhubarb and raspberry followed by the bitter tang from the pink grapefruit citrus base. Mix with tonic and a slice of pink grapefruit for a fruity and festive aperitif.
Stockists: Spiritofharrogate.co.uk, Master of Malt, and 31Dover.com