If you're anything like us, you're constantly looking for ways to spice up your whiskey game. Luckily, Baltimore's Sagamore Spirit are on hand with everything you need to take your sippin' to the next level. Whether you like your whiskey straight, with a dash of water, or with a wealth of exciting mixers, the award-winning spirit merchants have released three new cocktails you'll want to make at home immediately. Check them out below, and get acquainted with your favourite new whiskey.
Cava and Cran Fizz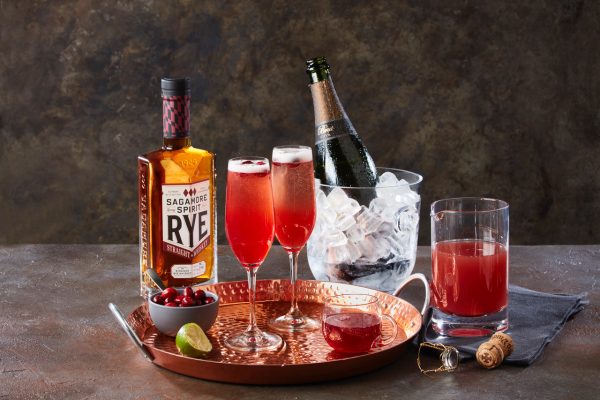 Valentine's Day may have been and gone, but Sagamore Spirit's Cava and Cran can be enjoyed all-year-round. Perk up your lockdown with an expert mix of bubbles and whiskey. 
Ingredients: 
44ml Sagamore Rye 
89 ml Sparkling Cava 
15ml Lime Juice
22 ml Spiced Cranberry Syrup 
Method: 
1. Add Sagamore Rye, lime juice, and spiced cranberry syrup to a champagne flute. Swirl the glass to mix.
2. Tilt glass and gently pour in Cava.
3. Garnish with lime and cranberry.
To make the Spiced Cranberry Syrup: Mix equal parts water, sugar, and fresh cranberries in a pot. For every one cup cranberries, add one cinnamon stick and one rosemary sprig. Bring to a boil and reduce to a simmer for 15 minutes. Chill overnight, and strain.
Fig Old Fashioned
A fresh fig garnish makes all the difference in this classic Old Fashioned, turned up a notch.
Ingredients:
55ml Sagamore Spirit Signature Rye Whiskey
15ml Dark Brown Sugar Syrup*
2 Dashes Sycophant bitters (orange and fig bitters)
1 Dash Angostura bitters
Fig for garnish
Method:  
1. Add all ingredients into a mixing glass.
2. Add ice and stir until cold.
3. Strain into a coupe glass and garnish.

To make the Dark Brown Sugar Syrup: Mix one cup each of water and sugar. Cook on med-low heat until sugar is dissolved and reduce to a simmer for 10-minutes. Cool and store in refrigerator. Yields 1 ½ cups.
Maryland Mule
Zesty and ice-cold, three simple ingredients give this traditional cocktail a tasty Maryland twist.
Ingredients: 
44ml Sagamore Spirit Rye Whiskey
115ml Ginger Beer
1/2 Lime, squeezed
Lime & Mint for Garnish
Method: 
1. Fill a copper mug with ice.
2. Pour in Sagamore Spirit Rye.
3. Squeeze lime into mug.
4. Top off with ginger beer.
5. Garnish with a lime wedge.