I've got a theory that everyone looks good when they're standing in front of a wall of flowers.  The girls look like shepherdesses in Venetian art and the boys look like Jesse Metcalfe the garden boy in Desperate Housewives. The Japanese share this sentiment and that's why they have Hanami – the enjoyment and viewing of the transient beauty of flowers. In honour of this custom, Suntory Japanese Whisky is bringing Sakura season to London at the Shochu Lounge at ROKA Charlotte Street this April, with a spectacular, fully-immersive cherry blossom installation and a flowery cocktail menu. Shochu Lounge offers a striking yet informal setting to enjoy modern Japanese cocktail creations, distilled shochu infusions and the full ROKA menu. Sit at the bar and watch the flower boys chip away at icebergs.
Following the enormous success of Zuma in Knightbridge, the ownership quickly recognised the huge popularity of robatayaki cuisine and opened ROKA Charlotte Street in 2004 working with Group Executive Chef, Hamish Brown to create an authentic but contemporary Japanese menu. The ROKA Group now has a portfolio of restaurants in Mayfair, Aldwich and Canary Wharf. The restaurant in Canary Wharf does a very reasonably priced Champagne all you can eat brunch on Sundays so as long as you don't mind eating out in a corporate finance weekend wasteland, you'll have a great time.  The principle cuisine comes from the robata grill. Located amid diners the grill forms an integral design element of all the restaurants but more than being a stunning feature, the robata is truly the heart of ROKA.
In modern-day Japan, Hanami is celebrated with outdoor parties beneath the layers and layers of cherry blossom. Throughout April, during the evenings, guests will be able to experience a unique and contemporary version of Hanami or rather yozakura – Hanami at night – where the entire bar at the award-winning Japanese restaurant's Charlotte Street location will be adorned with cherry blossom.
Try these limited-time cocktails: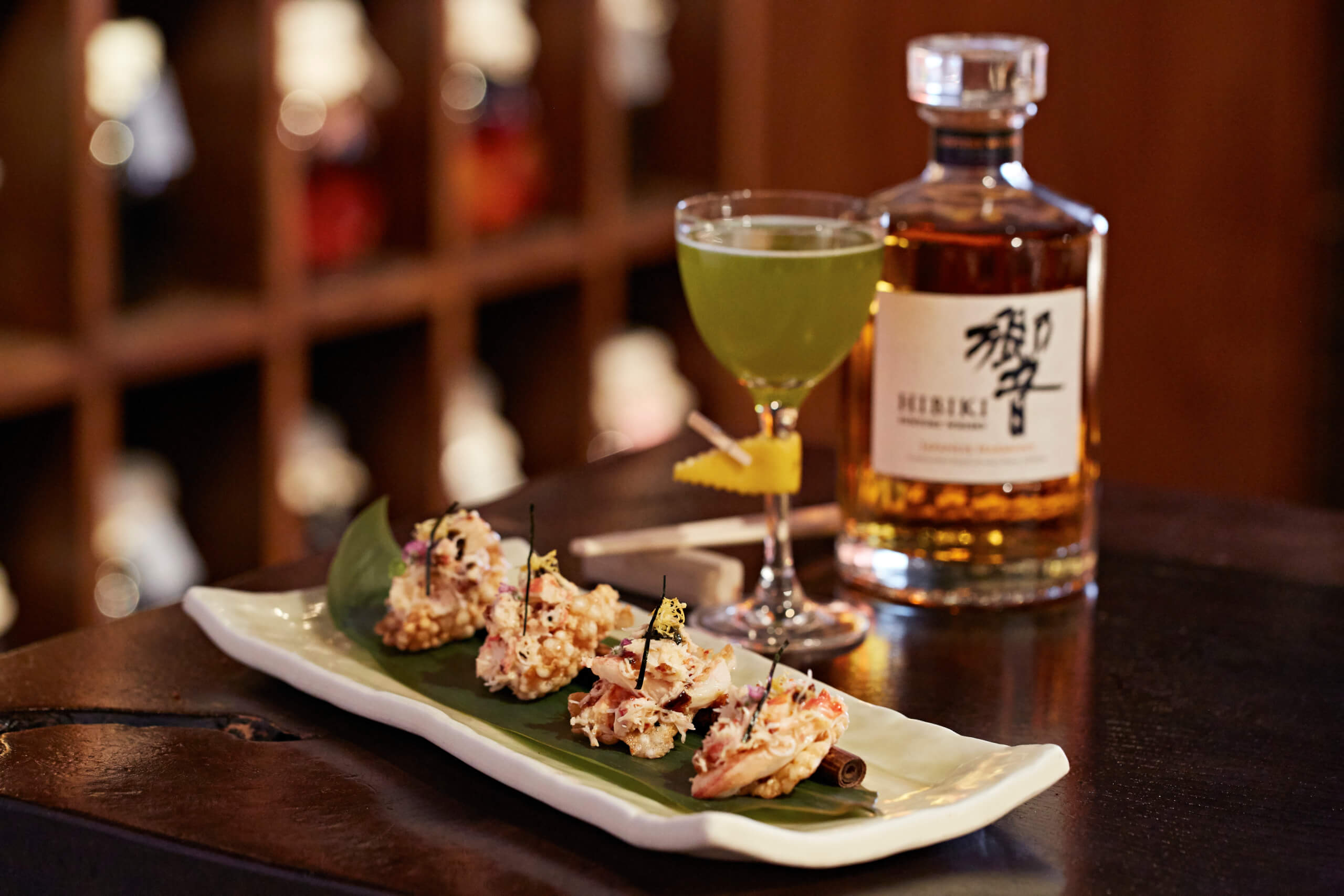 Match a Rack
– 
an elegant fusion of matcha-infused Arrack and Hibiki Japanese Harmony, umami spirit and mango cordial, served straight up in a nick-and-nora martini glass. 
Suntory Blossom – 
a short concoction of Hibiki Japanese Harmony, ume sake, blood orange and Sakura tincture. Served in a rock glass with carved ice, garnished with a dry blood orange wheel and Sakura blossom.
Happo Harmony –
a sweet and spicy, refreshing amalgamation of oriental flavours, combining Hibiki Japanese Harmony, rhubarb and ginger syrup, soda water and sprayed lemon flower essence. Served in a highball glass with carved ice, garnished with a rhubarb twist. 
For those who cannot visit the Charlotte Street location, a Sakura-inspired cocktail will also be on the menus at ROKA's three other locations: Aldwych, Canary Wharf and Mayfair.
Launched in July 2015,  'Hibiki Japanese Harmony' is reflective of the harmony between people and nature in Japan. Inspired by the riches and subtleties of the 24 Japanese seasons, Hibiki Japanese Harmony is a meticulous blend of the finest whiskies from the House of Suntory Whisky. With its hints of rosemary and sandalwood on the rose and honey like sweetness on the palate, it is a truly delicious whiskey. 
Where:  Shochu Lounge (ROKA), 37 Charlotte St, London W1T 1RR