Belizean craft rum makers Copalli have launched The Daiquiri Series, a creative collection of seasonal and Instagrammable cocktails to create at home curated with leading mixologists Jean Vital (@cocktailcircus_), Tammy Jackson (@forcocktailsake), Matt Hollidge (@theamateurmixologist) and cocktail curator from Copalli's distillery based in the heart of the Belizean rainforest, Waluco Maheia.
Introducing four new and never-tried-before twists on the Daiquiri serve, which typically uses just three ingredients, The Daiquiri Series is shaking up the classic cocktail using innovative but easy to find ingredients. Each cocktail uses organic, single estate, sustainably-produced and premium Copalli White Rum, which comes straight from Copalli's zero impact distillery powered by regenerative biomass in the Southern Belizean rainforest.
Perfect for those entertaining al fresco at home during the spring months, each The Daiquiri Series cocktail is simple to recreate and features only the finest ingredients to perfectly compliment the three clean and natural ingredients found in Copalli White Rum: sugar cane, pure rainforest canopy water and local yeast.
Matt Hollidge's 'Beesop Daiquiri'
Description:
A sweet and silky serve. Made with sugar-apple, a delicious Belizean fruit that tastes like custard and is easily found online, in larger supermarkets or from Caribbean or Asian grocery stores, and mixed with honey, lime and Copalli White Rum.
Ingredients:
50ml Copalli White Rum
15ml Lime
10ml Honey
1tbsp Sugar-apple / sweetsop
Method:
Shake all ingredients with ice and double strain into a glass. Serve with a slice of sugar apple.
Tammy Jackson's 'Flying Jewel Daiquiri'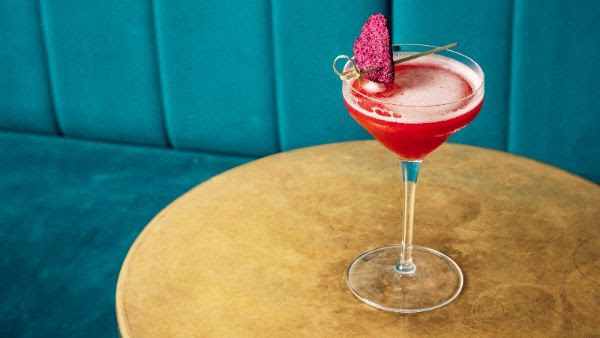 Description:
Known for her outrageous cocktails, Tammy Jackson's Flying Jewel Daiquiri takes inspiration from the colours of the rainforest, using dehydrated dragon fruit to make its stand out red shade. As well as providing a vibrant colour, the dragon fruit also has health benefits, being high in antioxidants and vitamin C. Mixed with passionfruit and tamarind, it's the ultimate refreshing fruity serve.
Ingredients:
Dehydrated dragon fruit (to infuse rum & to serve)
50ml Copalli White Rum (infused with dehydrated dragon fruit)
20ml Passionfruit pulp
1/4 tbsp Tamarind
20 ml Elderflower liqueur
Method:
Steep the dehydrated dragon fruit in the Copalli White rum for 30 minutes to give the rum a bright red colour. Strain the dehydrated dragon fruit and then add the rum to the other ingredients and shake with ice. Serve over crushed ice in a coupe glass.
Jean Vital's 'Fruit & Fennel Daiquiri'
Description:
An exotic – and unpredictable – pairing of mango, strawberry and fennel, Jean Vital's mango daiquiri is made with a splash of Crème de Fraise, and a dash of Absinthe for those feeling adventurous. It is best enjoyed in the sunshine!
Ingredients:
50 ml Copalli White Rum
20 ml Crème de fraise
20 ml Lime juice
10 ml Fernet branca or Absinthe (optional)
40 ml Mango, strawberry and fennel blend
1 Part strawberry
2 Parts mango
1 Part fennel
4 Parts caster sugar
2 Parts warm water
Blend and fine strain
Method:
Shake all ingredients and fine strain. Garnish with some mango fans or strawberries.
Waluco's 'Soursop Daiquiri'
Description:
Rum expert and Copalli's Assistant General Manager Waluco Maheia knows the flavours of the rainforest better than anyone else, and offers to share a taste with his 'Soursop Daiquiri'. Mixing soursop – a tropical fruit with a scent like pineapple and a taste somewhere between strawberry and apple, but with sour, citrus notes, it's the perfect Daiquiri with a twist.
Ingredients:
Soursop chunks (muddled)
25ml Simple syrup
25ml Fresh lime juice
50ml Copalli White Rum
Method:
Shake all ingredients with ice and strain on the rocks or neat.