St Patrick's Day 2021: Celebrate with HonestBrew's Selection of Irish BeersBy Elliot Mitchell
Bring St Patrick's day to your door and raise a glass with one of Ireland's top tipples thanks to HonestBrew's selection of authentically Irish beers. Whether you're looking for a sessionable juicy pale ale or a more traditional rich and indulgent stout, HonestBrew's Irish beers are the perfect way to celebrate St Paddy's Day in hoppy style:
What: NE IPA, 3.8%
The Lowdown: A heavily hopped Session IPA: this comes at you with buckets of Simcoe, Equinox, Citra and Mosaic with a light touch of malts and an easy crushable body. A delicate caramel malt backbone perfectly balances this juicy pale ale.
Price: From £2.50
What: IPA 5.3%
The Lowdown: One of Ireland's most popular craft beers. Fondly known as 'Yellowcap,' Scraggy Bay is a full-flavoured hazy IPA for everyday drinking with a clean malt bill and a classic hop bill of full-flavoured modern hops.
Price: From £2.99
What: IPA 5.5%
The Lowdown: A true to the name American-style IPA brewed exclusively with extra pale malts, and hopped with Azacca and Mosaic. Expect sweet and juicy tropical fruit aromas, followed by full-on fruit salad thirst-quenching hop flavours.
Price: From £3.69
What: Milk Stout, 4.5%

The Lowdown: It'll be a happy fish or a mermaid who finds this brew buried at sea. It's perhaps natural to associate stouts and porters with the cooler months, but Galway Bay's milk stout is a dark beer you could drink all year round. Wonderful fresh grainy flavours combine with coffee and dark roast, with chocolatey and milky tastes restrained in favour of a clean and smooth testament to the dark side.
Price: From £2.95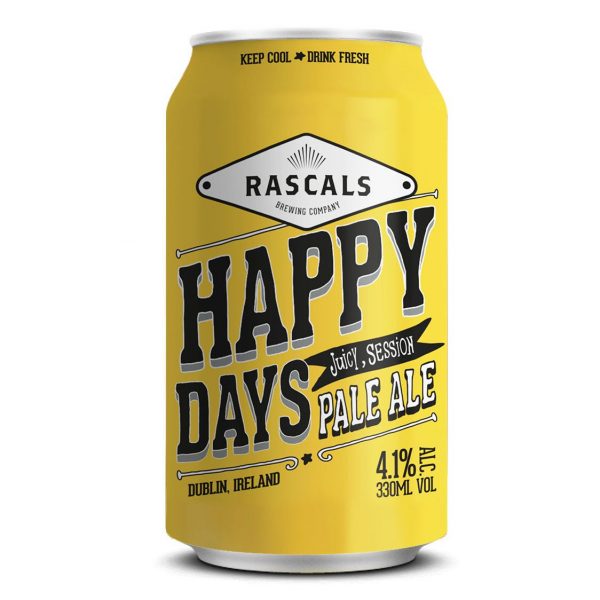 What: Session IPA 4.1%
The Lowdown: Happy days is Rascals' session pale ale. A mouth-watering hop combination of Vic Secret, Citra, Cascade, Mosaic and Hull Melon ensures this beer gets the VIP treatment. Expect fresh mango, passion fruit, orange, melon and much more. A delicate caramel malt backbone perfectly balances this juicy pale ale. A happy-making session beer …happy days!
Price: From £2.50