About Time: You Went To Denmark's Tønder Festival For FreeBy Imogen Lepere
Sinead O'Connor, Bob Dylan's Saxophonist and the Crown Prince of Denmark walk into a bar…. Nope, this isn't the first half of a weak joke: it is a glimpse of life at Denmark's premier folk and roots festival, held on the last weekend of August in a tiny town which gives the festival its name. Introducing: Tønder Festival.
Tønder

 Festival: The Lowdown
Founded in 1975 by music students, Tønder Festival is an event which prides itself on its musical integrity. You won't find any sunglasses-shielded, security-flanked celebs here. There is no VIP area. In fact, in exchange for a how-do-you-do, the security guard happily ushered us backstage, where we were welcomed into a jamming session featuring an eclectic mix of musicians and music lovers. Including Sinead O'Connor, no less.
Throughout the four-day festival this 'music is what matters' attitude is repeated again and again, with headliners regularly coming off the main stage and busking around the site, or chilling with fans over an ice-cold Tuborg.
Oh and did we mention that you can go entirely for free?
Tønder Festival: Volunteering
Volunteering at a Danish festival is very different from volunteering at an English one. Not only do you get a free ticket, you also get free camping, cheaper food and alcohol. All weekend.
We worked at Manhattan Bar, a tiny cocktail tent. Not only did they pick us up from the station and help us pitch our tent, while we were working they kept us supplied with a regular stream of sol æg's (sun eggs), a delicacy which is peculiar to the festival and is far more appetising than it looks.
On the Monday after the festival the volunteers gather in the main tent for a celebratory dinner, followed by a free concert coordinated by the artists to thank them for all their hard work. Take note Mr. De La Soul, Miss. Del Rey and other Glasto headliners…
Tønder Festival: The Music
The music is mostly folk, roots and country and while we had heard of headliners such as Billy Bragg, most performers were totally new to us. Irish brothers and Tønder regulars Hudson Taylor particularly stood out, both for their cover of Simon and Garfunkel's classic 'Mrs. Robinson' and for their own songs, such as 'Care'.
The tents are incredibly intimate – some of the stages aren't even raised and people sit cross legged on the floor so that everyone can see. However lots of the action takes place spontaneously, with artists and festival goers playing together around the grounds and campsite.
Tønder Festival: The Crowd
The crowd is amazing. Think the Woodstock generation crossed with the cast of Butch Cassidy and The Sundance Kid. Picture a man called Brendan who once rapped with Snoop Dogg rubbing shoulders with Danish supermodel Malene Knudsen (who has recently featured in The Kooples sport campaign), while an elderly man in a tea cosy hat two steps to the sound of a saxophone.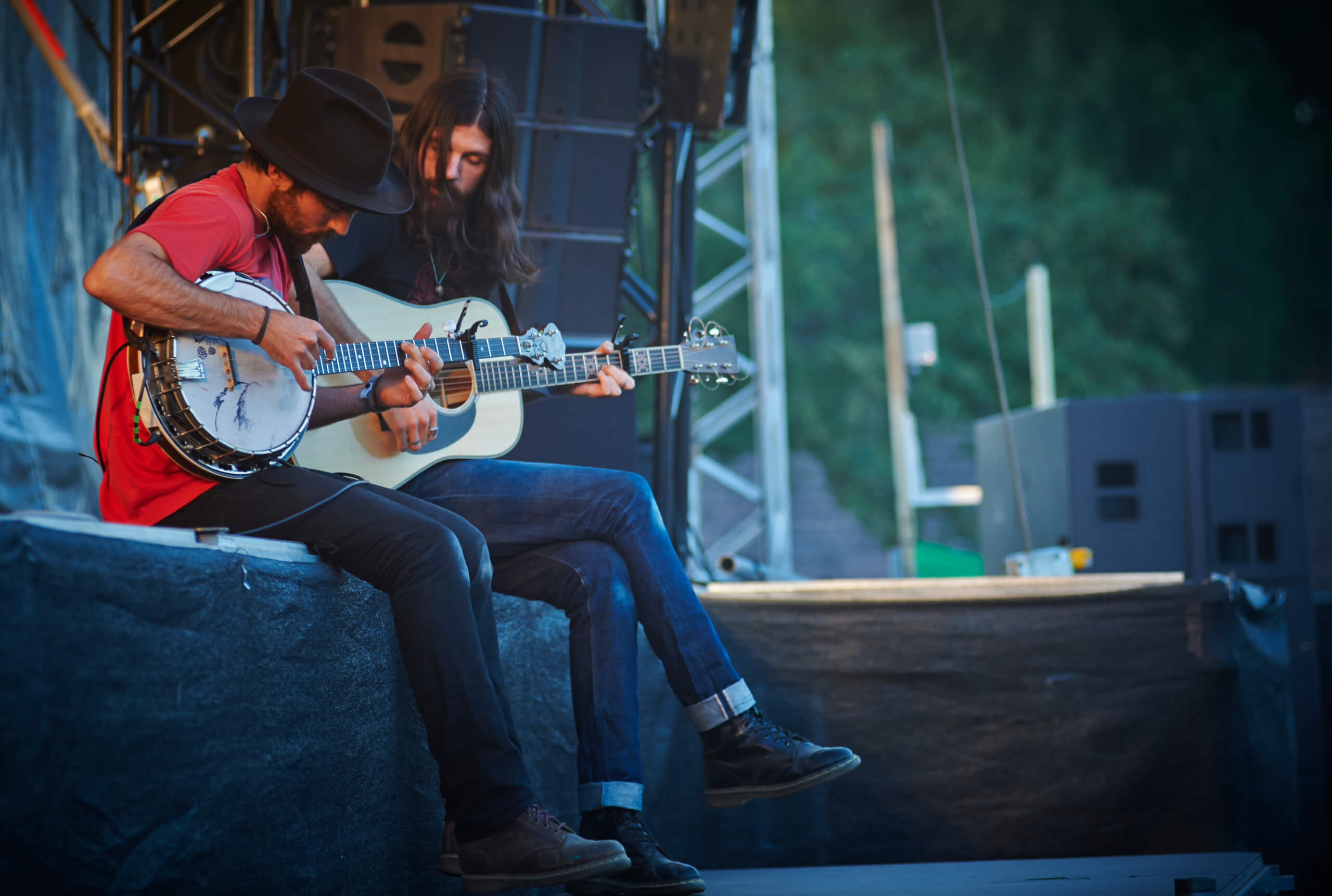 Photographs by http://www.jens-th.com
Tønder Festival is in southern Denmark near the German border on 29th-31st August 2014. Find out how to volunteer here and otherwise tickets for the four-day event are €194.