Cocktail shakers are prone to dust; bunged at the back of sideboards, after a steamy yet fleeting infatuation with their owner. This week, scrub and service yours, or lose your mixology virginity and invest in a shaker. If you fancy an awesome gin adventure, we've got 2 tickets to Ginbop to give away – simply share this feature on Twitter or Facebook with the hashtag #AboutTimeSummer to enter:
Summer Cocktails: How to Do It
It's all about the cocktail shaker. Make sure to keep your receptacle relationship in good nick, cleaning out the casing regularly and topping it up with plonk. The hollow metal device is a multi-dimensional antidote to many a life demand: exercising the arm muscles, trickling down the outside, to cause those sticky splotches that landlords adore, and with any luck churning out some foot popping refreshment. 
Summer Cocktails: How Not to Do It 
Cocktails provide alcoholic unity. Indeed cocktails disguise booze, tranquillising boring dates with wet mummy's boys, or sparking the imagination with jaw dropping flavours.
I learnt this the hard way. Way back when, some friends and I established that a generous slug of orange squash and copious amounts of fruit juice, conceals any cheap, tongue numbing booze. Despite the remarkable series of events that transpired post-punch, sometimes it is not all that appropriate to feel like you are swinging from the monkey bars in public. This summer, concoct something that is crafty, classy and creative. It may seem like an insurmountable task to purchase the boggling list of cocktail ingredients needed, but it will be worth it. Here are some of my summer cocktail favourites:
#1 The Summer Martini
Tiny Ten Martini
What: For a refreshing twist on a classic, nip out and grab a bottle of the citrus packed, Art Deco designed, king of all Gins: Tanqueray No.Ten (£32.58, Selfridges/ Alexander & James).
50ml Tanqueray No. Ten
35ml Pink Grapefruit Juice
10ml Sugar Syrup
How: Add all of the ingredients to your shaker with cubed ice, shake and strain into a Martini glass and garnish with grapefruit zest.
This little sipper is available all summer long, in the lush settings of Vista (The Trafalgar), which has been transformed into a Citrus Garden Pop Up!
#2 The Summer Whisky Cocktail
What: Wild Geese Whiskey Classic Blend (£18.25, Master of Malt) has just the right amount of honey and spice to make an lip smacking cocktail, to please both whiskey drinkers and whiskey sceptics alike.
25ml Wild Geese Classic Blend
25ml Cloudy Apple Juice
A Squeeze of Lemon
15ml Elderflower Cordial
Top up with Soda Water (optional)
How: Add all of the ingredients to your shaker with ice, shake and strain over ice with a wedge of lemon.
#3 The Summer Vodka Cocktail
Hawkes Coster King
What: Hawkes Alcoholic Ginger Beer brings rich spice to your drink, without giving you a sugar coma. Hawkes are supporters of Centre Point, a charity helping London's most vulnerable young adults, so this is the type of tipple to feel only virtuous about.
50ml Apple Cider or Cloudy Apple Juice
5oml Hawkes Ginger Beer
25ml Grey Goose Vodka
How: Give your shaker the day off and combine within an ice filled glass, garnish with a stick of cinnamon.
#4 The Summer Manhattan 
Jim Beam Maple Manhattan
What: If you are a bit of a bourbon lover and like something sweet and tangy, grab a bottle of the new Jim Beam Maple (£19.84, Tesco).
50ml Jim Beam Maple
25ml Sweet Vermouth
2 Dashes Bitter Truth Orange Bitters
How: Stir all of the ingredients together with ice, pour into Old Fashioned glasses over ice and serve with a slice of orange.
#5 The Summer Rum Cocktail
The Ibiza 43
What: Fancy being transported to Med? Snap up a bottle of Licor 43 (£17.99, Asda), a sticky, fruity, herbal Spanish tipple.
30ml Licor 43
12.5ml El Dorado 12 Year Old Rum
90ml Pineapple Juice
How: Add everything to a cocktail shaker, with cubed ice, shake and strain into a highball glass over ice.
Summer Cocktails: Best in Town
If you can't quite make it to the shaker, here's a few places to have your cocktails out instead:
1. For Fresh Asian Flavours – Ping Pong 
Head down to the Southbank (or check out the 8 other locations here) and pop into Ping Pong Dim Sum to check out their Summer Specials. Sip a hedgerow inspired Blackberry and Chambord Mojito (fresh blackberries, Barcadi Superior Rum, fresh limes, mint leaves, topped with Chambord liqueur) and share small plates of Chilli Squid and Chinkiang Seafood Skewers.
2. For a Great Patio – The Sanderson Hotel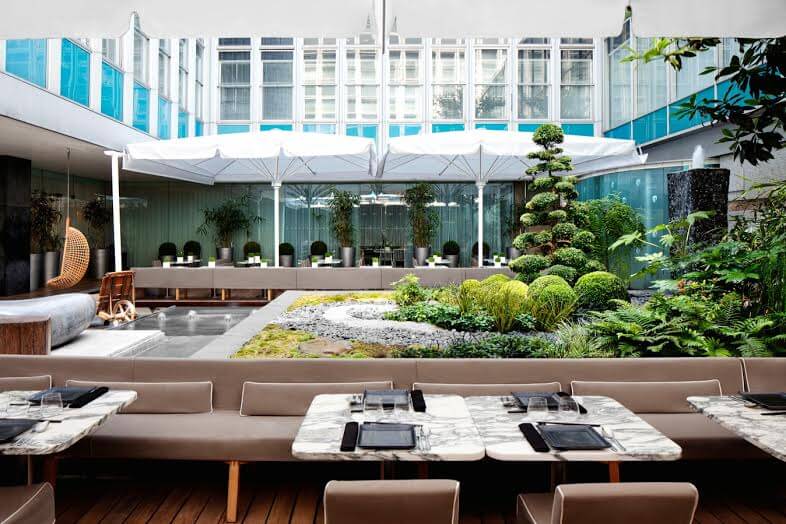 If you're looking for a cheeky outdoor cocktail spot, look no further than the fantastic patio at The Sanderson Hotel. Their Long Bar and Purple Bar serve up some of the best cocktails in town; don't miss the Deluxe Mojito, which is given a refreshing twist with bubbly (Cava Brut, of course) and fresh mint. Sip Lychee Martinis by the fountain and you could be St. Tropez, we swear.
3. For a Taste of Class – Diageo World Class House
If you've got a free night after work, you can't miss the World Class House pop-up in Fitzroy Square. To celebrate the world's biggest and best bartending competition, Diageo have put on a special pop-up 'house' where your every drink fantasy comes room; through the Tanqueray room with real orange trees and G&Ts on tap, and the Kettel One Vodka room where you'll get a lesson in how to make the world's best Bloody Mary. The house is open to the public, but you have to buy an entry ticket first – more information here.
4. For Cocktails with a View – Aqua Kyoto
It's a little known rooftop in the heart of Central London that makes this space really special. The cocktails don't come cheap (think around the £10 mark) but it comes with a seriously cool feel and a nice crowd. The best of the Pear Sake cocktail with fresh pear and mint; it's refreshing, fruity and the kind of thing you want to drink all summer long.
5. For a Cocktail Celebration – GINBOP
GINBOP Festival, Rivington, Greenwich. On Friday 15th August Hendrick's, Beefeater, Tanqueray, Langley's No. 8 and Bombay Sapphire will all be shaking up 3 mouth-watering cocktails at their own pop-up bar (plus their imaginative take on the G&T). Tickets are priced at £40 and include 3 cocktails, entertainment and food.
WIN 2 tickets to GINBOP: simply share this feature via Twitter @abouttimemag or on our Facebook page with the hashtag #AboutTimeSummer. Don't forget you must be following us first!