There's a party and you're all coming. For one week only, you are cordially invited to the most inclusive members club in London. Since 2010 London Cocktail Week has been the Supermarket Sweep of the drinks world. Clear your commitments, tell your mum that you have gone to the Outer Hebrides and make a plan… Or better, a map.
London Cocktail Week: The Vital Stats
What: For seven days, 200 of London's best bars will treat happy punters to £4 signature cocktails. Use the week to fully immerse yourself in cocktail making, pop-ups, seminars, masterclasses, tastings and parties. Expect you, London's best tipples and 25,000 other Londoners. 
When: 6th-12th October
How: Buy a £10 wristband here and pick it up from one of the special hubs – CENTRAL: Ketel One, Seven Dials/ EAST: Tanqueray No. Ten Hub, Spitalfields/ WEST: Cointreau Hub, Bluebird.
The Best Part: £4 drinks are unlimited for the week and there are tons of other eating and imbibing offers.
The Idea: To spend your hard earned cash and explore, or relive some of London's best haunts.
The Problem: There are so many fantastic bars taking part – without taking a week off work and ending up hospitalised, you might not even scratch the surface. Someone keeps emailing me about Go Sober October – bore off.
The Solution: You need to make a seriously good plan. Here's the best events taking place throughout the week. You can thank us later:
#1 London Cocktail Week: Best Events 
Ketel One Hub @ Seven Dials – this former Adidas shop will be transformed into a pop-up farmer's market. Head here to pick up your LCW wristband (midday – 9pm). Stick around and create your own Ketel One based Bloody Mary, using the sumptuous selection of spices, fresh fruits and herbs.
Zapaca Rum Experience @ Ketel One Hub – in the basement of the hub, you'll find a space for your imagination to run wild. Promised to take you on a rum packed sensory 'journey' to the Guatemalan Rainforest, this totally wacky and FREE experience is not to be missed!
Ketel One Hub: 9 Earlham Street, Covent Garden, WC2H 9LL
Whilst you are in the area pop for something short and strong at Christophers Martini Bar. You'll step into the pizazz of American Deco glam and the only question you will need to answer is: 'Shaken or stirred'? Sit back with their £4 zippy Honeymooner with Stolichnaya Honey Vodka, Limoncello, Raspberry syrup & Lime Juice.
Christophers Martini Bar: 18 Wellington Street, Covent Garden, WC2E 7DD
#2 London Cocktail Week: Best Masterclasses 
Fever Tree G&T Safaris – go on safari with Gin connoisseur Craig Harper, who will guide you through the history of the G&T, the botanicals and garnishes. Calling in at five establishments along the way, this whistle stop tour will help you slur your words and cause you to panic-buy the ingredients for home-style ambrosial 6 o'clock gins!
*T&Cs: a classy bar crawl, wildlife not included, may lead you to having vivid dreams about meercats
The G&T tour kicks off from Terrace Bar & Grill, Le Meridien Piccadilly: Monday- Thursday- Tickets £20 (7pm-10pm), can be purchased here.
Maker's Mark @ Steam and Rye – head to the barnyard of the city to be transported to the Wild West. For one night only, mixologist Amanda Humphrey will run you through her best bourbon-based mixes, helping you to pick your perfect poison. At the end of the evening you can hand dip Maker's Mark bottle, and be set you off on your own home-mixing mission.
Steam and Rye, 147 Leadenhall Market, EC3V 4QT: Thursday – tickets £15 (6:45-8:45pm), can be purchased here.

The Vestal Voyages – hop on board the Vestal canal boat to experience the world's first floating pop-up bar and distillery. We're hoping that the warm weather continues so we can lounge up on the deck, soaking up the sites of London and soaking in the cocktails.
Granary Square, Kings X, N1C: Monday-Sunday – tickets £15 (6pm-10pm), can be purchased here.
#3 London Cocktail Week: Best Parties
NOLA Vs NOLA Invades Trouserless Tuesday – pretty self explanatory. If you dare to bare you will be invited to enjoy tongue-tingling £4 Bittermen's cocktails. A show down, as the best bartenders from New Orleans NOLA are pitted against the London team (£8 for both competition cocktails).
1st Floor Rivington Street, EC2A 3AY: Tuesday – no ticket needed (6pm- 1am).
Bottomless Tipsy Tea, Mr. Fogg's – join a truly Mad Hatter's Tea Party, where a selection of tea time sandwiches and cakes will be served with Tanqueray Export cocktails in teapot form. Splash out and start the week with a thick head, for £60pp the teapot is bottomless.
15 Bruton Lane, Mayfair, W1 6JD: Sunday- Tickets £60 (2pm-6pm), can be reserved by emailing: MISSSTEWARTBROWN@MR-FOGGS.COM
#4 London Cocktail Week: Best Pop-Ups 
It's all about Seven Dials where LCW have taken over all of the empty shops to bring you POP-UP EXTREME. Here's our favourites:

The Eldorado City of Gold – El Dorado splashed over ice will unite rum lovers and sceptics. But don't take my word for it, head down next Tuesday, where the rums will be matched with chocolate (£10). Book early to take Thursday's rum tasting flight, culminating in the rare opportunity to sip the highly coveted and exceedingly rare El Dorado 25 year old.
71 Monmouth Street, WC2 9DG  – click here to book onto a masterclass.
Bulleit Bourbon 1950's Diner – Christmas comes to the West End early, in the form of Bulleit's pop-up 1950s diner. Taking over the London Cocktail Club, expect roller-skating waiters, diner fodder and of course cocktails. The best news is that it will be there all week!
224 Shaftesbury Avenue, WC2H 8EB
#5 London Cocktail Week: Best Cocktails 
CENTRAL: 
1. Call Me Mr Lucky – head into The Breakfast Club and announce: 'I'm here to get lucky!' and be lead through a secret door, to find a Mexican party every day of the week at this rocking tequila bar. Four quid refreshment will come in punch bowl form LUCKY DUCKY with Gin, Pear, Blackberries, Coconut Water, Apple and Grapefruit.
The Breakfast Club: 11 Southwark Street, W1F 0TN
Lady in Red – a wise woman once said 'If she is squeezed into a red dress, she has no knickers on'. We say, pants are optional when heading down to Dirty Martini – for 4 smackers you can quaff the Lady in Red with Beefeater Gin, Blood Orange Liqueur, Homemade Strawberry Syrup, Egg White and Lemon. All night long.
Dirty Martini: 10c Hanover Sq, W1S 1JH/ 11-12 Russel St, WC2B 5HZ
China Tang @ The Dorchester – Impress your new beau or your mother in-law with lunch at one of London's best loved hotels. In celebration of LCW their lunch menu is £20 (including the best roast duck in town) and pre and post-lunch cocktails are a must (£8) – Fly Away (Belvedere Vodka, Creme de Violette, Cranberry, Cinnamon, Orange Syrup & Jasmine Tea Foam).
The Dorchester: 53 Park Lane, W1K 1QA
DON'T MISS: Reverend J.D Simpson's Espresso Kopi Sussi – which will make you bop like Britney all night.
EAST:
Callooh Callay – In the heart of Shoreditch, lies cocktail heaven. With its wardrobe entrance and weekly changing menus, Callooh Callay is the apple in many an eye. LCW is the perfect time to try out the quirky menu – the 4 smacker sipper is 'Mexican Mustard Trick' (Don Julio Blanco, Luxardo Marashino, Grapefruit and Mustard Powder), destined to be a potently concocted little oddity.
Calooh Callay: 65 Rivington St, EC2A 3AY 
Dishoom – where the East End meets Bombay, Dishoom offers foolishly good fodder from dawn 'til dusk. Serious sippers must indulge in the Thumbs up Flip – don't be put off, it contains a whole egg! Tuck into some small plates of samosas and calamari sip the LCW breakfast beverage – The Doble (OJ, Spiced Gin, Marashino and Lemon).
Dishoom: 7 Boundary St, E2 7JE
Satan's Whiskers – head to Bethnal Green a vibrant patch of town where rambling stall fronted shops and strip clubs, meet craft beers and a certain breed of bearded hipster. Satan's Whiskers is the ultimate neighbourhood bar, the cocktail list changes daily (which could tempt you to sip off-piste), the LCW 4 pounder is: Silver Pineapple (Havana Club 3yo, Pineapple, Lime & White Wine).
Satan's Whiskers: 343 Cambridge Heath Rd, E2 9RA
Also try: The Alchemist – the Alchemist is more chemistry than cocktails, think: Dry ice, Bunsen burners and illusions- Loire Lady (Chambord Black Raspberry, Grapefruit Vodka, Dry & Sweet Vermouths & Citrus Bitters).
The Alchemist: 6 Bevis Marks,EC3A 7HL
 WEST:
Cadogan Arms, Chelsea – The Cadogan Arms continues to be a firm west London favourite. As the nights draw in, bin your tights and hold onto summer- Chasing Summer (Chase Summer Fruit Cup, Creme de Mure, Rose Syrup, Cranberry, Chamomile Tea, Lemon).
The Cadogan Arms: 298 King's Road, SW3 5UG
Portobello Star – in recent years the Portobello Star has been a destination for stunning city slickers and Ginstitute antendees. This bar/pub hybrid, has a bar fit to bursting with gin and a mixologist who has devised the perfect menu, balancing cocktail classics with virginal mixes. The LCW mix of choice is: Soyer's Nectar (Portobello Road Gin with Soyer's Nectar).
Portobello Star: 171 Portobello Road, W11 2DY
SOUTH:
64th & Social – step into 64th, which stays open until 3am on Friday and Saturday. Line your stomach with one their awesome steaks and tuck into the cocktails. Their chosen LCW 4 pounder is promised to pack a pokey punch- Lights Out (Appleton Estate V/X, Mango, Lime & Grapfruit Soda).
64th & Social: 64th Clapham High Street, SW4 7UL 
The Bar at Roast – London Bridge is the perfect post-desk retreat, the LCW drinks will (Cosmo, Mojito, Negroni, Manhattan & Magarita) satiate everyone's spirit preference. Savour the views out over Borough Market, whilst being serenaded by live jazz.
The Floral Hall, Borough Market, Stoney Street, SE1 1TL
Union Street Cafe – LCW have got the big dogs Gordon Ramsay and Jamie Oliver in tow. If you want to impress your colleagues with big ball-busters, put your feet up in the comfortable surroundings of Ramsay's Union Street Cafe. The £4 sipper: Time Flies (Bacardi Superior Yellow Chartreuse, Lime, Grapefruit, Basil & Dandelion & Burdock Bitters).
Union Street Cafe: 47-51 Great Suffolk Street, SE1 OPB
NORTH: 
Grand Union – If you are feeling like you need a detox hop down to Grand Union for their LCW offering, the Very Berry Martini (Muddled Berries, in Raspberry Stolichnaya)- apparently one of your five-a-day. Shelter under the indoor tree house and imbibe.
Grand Union: 102-104 Camden Road, NW1 9EA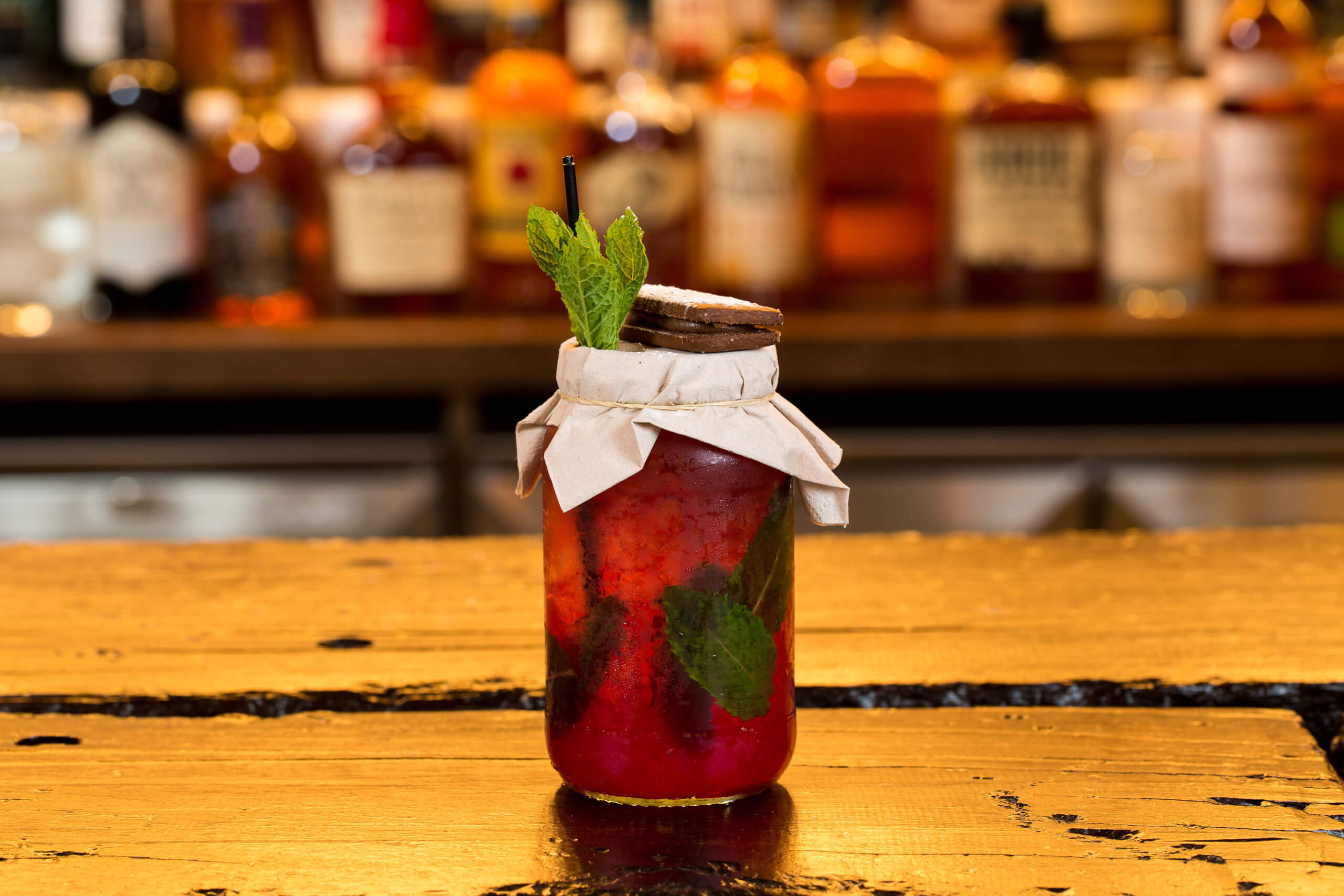 Porky's BBQ – just down from the hustle and bustle of Camden Lock lies Porky's, a no-frills taste of the American Deep South. Buzzing from noon 'til night, they have got it bang on. Try the Porky Burger washed down with a Jam Julep (Evan Williams Bourbon, Raspberry & Blackberry Syrup, Plum Bitters and Fresh Mint.
Porky's BBQ: 18 Chalk Farm, NW1 8AG
#6 London Cocktail Week: The Final Chapter 
Q-Grill – Q-Grill is the perfect destination to relax after a heavy week on the sauce. Sip the kale, avocado & apple smoothie and tuck into the freshest waffles, with sweet cured bacon and maple syrup. If you need to delay the thick head, hit the Bloody Mary station and concoct your own spiced sipper.
29-33 Chalk Farm Road, NW1 8AJ
Then detox and get ready for London Beer Week, destined to paint the town hoppy come February.