If there's one thing we associate with Christmas, it's getting on the drinks. Now we're not talking binging here, more just celebrating the season and having something a bit special. The festive season is the perfect time to push the boat out – trying that bottle you've been saving for a special occasion, buying something you've been eyeing up on the shelves in the supermarket. If you're looking for something incredible this Christmas, we've rounded up the best wines/spirits/rum/non-alcoholic options this festive season. Feliz Navidad.
Christmas Drinks Guide: Gin
The Lowdown: HYKE Gin is the world's first sustainable grape gin, made in Sussex using leftover grapes from UK supermarket punnets. It's using grapes as its base ingredient that gives this award-winning gin its one-of-a-kind flavour. The grapes are distilled to create a smooth grape spirit, before being expertly blended with grain spirit, and steeped with botanicals inspired by the grapes' global origins, including coriander, myrrh and rooibos to craft an exceptionally unique drink.
Price: £26
Where: HYKE Gin is readily available in Tesco stores nationwide as well as online
The Lowdown: Silent Pool is a luxury handcrafted gin made from 24 botanicals with the aim of capturing the essence of the Surrey Hills. A contemporary London Dry Gin with floral top notes, many ingredients are locally sourced, including elderflower, pears and honey. Perfectly served in a G&T with Indian tonic and garnished with an orange slice.
Price: £40
Where: Buy online
The Lowdown: Classic in style, crisp in taste and beautifully smooth in texture, No 3 Gin boasts a balance of 3 key flavours; Juniper, Citrus and Spice. The lovely gift pack contains a bottle of No.3 London Dry Gin and a stylish highball glass, perfect for Christmas gifting.
Price: £49
Where: Buy online
The Lowdown: Each Masons' gin is a clear, pure London Dry: no artificial flavours added and each botanical comes through full of flavour via the highest standards of distillation. The Masons of Yorkshire portfolio is made up of 8 world-class Gins: Original, Tea, Orange & Lime Leaf, Pear and Pink Peppercorn, Pink Grapefruit & Cucumber, English Lavender, British Raspberry and Distiller's Strength. And best of all, you can get your bottle personalised.
Price: From £32.50
Where: Buy online
Christmas Drinks Guide: Wine
The Lowdown: Emile Wines' house Burgundy is a baby Chablis: zesty and vibrant with ripe fruit, full of minerals with a lovely saline finish. It is unoaked and delightfully easy to drink. And of course, a wine this good needed a special label and Frances Costelloe – the artist behind everything chez Emile – has created something playful and feminine, with just a touch of romanticism.
Price: £16
Where: Buy online 
The Lowdown: Instead of falling back on your favourite bottle of plonk this Christmas, let Wine Unpacked's Taste Finder Kit help you figure out your/your loved one's taste preferences. Try 12 styles of wine in fun-size bottles, build your unique online taste profile, learn about your tastes and get wine confident.
Price: £39
Where: Buy online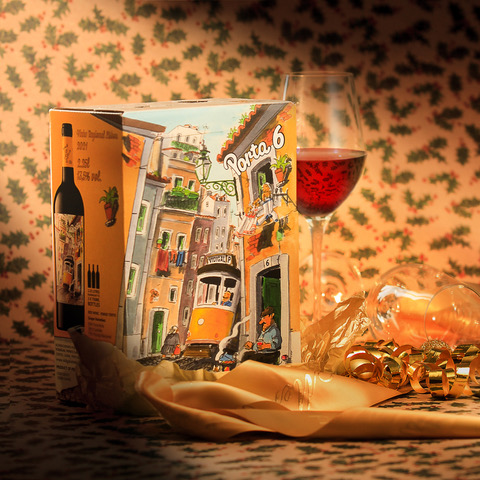 The Lowdown: Bag in a box wines are back people, and we're here for it. Porta 6 Red is a blend of 50% Aragonês, 40% Castelão and 10% Touriga Nacional grapes. Porta 6 Red is complex, with red and wild berries and hints of nuts. It has a soft mouthfeel with a medium finish, making it the perfect pairing for meat, Boxing Day sarnies, and charcuterie platters to name a few.
Price: £19
Where: Tesco stores nationwide and online 
Christmas Drinks Guide: Tequila
The Lowdown: PATRÓN Silver is a unique handmade tequila perfect for getting in the Christmas spirit. With a taste of soft, sweet, fresh agave with hints of citrus and white pepper, it's a flawless white spirit made from the finest Weber Blue Agave with citrus, fruity notes. Handmade in small batches to be smooth and easily mixable, making it the perfect Christmas gift for any loved one this festive season.
Price: £46
Where: Buy online 
The Lowdown: The perfect match of rounded Tequila Reposado (rested in Bourbon barrels for ultimate smoothness), meets bittersweet coffee for a deliciously decadent liqueur. Dead Man's Fingers Coffee Tequila Liqueur is great over ice, as a shot or mixed up in an indulgent cocktail like an Espresso Martini.
Price: £21.95
Where: Buy online
Christmas Drinks Guide: Rum
The Lowdown: Don Q Gold is an amber rum considered ideal among traditional drinkers for preparing classic rum cocktails. With a robust and integral flavour, it is famous for being the rum used in the creation of the very first piña colada by bartender Ramón "Monchito" Marrero.  A good choice for sipping neat or splashing in a cocktail.
Price: £23
Where: Buy online
The Lowdown: Salcombe Rum 'Island Street' is a transatlantic spiced gold rum, which Salcombe Distilling Co. has expertly crafted by blending single estate gold rum, produced in Salcombe, with exotic rums and spices from the Caribbean. Expect flavours of gingerbread cake, mince pie mix and warming vanilla with underlying fresh pineapple. Excellent on its own or mixed with ginger ale.
Price: £35
Where: Buy online 
Christmas Drinks Guide: Whisky
The Lowdown: A new and distinctive take on peated malt whisky, Torabhaig Allt Gleann showcases the wealth of skill and understanding of the complex process to go against the grain of traditional heavier peated and medicinal whiskies to create a well-tempered and well-balanced whisky with 'elegantly rugged' refined smoky notes and a maritime influence.
Price: £52
Where: Buy online
The Lowdown: Double-barrelled for an extra smooth finish, Caisteal Chamuis blended whisky is first aged in refill and first fill American oak hogsheads, before going through a two-stage re-ageing, with part of the blend in 250l charred virgin American oak barrels, and the rest in refill hogsheads. A final ageing takes place in smaller 200l bourbon barrels. The result is a fragrant, layered and complex whisky with soft, smooth peat to start. 
Price: £39
Where: Buy online 
Christmas Drinks Guide: Non-Alcoholic
The Lowdown: REAL is an excellent alcohol-free alternative to Champagne and Sparkling Wine. Available in two different award-winning flavour varieties, Royal Flush and Dry Dragon, hand-picked loose-leaf teas are expertly sourced and naturally fermented for all the depth, flavour and complexity of a fine wine, even without the alcohol.
Price: £7
Where: Buy online
The Lowdown: MotherRoot is the non-alcoholic aperitif brand founded by Bethan Higson, is the ultimate gift for friends and family who prefer a low-or-no drink. Apple cider vinegar is the hero ingredient of Mother Root's aperitifs, with benefits ranging from increased energy levels to better gut health, as well as giving the drinks real depth. Fresh and flavourful, Mother Root is perfect for slow-sipping alone or fast-talking with friends.
Price: From £24
Where: Buy online