"Well" said Pooh, "what I like best," and then he had to stop and think. Because although Eating Honey was a very good thing to do, there was a moment just before you began to eat it which was better than when you were, but he didn't know what it was called. 
– A.A. Milne, Winnie-the-Pooh
Everyone has a time of year they find particularly magical; the unrelenting heat of June, the first leaves of Autumn, the cozy, mulled wine-fuelled month of December. For me, it's the month of September, where Jewish festivals and high holiday days are a-plenty. It's a month taken over with family, feasting and fantastic excuses to eat too much Challah bread.
Quick RS lesson: Rosh Hashanah is Jewish New Year and marks the official start of the Hebrew calendar – this year it falls on the 24th September. Rosh Hashanah is a time of sugary indulgence; traditionally one eats apples and honey – to ensure a 'sweet' new year. Jews also eat pomegranates, as they contain 613 seeds (apparently) which represent the 613 Jewish commandments in the Torah. Whoever counted that had too much time on his hands.
Enough bible banter, let's get down to the food. If you're looking to celebrate Rosh Hashanah around town, here's how to do it in style:
#1 DRINK: London's Best Apple & Honey Cocktails 
Fifteen. The exact number of honey and apple cocktails my team each drank to find the tip-top tipples. In the spirit (oops) of Rosh Hashanah, we accidentally consumed an entire bee hive. Here's the sweetest, best cocktails we found in London:
1. The Whisky One: Honey & Spice at The Parlour Bar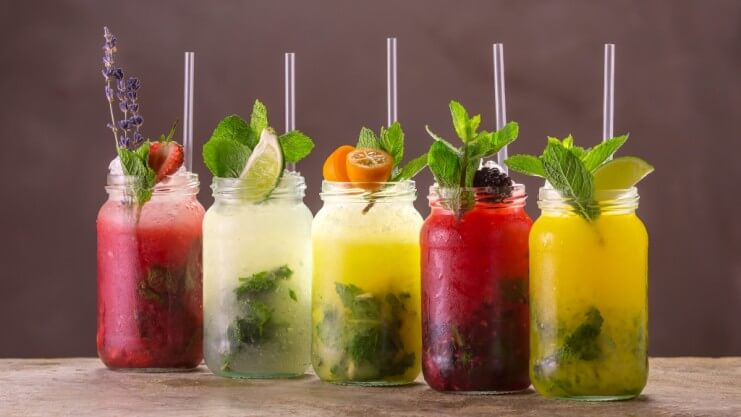 What: Short cocktail with Johnnie Walker, London honey, cinnamon and fresh apple (£9.95)
Where: The Parlour Bar, Canarf Wharf – here
Celebratory value: The Parlour Bar is a happy place; garden-fresh with indoor plants, seasonal food and a mixology table if you fancy mixing your own drinks. Leave it to the expects: order this and sip happy.
2. The Vodka One: Apple Martini at Nobu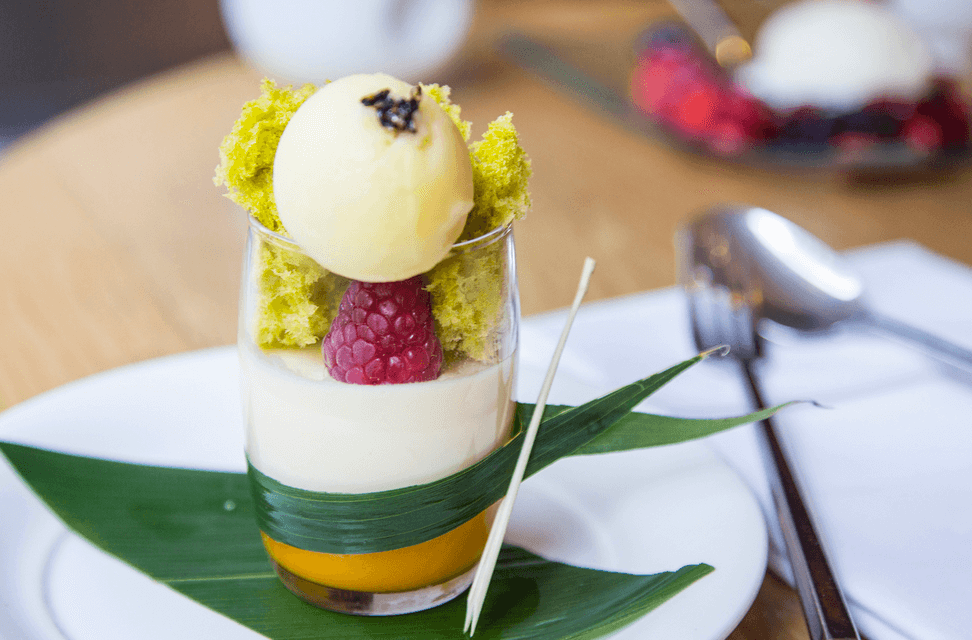 What: Traditional martini, made with Iceberg vodka, apple liqueur, fresh apple Juice and puree, honey syrup (£14)
Where: Nobu, Old Park Lane – here
Celebratory value: A premium price tag for a premium cocktail, Nobu London never fails to be cool. This cocktail is great; the use of apple liqueur makes it sweet but lethal, and the honey syrup keeps it oh-so-smooth. Come for a cocktail, stay for the matcha ice cream.
3. The Unusual One: Cinnamon Apple at The Alchemist
What: Reyka vodka, Manzana Verde, gingerbread syrup, apple juice and lime juice with white chocolate foam, plus cinnamon and nutmeg sprinkle!
Where: The Alchemist, Bevis Marks – here 
Celebratory value: The Alchemist is the coolest new cocktail bar in London – the Heston of mixology. Try all their molecular creations – don't miss the Cereal Killer with cognac, honey liqueur and milk to resemble your favourite breakfast cereal, or the misty Espresso Martini. Come sober, leave edgy.
#2 EAT: London's Best Apple & Honey Dishes
How far is too far? Five courses of apple and honey? Go on, we dare you…
1. Breakfast: Peter Gordon's Wacky Oats
Eat: Brown rice, apple, maple syrup and miso porridge with tamarillo compote (£6.40)
What: Porridge like you've never seen it before. You're going to have to replace the maple syrup with honey if you want to play my game, but this dish is damn fine.
Where: The Tapa Room, Marylebone High Street – here
2. Lunch: Deliciously Ella's Healthy Treats at Raw Press
Eat: Honey-coated chickpea and squash salad at Raw Press
What: Designed by one of the UK's best known health bloggers Deliciously Ella, this salad is amazing and healthy, with with paprika squash, chill infused chickpeas, sun-dried tomatoes, fresh rocket and apple cider vinegar, turmeric and honey. Deliciously trendy, more like.
Where: Raw Press, Dover Street, Mayfair – here 
3. Tea: L'ETO Caffe Honey Cake 
Eat: Russian-inspired honey cake with honey cream
What: It's one of the best cakes in London; light, sweet and moist. While you're here, try their fig tart, and don't forget a pot of Earl Grey tea.
Where: Chelsea, Fulham, Notting Hill, Soho – here
3. Dinner: The Breakfast Club's French Toast 
Eat: Apple and cinnamon french toast with a dash of honey – thick eggy bread with cinnamon roasted apples (£7.50)
What: Be mega trendy and get breakfast for dinner – heck, it's what all of Instagram are doing. This dish is basically Jewish as french toast is reminiscent of sweet challah – just like your grandmother makes, but with a longer waiting time.
Where: Soho, Islington, Shoreditch – here
4. Grab it: Apple Crepe at Hampstead Crêperie 
Eat: Compote de Pommes – fresh crepe with honey-apple compote and a dash of cream (£4)
What: The best crepes in London come out of a van. The same does not apply to men. This is a London institution for the pancake-loving crowd; the crêperie, open since 1980, always has a queue, and rightly so. My theory it's the salty butter on the outside; a little hint of savoury on the oh-so-sweet inside. The stand is open until 11pm; get involved.
Where: Hampstead High Street – here
#3 PAMPER: London's Best Honey Beauty Treatments 
All bow down to the bee; honey is not just delicious, but it can also work wonders on your skin. Here are three of the best honey beauty treatments in London:
1. For the body: Honey Massage
What: Melting Honey Hot Stone Massage (£95) at Lemon Tree
Expect: A new body treatment from Clarins; honey is melted over hot stones and used to massage stressed bodies. The treatment lasts one hour and is supposed to calm, relax and sooth. You'll be ready to be served between toast straight after.
Where: Lemon Tree, Fulham – here
What: Louise Galvin Hair Masque (£26) at Daniel Galvin
Expect: A hair treatment with honey and vegetable proteins, which will leave your hair beautiful and silky. Can also be purchased to take home, treaty!
Where: Daniel Galvin Salon, Portman Square – here
3. For the Soul: Honey Everything 
What: Mother and Daughter Honey Tea Package (£149) at The Athenaeum
Expect: A fantastic mother and daughter package for two, it includes two REN manuka honey spa treatments, and honey afternoon tea. Just what the diet doctored ordered. Kind of.
Where: The Athenaeum Hotel, Mayfair – here
#4 PURCHASE: Ottolenghi's New Book – Plenty More
What: Known for his fantastic Middle Eastern inspired healthy dishes, this is the cookbook to buy as a Jewish New Year present for loved ones.
Why: You can't help but love the man – a restaurant, four delis, a cookbook and an amazing column in the Guardian, and still humble as anything. Plenty More is the sequel to 2010's Plenty, and explores new techniques, such as cracking and simmering perfection. If you're looking for a great gift, try The Plenty More Hamper which comes with a signed copy of the book and awesome ingredients to start cooking straight away – £100.
Price: £25 or £27 for a signed copy
#5 TRY: Starting the New Year with a New You
You want to get into the book of life, but why not get into the book of cool while you're at it – here's 3 trendy ways to kickstart your best Jewish New Year in London yet:
How: Unlimited Yoga pass at Triyoga 
What: You can pick up a 20 days for £20 trial pass for unlimited yoga if you've never been before. If you're a Downward Dog Demon, you can buy a year-long pass for £982, which works at £80 a month for unlimited classes. Namaste.
Price: See here
How: Cook with Tess Programmes
What: Tess Ward, a Cordon Bleu trained chef, offers one-on-one cookery classes to help even the most inexperienced chefs get kitchen confident. The bespoke packages focus on essential cooking techniques and skills – choose between Gourmet, Fit or Speedy Chef and you're away.
Price: From £125 – see here
3. Get loved up 
How: Social Concierge
What: Social Concierge is a members dating service unlike the rest – Nana, the passionate young entrepreneur behind the business, believes in taking dating offline with fun face-to-face socials, mixers and dinners. You can sign up to become a member here. Meeting in person, who would have thought it.
Price: From £15 per event
And one for luck…
After all that sugar you're going to need a detox. Our favourite vegetarian soup company Soupologie are the perfect warming treat at your New Year health kick – their beetroot and pomegranate soup is delicious and can now be purchased on Ocado here. To celebrate Jewish New Year, we've teamed up to give away 6 soups to readers. Simply enter below: