Grab your friends. Grab your iPhone. Tuck into London's best new brunches this weekend:
1. Classic Brunch: Blueprint Café
What: Blueprint Café recently launched an exciting Saturday brunch menu, featuring classic British brunch dishes alongside signature house specials. The menu, carefully devised by head chef Martyn Moody, features classic brunch favourites, as well as some new dishes.
Eat: Classics, such as Eggs Royale with H. Forman smoked salmon and kedgeree with hay-smoked North Sea haddock and Burford Brown eggs, alongside Blueprint's signature dishes including Blueprint Granola with fresh berries and natural yogurt and chorizo and black-eyed bean cassoulet with piquillo peppers and roasted shallots.
Why: Guests are also invited to enjoy unlimited Bloody Marys or Prosecco for the duration of their meal for an additional £15 per person. Boom.
Where: Design Museum, London, SE1 2YD
2. Seasonal Brunch: Jar Kitchen
What: Jar Kitchen is a new modern British restaurant committed to sustainability and stylish food on Drury Lane in Covent Garden. Jar Kitchen is the brainchild of Lucy Brown, 30 and Jenny Quintero, 28 – two friends who left their successful careers to pursue their love of food.
Eat: Jar Kitchen's seasonal menu focuses on using quality ingredients, locally sourced. The all-day restaurant is open for breakfast, lunch and dinner. Most food and drink is made from scratch, including the granola, yoghurt, kombucha and ginger beer. For breakfast, try Jar Kitchen's baked beans, sourdough toast, bacon, slow cooked eggs, rye bread, Hansen & Lydersen smoked salmon, fried egg, hollandaise, pickled cucumber, dill and truffled mushroom omelette with goats cheese and caramelised shallots.
Why: Set over two floors, Jar Kitchen is a cosy and intimate 50 cover restaurant. Its unique minimalist interior features stripped wooden floors, sharing and individual tables, as well as bar seating is perfect for a casual weekend breakfast.
Where: 176 Dury Lane, London, WC2B 5QF
3. Greek Brunch: Hungry Donkey
What: Environmentally conscious Greek restaurant Hungry Donkey, situated on Wentworth Street, Aldgate, has launched a new all-day breakfast menu. The new menu includes a selection of fresh sourdough sandwiches, as well as a variety of Greek brunch options.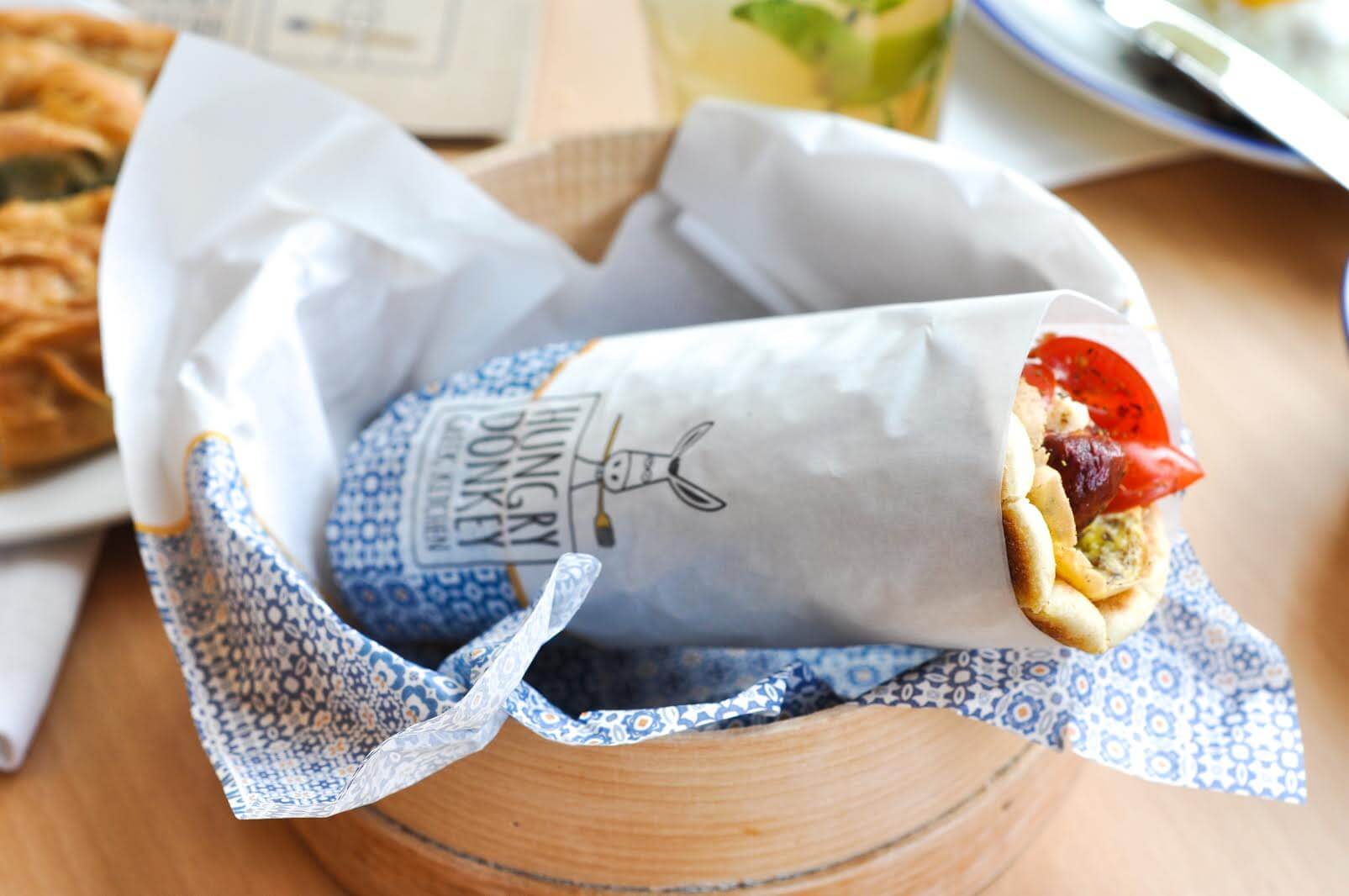 Eat: This new menu will include Greek influenced breakfast items such as the Hungry Donkey (eggs sunny side up, Greek sausage, mushroom and onion on sourdough bread), Strapatsada (fresh tomato scrambled eggs topped with Cretan mizithra cheese), and the Breakfast Pita Wrap (scrambled eggs, Greek sausage and htipiti feta dip). The menu will also offer sourdough sandwiches, with options including pastrami, tomato, onion and lemon vinaigrette, or fava bean puree, lettuce, tomato and regional Greek salami varieties.
Why: All of the dishes use fresh, seasonal ingredients from largely local suppliers in a bid to keep the restaurant as sustainable as possible.On top of this, guests will be able to enjoy the normal menu with dishes including souvlaki pitas, souvlaki skewers from the Robata grill and moussaka. The drinks list comprises of Greek wines, Greek craft beers, spirits and cocktails, as well as the more summery homemade lemonade and homemade ice tea.
Where: 56 Wentworth St, London E1 7AL
What: Camino's new tapas bar in Bankside is offering Bottomless Brunch at weekends. Giving brunch an authentic Spanish twist, it will serve three courses and unlimited Vilarnau Reserva Cava or Cava Mimosas for £30.
Eat: The menu includes Full Spanish (pan-fried free-range egg in extra virgin olive oil, Navarra chorizo, bacon, morcilla, roasted piquillo peppers, toasted mollete bread), Full Veggie (pan-fried free-range egg in extra virgin olive oil, seasonal grilled vegetables, roasted piquillo peppers, toasted mollete bread), Huevos Con Jamón (pan-fried eggs in extra virgin olive oil, potatoes, jamón Ibérico de Cebo), followed by Churros con chocolate (crispy dough with dense chocolate).
Why: Churros with chocolate for brunch is OK by us.
Where: 3 Varnishers Yard, The Regent's Quarter, Kings Cross, N1 9FD
What: POLPO Notting Hill is embracing all things summer with a new breakfast menu featuring delicious Venetian-inspired plates and a selection of classic dishes, available at weekends from 10am until 4pm.
Eat: We're talking about some pretty tasty dishes including pancetta hash and poached egg, mushroom piadina and fried egg and Zucchini frittatas. Wash it all down with their signature hot chocolate or a torta Margherita.  Fresh juices and soft drinks are also being served including green iced tea; virgin Mary; MGM (elderflower, lemon & ginger beer) and Aranciata Rosso.
Why: Alongside their brunch dishes, classic hair of the dog cocktails will also be on offer. Expect Breakfast Martinis,Bloody Marys, Mimosas and Bellinis. The party does not stop.
Where: 126-128 Notting Hill Gate, London, W11 3DG