5 Terraces You Need to Visit in London This WeekBy Iona Goulder
It's always nice to know there's decent terraces in London when the sun finally shows it glowing face again. With warmer weather on the horizon and summer clothes shopping in full swing, we felt it was about time we compiled a list of 5 new terraces you need to visit in the capital this week. Come rain or shine, it's time to drink. And eat:
1. For a New Terrace: Koya City 
What: Big changes have happened at Koya City; aside from the being able to book breakfast and dinner on weekdays and all day at the weekend for the first time, the restaurant have just opened their new outdoor terrace. As with Koya's interior, the new terrace embraces the character of a Japanese noodle bar with long tables and benches, beautifully designed especially for Koya and even has their very own Japanese cherry blossom tree.
Eat and Drink: Koya City offers an extended dinner menu, and includes small plates such as the crispy fried prawn heads with sesame salt, and Tonkatsu breaded aged pork loin with cabbage and fruit miso sauce, alongside ice cream with various Japanese flavours developed by Head Chef Shuko Oda. Keep your eyes peeled for the blackboard specials menu which offers regularly rotating and seasonal dishes.
Where: 10-12 Bloomberg Arcade London EC4N 8AR
First Photo Credit: Steven Joyce 
2. For a Boozy Terrace: Peroni x Somerset House 
What: Peroni have once again made Somerset House its home for the warmer months with the opening of their Terrace Bar. Alongside showcasing their newest drink – an Italian inspired aperitivo – the terrace is also serving a selection of Italian nibbles and small bites.
Eat and Drink: Sharing style plates are the focus of the menu to ensure the Italian style of leisurely dining is enjoyed. Think sourdough pizzas, fresh from the oven, with an array of different toppings, and fresh salads served during the day for those wanting something lighter. And Italian sharing platters of meats from Italy and a carefully selected Formaggi selection are served with Chinotto infused Focaccia Genovese, pickles and chilli jam.
Where: Somerset House Terrace, Presented by Peroni Ambra, Somerset House, Strand, London WC2R 1LA
3. For a Weather Proof Terrace: The Prince 
What: The Prince has once again opened its doors having undergone a complete spring/summer overhaul. A feast for the senses, The Prince has three bars and four restaurants – including new additions especially for summer. The woodland garden, connecting the bar and restaurants, has been transformed into a beautiful summer English garden with two roofs – one retractable and one that's clear – bringing the sunshine in and keeping the rain out.
Eat and Drink: Burger legends Patty & Bun and Thai favourites Begging Bowl have resumed their usual spots at The Prince, joined by two newcomers – Coqfighter, who are serving crispy fried chicken; and Foley's Bar & Yakitori Grill, serving bao buns and grilled meats. After picking up a bite to eat and a drink from the bar, venture through to The Prince's best kept secret: its huge secret garden. Found only through a small door at the back of each restaurant and the pub, the garden is fit to burst with natural light and floral splendour.
Where: 14 Lillie Road, West Brompton Crossing, London SW6 1TT
Photo Credit: Pasco Photography
4. For a Rooftop Terrace: No 32 The Old Town 
What: All-day dining hangout No 32 Old Town has a secret weapon: its superb roof terrace. Pop by and bask in the London glow whilst sipping on your morning coffee, wolfing down a leisurely lunch or working your way through their evening cocktail menu.
Eat and Drink: New liquid serves include the Lemon Drop, served with Ketel One, evangelista limoncella and Ca'di prosecco, the Matcha Martini with housemade honey syrup, and Camomile Old Fashioned with camomile syrup and orange zest. For eats, opt for either the steamed mussels Mariniere with white wine, cream, garlic and parsley, the healthy new pan fried smoked mackerel, or veggie options such as herb, pearl barley and buckwheat risotto and grilled halloumi skewers with caponta.
Where: 32 The Pavement, London SW4 0JE 
5. For a Thai Terrace: Greyhound Cafe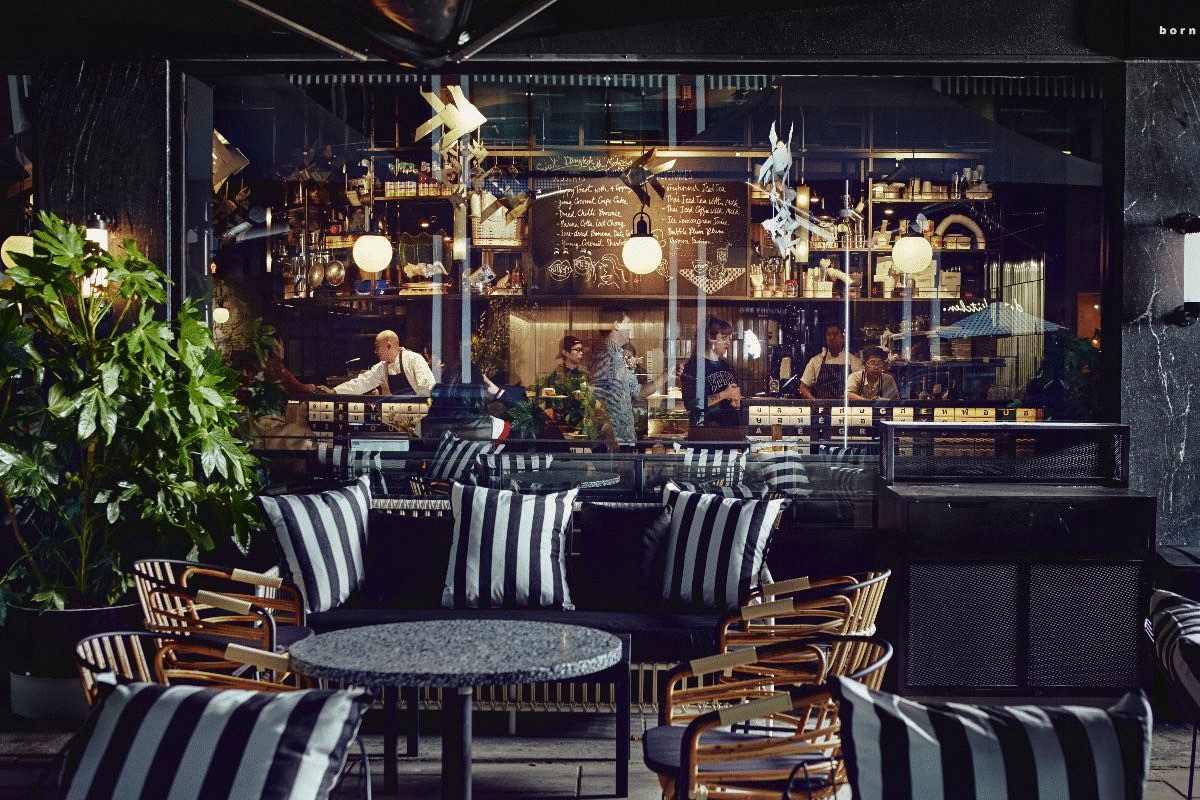 What: Looking for a Central London terrace? Head to Bangkok-style café, Greyhound. The restaurant's terrace has been transformed into a tropical paradise with swathes of traditional yellow Thai marigolds and technicolour bunting.  
Eat and Drink: Divided between small and large dishes, Thai-style 'Single Plates' and a sizeable vegetarian section, the menu at Greyhound Café pays homage to Thai cooking with the greatest hits of Bangkok dishes but with Greyhound's signature twists. Highlights from the menu include DIY taco-like wrap of iceberg lettuce and rice noodle sheets with soy-braised pork herb salsa; edamame Som Tam seasoned with musky salted black crabs, Angry Pasta', wok-fried with mixed seafood, holy basil and a good dose of Thai chillies and vegetarian Pad Thai prepared with shiitake mushroom stems.
Where: 37 Berners St, Fitzrovia, London W1T 3LZ