May: a time of Bank Holidays, long days and gathering together a party of like-minded mates to sip coolers in the pub all afternoon. Summer euphoria is spreading like winter colds; all it takes is a couple of rays of sunshine, and we hunt, sniff and forage for the first jugs of of over-diluted Pimm's.
Recently I read that wine is cake in liquid form, which makes cocktails liquid souffle. Concoctions that are measured, crafted and tweaked, London's bars are trying to out-do each other, ever publicising their home-infused remedies and liqueurs. As summer is here, ditch the watery punches with our cocktail suggestions for the week:
1. For Drinking Outside: Gaucho Piccadilly Roof Terrace
The Drink: Giovannoni (£9.95)
The Blend: Torrontes Wine, Rosehip, Peach and Passion Fruit Enhanced Kettel One Vodka, shaken with ice and served as a Martini. Make sure you make your second The Flower of London.
The Story: Making the most of its prime Piccadilly location, Gaucho has followed in the footsteps of many a wise individualist, and has launched a brand spanking new rooftop. The space aims to transport guests to Argentina, drawing on the country's culture and flavours to inspire the cocktails and snacks. Gaucho have really pushed the boat out with this one, the space has a Wimbledon-style sliding roof for chillier evenings. The Giovannoni cocktail is like being in your Grandmother's garden, a fresh and refreshing wild flower explosion. Delicious.
Where: 25 Swallow Street, W1B 4QR
2. For a Summer Martini: The Donovan Bar, Brown's Hotel
The Drink: The Donovan Martini (£16)
The Blen: Tanqueray N10 Gin, Kummel, Fresh Pineapple, Lemon Juice, Tonic Water
The Story: If pay day gives your overdraft a little respite, treat yourself with The Donovan Martini. The cocktail is a zippy little number, sip a couple of these, powder you nose and feel like Margot from the 'Good Life'. Composed of some of the best of British gin, mixed with just enough tang and fruitiness to knock down your inhibitions. At the Donovan Bar nothing is too much trouble, so relax into one of the corner booths and imbibe.
Where:  Brown's Hotel, Albemare Street, W1S 4PB
3. For Ultimate Refreshment: Balans Soho Society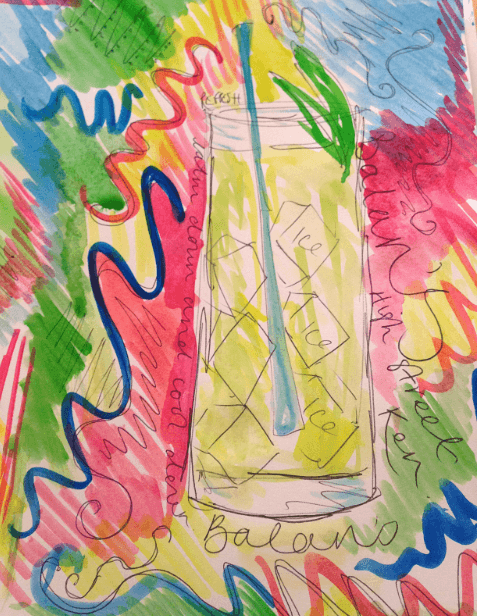 The Drink: Apple and Elderflower Collins (£8)
The Blend: Broker's Gin, St Germain, Cloudy Apple, Lemon, Fresh Apple and Cucumber
The Story: Pop down to High Street Kensington and be welcomed by the deliciously lovely Balan's staff. If you fancy something the nibble, the duck spring rolls are delectable. We suggest hopping off the tube and refreshing yourself with the Apple and Elderflower Collins, which slips down all too easily.
Where: 187 High Street Kensington, W8 6SH
4. For a New Negroni: Tonic & Remedy
The Drink: Negrhuni
The Blend: Beefeater Gin, Homemade Sparkling Rhubarb Cordial, Aperol, Grapefruit, Sweet Vermouth, Rose
The Story: Sometimes you have a drink that totally knocks your socks off – something that pleases your eyes, taste buds and smells like someone has cast a spell of great beauty upon it. If you like your drinks, punchy and dry head to Hoxton's Tonic & Remedy and sip the Negrhuni. The bar at T&R is a hub of creation, where as we drank, herbs were chopped and homemade remedies infused. I am a big believer in not tampering with a classic. That said, this summery take is well thought out and utterly unmissable.
Where: 151-154 City Road, EC1Y 1BE.
5. For a Home Tipple: Canard-Duchêne Rose Champagne
The Drink: To properly toast the start of summer, splash out and get a bottle of Canard-Duchêne pink fizz in the fridge. Whack out the mini gherkins and mini cheddars and savour the lightly floral, strawberry liquid. The tiny bubbles and sherbet-y place will set you up to turn up the radio, climb onto the sofa and shake it. Make sure you draw the curtains, your neighbours are likely to be slightly perturbed. Drink it on your sofa, obviously.
Buy: From Waitrose Cellar online here