The darker cold nights are drawing in, Christmas songs are on the radio, and we're looking to swap our summery cocktails for cosy winter alternatives. The colder weather means outdoor terraces are out and cosy fireside spots are in, and the Negroni is the perfect cocktail to move from summer to winter; its classic combination of Vermouth, Campari and Gin provides a perfect base for creative twists with winter flavours complimenting the iconic combination. Here's where to get your winter Negroni fix in the capital:
Order: Ribbon (£10)
The Run-Down: One of the best places to get the classic, Swift's winter take is equally as delicious, named Ribbon the cocktail is a mix of Campari, Vermouth Rosso, Solerno and Tio Pepe Sherry, giving the bitter taste a sweeter note. Take a trip to Swift's cosy downstairs where the vibe is a different to the ever-popular upstairs bar.
Where: 12 Old Compton St, Soho, London W1D 4TQ
2. For a Fruity Negroni: Ritorno
Order: Ritorno Negroni (£10)
The Run-Down: This stylish Chelsea haunt puts its name to the winter take on the serve, dubbed the 'Ritorno Negroni' the mix of Campari, VII Hills Italian Dry Gin, Vermouth Rosso and the addition of Figaro Fog Liqueur gives this a deliciously fruity finish perfect for the change in season.
Where: 442 King's Rd, Chelsea, London SW10 0LQ
3. For a Chocolatey Negroni: Aubain
Order: Chocolate Orange Negroni (£9.50)
The Run-Down: With various outlets across London, Aubain's Winter Negroni is easily accessible wherever you may find yourself on a dark evening, and gives the Italian classic a festive makeover with the Chocolate Orange Negroni, a heady mix of Portobello Road gin, Campari, Grand Marnier and chocolate essence, resulting in a drinkable Terry's Chocolate Orange mash-up that should be on your Christmas drinks wish list.
Where: Locations here 
4. For a Festive Negroni: Foxlow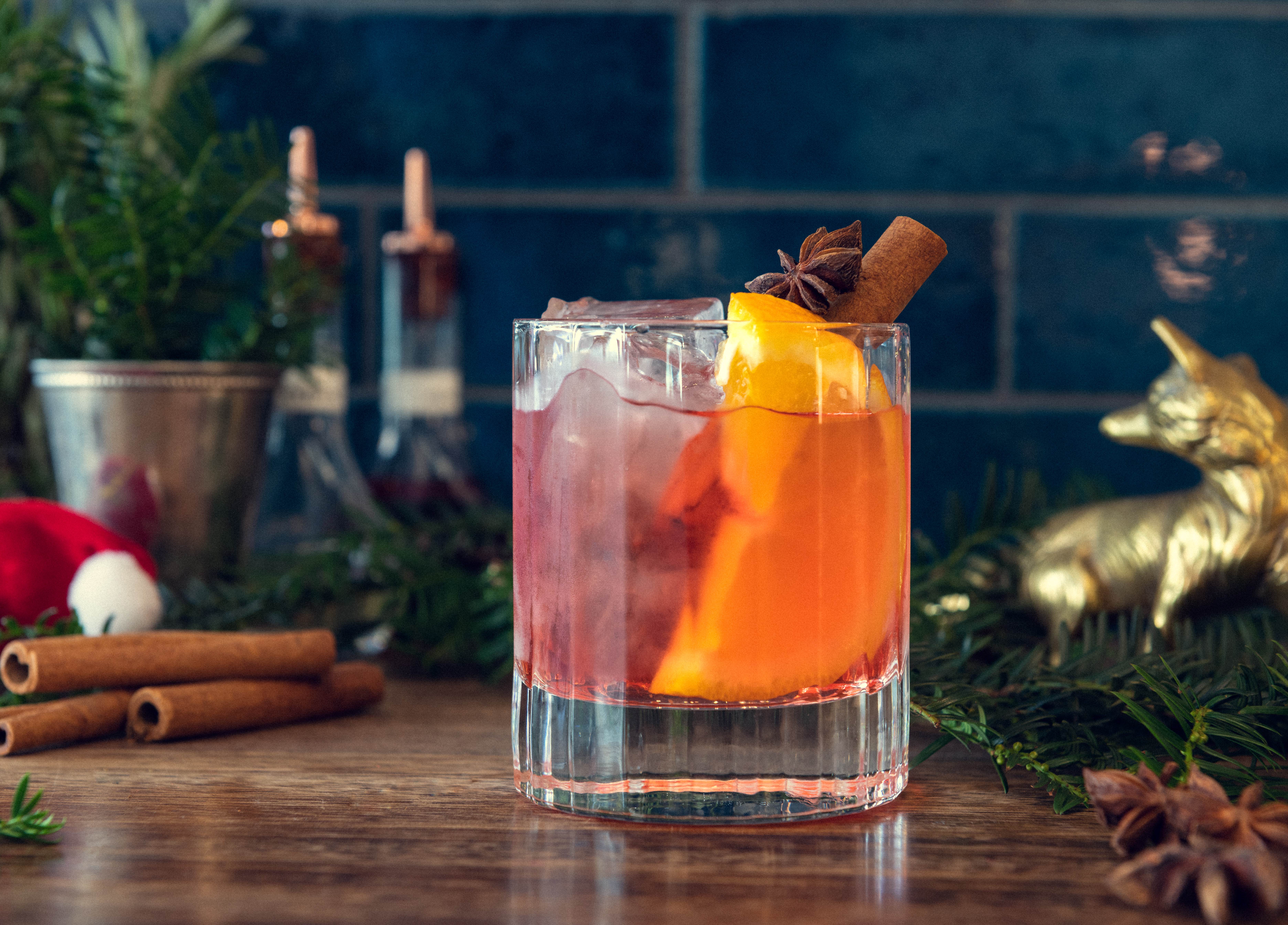 Order: Christmas Negroni (£8)
The Run-Down: The talented bar staff at Foxlow have created their bespoke Mince Pie Liquer that gives the classic  Negroni a Christmas makeover. Aptly named Christmas Negroni, this deliciously different combination of Campari, Beefeater Gin and Mince Pie Liquer brings a festive sweetness to this traditionally bitter cocktail.
Where: Locations here 
5. For a Floral Negroni: The Dog House at Bernadi's
Order: Firenze (£11.50)
The Run-Down: Subterranean bar, The Dog House, found below Bernadi's in Marylebone is darker and sexier than the upstairs eatery. They serve Negronis –  eight in fact – ranging from the classic to the quirky, and the downright festive. The Firenze features a wintery favourite, Sipsmith sloe gin paired with Campari, Martini Bianco and violette liqueur to create a fruity, floral warming number.
Where: 62 Seymour St, Marylebone, London W1H 5BN