A well made cocktail takes some beating. Here's 5 mighty fine serves you need to try in London this weekend. Happy sipping, folks:
1. For a Savoury Cocktail: Quaglino's 
The Drink: Lobster Bloody Mary 

The Blend: Tequila, port, white wine, lobster bisque, tomato juice, pinch of salt, soy sauce and mustard
The Story: Award-winning bartender, Simone Caporale, who was previously at Artesian at The Langham, has  recently collaborated with the team at Quaglino's to develop a beautiful cocktail menu of ten serves inspired by the venue's heritage. Know for his distinctive personal style and Willy Wonka-esque drinks, his latest tipples certainly push the envelope. The Lobster Bloody Mary is the ultimate decadent take on a Bloody Mary for the Christmas period. Using cold pressed tomato juice, the lobster bisque provides a rich mouth feel, whilst English mustard creates a warm spice without the vinegary flavour of Tabasco. A herbaceous and savoury drink with a spicy finish.
Where: 16 Bury Street, London SW1Y 6AJ
2. For a Gin Cocktail: The Savoy's Beaufort Bar 
The Drink: Fever 54
The Blend: Tanqueray No. TEN with lemon juice, sandle wood maraschino and banana and violet falenum
The Story: Fragrance house The Perfumer's Story, known for its ground-breaking scents and iconic client portfolio, has partnered with ultra premium gin, Tanqueray No. TEN and The Savoy's Beaufort Bar to create an immersive fragrance and cocktail experience. As a result of this partnership, the cocktail Fever 54 was born, based on the scents and botanicals of The Perfumer's Story signature fragrance. The Fever 54 combines Tanqueray No. TEN with lemon juice, sandle wood maraschino and banana and violet falenum, which pairs perfectly with the Fever 54 fragrance from the Perfumer's Story.
Where: Strand, London WC2R 0EU
3. For a Festive Cocktail: Hawker House 
The Drink: Liberal
The Blend: Rye Whiskey, Amer Picon and sweet vermouth
The Story: Streetfeast have got their festive cocktails down this year. Over at their Canada Water winter wonderland, Hawker House, stay toasty in their Whisky Bar with winter warmers from their extensive Whisky 50 list. Make a move upstairs to the cozy Milk and Honey Mercury Lounge and ask for a New York Sour – it's your new favourite festive tipple with Bourbon, lemon juice, egg white and red wine. Be sure to check our the Liberal; a bittersweet, heady and warming festive cocktail. Downstairs at Hangar Bar, get stuck into the holiday spirits with a Sloe Gin Negroni – a boozy, bittersweet combination of gin, sloe gin, Campari and sweet vermouth.
Where: Milk and Honey Mercury Lounge at Hawker House, Canada St, London SE16 7PJ
Photo Credit: Johnny S Photography 
4. For a New Cocktail: SUSHISAMBA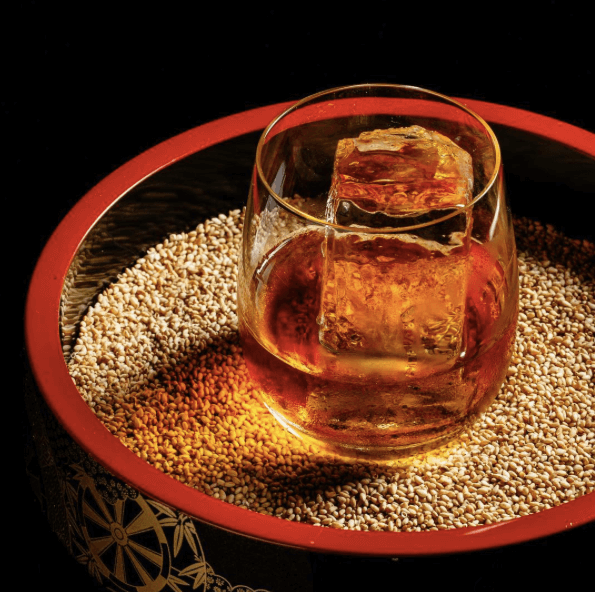 The Drink: Sesame Old Fashioned
The Blend: Sesame washed Whisky, salted caramel and maple
The Story: SUSHISAMBA have added six new cocktails to their menu, created by the renowned Richard Woods – SUSHISAMBA's Head of Spirit & Cocktail Development. One of London's most acclaimed cocktail innovators, Richard has taken a fresh look at the mountain of inspiration that Japan, Brazil and Peru – the three cultures that fuel the SUSHISAMBA concept. Flavours of Japan are evident in the creamy, complex Miso Mule with vodka, lime, ginger, coconut reduction and miso. Elements of Brazil and Peru are manifested in the fruity and bitter taste of Plantain Punch with Carta Negra rum, plantain purée and aromatized wine shaken with egg white, banana, cacao and a coffee infusion.
Where: Heron Tower, 110 Bishopsgate, 39th Floor, London EC2N 4AY
Photo Credit: Richard Woods' Instagram
5. For a Gin Cocktail: The Booking Office Bar 
The Drink: Jasmine Fragrance
The Blend: Willem Barentsz Gin, soft meringue, lemon juice and soda water
The Story: An exciting newcomer to the gin scene, Willem Barentsz is an unusual jasmine-infused gin, with the exotic flowers as one of its main botanicals. Whilst deliciously different in a G&T, it's split-base of rye and wheat makes it a great smooth gin for a cocktail. Jean Castellani, bar manager at the iconic Booking Office Bar in St. Pancras, was inspired by this unique spirit to create the Jasmine Fragrance. This is a delicate cocktail, that captures this floral hint from the gin without making it overpowering – worth arriving early for your train and dropping in for.
Where: The Booking Office Bar, Renaissance London Hotel, St Pancras International, Euston Rd, London NW1 2AR