From a newly opened gin bar to a Spam inspired cocktail – here's five amazing tipples you should be trying in the capital this weekend. Go hard or go home: 

1. For a Gin Cocktail: Nightjar x Kyrö
The Drink: Kyrö Cocktail (£14)
The Blend: Napue Gin, Pine Sap Infusion, Berto Sweet Vermouth, Aquavit, Cloudberry Jam and Fresh Squeezed Grapefruit
The Story: Kyrö Distillery's Napue Gin is currently featured on Nightjar's world-famous cocktail menu. The Kyrö Distillery Company is an artisanal Finnish distillery that works solely with rye, producing both single malt rye whiskey and rye gin in an old dairy in Isokyrö, Finland. Nightjar, voted third best bar in the world is a speakeasy-style bar located just a few paces from Old Street station. The Kyrö Cocktail is a blend of herbal and sweet flavours, whilst boasting notes of citrus and pepper. Make sure you book, Nightjar is a popular watering hole.
Where: 129 City Rd, London EC1V 1JB
Photo Credit: Adie Chin 
2. For a Matcha Cocktail: Bombay Sapphire x SUSHISAMBA 
The Drink: Matcha Punch (£40 for a group to share)
The Blend: Kaffir Lime Leaf infused Bombay Sapphire, shaken hard with citrus and coconut infusion
The Story: Bombay Sapphire have opened their new Artistry in Alchemy terrace at the SUSHISAMBA Tree Terrace. Designed to celebrate the artful creation of Bombay Sapphire, the new menu of alchemistic serves created by legendary bartender, Rich Woods, Head of Spirit and Cocktail Development at the world famous SUSHISAMBA is not to be missed. Featuring an alternative selection of avant-garde serves, The Artistry in Alchemy takes inspiration from the worldly botanicals found in every drop of Bombay Sapphire with the menu fusing unusual ingredients from around the world including matcha green tea, yuzu juice, kaffir lime leaf and coffee infused aromatised wine.
Where: 11o Bishopsgate, London EC2N 4AY
3. For a Vermouth Cocktail: The Remedy
The Drink: Sprintz (£6)
The Blend: Belsazar Rosé Vermouth, Liqueur de Rosé and Organic Prosecco
The Story: The Remedy have specially created a new vermouth cocktail list, and we'll tell you this for free – it's blomin' brilliant. Already well known for their selection of natural and low-intervention wines, The Remedy spent months building a list which now features over 25 vermouths from 15 producers. The vermouths are available to enjoy individually or as part of a series of cocktails designed to showcase them. The vermouth cocktail list starts at £5.50 per cocktail and caters to all tastes: the Jimmy, made with white vermouth, Hendrick's and tonic is served long, whereas the Bitter Giuseppe is best suited for lovers of short drinks and the Sprintz, The Remedy's take on the classic Spritz, features rosé vermouth topped with Prosecco.
Where: 124 Cleveland St, London W1T 6PQ
4. For a Tequila Cocktail: Jinjuu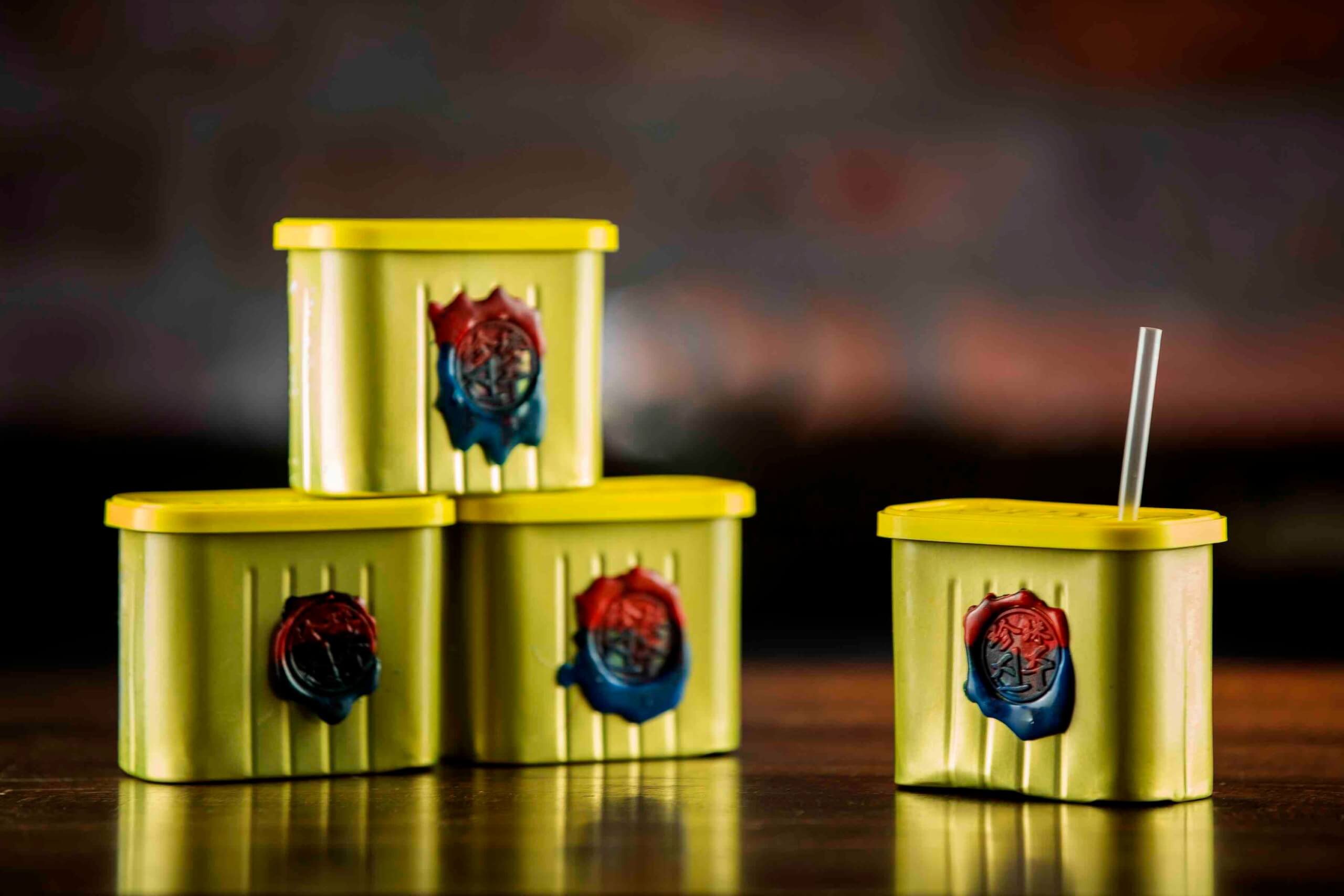 The Drink: Spamarita (£11)
The Blend: Ocho Tequila, Mezcal, Agave Nectar, Pineapple and Fresh Lime
The Story: Jinjuu have recently unveiled a new cocktail menu featuring drinks that are perfect for early evening drinking, either on their own or as an accompaniment to Jinjuu's extensive 'Anju' menu. If you have the time and cash – order a few of their Korean fried chicken wings and veggie dumplings. The new cocktail menu showcases exciting new cocktails, such as the Spamarita, made from Spam infused Ocho tequila, mezcal, agave nectar, pineapple and fresh lime served over ice in a spam container. Another tantalising addition is the Love me Long Thyme, which combines thyme infused Bombay Sapphire, lime, mandarin, Korean chilli and bamboo charcoal.
Where: 15 Kingly St, London W1B 5PS
5. For a World Gin Day Cocktail: Hotel Cafe Royal 
The Drink: Clover Club (£17)
The Blend: Tanqueray Red, Fresh Raspberries, Lemon, Sugar and Egg White
The Story: In case you haven't heard the news, it's World Gin Day on Saturday (11th June). And if you care/need another excuse to drink copious amounts of gin cocktails, head to the newly opened Green Bar Botanicals & Tonics at Hotel Café Royal. Green Bar Botanicals & Tonics is a distinctive gin bar celebrating London's history of using botanicals in gin production and mixology, as well as the various styles in which gin is served internationally. Created by the bar's expert mixologists, the Gin Journey menu features unique takes on the favoured gin and tonic cocktail, made from a wide range of gins, tonics and garnishes from all around the world with a particular focus on their personality and the history behind them. 
Where: 68 Regent St, London W1B 4DY