There are some things money can't buy, but for holidays in Rome, it really helps to have some spare change. From riding on the back of Vespas to discovering the finest Italian wines, this is a city that is willing to take you on a whirlwind adventure, if you let it.
Planning is everything with holidays to Rome – the famous sites can be busy, and popular restaurants packed to the rafters unless you know where to go. Make the minutes, and the Euros, count in Rome – it's worth every minute of city planning to squeeze every ounce of beauty, culture and fun out of this Italian escape. Luckily for you, dear reader, I took my boyfriend on surprise holiday (read: military planned operation) here recently and can tell you exactly how to spend 48-hours in style. Here's your weekend holiday to Rome all planned out. You can thank me later.
Rome: Where to Stay
No holiday to Rome would be completely with a bit of sunshine dining. This beautiful luxury hotel is located in the heart of the city, 5 minutes from the Vatican City and St. Peter's Basilica, and 15 minutes from Piazza Navona. It's a great place to start your weekend in Rome, as you'll waste absolutely no time in getting to see the site bright and early. The hotel, like its name, is totally grand – think high ceilings, glittering living rooms and a fantastic outdoor pool for the summer months. The bedrooms themselves are dark and sexy, lots of floor-to-ceiling mirrors, exposed baths and dramatic Italian-inspired murals on the walls – it's got more of a romantic edge, so probably not one to take your mum too. The breakfast here is top – Italian deli meats, fantastic cheeses and the freshest tomato salad you'll ever taste. Expect top quality service, a shuttle service into town and stunning botanical gardens in this haven of tranquillity in the midst of the Italian capital.
Via del Gianicolo, 3, 00165 Roma, Italy
If you want to stay like a local, and really be in the heart of things, then the best way to go is with Airbnb. With a fantastic range of options for accommodation, everything from modern one-bedroom apartments to entire restored farmhouses outside of the city, you can find something that completely suits your mood, personality and travelling companion. My recommendation would be to find a little something something in Trastevere – one of the most young, fun and vibrant parts of the city – full of great pavement cafes, vibey wine bars for the evening and the best ice cream parlours. It's fantastic to be close to all this life, and you can do it easily with Airbnb – and with prices as little as £16 per night, it's one of the best ways to see the city on a budget. You want to find something with a balcony and great views, like this lovely flat in Trastevere at £59 per night for two bedrooms – a new and furnished apartment with big balcony, close to the great food markets, Sunday flea market, clubs and restaurants, you really can't get much better.
Rome Cavalieri, Waldorf Astoria 
Now if you're looking to really splash out on a loved one, and do something truly special, book a night at the Rome Cavalieri. The hotel, part of the world renowned Waldorf Astoria group, has every luxury amenity you could possibly want and need – fantastic spa with hydropools, plunge pools and incredible Turkish hamman, incredible dining (Heinz Beck's world-famous, Michelin-star decorated restaurant is located here, with a waiting list of over 3 months), sensational views all over Rome from its hillside location and a massive outdoor swimming pool. It's the place to come if you want a little escape from the hustle and bustle of the city – located slightly out of town, around a 15-minute drive from the city centre, it boasts a sense of calm and relaxation, with lots of green spaces, luscious gardens and huge outdoor seating areas, that you just can't get elsewhere.
Holidays to Rome are made by a bit of extravagance. There's not many places you can get a room with its own jacuzzi on the balcony, but this is one. Come here for the food: their buffet breakfast, complete with homemade pancakes, smoked salmon and eggs, and all the breakfast bubbly your heart desires, is the stuff dreams are made of. Don't leave without trying the full Waldorf experience and sampling a taste of American hospitality in Italy with their special Imperial Club – a private lounge serving light snacks, afternoon tea and alcoholic drinks all day, it's the place to come and watch the sun set with an Aperol Spritz in hand. Heavenly.
Via Alberto Cadlolo, 101, 00136 Roma, Italy
Rome: What to Do

When in Rome: See the Sights
Easier said than done, the main sights in Rome can be absolutely rammed with tourists poking selfie sticks in your eye, so you've got to be tactical about how you do this. Holidays to Rome need to be well planned out; my suggestion would be to make a realistic hit list of sites you'd like to cover in a weekend – maximum 6 or 7 – and get to see them properly, rather than spend the weekend burning holes in your trainers trying to cram it all in for the sake of an Instagram. There's a few tips and tricks than can help you to get the most out of the city's stunning architecture and history:
The best way to see the Vatican is with a guided tour – especially one that lets you enter the museum early, before the rest of the tourists get in. The Roman Guy is a fantastic tour guide company that does 'special entry' tours of the Vatican actually before it opens – it's the only time you'll get to see Michael Angelo's famous chapel without feeling like a tinned sardine. You'll have to get up mega early for the tour – it starts at 7.45 am – so stay off the vino the night before. Check out their other Italian experience tours, such as a local foodie adventure around Trastevere tasting all the best pizza, pasta and street food you could want, here. They also do cocktail tours of the city and fresh market lunches – a great idea if you're a solo traveller looking to make some new pals.
Now, if you want to do something really, truly unforgettable, then there's literally no cooler way to whizz around the city than on a Vespa, like a local. Seriously, I felt like a G. The only problem is us Londoners aren't particularly adept at Scooter driving, by and large, so I'd recommend someone else take the ignition out of your hands. It's actually much more fun too – it allows you to really take in the sights of Rome, and you can relax knowing that a local is guiding you.
The best way to do this is with Scooteroma – a fantastic tour company started by lovely couple Annie Ojile Nerone and Giovanni Nerone, this start-up has taken off in Rome, offering daily bespoke Vespa tours around the city with expert, clued-up guides, who can tell you all about the history and background of the beautiful sites you're passing. There's 4 hour tours, 6 hours tours and special foodie tours, allowing you to customise your day as much as possible. On the day we experienced it, we got to see some amazing hidden spots, like the Garden of Oranges (a must visit), panoramic views of the city, street food markets and tasted the best coffee of my life (coffee with Zabaione, who would have thought it?) at Rome's oldest bakery Panella Roma, none of which we would have seen without Scooteroma. Trust me: this is one experience worth spending your money on.
Photo Credit: Paris in Four Months
Ok, ok, don't kill me, I know you're 'meant' to walk Rome, but hey, I'm a Londoner. If you really want to cram as much into the days as possible, it's worth knowing that Uber operates in Rome. It's a slightly different set-up than the English version – you choose between a 'Black' and 'Silver' car from the basic and luxury versions (a fact that we found hilarious, for some reason) – but as ever, the service is highly reliable, quick and easy-to-use. Really useful if you find yourself miles away from your apartment after too many apertivos and need a getaway car. You can download the app here.
When in Rome: Taste Everything
It's worth getting your tastebuds all clued up for your trip, here's how to: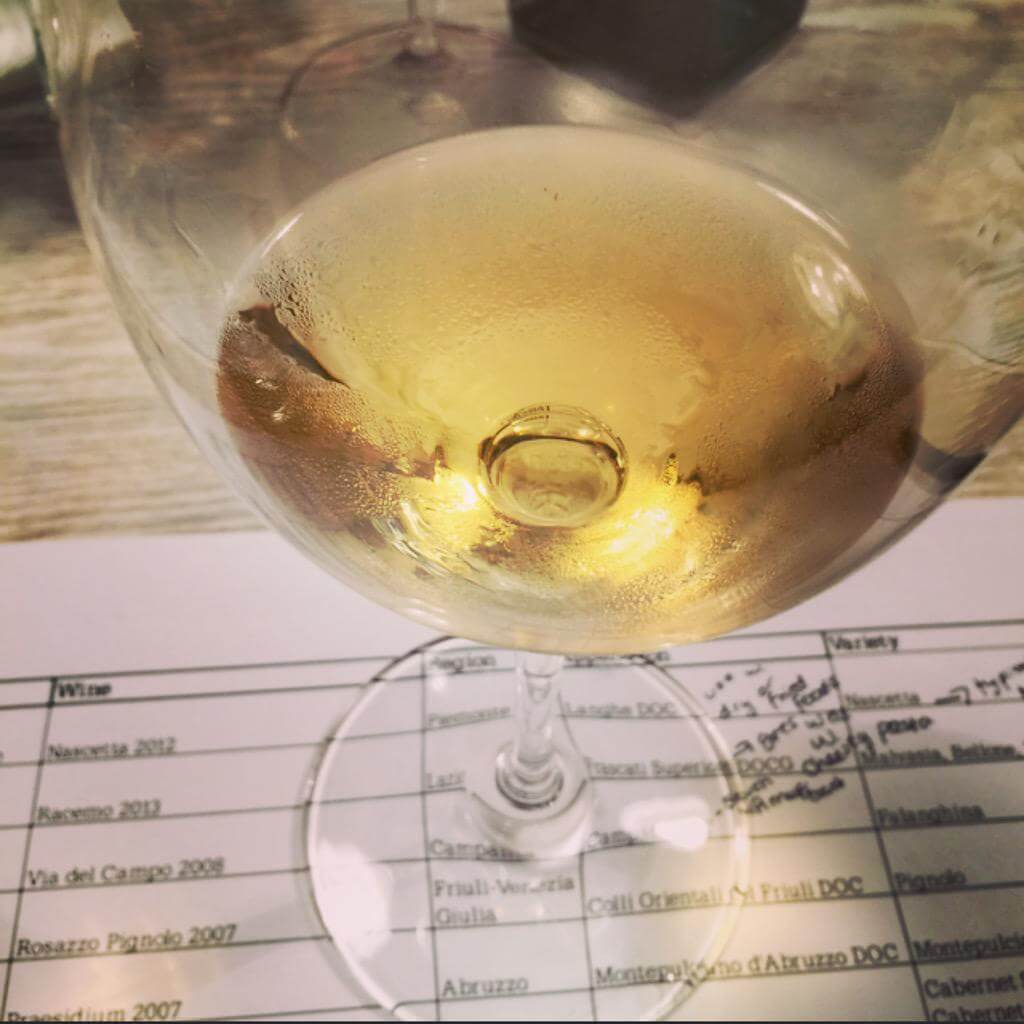 For the best wine tasting class in Rome, head to VinoRoma. At their cute wine studio in the heart of Rome, minutes away from the Colosseum, you can learn everything about Italian wines in an intensive evening class. The session is the absolutely perfect size, length and intensity – a group of 10 people gather together with a charming American teacher, who guides you through several whites and reds, explaining exactly what you should be tasting for, how to detect the scents in wine and gives expert guidance on food matching. It's the perfect class in every way – the host provides lots of great information, but it's not too overwhelming or intimidating for wine novices, and you don't feel bombarded with information, either. You'll get a sheet to take away with your favourite wine from the evening listed, and a new sense of pride when ordering Italian wine off a menu. A must-do for your first day in Rome: this class will allow you to appreciate Italian wine more the entire trip, and the useful notes in the class about the various wine regions in Italy and their production methods will really help guide your personal preferences. The 'My Italians' class costs 50 Euros per person and can be booked here.
Via in Selci 84/G, Roma, Italy
When in Rome: Relax, Too
It's easy to get caught up in the mania of Rome, but you need some time to chill, too. Head to the Jumeirah Grand Hotel Via Veneto to use their spa and check in for one of the fantastic massage treatments. A real treat for couples, this will help wash away the craziness of the city, and you'll leave feeling like a new person. The spa is small, but perfectly formed, with a great hydropool, relaxation area and steam room. Pamper, perfect.
Via Vittorio Veneto, 155, 00187 Roma, Italy
When in Rome: Eat Like a Local
We all know it: you come to Rome for the food. If you're not rolling home with an extra stone in Parmesan weight, you're doing something wrong. There a few dishes that simply cannot be missed in Rome: stuffed courgette flowers, which they like to fry with a little garlic and fill with creamy ricotta, Roman Artichoke, which goes perfectly with some cold Italian white wine, and Cacio e Pepe, their famous 'cheese and pepper' pasta, which is so simple, and yet so heavenly, I could cry. From traditional Italian trattorias to fine-dining establishments, here's some of the best restaurants in Rome to try these delicacies: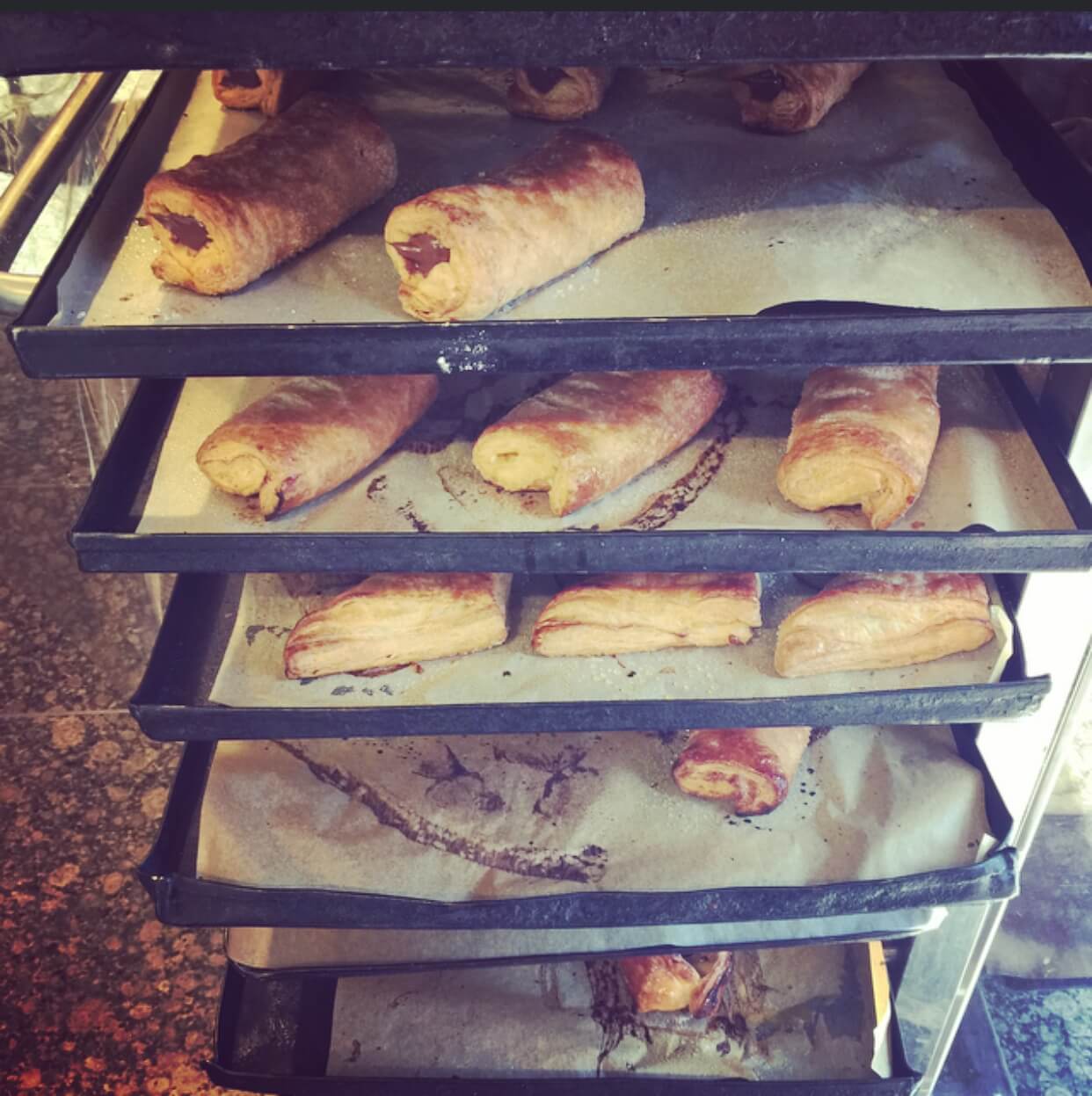 A bakery that has been around for a 100 years has got something right. This is an absolute must-try for pastry lovers – one of the oldest bakeries in Rome, Panella is a pit-stop for locals and tourists alike; you can find people sitting out at their pavement seating with an espresso and a treat all morning long. You've got to try the coffee with Zabione; it's so special, they wouldn't tell me how they make it. The pastries are absolutely incredible – opt for the fresh cream and cherry flavour, or the pear and chocolate creation, you'll be in sweet heaven.
Via Merulana, 54, 00185 Roma, Italy
For Juice: aT Active Natural Eating
After all the food, you might need a bit of a cleanse. Rome isn't fantastic for vegans, as they do love their butter and cheese, but this little health haven is great for a fresh, organic juice and quick grab-and-go salads between museum hopping. Come for a cold-pressed spinach, apple, lemongrass and cucumber juice, and all those pistachio ice creams will be forgotten, I promise you. The smoothie with green coconut, papaya and apple is the absolute dream if you want to skip the pastry in the morning (don't).
Piazza di Pietra, 62, 00187 Roma, Italy
For an absolutely hilarious local experience, you simply cannot miss Da Augusto in Trastevere. This tiny trattoria, run by eclectic Italian owner Sandro (the kind of guy who really doesn't care if you get a table or not), has beautiful outdoor seating that overlooks a leafy, cobbled square which is perfect for dining al fresco. This restaurant is about as local as it gets – no tablecloths, no menus, they write your order on the paper tablecloth and throw it away at the end. Expect wine in glass carafes (and only one kind, mind), and some of the most sensational local food you'll ever try – nothing fussy, nothing fancy, just good quality pasta done al dente, made fresh with recipes passed down from generations. Come for lunch on the weekends and watch the well-heeled Italian locals enjoying plates of pasta at their favourite local haunt.
Piazza de' Renzi 15, Roma, Italy
For Italian Tapas: Roscioli Restaurant
If you're willing to spend a bit more of lunch, you have to head down to Roscioli. This unbelievably cool, vibey Italian deli and restaurant oozes atmosphere – with wine bottles on the walls, an open deli where you can see all the meats, cheese and beautiful antipasti and the smell of fresh pasta abound, you'll feast with your senses before the food hits your tummy. It's fantastic for sharing plates – great for couples, families and dates – as you order lots of delicious little nibbles, such as Italian cheese boards, fresh Burrata, artisan charcuterie and stuffed artichokes. The best place to sit is at the bar, where you can watch the staff work and interact with them as they help you pick different wines for your food. Their pasta is also top notch – order the butter and parmesan, which uses 36-month aged parmesan, or their famous anchovy pasta with wild fennel and toasted hazelnuts. It gets really busy, so it's worth booking in advance.
Via dei Giubbonari, 21/22, 00186 Roma, Italy
For Great Pasta: Osteria Da Fortunata
You really can't go wrong in this pasta palace. The small restaurant serves up fresh plates of pasta to locals day in, day out, and the chef is happy to make you up something special on the spot. Come for the incredible bruschetta with fresh tomatoes, incredible quality olive oil and the perfect amount of crunch, and follow with the the cheese and pepper spaghetti which oozes cheesy goodness, or thick vegetable pasta with aubergine and fresh basil, for the ultimate carb feast. Sensational quality, great value, in a central location, this place is a winner.
Via del Pellegrino, 11, Roma, Italy
For Ice Cream: Gelateria Del Teatro
Of course, ice cream is big business in Rome, and you need to get it right. Come to this ice cream for the weird and wonderful flavours – think lavender and white peach, ricotta with almonds and figs, and pure cioccolata. My personal favourite is the rosemary, honey and lemon flavour – a sweet, savoury, sour combination that is incredibly moreish, and like nothing you've tried before. Take that, pistachio ice cream. Perfectly located for a stroll by the water afterwards (you'll need it), this ice cream parlour is slightly out of the way, but worth the journey for the taste alone.
Via dei Coronari, 65/66, 00186 Roma, Italy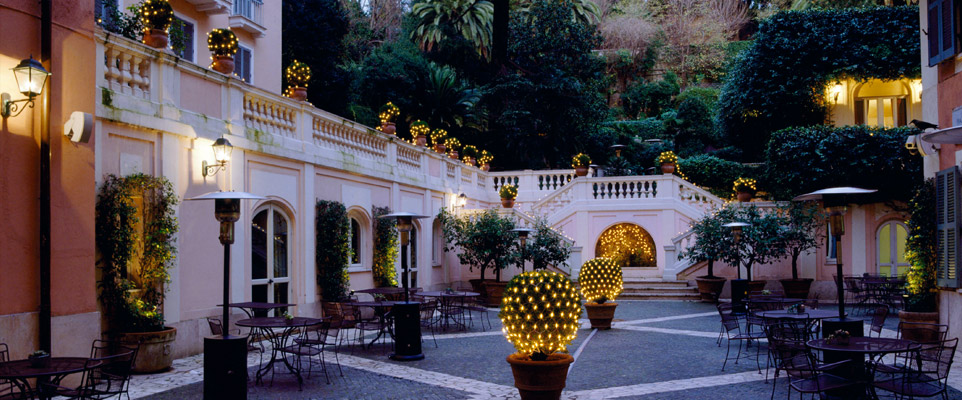 I don't use the word 'magical' light, and Hotel de Russie is just that. The luxury 5* hotel, part of the Rocco Forte portfolio, has one of the most incredible hidden gardens for al fresco dining in Rome – it's tree-lined, quiet garden, that sits within the main hotel, is a haven of calm and quiet in the city. Le Jardin de Russie is expensive, but for something extra special (insert: proposal, engagement, anniversary), it's worth every penny. The food is traditional Italian, but with a modern twist – here you'll find Cacio e Pepe in ravioli, risotto with red prawns and saffron, and sea bass cooked on a Himalayan pink salt grill. Food aside, you literally cannot beat the setting for romance, and it's a great place to end your trip in Rome. If you're looking to enjoy the garden without the price tag, why not grab a cocktail at their Stravinskij Bar, which is famed for its sleek interiors, and cracking G&Ts. Order yourself a special celery and black pepper gin cocktail, and consider yourself happy.
Via Del Babuino 9, Roma, 00187
When in Rome: Feel the Magic
Eat all the pasta. Drink all the Aperol. Live life fully, and come home with your heart full, your tummy fuller and the knowledge that you soaked every last drop out of this beautiful, beautiful city.
Fly to Rome with E Dreams – see all Rome hotels on E Dreams here and flights to Rome here. For more information, see their travel guide to Rome here.