About Time: You Went to the UK's Best LGBT-Friendly HotelsBy Andrea Fernadez
For couples looking for that perfect wedding or honeymoon venue, or even just a retreat for a dirty weekend away, we've listed six of the best LGBT-friendly hotels in the UK.
These hotels welcome and cater to every guest, regardless of who they decide to love and say 'I do' to.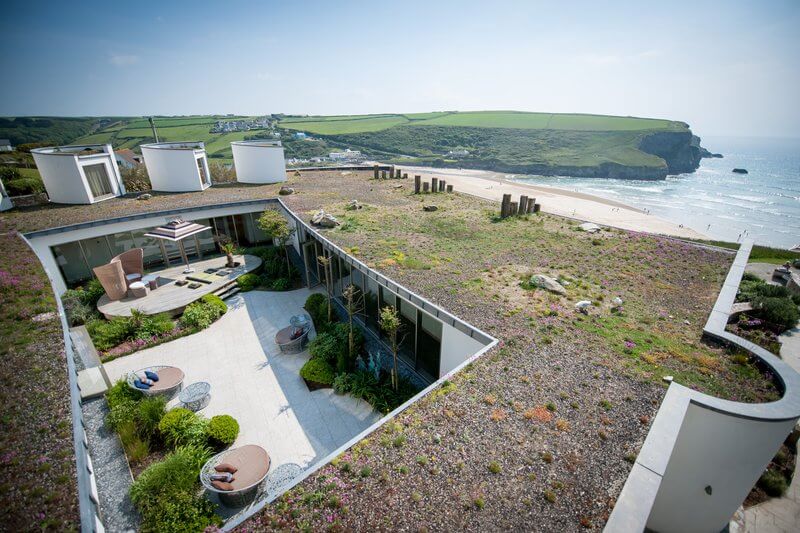 A 'grown-ups only' hotel in Cornwall makes for a very desirable private honeymoon. Each room in the hotel has its very own outside space taking advantage of its privileged cliff-top location.
Its charm is enhanced with hot tubs overlooking the lush beachside scenery and a natural reed-filtered swimming pool and spa makes it an ideal relaxation space.
Not only is the The Scarlet Hotel LGBT-friendly, but it also goes to great lengths to maintain its eco-friendly status – its carbon output is just a quarter of an average building that size. Try the spa's flip flops which are made from recycled car tyres.
Cross Lane House is said to date back to the 1500s, although its accommodation is, thankfully, fit for modern times. Its described as a 'fabulous blend of period style, designer fabrics and contemporary chic'.
A short walk from the South West Coastal Path and the beach, Cross Lane House provides a private venue and wedding services for up to 30 guests, making your intimate wedding dreams come true. The Medieval Grade 2 house adds to the romantic feel of the town of Allerford.
Back Lodge Stables, Stratford-upon-Avon
What is more romantic than Victorian stables transformed into modern spaces, set in William Shakespeare's Stratford-upon-Avon?  Ideal for a close gathering of friends celebrating love and everlasting marriage, Back Lodge Stables provides self-catering accommodation with all the amenities necessary for a flawless stay.
The Back Lodge Stables are close to quaint Stratford City centre and even closer to Anne Hathaway's (Shakespeare's wife) childhood cottage.
Philippa Taylor, one of the owners, said: 'We welcome all ages, genders, individuals and groups (but not pets!) and offer high quality self-catering accommodation in our stables-turned-comfortable, contemporary spaces.'
Close to Kirkby Lonsdale, a traditional little town with a medieval market square, The Plough provides luxury accommodation in a building dating back to the 1760s.
Beautiful scenery surrounds the inn and makes it the ideal location for a wedding to take place. They provide catering and venue space for up to 120+ guests as well as beautiful accommodation for a Lake District honeymoon following a renovation in 2009.
Located in Kemp Town, just a short distance from the city centre and the seafront, Blanch House in an ideal location for fun and frolics. Each room is individually styled and carries its own theme, making the entire hotel experience worthy of its AA 4-star boutique hotel award.
On their thoughts as a LGBT-friendly hotel, Jeremy Ornellas, co-owner of the Blanch House Boutique Hotel said: 'Over the past few years we have hosted some fabulous civil partnership ceremonies and celebrations at Blanch House with many choosing to take over the entire hotel.
'As a top LGBT destination in the UK it's easy to see why so many same sex couples choose Brighton for such a special occasion. Before the law was passed in March we noticed a sharp increase in the number of enquiries for gay couples and since the beginning of April, this has increased further resulting in a busy diary for appointments.'