Escape: To the World's Best Unusual Travel DestinationsBy Kat Hopps
Want to broaden your horizons beyond Paris, New York and Thailand? Then take a step out of your comfort zone and consider a long-haul trip to one of these rewarding places in 2015:
Doha, Qatar
Qatar has a serious image problem – a brief Google search reveals that – but it is also a small country in huge flux. Capital Doha has beautiful art, architecture – and skyscrapers that are twinkling testaments to the city's powerhouse status come night-time. You need only walk around the Doha Corniche waterfront promenade to be wowed by renowned architect Jean Nouvel's Doha Tower and his futuristic-looking National Museum of Qatar, due to open in 2016. To gain a sense of traditional Arab pastimes, visit the reconstructed Souq Waqif, a market full of alleyways, stalls and cafes where the aroma of incense and spices greet you on arrival. For divine sushi and stunning views, visit the world's biggest Nobu at the Four Seasons, and for the really adventurous, consider a morning attacking sand dunes in a 4×4 safari – it feels like a rollercoaster ride. A stay at super-cool W Hotel Doha with its sleek interior, three bars/lounges and South-East Asian restaurant Spice Market, should top off the glamorous experience.
A Spectacular Room at The W Doha starts from approx. £193 per night, based on two sharing on a b&b basis. www.whoteldoha.com.
Siem Reap, Cambodia
Siem Reap lies just 5km north of Angkor Wat, home to over 400 ancient temples and ruins. This is not the only reason to visit the resort town, however, which has transformed in recent years. The cooler night-time is when it comes alive with a mix of markets, restaurants and bars. Try Cambodian cuisine interpreted by French chef Joannès Rivière in the traditional Khmer setting of Cuisine Wat Damnak, and make sure you see Cambodian circus Phare afterwards, which merges modern circus acrobats with Cambodia's traditional heritage and sombre history. If you're templed out, jump in a tuk-tuk or venture out on a bicycle to Siem Reap Province's floating villages on the freshwater lake of Tonle Sap. And a stay at HanumanAlaya, Angkor's Boutique Residence, will leave you feeling rejuvenated. The gorgeous boutique Khmer-style hotel houses a decadent on-site spa where you can receive expert head-to-toe treatments; the foot massages are heavenly.
A Superior Room at HanumanAlaya, which can be used on a single or double basis, costs from £27 per night. To book, visit www.hanumanalaya.com

Belo Horizonte, Brazil
Rio de Janeiro may have the beaches but lesser-known Belo Horizonte has world-class architecture from Oscar Niemeyer, considered to be one of modern architecture's greatest talents. Set in the hilly state of Minas Gerais, the city is home to many of Niemeyer's iconic Church of Saint Francis of Assisi, a blue and white mosaic chapel so daring for its time that it took 16 years for the Catholic Church to recognise it. While here make a visit to Inhotim, one of Brazil's most important museums for contemporary art. It's kind of like Kew Gardens meets Tate Modern but much grander – your arty friends will be impressed. The museum lies 63km from Belo Horizonte and showcases paintings, sculptures, installations and more by over 100 talented Brazilian and international artists. Even walking around the rich outdoor botanical gardens is a lovely way to spend your day such is its breath-taking scope and ambition, and best of all you don't need to be an art geek to appreciate it.
Journey Latin America (020 8600 1881, journeylatinamerica.co.uk) specialises in tailor-made travel and small group tours to all of Latin America, including Brazil. A 7-night stay in Belo Horizonte, including B&B accommodation, transfers and flights from London cost from £1,072pp based on two people sharing
Johannesburg, South Africa
Jo'burg is finally escaping its troubled past and is emerging as a vibrant new rival to Cape Town with its cultural hubs and reinvigorated neighbourhoods. First-time visitors should pay their respects at the poignant Apartheid Museum before visiting Constitution Hill, a former prison that now functions as an exhibition site for South African heritage and the advocation of human rights. If you'd prefer to see Jo'burg's changing neighbourhoods outside the museum, take a guided-led tour by car or bicycle around Soweto, the city's largest township. You'll come back with a heap of brilliant memories; eating the tasty buffet food at Wandie's Place and seeing the modest birthplaces of Nelson Mandela and Desmond Tutu will be highlights. Epicureans will feel right at home within the trendy Maboneng precinct, a private development home to 20 independent eateries where you can eat everything from pizza and sushi to contemporary African cuisine – and don't forget to visit the many shops, galleries and markets while you're there for souvenirs.
Scott Dunn offers 7 nights at The Saxon Boutique Hotel from £1,995 per person. Price includes flights and transfers. 020 8682 5070, www.scottdunn.com
The Simien Mountains, Ethiopia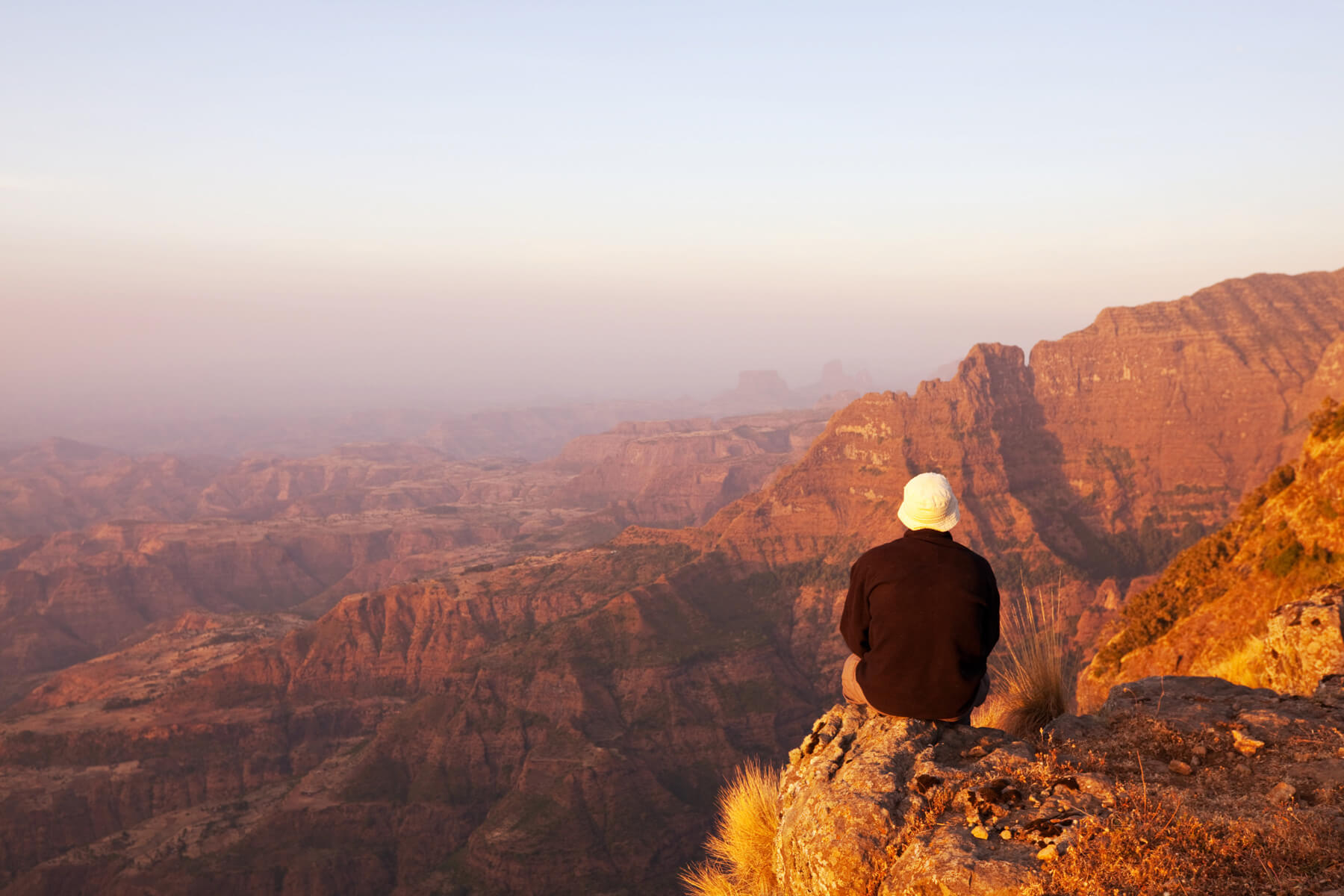 Set in the horn of Africa, Ethiopia is the continent's oldest independent country and its second most-populated nation. Its landscapes are varied and spectacular with mountains and fertile lowlands all ripe for exploring. It's little wonder that tourism is growing rapidly helped by a spate of new boutique hotels and improved infrastructure. One of the country's gems is Simien Mountains National Park in Northern Ethiopia, a vision of mountain cliffs, gorges and spectacular views. Listed by UNESCO as a site of outstanding beauty, the park includes Ethiopia's highest mountain Ras Dejen at 4,533m. You can even stay at a luxury 14-room lodge here from late 2015. Limalimo Lodge will aim for sustainable tourism working with the neighbouring community by ensuring local conservation projects sustain the beautiful environment. Guests at the lodge will be able to explore the mountains with a guide, enjoy authentically local Ethiopian food and participate in traditional activities with the Limalimo village community, such as the Ethiopian coffee ceremony.
Scott Dunn offers 7 nights at Limalimo Lodge from £2,100 per person on a full board basis. Price includes flights and transfers. 020 8682 5070, www.scottdunn.com 
Medellín, Colombia
Set 4,905 feet above sea level, Medellín sits in a lush valley surrounded by tall green mountains. The city's warm average temperature of 22°C has earned it the nickname, the City of Eternal Spring. It's hard to believe that this thriving, integrated city of 2.4 million people was once known as the murder capital of the world. Now it's held up as a beacon of social and economic growth thanks to a crackdown on drug lords and a spate of urban development projects. Officials introduced a green cable car system a few years ago and it now provides the city's poorer hillside neighbourhoods access to the city's amenities. There are breath-taking views from the top. Take a ride to trendy Santo Domingo to the modern cubist black building Biblioteca España (Spanish library) for the best views from its patio on a clear day. Back down at ground level, you'll want to relax in one of the many scenic parks and plazas filled with art – the Plazoleta de las Esculturas is a massive public space filled with large bronze sculptures by local artist Fernando Botero. Bring a coffee with you – because you're in Colombia so coffee tastes amazing everywhere, obviously. Once night falls, head to the Parque de Lleras district, a mecca for the young and beautiful, and a hip boisterous throng of restaurants, bars and nightclubs.
Stay at the stylish 54-room boutique Art Hotel Medellín, an industrial loft space that sits on a fairly quiet street. Rooms start from under £100 upwards
Haiti, Caribbean
Haiti is now welcoming visitors back to the country a few years after suffering its devastating earthquake. While recovery is slow, tourism has returned and word is spreading about the exciting array of guided-tour packages on offer – some areas of Haiti's capital city Port-au-Prince remain unsafe so it's best to stick to a tour package to be on the safe side. A good suggestion is G Adventures, which offers a 10-day trip of varied delights. You'll have the chance to discover quiet Caribbean beaches and waterfalls, learn about voodoo folklore, and visit both a rum distillery and the UNESCO World Heritage site of Citadelle Laferrière, the largest fortress in the Americas.
A 10-day trip with G Adventures costs from £1,599, excluding flights, and covers all meals and hotel stays during the trip.
We highly recommend that with all destinations you check FCO advice before you travel: www.gov.uk/foreign-travel-advice