The first in our series with Sydney food blogger He Needs Food, A.K.A John Bek, shines a light on Enmore Road's newest Italian restaurant, Russo & Russo…
Our little part of Sydney seems to be on the up-and-up. King Street South is seeing as many closures as there are openings and every time I walk up Enmore Road, I spot something new. Mind you, Enmore Road hasn't received much of my attention in the past, but things are set to change.
The other half requested newcomer Russo & Russo as the birthday dinner pick; a blink-and-miss-it place that looks to be your average sheer-curtained shop front on this gritty strip. It gives the impression of having been part of the Enmore fabric for quite some time, but those curtains have yet had the chance to gather dust.
Vinyl tunes and raised voices fill the dim; a candlelit space and some supremely warm service make you feel right at home. The menu comes pasted in the first pages of old books; a little confusing at first, but if you've been to one of those cafés that use Golden Books as menus, you'll soon get the drift.
Yes, there's an a la carte going on, designed to share and brought out one plate at a time. But it was the chef's selection that stopped us in our tracks. Four courses for $40 or seven courses for $65. A bargain. A corkage of $5. An even better bargain. But to state the obvious, if we had chosen the same dishes from the regular menu, the value works out the same per person (providing the size of the dish isn't bigger when ordering from the a la carte).
Seven courses it was, and to be honest, I didn't even look at the individual dishes. We were informed that we could pick and choose what we wanted as part of our spread. Like the sound of the ragù? Then ask them to work it into your meal. I like their style.
One thing that couldn't be altered was the Port Stephens oyster starter. Shame. The other half doesn't eat them so they were both mine. Apple mignonette dressing and all.
Appropriate to the current season (and appropriate to my appetite) was the insalata bietola. It's at this point it became evident that kitchen ringleader Jason Saxby had spent time with some top chefs. It looked pretty; artfully aligned in that way chefs do so well. Salt-baked beetroot, balsamic, kumquat, pomegranate, rye crumbs and beetroot chips. It was artful in the mouth, too.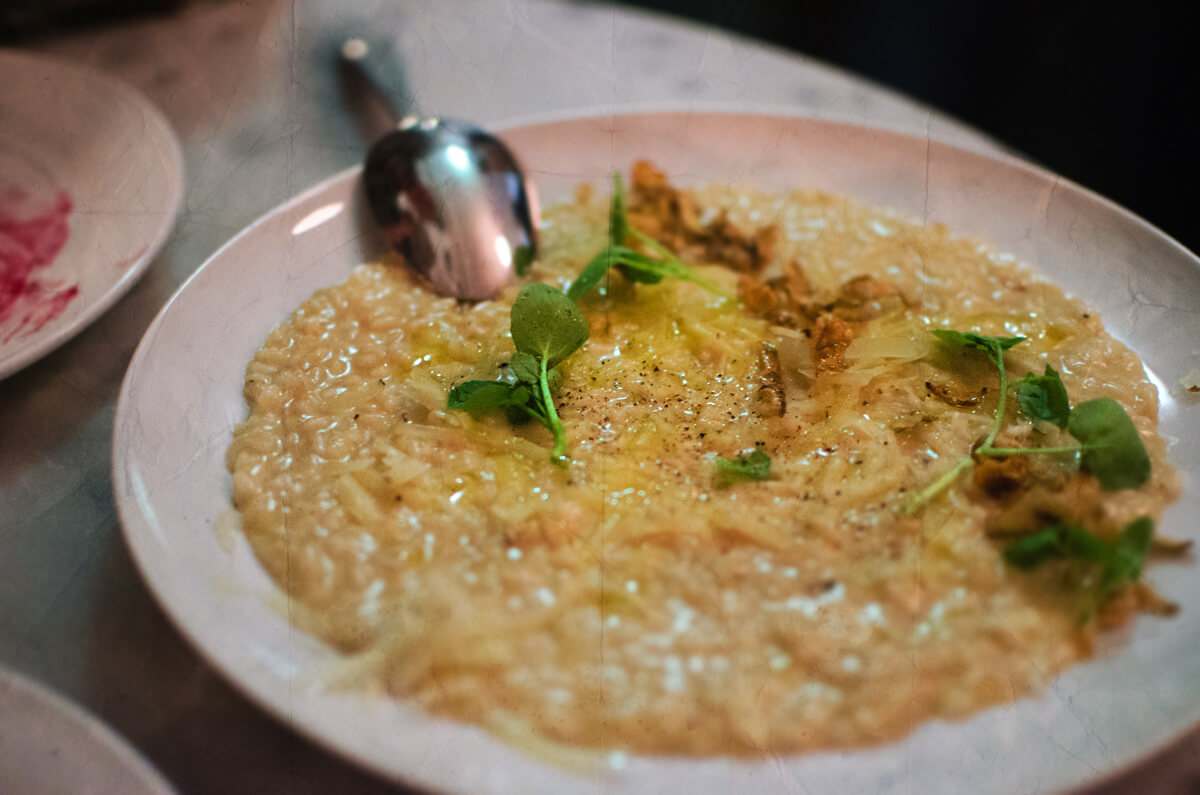 When it comes to the humble risotto, many people can get it wrong. The Russo & Russo specimen hit all the right notes. Rice grains that still had bite and a shallow bowl to retain the liquid. It was far from the gluggy mess we often see. Jerusalem artichoke and truffled parmesan. A glug of extra virgin olive oil, some pepper, and you're laughing.
There was something about the zuppa di pesce that didn't win me over. It came pre-arranged in a bowl; blue mackerel, mussels, fennel, Bottarga (salty pressed fish roe) and fregula pasta, with a thick soup poured over the top. Lovely flavours and textures but it was barely warm when it was time to eat it.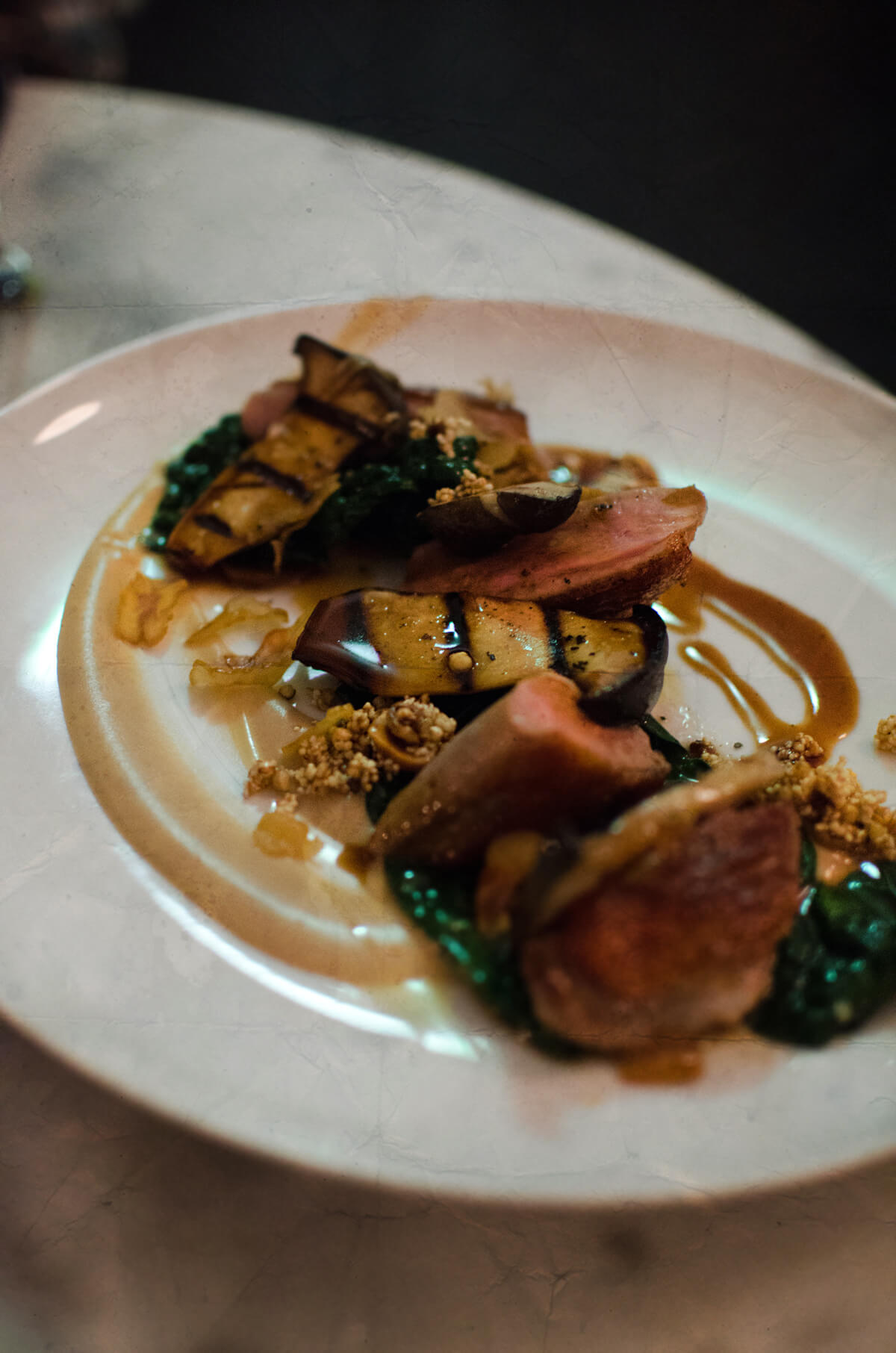 I found it a struggle to share the next dish. Petto d'Anatra. Duck breast, king mushrooms, hazelnuts, cavolo nero, puffed spelt and a delicious slick of duck jus. My only gripe is that I wanted more.
It had been a while since I last enjoyed a cheese platter as much as I did here. Formaggio. A simple name; not so simple on the palate. We received Parmigiano-Reggiano, pannacotta, grapes, spiced pear, walnuts and sopa syrup. Perfection.
The home stretch, of course, involves a bit of sugar. The rocher, for starters. Some rapidly melting milk sorbet, chocolate hazelnut brownie, milk jelly and thin chocolate biscuits. Once again, I did not wish to share.
Finally, as we both enjoyed some complimentary walnut liqueur, a final plate was given to us before we hit the pavement. A tuile topped with rose water-scented white chocolate and goat's milk, candied kumquat, and a light dusting of salt and black pepper. A little something to remind us that we needed to return real soon.
Osteria di Russo & Russo – 
158 Enmore Road, Enmore 2042 – 02 8068 5202
www.heneedsfood.com