There is nothing like an English countryside hotel as the autumn leaves fall, the conkers tumble on the ground and we get our winter coats out of the cupboard. No one does this stage of the year better than us Brits and the epitome of this is five-star hotel Ellenborough Park, set in a 90 acre estate on the top of a hill, the highest point in the Cotswolds. Go there to be spoilt, curl up by the fire, eat the highest quality ingredients and go on long ambling walks, you won't be disappointed.
Ellenborough Park is a very special hotel. It is steeped in history, and you only have to look at the turrets, and climb the winding staircases around the hotel to be transported back to a time long before lockdowns, iPhones and electricity. Thanks to being on the top of the hill, you have a birds eye view of the nearby Cheltenham world famous race course for racing fanatics, but also a sense of being in a place of true peace and perspective. On arrival, we're handed our keys and summoned up winding staircases at the top of the tower to our room. It felt like the start of a Victorian novel and a refreshing change to the modern boxes of so many hotels these days.
Think 21st century conveniences with a quaint historical touch. We stayed in the main manor house, in a room filled with antique furniture, an open top bath, a palatial bathroom and a soft Hypnos bed of dreams. But on entering the room, all of this seemed insignificant in comparison to the wrap around rolling countryside views.  There is a real attention to details here. The hotel even provides sophisticated binoculars so you can fully investigate your surroundings. In addition our room came with a Nespresso machine, kettle, under floor tiled heating to keep your tootsies warm in the winter and fragrant Noble Isle toiletries.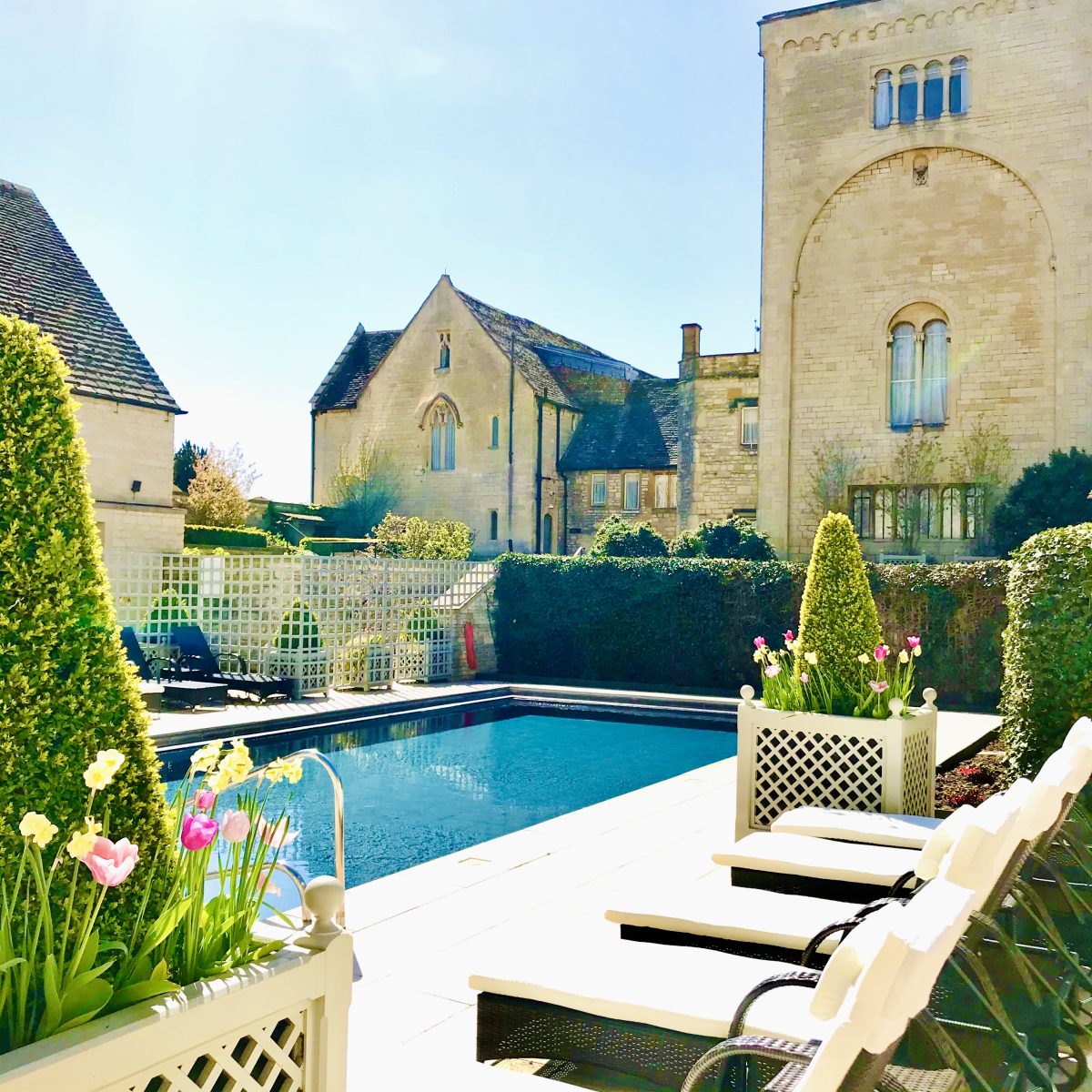 The spa is a real contrast to the traditional surroundings of the main hotel and buildings. It is Indian inspired, and offers a tranquil atmosphere, which is perfect after a bracing walk around the property and all its grounds. We popped in for a sauna steam session, a pop in the jacuzzi and most excitingly what I  termed a shower crawl amongst the different 'mood showers.' If you are keen for a treatment, they have a variety of everything you could wish for, with a juice bar to hang out in afterwards, before an amble back to your room in a cosy dressing gown.
If you are keen for something more vigorous, the hotel keeps open all year around an outdoor pool tucked in the courtyard of one of the buildings, pleasingly heated at 30 degrees which is open during daylight hours. It is a really sizeable pool, so plenty of opportunity for getting a big appetite for the sumptuous meals ahead of you here.
You aren't short of a delicious meal at Ellenborough. After a monstrous freakishly long drive down from London, don't worry it is normally only 2.5 hours, we were ravenous, and dinner didn't disappoint. We dined in one of the two restaurants, the more formal 15th century main one, but we peeked in at the Horse Box Brasserie, a more casual alternative and it looked delightful. What really marked Ellenborough above the rest was their totally unfazed attitude to my dietary requirements. Nothing was too much trouble and there was such precision and understanding I felt in such safe hands. We ate delicate soy infused salmon and oily salty fragrant mackerel for starter, followed up by a chateaubriand for the table. The steak was so tender, and the crispy chips with a medley of sauces and vegetables were magical. I just had to pause typing this to get a snack as they were just the best chips. Pudding was a sticky toffee pudding for my guest and a medley of fruity sorbets for me, before rolling ourselves out of the restaurant into bed.
Breakfast the next morning was a continental buffet and an option for cooked. We opted for traditional fry up and weren't disappointed by moreish sausages, crispy bacon and endless rounds of toast. Hours later when we were hiking in the surrounding hills, did we regret not getting seconds.
If you are debating a weekend away to the countryside to a hotel surrounded by wonderful walks, Ellenborough is the one for you.
For further information on Ellenborough Park, see here. 
Southam Road, Cheltenham, Gloucestershire, GL52 3NJ | 01242 545454