In terms of classy places to get away, Amsterdam has a bad rep. It's too easy to think of glassy-eyed tourists stumbling, gawping through the Red Light district. And yet this week marks Amsterdam's 15th annual fashion week. Only 5 other capitals have had this dedicated week celebrating syle, grace and elegance for longer (and there are over 50 Fashion Weeks worldwide). People rarely consider (or know) how Amsterdam is also home to the World Fashion Centre, which, for over 40 years has acted as an international platform for both brands and retailers to collaborate and do business. In short, Amsterdam is the ultimate unsung Fashion Capital, it offers a cross-section of style from both designer to vintage, quirky to chic. You can find over 50 designer brands on The P.C. Hooftstraat or stumble across a retro gem in one of their many vintage shops. This winter I travelled to Amsterdam to see its more beautiful and fashionable side with the help of the Sofitel Legend The Grand Hotel.
Sophisticated city hotels can often just act as an oasis away from the hustle and bustle of the city, which is great, but it's often easy to forget where in the world you are. There's no point traveling somewhere to dispense 50% of your holiday experience to a generic chain; where you stay should reflect the city you're in. Sofitel Legend The Grand has perfected this authenticity, offering a blissful retreat whilst ensuring a unique 'Amsterdam ambiance'. The sterility of a hotel lobby is quashed with the option of a private townhouse entrance, meaning you can step straight onto the canal from your room. From the white tulips vased in delfware to the canal house suites, The Sofitel offers you a luxurious yet distinctly Dutch experience so you can justify using it as a your rainy-day or relaxation haven.
Situated between two small canals and within walking distance to the museum district, the Vondelpark and the world's largest flower garden, De Keukenhof, Sofitel Legend The Grand's location is perfect for the city explorer. The Concierge are very helpful in creating the perfect tailor-made itinerary, so whether you want to explore on foot, by bike or canal boat, (which can depart from the hotel's private jetty) you can ensure that you'll make the most of your time.
The Hotel can also act as your sanctuary to satisfy all hunger or spa-related needs. Michelin starred Bridges restaurant, influenced by Chef Ron Blaauw, and located in the old Town Hall canteen, serves a delicious Dutch-French cuisine, it also has a garden terrace so you can relax in one of Amsterdam's best kept secret gardens. If you fancy sampling fresh Dutch produce, you can do this in The Netherland's first Raw Bar, offering lobster sandwiches, delicate fish tartar and ocean fresh fish, the perfect accompanying bites for drinks at Bridges futuristic cocktail bar, located opposite.
Thirsty? Good. Grab a glass of wine at the Vinothequea, a cocktail in the intimate, wood-panelled Flying Dutchman, or go full Winston Churchill in the Cigar Lounge (where a portrait of the great man himself hangs, honouring the time he visited the bar). Want to try something different and step well off the alcoholic tourist trail? Look out for Corenwyn, the traditional Dutch spirit made from Juniper berries but with a flavour closer to whisky than gin; the hotel stocks three brands, and for €16 you can try all three with a selection of paired cheeses (nothing could be more Dutch).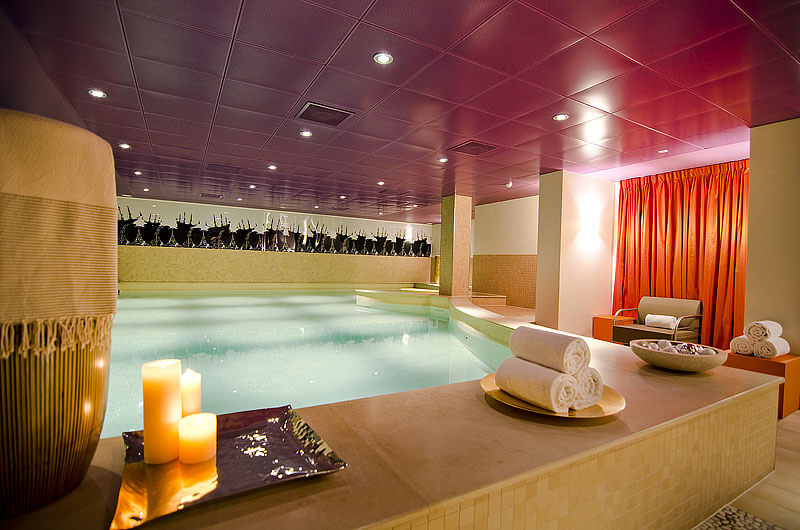 On the other hand, if you're more about detox than retox, Sofitel has just the place for you:  a large underground spa and gym complex. Swim some lengths in the beautiful pool before taking shelter in the jacuzzi corner, warm up in the steam room and sauna, and then – if you're brave enough – cool off with the water plunge. You'll make the staff happy too, one mentioned the funniest part of her job was hearing people's reactions echoing through the spa. Offering an 'a  la carte' spa treatment menu, the So Spa offers personalised treatments to best suit your lifestyle. The So Spa has also recently collaborated with former Saint Laurent model Marisa Berenson, who has introduced a spa range based on a natural and holistic approach, hello prickly pear.
For the most decadent of travellers, the hotel offer a service unique in all of Holland: a traditional butler service. This really is what you think it is: a team of men in perfect suits and tails, shining shoes and impeccable manners, dedicated to satisfying your every whim (within reason. (I assume)). The Sofitel website suggests a butler can assist with everything from the mundane, 'unpacking your bags', to the luxurious, 'pillow menus', and the downright enigmatic, 'bath rituals'. (Whatever this means I'm sure Jeeves makes you feel special).
Amsterdam is truly beautiful and Sofitel Legend The Grand allows you to enjoy an authentic Amsterdam experience in the most luxurious and friendly setting. Anybody looking to visit Amsterdam for the fashion, food, museums and the beautiful architecture (with the option of ultimate relaxation) should look no further than Sofitel Legend The Grand, who transform a city break into what it should be, a holiday.