About Time You Tried: 48 Hours of Solo Travel in Barcelona, SpainBy Chez Specter
Just like Lizzo sang about putting the 'sing in single', I recently put the 'alone' in Barcelona. There, I said it. While a vibrant, crowded Spanish city might not seem like the first choice of destination for the lone traveller, I adored spending a 48-hour stint there last month ahead of a close friend's hen (the calm before the storm!).
I divided my time between shamelessly soaking up the sun poolside, enjoying the gorgeous Gaudí architecture and even managing to get a surprising amount of work done in the city's frankly fantastic coworking facilities. How did I get all that done, you ask? Read on to find out…
Where to stay in Barcelona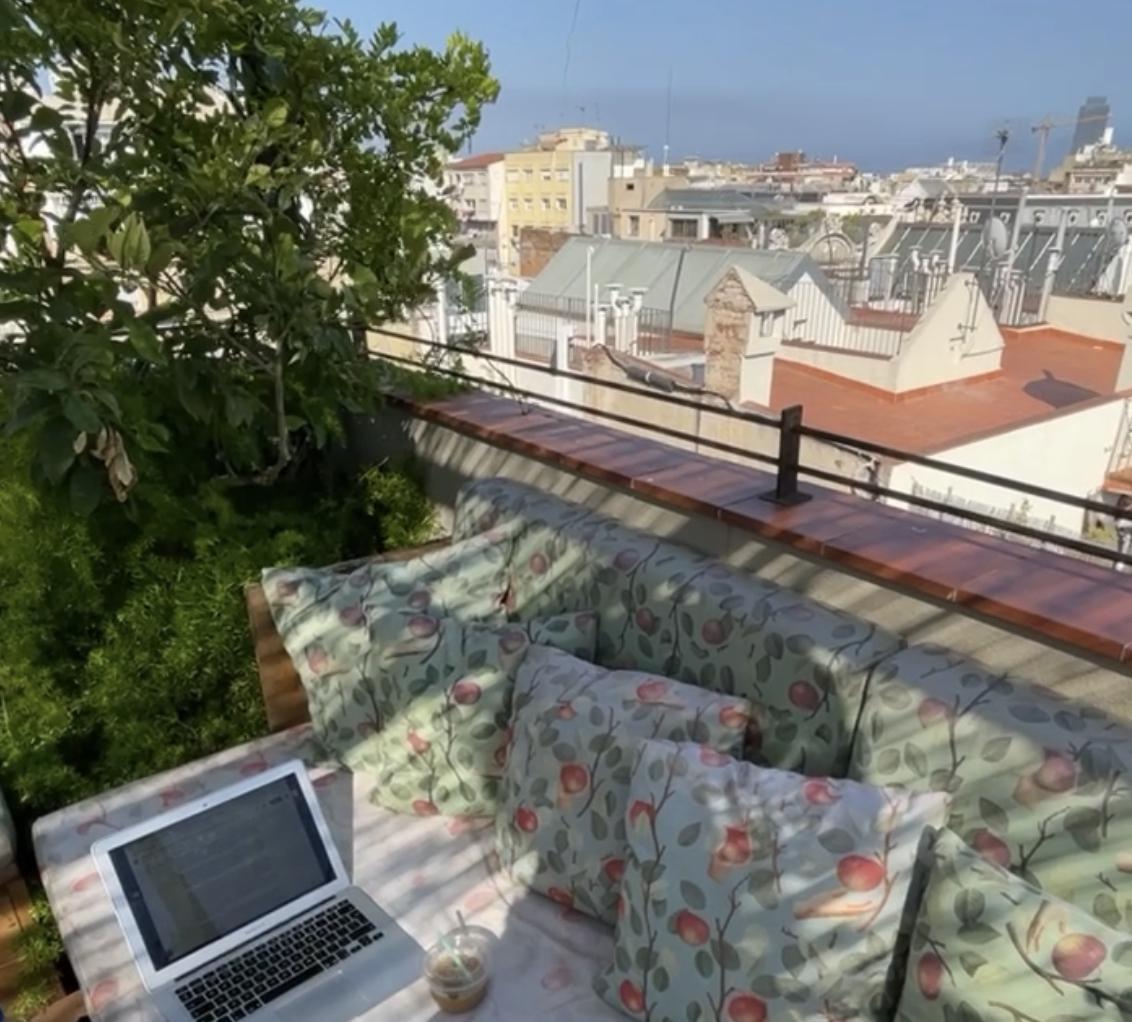 Casa Bonay, an independent boutique hotel with minimalist interiors (think plenty of rattan, bright-white walls with navy accents, square-tiled bathrooms) located inside a beautiful restored building dating from 1856 – hence the hydraulic tiled floors – was a veritable home away from home for this design-obsessed Londoner. It also made the perfect place to crack on with some necessary work: I enjoyed a day-time work session on the rooftop garden (private for hotel residents only) and later on I worked on into the night with an alcohol-free craft beer at the cooler-than-cool Libertine Bar, a live-music bar meets coworking space with plug sockets aplenty. 
Where: Gran Via de les Corts Catalanes, 700, 08010 Barcelona
Barcelona: What to do and see 

It's kind of impossible to be a tourist in Barcelona and not enjoy some of the architecture of Antoni Gaudí. Look, I don't make the rules, I only observe them. Having said that, I was more than happy to skip along to Casa Batllo, a tourist favourite and widely considered one of Gaudí's masterpieces, located in the centre of Barcelona. A UNESCO World Heritage Site since 2005, the interior, much like the exterior actually, is like a mythical palace with its ocean-inspired designs (Gaudí believed good design should be a homage to nature). Expect many, many stairs, beautiful wooden carvings, aquatic tiling and stained glass windows. Recently, modern touches have been added – including a NFT of the whole house visible on one of the highest floors and a VR room on the ground floor before you go out. Cool!
The Hilton Diagonal Mar may be set within Barcelona's business district, but its urban beach – owned by Spanish beach club concept franchise, Purobeach – is a far cry away from the location's hustle and bustle, with roomy Balinese beds, Miami-esque palm trees, a chlorine-free pool and a delicious cocktail menu (including frozen daiquiris for a cool-down, and lots of alcohol-free options). Every pool guest is also offered a 'welcome tray' with fresh fruit, mineral water and a smoothie. I seriously topped up my tan in this soothing spot  – before enjoying the most delicious fish tacos at the poolside restaurant. 
Where: Hilton Diagonal Mar, Passeig del Taulat, 262-264, 08019 Barcelona
Barcelona: Where to eat

I attended a class at The Paella Club, a cooking workshop located near the city's Gothic Quarter, and it was one of the best experiences of the trip. I picked up so many cooking tips, and got to meet fellow travellers afterwards when we shared our paellas family-style at the table (we made different variants, including squid ink with cuttlefish; mixed seafood; meat; and a delicious mushroom truffle kind suitable for vegans). Oh, and there was complimentary cava from the moment we walked in – a surefire way to accentuate the experience!
Where: Carrer del Dr. Dou, 5, 08001 Barcelona
If you want to go and drink cocktails with the Barcelona glitterati, there's one key place to do it and that's the stylish Edition hotel. Head to their rooftop bar, aptly named – yes – The Roof, to enjoy Asian inspired cocktails (I adored their Wasabi Ureshi, a gin and sake cocktail with an added wasabi hit). Then, if the nighttime air turns chilly, head downstairs to Bar Veraz for wine and a tapas feast – I tried morcilla, a Spanish take on black pudding, and I was not disappointed. Also delicious for a salty hit was the 'Matrimonia Veraz', a mix of Cantabrian anchovies and Mediterranean white anchovies. 
Where: Av. de Francesc Cambó, 14, 08003 Barcelona