Sometimes a mood takes you. And you find yourself, for one reason or another, falling for a place. La Cigogne Hotel in Geneva is one of those places. There's nothing particularly grand about the hotel; it's small, modest and a little quiet. But something very special is happening in their kitchen.
We meet their young Head Chef Xavier before the meal and he's shy – owing to his softly spokeness, I have visions of bland food and unnecessary amounts of foam, but then the meal starts and course after course comes forward, each one bold, daring and just a little bit sexy. My favourite is the most simple: a piece of salmon sashimi, so fine and delicately cut, with a little garnish of caviar. It's a dish that needs no performance, it arrives and like a flamboyant madam, sits itself at our table and demands attention.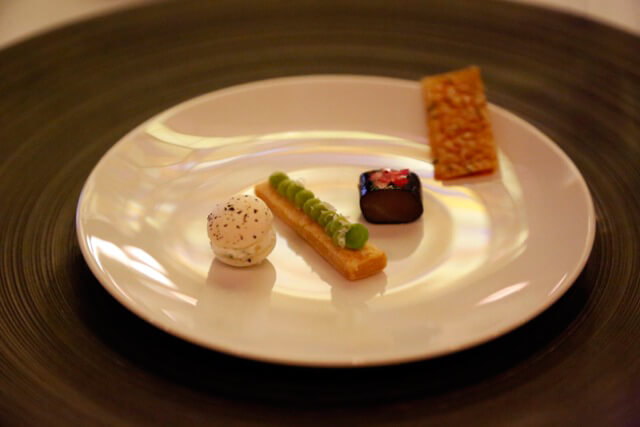 The World's Smallest Macaron is also an attention-seeker; a little savoury bite with a mousse made from the local Genevan Fera du Lac fish. The macaron is teasing; a moment and it's gone. But it's memory lives on, and we all want more.
Little touches throughout the 7-courses surprise us; the cod is served with a sticky marmalade which conjures up memories of toast my mum used to make, but in a good way, and is served with the most smooth, silky, seductive mashed potato I've ever tried. We ask Chef Xavier how he does this magic afterwards and he says the magic words: butter, butter, butter.
Dessert comes and clearly I've had too much Pinot Noir because I'm finding it hard to focus (my lens). The final flourish comes in the form of a melting chocolate pudding which is served with lots of little matcha bites; matcha ice-creams, matcha tuiles, matcha powder. As my guest says, it's not a gourmet meal if there isn't a tuile involved. How right she was.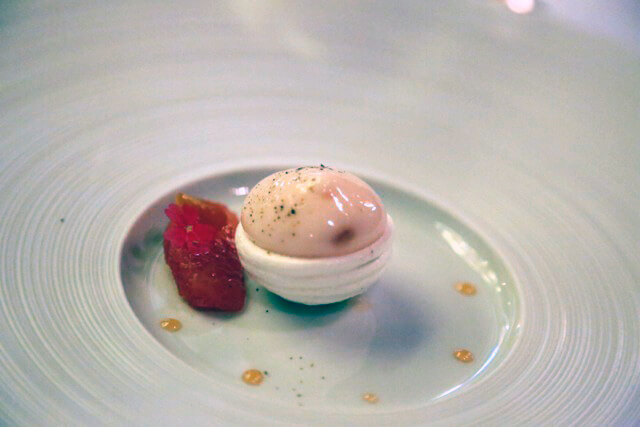 See here for our guide to Geneva