Continuing from last month's inaugural column, we detail a further five products (and a few apps) that would make your travel jaunts easier,  cheaper or the envy of your friends.
1. The Traveller's Camera: Sony Alpha 7 and 7R
What: They may be more compact than most other DSLRs, but they pack a professional punch like no other. Sony has just released the 24.3 megapixel Alpha 7 and 36.4 megapixel Alpha 7R – both with a lightweight 35mm full-frame sensor – to rave reviews and numerous awards.
Why: The interchangeable lens cameras have been developed with size and portability in mind, making them ideal for travelling escapades when a great big hulk of equipment just doesn't suit. The lock-on autofocus will help to capture that fast-moving gecko before it dashes away and the larger sensor means that it can provide a shallower depth of field for expert-looking photos.
Tip: Follow in the footsteps of landscape photographer Joe Cornish who, armed with the 7R, took to Iceland to capture the stunning image above. Find yourself in front of the Niagara Falls alone? Mount the camera onto a tripod and link it to your smartphone to set off the shutter remotely.
Prices start from £1,299.
2. The Last Minute Traveller's App: HotelTonight
What: Maybe you're a backpacker in the middle of your transatlantic route and are fed up with grimy hostel showers… or perhaps you want to surprise the love of your life with a spontaneous trip to Vienna. For whatever reason you'd need to book a hotel the day before you want to check in, use HotelTonight – an app which gives up to 70% discounts on last-minute empty rooms.
Why: There's not really much need to elaborate on "stay in an upmarket hotel for a third of the price." It may be a little haphazard for some, but for those who want their Dollars (Euros or even Pesos) to go that bit further this app is a must. It's great value and if you're not too precious about securing an itinerary before leaving, then rock up and take a gamble. You may end up with a gem.
Tip: Desperate for a European city break? The app began life in North America but has since partnered with hotels in Prague, Berlin, Dublin and Liverpool, amongst many others.
3. The Local Traveller's App: My Destination, Travel Guide App
What: With more than 300 local experts to help build its travel guide app, My Destination is certainly wanting to get the inside gossip on the best bars, neighbourhoods of a city, as well as how to avoid the baying crowds at top attractions. It has travel tips on over 100 worldwide destinations including updated content real-time.
Why: My Destination was only available on iPad until last week when the firm released its iPhone version. The slick design makes it easy to use and you won't be rocking up to some lauded restaurant written about two years ago that has since closed its doors.
Tip: While the basic app features are free, you'll have to pay for some of the best bits. A GPS-pegged map tells you what exciting things are near to where you're standing – with both the map and GPS able to operate offline, so no horrific roaming charges.
4. The Cautious Traveller's Gadget: Steripen Adventurer Opti Handheld UV Water Purifier
What: What with our unsavoury views on excessive sunbed use, who knew that ultraviolet light can actually be used to protect your health. Stick SteriPEN's Adventurer Opti water purifier into a glass of river water while hiking and, as if by magic, it destroys a number of bacteria and viruses such as E-Coli, Salmonella, Hepatitis and Giardia.
Why: Two colloquial words: Delhi Belly. Protect yourself against vomitting, diarrhea or other incarnations of travel hell. The product is also SteriPEN's lightest and smallest at just 108g, while the lamp has enough life in it to last for 8,000 treatments. It has been lauded by hikers and backpackers on travel forums with its bestseller being sold on Amazon for £76.
Tip: While the SteriPEN is ace for zapping bacteria, it currently doesn't kill worm eggs. Its optical sensor (which identifies when it's been dropped into water) doubles-up as an LED torch when searching high and low for the loo roll.
5. The Budget Traveller's App: Frugl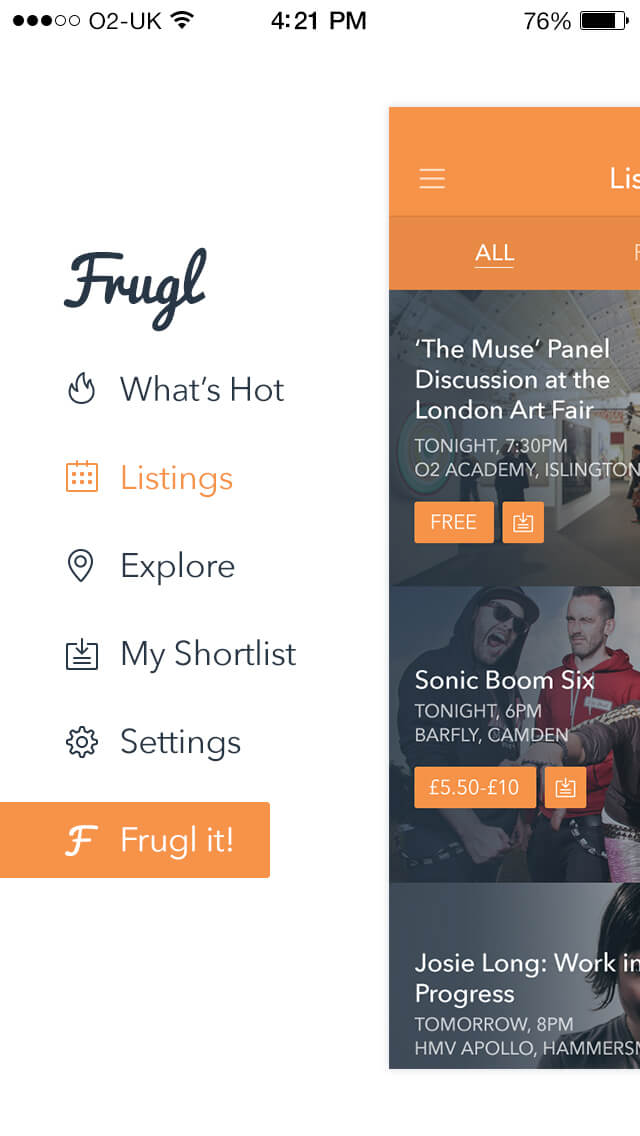 What: Travelling to London on a budget and terrified by tales of £4 coffee woe or £10 travelcard hell? Fear not – this new app tells its users how to mitigate the high costs of life in the city with cool events that are either free or very, very cheap. Merging successes like YPlan and Skint London, the start-up also sells tickets to the low cost events it details.
Why: Actually, some of the most cultured and unique events in London, from talks at The Cube in Shoreditch to guided walks, are free or next to nothing. See new aspects to the city away from pricey exhibitions and overdone tourist attractions. All events on Frugl are £10 and under, including comedy nights and live music.
Tip: Want to do something cool near your hotel? Or a Londoner and want to find a fun but cheap date idea? Use the 'explore' function for events nearby.