About Time: You Escaped to Marrakech and BeyondBy Oliver Malin
Morocco is the perfect, dazzling escape from Europe for when the weather turns and one is in need of rejuvenation. Morocco boasts a warm climate and is a voyage of cultural discovery.
Only three and a half hours after Gatwick's endless gates and chances to buy over-priced perfume, the ancient beauty of Marrakech awaits you with all it has to offer, glistening like a mirage. It's a world renowned shopping destination for interior decorators, a great backdrop for yoga retreats, exceptional cuisine for the foodies, luxury hamams for the pampered, and adventures for the intrepid.
Steeped in culture, history, spas, souks, restaurants, dancing cobras and night clubs. Whatever your flavour, this city offers incredible scope for all travellers.
Your stay wouldn't be authentic without staying in one of Marrakech's many riads – private homes converted into chic and intimate guesthouses. These lie hidden in the heart of the Medina, the fascinating old town. Bask in the distant sounds from the souks with the help of a sun drenched roof terrace, fresh mint tea and a cool plunge pool. Here's the lowdown on where to stay, along with a few extra images of discoveries in Morocco using our snazzy Leica T.
Where to Stay 
For Staying Like a Local: Riyad El Cadi 
Riyad El Cadi finds itself embedded in the heart of one of the souks (the expansive goods market, where you buy anything from a tortoise to tortoise shell wayfarer's).
They scribe themselves as a perfect oasis of rest and unexpected tranquility, which we truly found to be the case at this Saharan gem. It comprises seven interconnected houses, divided into unique rooms and suites, each referencing a period of art or design with authentic character and artefacts to match.
The standout features of the riad is its vast plunge pool and lush greenery set in a private courtyard, and a sprawling roof terrace offering options to catch the sun throughout the course of the day.
A romantic, candle lit dinner is perfectly suited to an evening unwinding at El Cadi either in its rose petal adorned central courtyard, or at one of the medieval dinning areas prepared by a Moroccan  at the helm of the menu. Many people return again and again to this tranquil hide away, and it's completely rational to see why.
Riad El Cadi. 
87, Derb Moulay Abdelkader
, Marrakech – Morocco 
Entering via an antique gate, you may be surprised to see a number of tortoises roaming around the forecourt, which has an abundant feeling of nature with a tree running from the centre to beyond the roof, acting as a haven for tweeting birds.
Photo Credit: David Loftus 
Founded by Richard Branson's sister, you can tell that same appetite for detail and sophistication is integrated in every aspect of the site. It's designed in such a way, there's many different ways to relax throughout, from a choice of 4 pools and you can even practice yoga on the roof thanks to a long stretch of grass.
Photo Credit: Saad Alami 
The walls are adorned with a combination of art from around the globe, which is immediately comforting to travellers and sets the tone for the whole El Fenn experience.
Photo Credit: David Loftus 
Notable recent additions have been the introduction of a new concept store which doubles as a restaurant, which is a real culinary treat and reduces the the effort involved in finding a suitable eatery. The restaurant has a varied menu and sources the finest fresh produce.
Photo Credit: David Loftus 
Our highlight beyond the incredible room, which felt fit for a Rolling Stone was the buffet breakfast, which offered up the ultimate in Moroccan delicacies and fresh squeezed juices like peach.
It's not surprising sites like Mr & Mrs Smith have commended it so highly in recent times; the doyen of the best small hotels to stay in. El Fenn delivers everything you want from Marrakech without ever really needing to leave the comforts of your riad in a fashion which would be hard to match anywhere on earth.
Derb Moulay Abdullah Ben Hezzian, 2, Marrakesh 40000, Morocco
For a Foodie Stay: The Sanssouci Collection
The Sanssouci Collection is a group of hotels under one brand offering an emphasis on culinary expertise and traditional Moroccan buildings adapted to offer understated luxury and enable an incredible service. It's hard to encapsulate all locations which include: Dar Les Cigognes, Riad Kaiss, Sanssouci Cooking School, Riad Al Assala and Villa al Assala – we will focus on just Dar Les Cigognes
Dar Les Cigognes, since it's inception to current form in 2001 has lead the way with being a riad culinary powerhouse, with a recently published cookbook detailing over 100 recipes and anecdotes about life throughout the history of the hotel.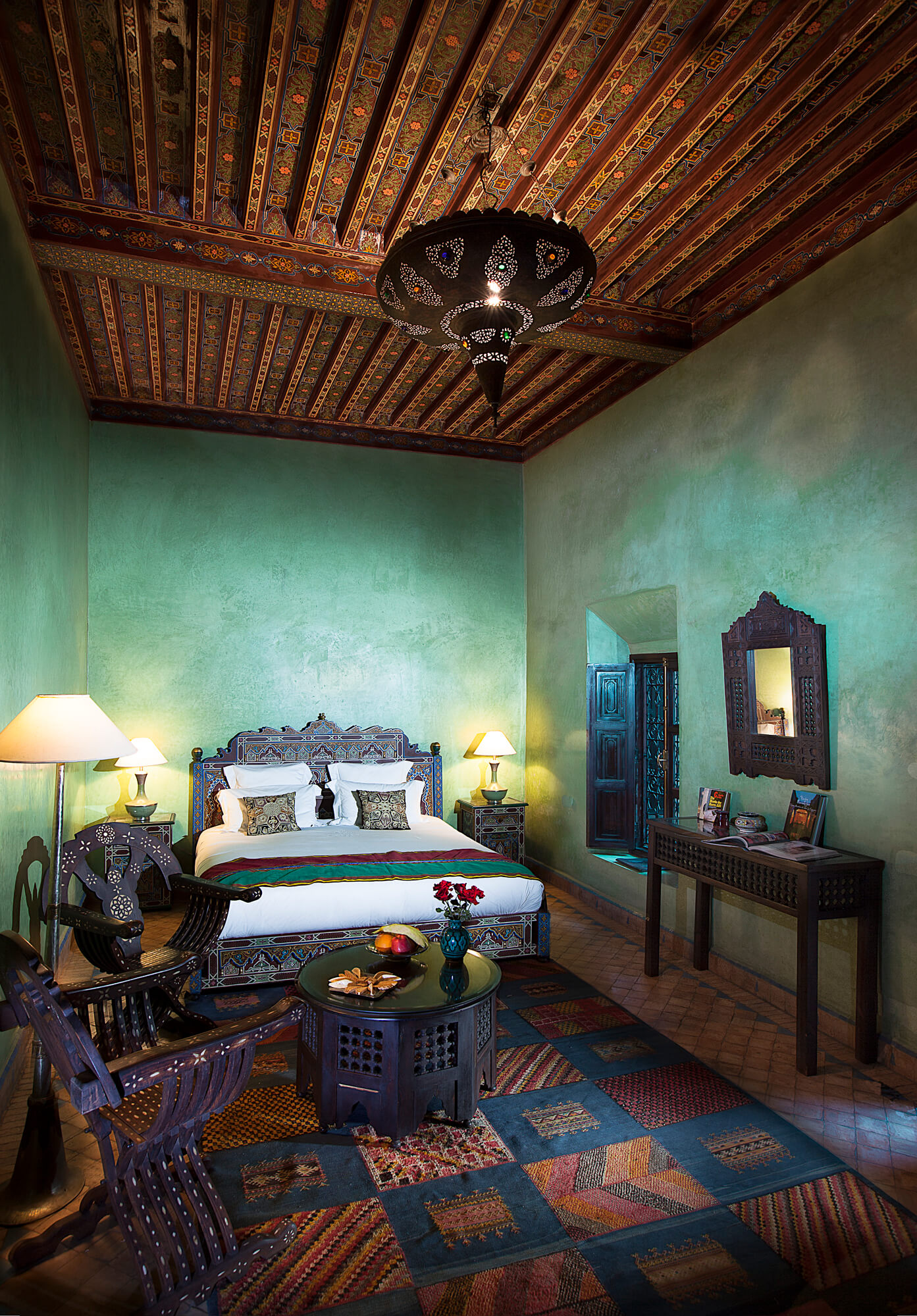 Located in the Mellah (the old Jewish quarter in the heart of Marrakech's famous medina), Dar Les Cigognes is named 'House of Storks' after the graceful birds that perch on the ramparts of the Royal Palace of Hassan II directly opposite the hotel.
The architecture and design throughout the site comprising of 11 rooms transports you to another era, and lets you really relaxed and be at ease in the surroundings. Food can be ordered whenever a guest feels peckish or they can wait for an incredible dinner, which offers unique and tantalising dishes every evening.
Dar Les Cigognes by Sanssouci Collection, Rue de Berrima, Marrakech, Morocco
For the Out of Town Stay: Villa Maroc and Jardin Villa Maroc
Marrakech can be a little over-whelming and frantic at times so it might be an idea to venture down to the coast to Essaouira, the windy beach town famed for world music events, a sighting or two of Jimi Hendrix, and offering perfect kite surfing conditions.
Just outside the town itself is the perfect desert country retreat in the form of Les Jardins de Villa Maroc, the guesthouse of Villa Maroc, the best Riad located inside the city walls. The heated, vast pool, which sits within a beautiful complex, with walls onto the aces of arable lan, home to lizards of all shapes and sizes is truly bliss.
Time seems to pass by in the gentlest of fashions before a truly scrumptious buffet is laid out for the guests to sample the best Moroccan dishes and favourite salads. You could easily be in the hills of Tuscany or somewhere on the Cote D'Azzur without a care in the world with the sun shining at its most powerful (factor 50 required).
What to Do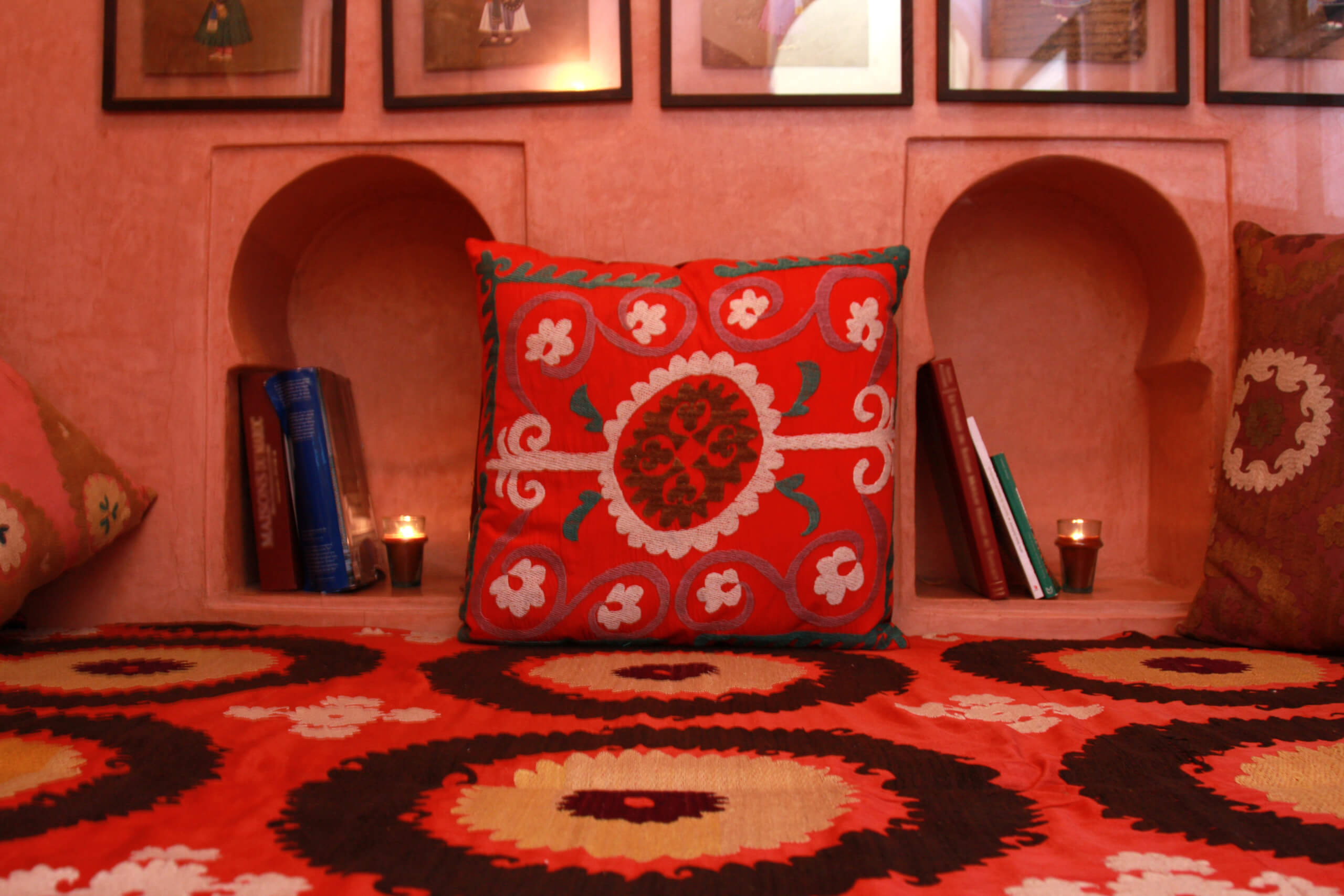 The full Marrakech experience wouldn't be complete without some intake of natural curiosity thanks to a preserved garden, Jardin Majorelle, which was protected and maintained by the French designer, Yves San Laurent. However, in advance of this excursion why not sample a traditional Haman (heated/wet room without steam) combined with an aggressive scrub down or an exfoliation by a skilled local practitioner, concluded by a deep tissue massage at the Heritage Spa.
Located in the same part of the medina as El Fenn, this experience seems our most indulgent, but ultimately probably the best thing you can treat yourself to in Marrakech, as this isn't something one would undertake in London but does you the world of good.
HERITAGE SPA, Arset Aouzal Road, Marrakech, Morocco
Where to Eat 
For Local Cuisine: Latitude 31
After this traditional spa experience, Latitude 31, is a great place to unwind and sample traditional Moroccan dishes.  A modern gastro take on local fare, the restaurant is located only a a few minutes away from the Heritage Spa.
186, rue El Gza Arset lhiri Bab Doukkala  Marrakech
What to See
For Pretty Plants: Jardin Majorelle
Now that we are cleansed, we can wonder round Jardin Majorelle, one of the most visited sites in Morocco. It was founded by Jacques Majorelle, a French artist, whose legacy beyond the garden and his artwork, is the shade of blue, which takes its name for it's own, Majorelle Blue.
Blue is the colour which adorns the gardens and his former studio, now home to a Berbier museum, documenting the history of the original tribe in Morocco, who exist to this day.
The garden was saved from the evil hands of property developers (take note London) after Majorelle past by none other than YSL, Yves Saint Laurent, persevering them in their rightful glory so that cactus' from all over the globe can live in the same ground as each other and giant Bamboo plants can tower over those that enter the garden in wonder. Next year will see a dedicated fashion museum to YSL, who's memorial sits centre stage in the gardens.
Jardin Majorelle, Rue Yves Saint Laurent, Marrakesh, Marrakesh-Tensift-El Haouz, Morocco
Some of our favourite snaps from the trip shot on our Leica T 
A shopkeeper in the medina pours out his kettle.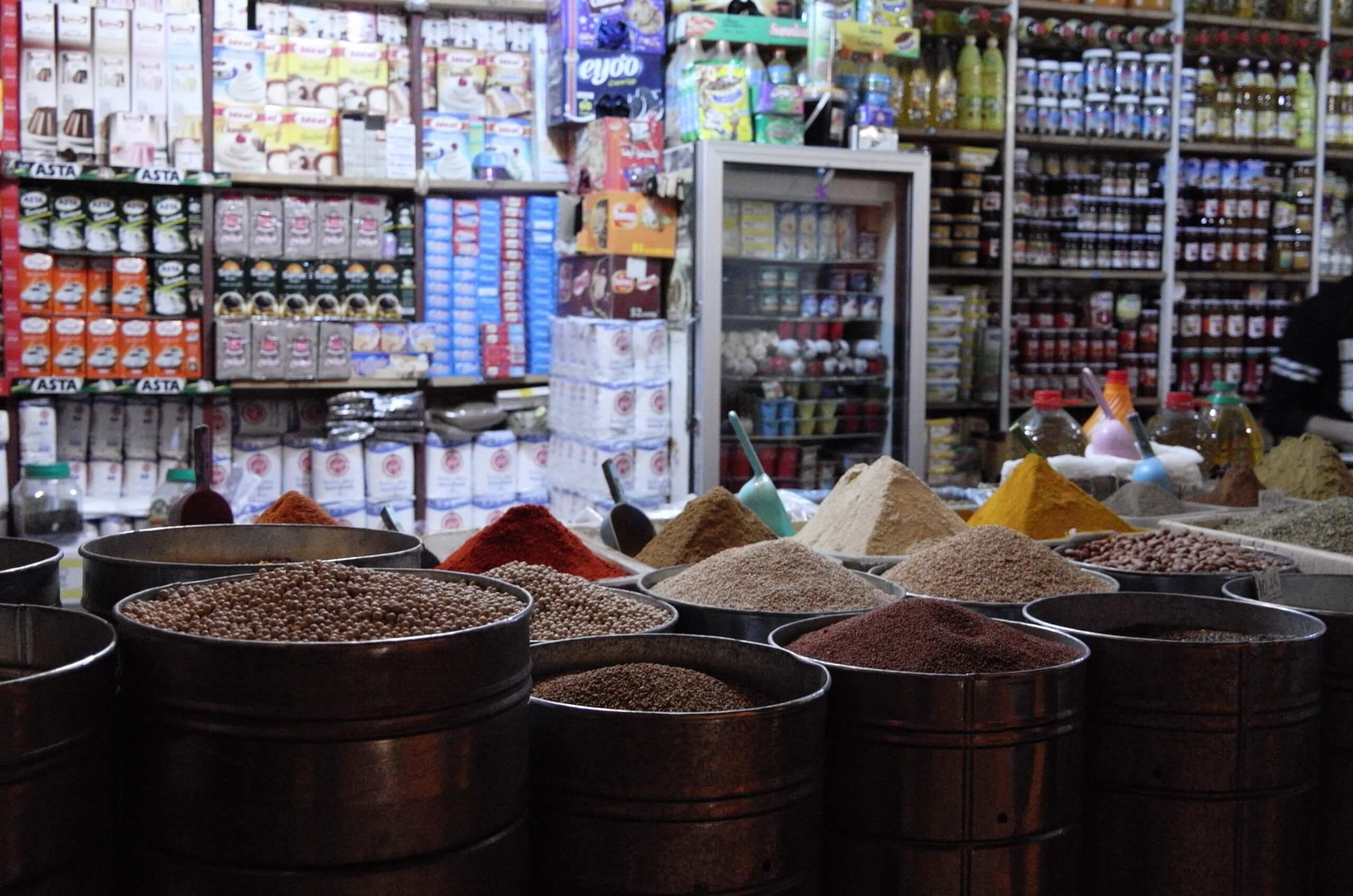 Assorted spices for sale at a traditional local shop
Dates for sale
A cinema in downtown Marrakech
Details of a exotic plant within the Jardin Majorelle
Potions for sale at a night market in Essaouria
The walkway to Jacques Majorelle's former studio located in the gardens