Oh, Venice. Beautiful, beautiful Venice. Built on mythical beginnings, this centuries old city has endless charm. Her history is carved into the ornate Palazzi all over the city, documenting a power state in her heyday, the centre of trade, wealth and culture. Victorian England flocked here at the height of the Grand Tour, with figures such as Ruskin, Turner, Whistler and Sargent meticulously recording every detail of the intricate and fascinating art and architecture Venice still has to offer.
Nothing has changed. In 2016, Venice continues her legacy of being the cultural capital of the world. 2015 brought the 56th International Art Biennale curated by Okwi Enwezor and launching in May this year, the 15th International Architecture Biennale is set to be a corker. If you're planning a trip to the city, here's what you need to know:
What to See
First settled in 1516, the Venetian Ghetto is the oldest Jewish Ghetto in the world. Once housing over 5,000 Jews, this small area of the city has Palazzi that rise up to eight floors. Now, the Ghetto is a tranquil retreat from the bustling Strada Nuova; based in the Cannereggio district, it is comprised of two small squares, Ghetto Vecchio and Ghetto Nuovo, where you will find the Museo Ebraico. A must see, this museum gives you the definitive history of the Jews of Venice and Northern Italy. Most wonderfully however, you will be able to join one of the frequent tours of the five beautiful synagogues hidden behind ordinary facades.
Head over the bridge from the Ghetto Nuovo to Fondamenta dei Ormesini and follow it onto Fondamenta della Misericordia. This stretch of water is often forgotten, running parallel to the Strada Nuova, but humming with bars and restaurants it is the perfect place to promenade on a warm evening.
Top Tip: Go to Vino Vero on Fondamenta della Misericordia; a local hangout, this is the place for Aperitivo. The food is fresh and the Prosecco, bubbly!
The infamous Mercato di Rialto requires no introduction. With fresh produce every single day of the year, make sure you rock up early to get the best pick. Turn nightfall, the market and Erberia becomes an evening hangout, bustling with bars and restaurants. 
Top Tip: Head to Barcollo in Campo Bella Vienna, on a Friday night for the most delicious cocktails and live music.
In a city famous for its art it's difficult to pick what to see and impossible to see it all. The Peggy Guggenheim Collection is an absolute essential; this sassy lady kick started the international careers of a roster of art royalty, most notably Jackson Pollock. Here you can immerse yourself in her priceless collection, gathered throughout her lifetime and experience a lovely, yet unusual, Venetian Palazzo. Make sure you check out the views too!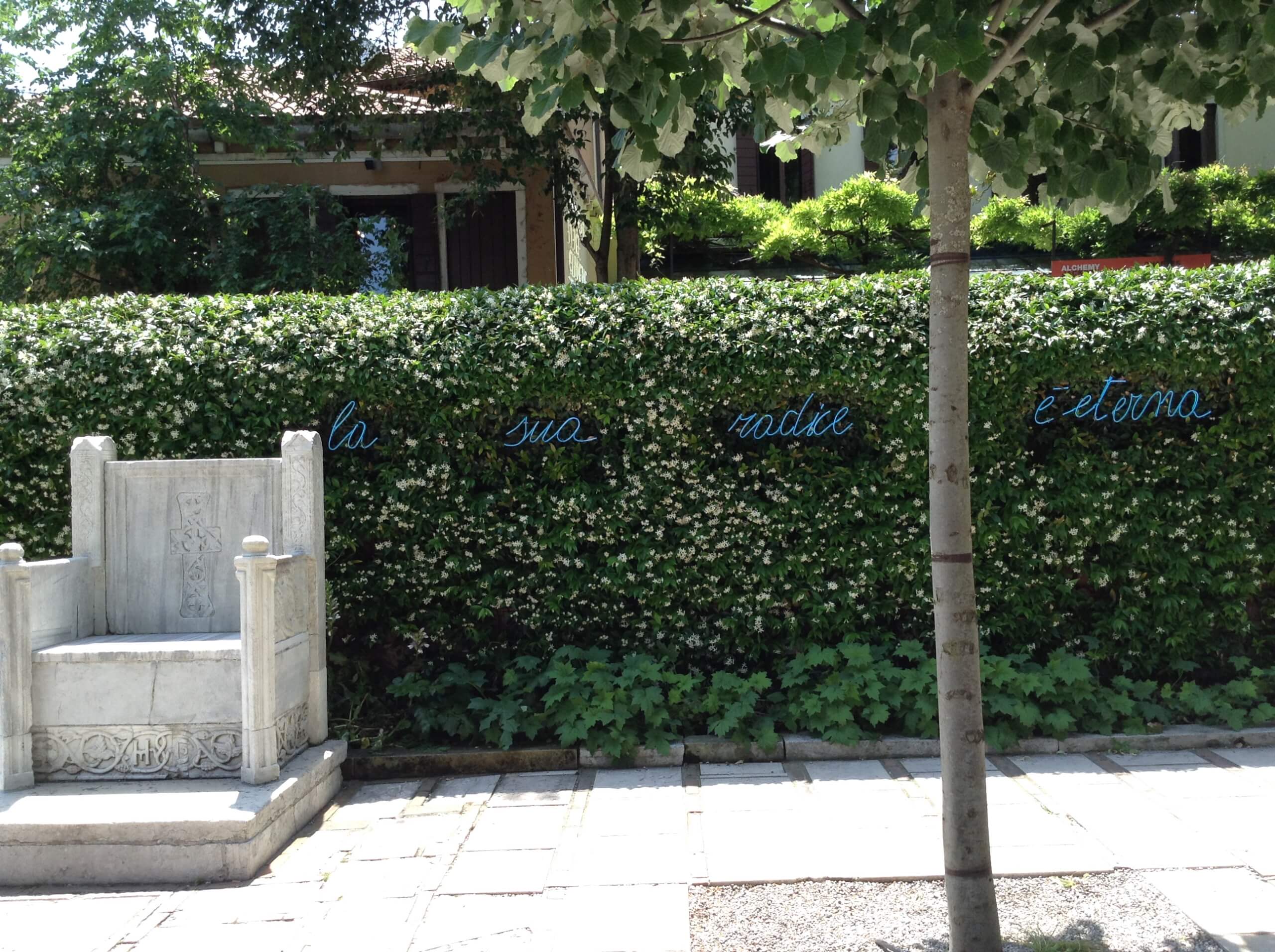 Top Tip: Take a walk from the Peggy Guggenheim Collection over to La Salute and the Zattere in the late afternoon sun. Have a seat with a bottle of bubbly at the tip of the Punta della Dogana and dangle your feet over the lagoon, watching the sunset over Venice.
Who doesn't love a good view? You'll witness hoards attempting to climb the San Marco Campanile, but be savvy and hop on the Vaporetto (2) over to Isola di San Giorgio Maggiore. Established in 892 by a Benedictine Monk, this island transformed from a successful monastery to the home of artillery. Today, the Palladian church houses contemporary art exhibitions alongside masterpieces by Tintoretto, Carpaccio and Bassano. This peaceful little island has a lot to offer, head up the campanile on a clear day for the most stunning views of the city.
Top Tip: San Giorgio is located near the Giudecca Island; a short Vaporetto ride will drop you to this idyllic part of Venice. On Thursday mornings the Giudecca Women's Prison has a fresh fruit and vegetable market.
The Islands: Murano, Burano, Torcello
With no doubt the island of Murano will be on your itinerary, a trip would not be complete without visiting the sensational glass blowing workshops. Burano, is worth just as much attention: a fishing island, the beautiful coloured houses designed so fishermen could find their way home in the early morning fog are for sure the main attraction. Also famous for its lace, keep your eyes peeled for the local lace making shops! The smallest of this triptych is the island of Torcello. The oldest island in the Venetian Lagoon, here you will find sights dating back to 600 AD. This includes the Cathedral of Santa Maria Assunta (639 AD) and beautiful Byzantine Mosaics from the 11th Century.
Top Tip: Satisfy your trip to Burano with a visit to the exceptional Trattoria al Gatto Nero by chef Ruggero Bovo. With fish straight from the catch, Ruggero brings you deliciously fresh dishes and sumptuous flavours. You might need a reservation but it is well worth the wait!
This may sound like an obvious suggestion, but Il Canal Grande is often taken for granted. The primary transport route through the city, this stretch of water has some of the most beautiful Palazzi in Venice and their façades are most definitely worth noticing! Take the Vaporetto (1) from Piazzale Roma (Bus Terminal) all the way to Giardini – and through to Lido if you fancy an adventure! Tickets for the Vaporetto can be purchased from any Venezia Unica booth.
Best way to see the sites here and here
Dedicated to Saint Rocco, famous for curing disease, this Scuola evokes wonderful splendour through the work of Jacopo Tintoretto. Narrating biblical stories with utter intricacy, the presentation of Tintoretto's work in this setting is an extraordinary experience. Make sure you pick up one of the provided magnified mirrors to get a closer look at the ceiling details. Don't forget to check out the Chiesa di San Rocco, also located next door.
Basilica Santa Maria Gloriosa dei Frari
A cultural highlight the Basilica Santa Maria Gloriosa dei Frari is one of the largest churches in the city, standing in the heart of the San Polo district. Titian's famous Assumption of the Virgin towers gloriously above the high altar, accompanied by the works of masters such as Bellini, Sansovino, Vivarini and Lombardo. I Frari is an art historical haven.
Located less than 5 minutes from San Marco square, the façade and interior decoration of this outstanding church is the most remarkable and typical examples of Venetian Renaissance in the city. Alongside masterpieces by the greats such as Palma il Giovane, Tintoretto, Tiepolo and Titian, this church houses arguably the most important example of the Renaissance sacra conversazione (Virgin Mary and Christ shown surrounded by saints in communication). The San Zaccaria Altarpiece, painted in 1505 by Giovanni Bellini was considered advanced for its time; the vivid colours and marvellous detail in both the figures and their surroundings feel everlasting. This is a must see on your cultural trail of Venice.
Where to Stay
If you want a real Venetian experience, then live like a local does! Try Booking.com's easy-to-use website; it's fantastic if you want to have the whole process sorted for you, including a 24/7 customer service desk. Booking.com is your best bet for diversity – it's amazing how diverse the bank of accommodation is, there's everything from a resorted monasteries to chic apartments. Here's some of our top picks from Booking.com:
For Location: Hotel Palace Bonvecchiati
What:
Hotel Palace Bonvecchiati

 is great for location. Lo
cated just 250 yards from Venice's Saint Mark's Square, Palace Bonvecchiati offers contemporary rooms with elegant furniture and air conditioning. There is a gym, Turkish bath and sauna on site. With free Wi-Fi throughout, each room at the Bonvecchiati Palace is spacious and well equipped with a minibar, bathrobe and slippers and TV with satellite channels.
What: Bauer Palladio Hotel & Spa is super swanky. Facing St. Mark's Basin, this 5-star hotel features a large spa and an exclusive location in a 16th-century convent on Giudecca Island. A free shuttle connects to Venice's historic center.Bauer Palladio Hotel and Spa features spacious rooms with air conditioning and historic décor including tapestries, fabrics and paintings. Some rooms have lagoon or garden views. The Bauer Palladio has luxurious gardens where you can enjoy relaxing in lounge chairs or dining outdoors at the Palladio Garden Bar and Restaurant. Generous buffet breakfasts are served indoors or outdoors.
For an Apartment: Appartamenti A San Marco
What: Appartamenti A San Marco is a self-catering accommodation located in Venice, 200 yards from Saint Mark's Square. Free WiFi access is available in all areas. Each apartment will provide you with a flat-screen TV, air conditioning and a private bathroom with a hairdryer. The kitchen is fully equipped and includes a dishwasher and a microwave. Rialto Bridge is a 10-minute walk from the property. Venezia Santa Lucia Train Station is 1.6 miles away.
What: Overlooking Venice Lagoon, Hotel Danieli is a legendary hotel 200 yards from St. Mark's Square. Each room is spacious and finely furnished. The staff provides an unmatchable service. This award-winning Luxury Collection Hotel is comprised of 3 separate buildings, dating back to the 14th, 19th, and 20th centuries, and connected by covered bridges. The nearest water-bus stop is just a 2-minute walk away. The panoramic restaurant Terrazza Danieli offers amazing views and an exquisite menu. Drinks are served in the Bar Terrazza Danieli or the sophisticated Bar Dandolo.
Castello is a great choice for travelers interested in history, museums andculture.
Where to Eat
La Mascareta comes for foodie and wine connoisseur Mauro Lorenzon. Matching your meal to your wine, Mauro's restaurant produces outstanding food from local produce and distinctive flavours. This little locale is a must eat, indeed!
Top Tip: Located on Calle Lunga Santa Maria Formosa, make sure you stop by the Libreria Acqua Alta, a bookshop with a twist, before your dinner.
Located in the serene district of the Castello, L'Osteria Ai Do Gobbi, serves wonderfully authentic Venetian food of fantastic quality, this locale is a favourite in the area. In the Arsenale, Do Gobbi is close to the Biennale site and is the perfect place to rest your feet after a long day of Art-Seeing!