Looking for the best Valentine's Day 2017 gifts for men? We've got it down. Whether the man in your life is into fitness, cooking, grooming (hey, no judgement) or fine spirits, here's our favourite gifts to entice the fellas this Valentine's Day:
Valentine's Day 2017 Gifts for Men: Grooming
For Handmade Products: Soveral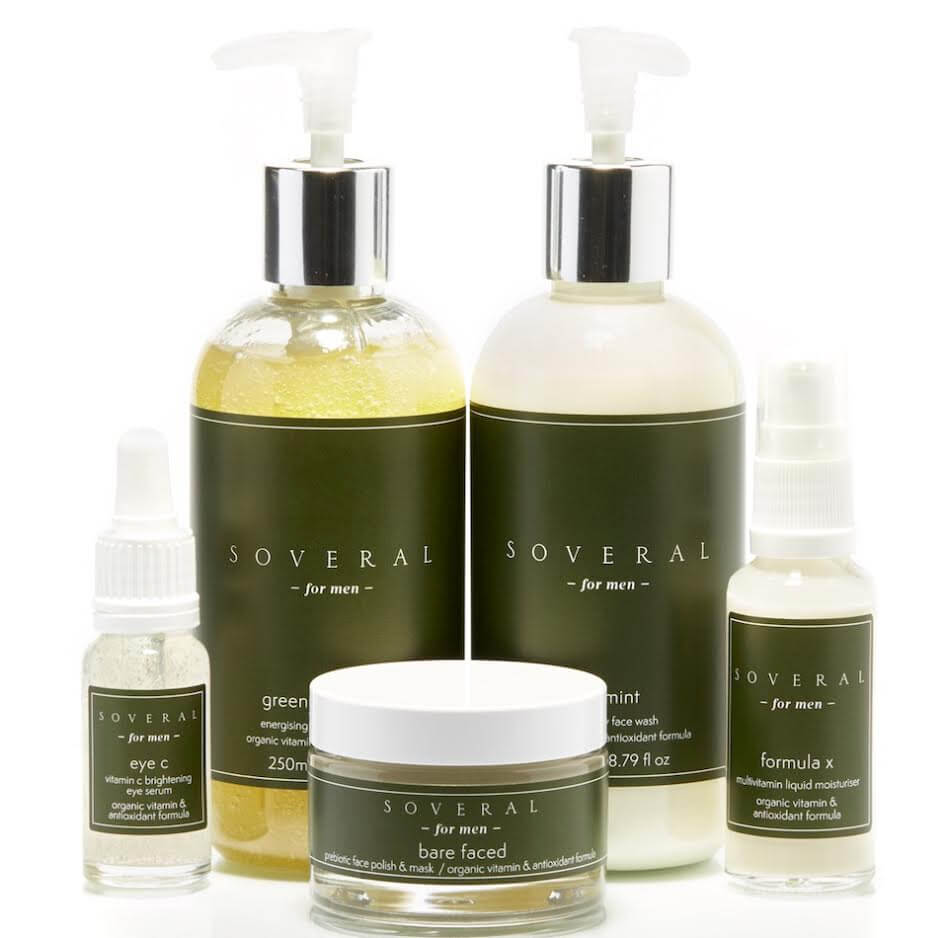 What: The male grooming range from award-winning cult skincare brand Soveral. Hand blended in London, the new luxury collection of men's products combines the benefits of topical vitamins and antioxidants with pure active essential oils to deliver outstanding results.
The Lowdown: The five vegan products include a prebiotic face polish and mask, a vitamin C brightening eye serum, a multivitamin liquid moisturiser, an active daily face wash and a multifunctional energising hair and body wash, all SLS, SLES and Paraben-free. Each beautifully packaged product comes loaded with natural vitamins, antioxidants and anti-ageing essential oils that also balance skin sebum production, leaving him looking, and smelling, great.
Price: From £43
Where: Order online here or in FaceGym in Selfridges and on the King's Road.
For Smooth Skin: Bulldog Skincare
What: Bulldog Skincare For Men is one of the UK's best selling men's skincare brands. Coveted for their no-nonsense packaging, ethical philosophy and effective formulations, there's no better gift this Valentine's Day than man's best friend. Each of their gift sets are under £20 so if you're in the earlier 'dating' stage of a relationship, then Bulldog is your go to.
The Lowdown: Exclusive to the Bulldog website, the Tame Your Face bundle is the perfect gift for your rugged lover. It contains Bulldog's best selling Original Moisturiser, Original Beard Shampoo and Conditioner and Original Beard Balm. Each product is enriched with super star ingredients like aloe vera, green tea and camelina oil.
Price: Tame Your Face is £20 and available here.
For Shaving: Philips Beard Trimmer
What: The Philips Beard Trimmer 7000 is the innovative beard trimmer that helps avoid any unnecessary arguments when getting ready before your romantic Valentine's meal.
The Lowdown: Designed with an in-built vacuum that captures up to 90% of cut hair, meaning users can trim their beard moustache and sideburns without mess, saving men the hassle of having to scrub the bathrooms sink every time they trim.
Price: £80
Where: Available at Amazon, Boots and other selected retailers
For Natural Products: Village Barber
What: Finally – no more sore, red skin after shaving, thanks to the unique Village Barber range of products, with a shaving oil made from 100% natural ingredients and a paraben-free balm.
The Lowdown: Created by a master barber and a clinical aromatherapist, the products moisturise, nourish and protect, so throw away those gels, foams and soap. For men who want silky smooth, irritation-free skin every time they shave. Balm and oil can be bought individually or in a gift and a travel pack.
Price: From £14.95 to £38.95
Where: Online here
For Treatments: Ted's Grooming Rooms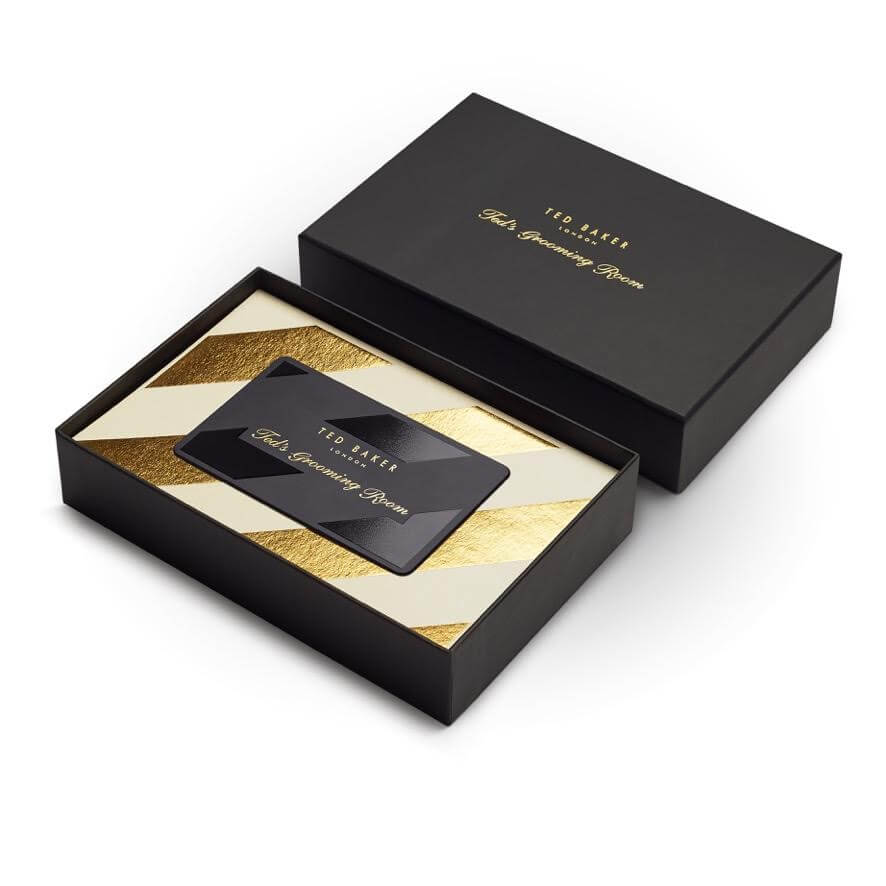 What: Award winning London-based Ted's Grooming Rooms provide tailored and bespoke cuts and shaves alongside a host of treatments to make any chap dapper. Ted's walk-in treatments are available at all shops, but there is also the option of an appointment only service for gents across London to choose from a bespoke menu of deluxe treatments.
The Lowdown: Ted's Grooming Room gift cards are perfect to treat that special man in your life with the chance to be groomed to perfection. Applying long-standing Turkish barbering techniques, the quality of the Ted service is impeccable and second to none from full face massages to bespoke beard designs.
Price: from £22.50 – £75.00
Where:  Order here
 Valentine's Day 2017 Gifts for Men: Drinks
For Personalised Spirits: Etched Drinks
What: Etched Drinks is taking the UK's love of artisanal beer, wine and spirit brands, and allowing customers to personalise the labels to suit any event or occasion. They have created a truly unique offering, making EtchedDrinks the perfect Valentine's Day gift for your special loved one.
The Lowdown: Having sourced a delicious selection of both soft and alcoholic options, from a range of the best breweries, vineyards and distilleries across the world, including Vintage Rhubarb and Rosehip, Mac & Wild Auld Pal, Blackwood Botanical Vodka, Duppy Share Rum and ready to drink cocktails, Etched customers are then given a choice of unique, quirky and beautiful ready-made labels, which can be adapted and modified to all specifications, or the option to create your own label from scratch.
Price: from £12 (plus delivery)
Where: Order here
For a Special Cocktail: Cîroc Vodka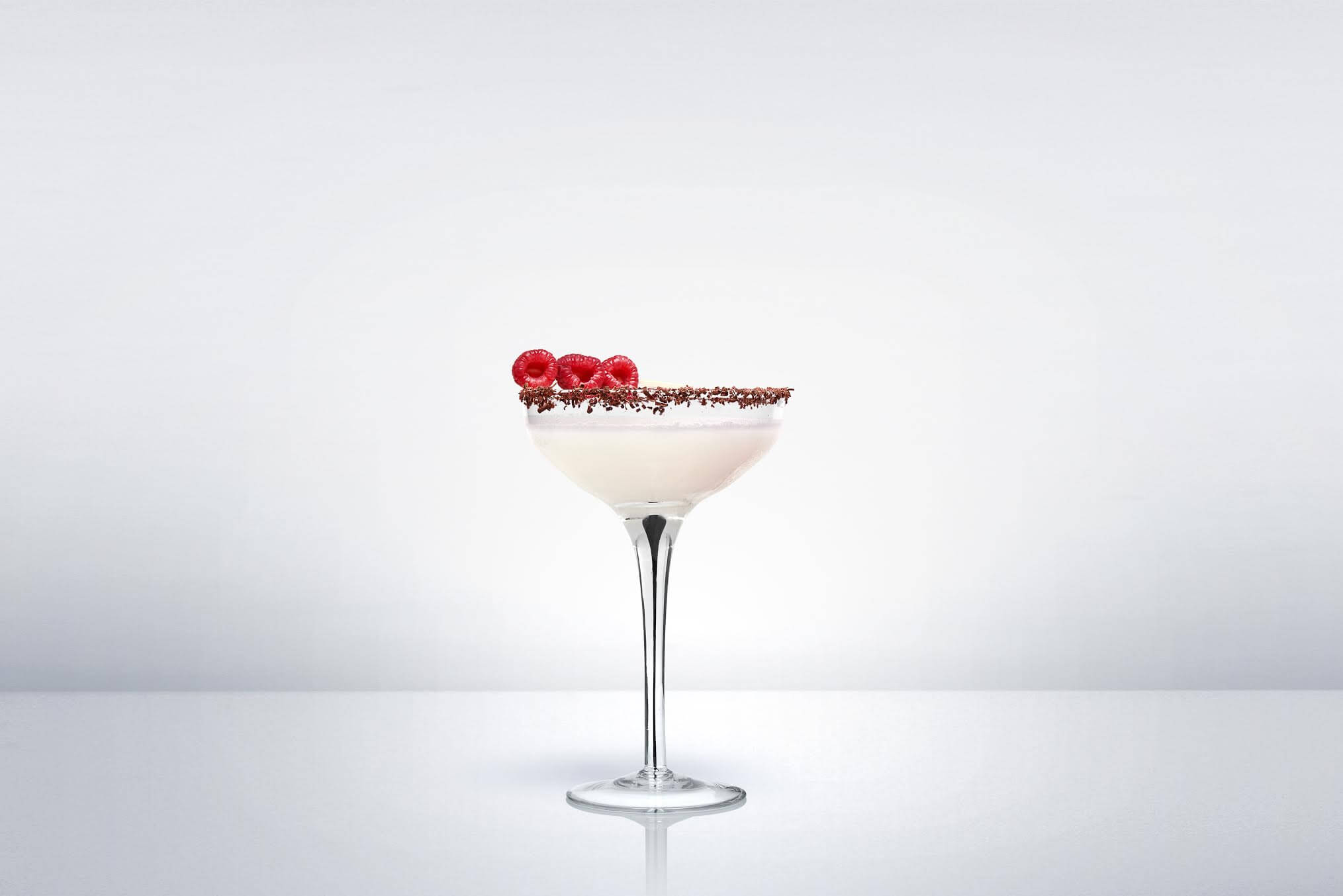 What: Unmistakably a cocktail for the romantics, perfect for the special occasion of Valentine's Day. If you want to make an impression for your partner all you need is this Ciroc Coconut Dream cocktail made by Cupid himself; Coco Re'al, a dash of Cacao White Liqueur and egg white. Shake ingredients together and garnish with grated chocolate and raspberries. This serve is a nod to romantic cocktails everywhere and will be sure to satisfy your other halves taste desires.
The Lowdown: Cîroc Vodka is made using fine French grapes that are cold fermented and distilled five times which are then carefully blended with all natural ingredients to create the world's velvety smooth vodka with a fresh citrusy character.
Price: £38
Where: Order tesco.com
What: Whether celebrating love or friendship, Valentine's Day is the perfect time to raise a toast with loved ones. Be it to gift or share on the 14th of February, Nyetimber Rosé Multi-Vintage has flavour and finesse in abundance. A romantic shade of sunset pink, this elegant wine is an exceptional choice for a memorable Valentine's Day. This Valentine's Day, celebrate with Nyetimber Rosé MV.
The Lowdown: Crafted from a blend of Pinot Noir, Chardonnay and Pinot Meunier, Nyetimber Rosé MV is an elegant wine with refreshing red fruit flavours. Sunset pink in colour, aromas include a charming mix of fresh red fruit and intriguing spice notes of anise and lavender. The palate has a creamy, round texture balanced with redcurrant, raspberry and cherry flavours. Suggestions of brioche lead into an elegant, silky finish.
Price: £39.99 (with free next day delivery)
Where: Majestic, Waitrose
For Special Gin: Boodles Mulberry
What: Boodles Mulberry pays homage to the humble mulberry tree which has been a familiar sight in the English countryside for centuries. Inspired by the traditional sloe gins, Boodles Mulberry is a fresh interpretation of a British classic. The taste combines delicate mulberries with notes of raspberry and currant to create a sweet and subtle medley. Mulberry adds the perfect complement to Boodles British Gin's unique botanicals of rosemary, nutmeg and sage, creating the proper balance and complexity of flavour.
The Lowdown: Boodles Mulberry is ideal for sipping warm or cold, giving all gin lovers the perfect opportunity for a tantalising tipple. Packaged in a stunning bottle, the delicate mulberries combined with notes of raspberries and currants create a deliciously sweet and subtle medley set to dazzle your partner.
Price: £21 for a 70cl bottle at 30% ABV
Where: Available to purchase in selected nationwide Marks and Spencer stores. See here.
What: Mr. Black is a new, beautiful and high end craft made cold press coffee liqueur –  a bitter, intense spirit and coffee creation not intended for the weak of mind or faint of heart. A unique drop that embodies Australia's progressive coffee culture and unrelenting pursuit of steel ground, cold extracted, caffeinated perfection.
The Lowdown: Mr Black is for lovers of fine coffee. Whilst Mr Black was originally created to be drunk straight-up over ice, it can be used to add a complex coffee character and caffeinated kick to both classic and new world cocktails.
Price: £35
Where: Oddbins and Amazon (next day delivery available).
For Scottish Cocktails: Mac & Wild
What: Mac & Wild Ready-to-Drink Bonnie Brae Scottish Cocktails. Those looking for a valentine gift can also give their loved one Mac & Wild's Scottish Valentine's Bonnie Brae bottled cocktail, made with Haig Club whisky, rosato vermouth, rowan berries, lime , rhubarb Peychaud's bitters, and a touch of agave. Mac & Wild, brought to London by street food sensations The Wild Game Co., has recently celebrated the one-year anniversary of their first permanent restaurant Mac & Wild Fitzrovia, located in the heart of London's West End, and the opening of their second restaurant, Mac & Wild City, just a stone's throw from London's Liverpool Street on Devonshire Square.
The Lowdown: Inspired by Scotland's wild and beautiful landscape, the range of pre-bottled cocktails will take your taste buds on a trip to the Highlands and are available in four ready-to-drink varieties, each inspired by classic cocktail blends, created and served with a Mac & Wild whisky twist. The range of cocktails, available in 50cl bottles, or as a gift set featuring a miniature bottle of each, are the perfect gift this Valentine's for him or for her.
Price: £30.39 – Spritz style (50cl / ABV 26.9%)
Valentine's Day 2017 Gifts for Men: Foodie
What: High Street TV's 4-in-1 QuadraPan Professional is ideal for foodie loved ones who are after the latest kitchen must-have. Ideal for a cosy weekend fry-up, or a romantic feast for two, the QuadraPan will change the way you cook enabling you to roast, fry, griddle, steam and poach using 4 special cooking zones.
The Lowdown:  The QuadraPan's professional grade diecast aluminum core combines with its stainless steel induction plate to provide quick heat distribution for perfect cooking results. Not only does the four-in-one panmake cooking easier, it also cuts time spent washing up and makes storage easier – perfect for those who love food but want a hassle free way to cook it. There's no need for added fats or oils with the Good Housekeeping accredited pan, so it's ideal for health-conscious chefs too.
Price: £49.99
Where: Order here
For Steak Night: Connoisseur's Steaks
What: If planning a romantic meal for two, the richly marbled and exclusively picked Connoisseur's Steaks, aged for 35 days and containing beefy grass-fed flavour, pair well with Donald Russell's new Alpine Fries. The classic combination of steak and chips is elevated to new gastronomic heights with Alpine Fries that deliver a satisfying crunch with a soft fluffy interior.
The Lowdown: Donald Russell's Connoisseur's Steaks are specially selected by hand and the absolute crème de la crème of all our steaks. This is the gold standard – richly marbled, beautiful ribeye, matured and packed specially for you, complete with its own certificate, hand signed by one of our four senior butchers. No meat is more tender than that from Donald Russell, Royal Warrant holder and Britain's leading mail order meat supplier. Based in Aberdeenshire, Scotland, they are a pioneering mail order and online butcher who use only time honoured methods to guarantee the best you'll ever taste.
Price: 4x steaks for £55
Where: Online here
What: Wyldsson is a natural health brand and online retailer creating nourishing foods that taste great and are the ultimate in convenience, helping its customers to become their best possible selves.  Wyldsson's Kick Start Your Health Kick Bundle is packed to the brim with nourishing nut butters, pods of trail mix, oats, muesli, porridge toppings and an on-the-go yoghurt and topping cup. 
The Lowdown: This bundle is designed as a perfect way to very quickly transform your nutrition by providing a selection of Wyldsson's highest rated healthy breakfast and snack options, ideal for the man in your life who's in training for the London Marathon, or if you're merely trying to drag him away from the daily bacon sarnie. 
Price: £53.99 (with free shipping)
Where: Online here
For Crackling: The Snaffling Pig Co
What: The Snaffling Pig Co. are makers of flavoured pork crackling. The finest ingredients are used, then gently double cooked at high temperatures to produce a softer product that maintains its bite.
The Lowdown: Their jars of pork crackling are a great way of showing your Valentine you've thought of something a little different on this romantic day. Show that special someone they are hot to trot with the Habanero Chilli Gifting Jar or if you're looking for a message that says 'you're mouth-wateringly sweet' why not try the ever popular maple? The Snaffling Pig Co. have 9  flavours to choose from, so you're sure to find a flavour with the perfect message for your Valentine.
Price: £15.99 (1.5 ltr/ 300g jar)
Where: Order here.
Valentine's Day 2017 Gifts for Men: Everything Else
For Fantastic Shoes: Charles Clinkard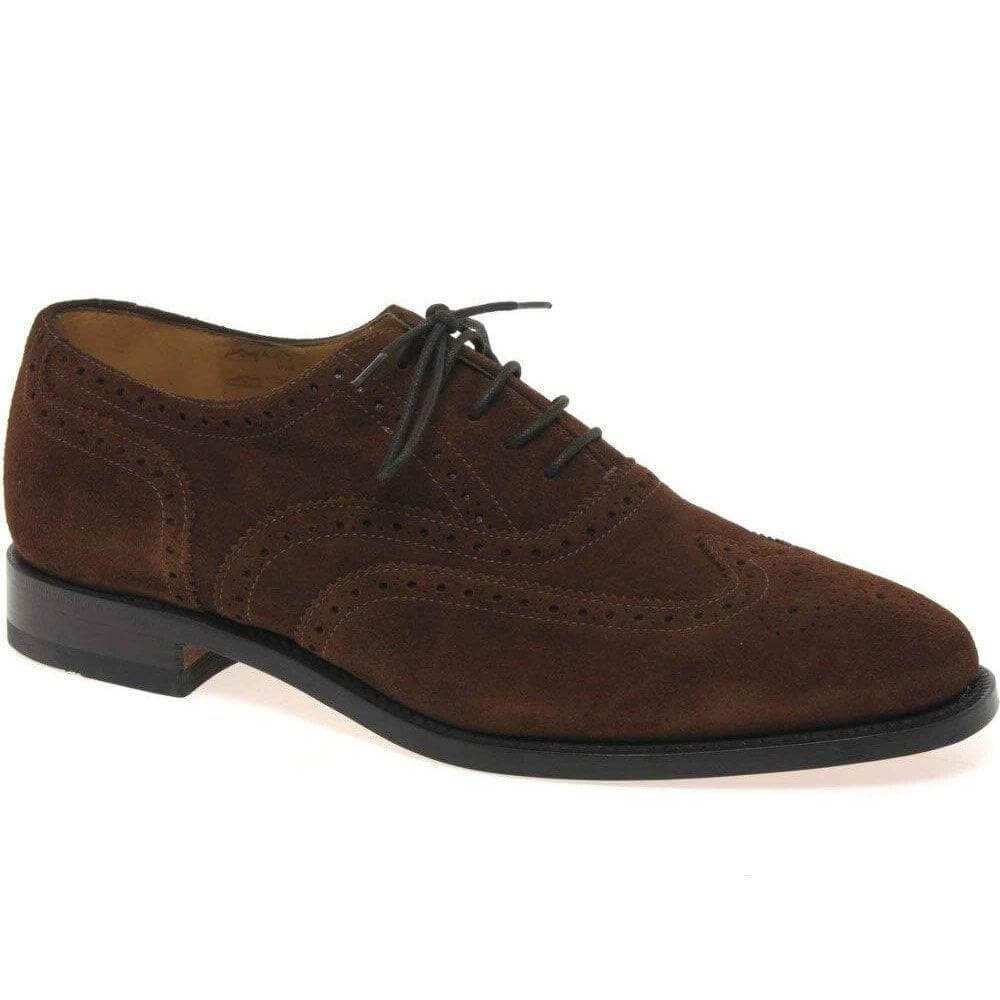 What: Charles Clinkard is one of the largest independent footwear retailers in the UK. Which stocks an array of high quality brands, meaning it's a place where everyone of all ages can count on for indisputably good footwear.
The Lowdown: The contemporary 'Luke' brogue is made with suede leathers and has an insert rubber sole which provides a sturdy grip. These formal, lace up shoes will become every man's go-to occasion wear shoes all year round.
Price: £125.00
Where: Order here
For Making Memories: Lomography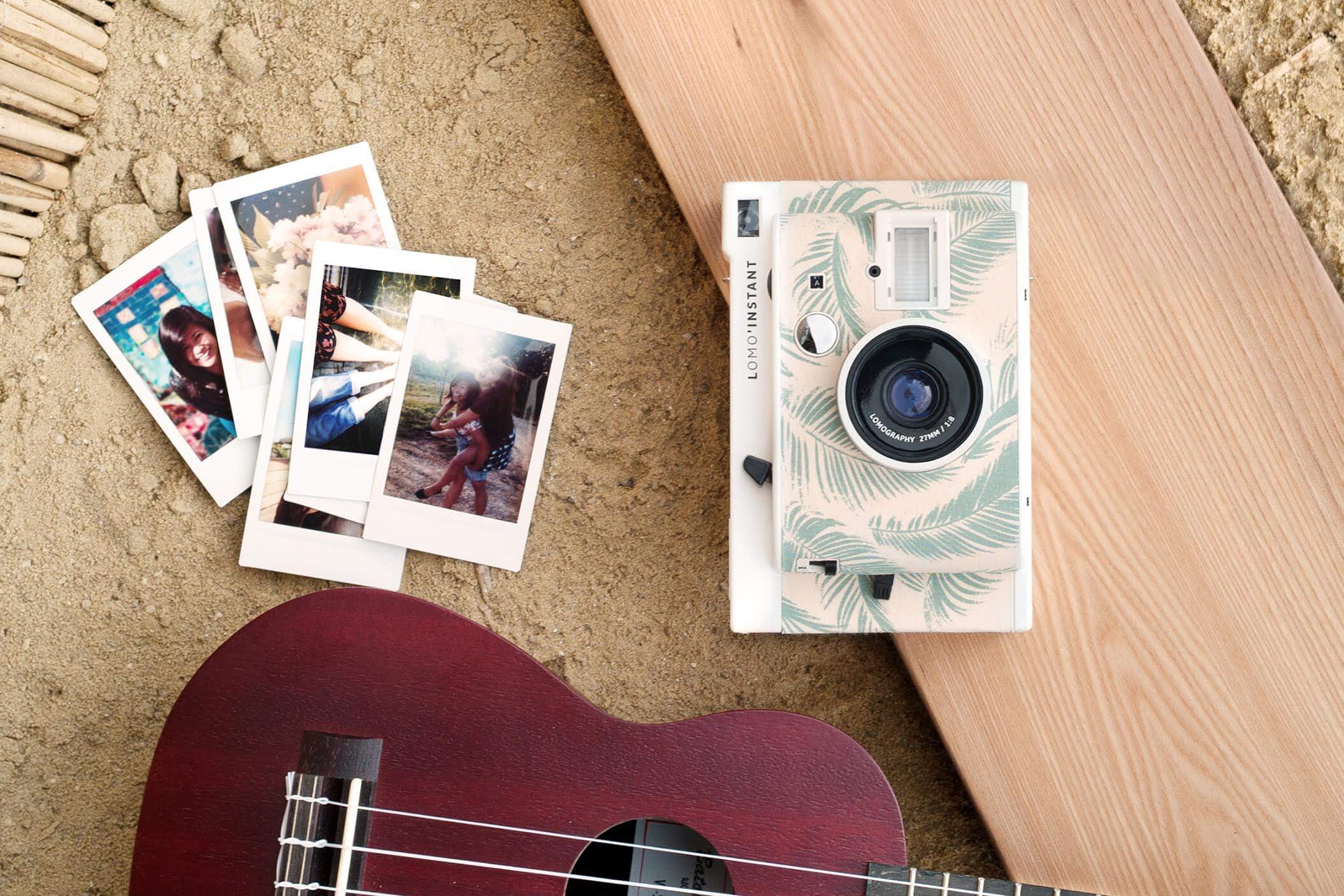 What: Give the gift of instant photography and capture your special memories this Valentine's Day, with the range of plastic film cameras by Lomography. The dreamy soft filters that you often see on Instagram were inspired by this iconic Austrian brand.
The Lowdown:  The stylish Honolulu is a contemporary camera that shoots Fuji Instax Mini film. Supplied with three additional lenses (fisheye, portrait, and close-up) so that you can shoot unique, colourful, and creative instant photos. The coloured filters allow you to play around with cool and warm tones, and give an artistic flair to your instants.
Price: £105 (with free delivery)
Where: Online here
For Personalised Gifts: Coconutgrass
What: Coconutgrass is a small, creative business based in Bedfordshire. Their story is about making lovely personal gifts, homeware and kitchenware for people at an affordable price.
The Lowdown: From art prints to posters, cushions, coasters to greetings cards, you'll find something for all ages and price brackets. There's also a new beauty range just launched with cocktail-themed lip balms, pocket mirrors and tote bags. Best of all, you can order right up until Friday 10th Feb to receive your beautifully packaged parcel by express delivery on the 13th in time for Valentine's Day.
Price: A5 print only £9, framed in either white or black frame £24 (delivery extra).
Where: Order here.
For the Man Cave: NVIDIA Shield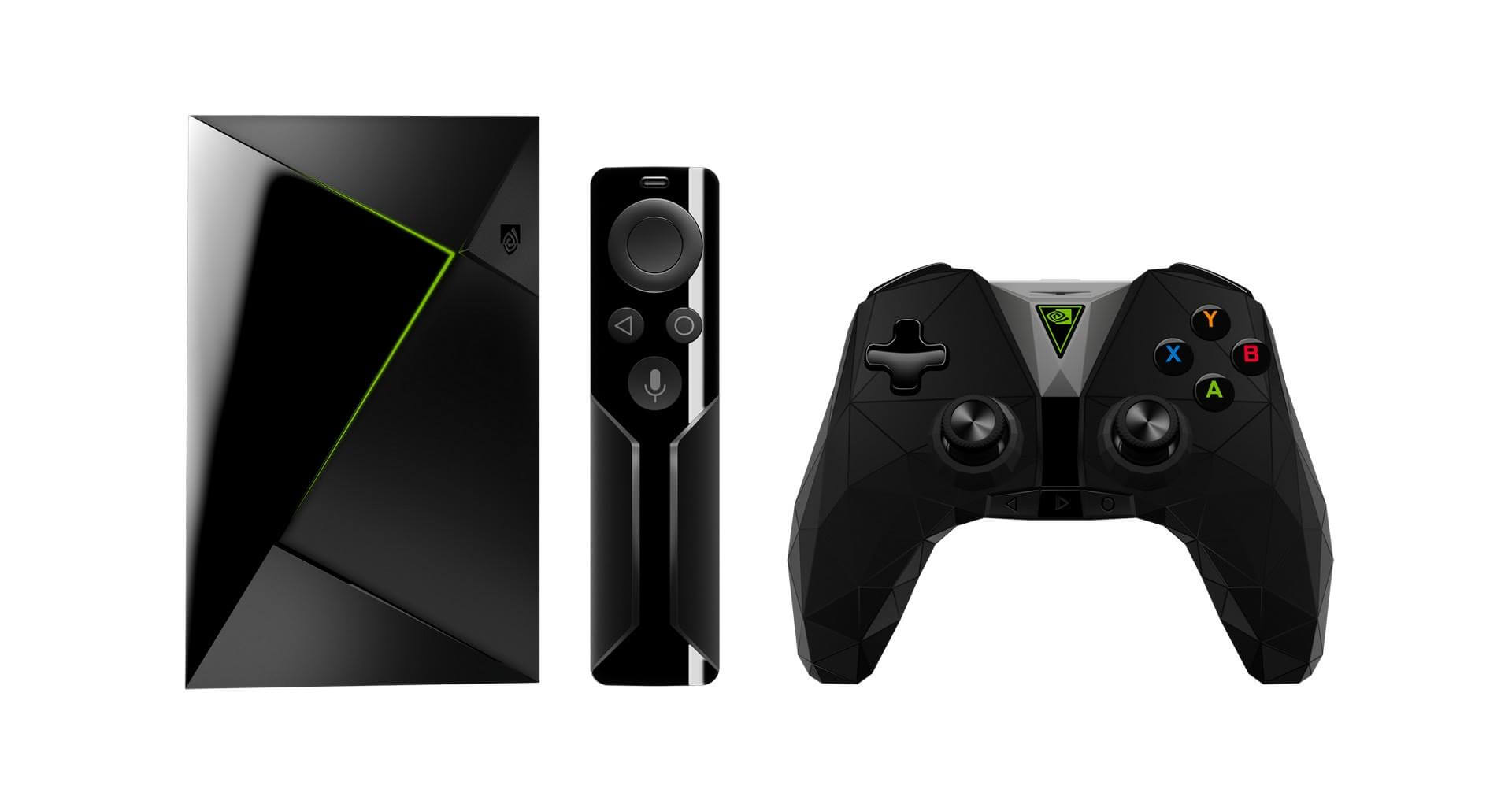 What: NVIDIA is the world leading gaming company that brings unmatched graphics quality to your favourite PC games. NVIDIA has recently launched a nifty little device called SHIELD, the most advanced media streamer on the market and a favourite amongst gaming enthusiast. Offering support for 4K HDR, Netflix and 3x the performance of any other streamer on the market, it's the perfect choice for those looking to build themselves a man-cave.
The Lowdown: Unlike other media streamers, NVIDIA SHIELD uniquely comes with GeForce Now, a library of top games titles, including Watch Dogs 2 and Assassins Creed Syndicate, that users can sign up to on a monthly subscription. Think of it like Netflix for games. Playing your favourite titles has never been more easy or cost effective thanks to cloud gaming in this sleek living-room number.
Price: £189.99, including both a remote and game controller. GeForce Now subscription: £7.49/ month
Where: NVIDIA SHIELD and SHIELD Pro can be bought here.
For Trendy PJs: Desmond & Dempsey
What: Founded in 2014, by husband and wife duo Joel Jeffery and Molly Goddard, the British sleepwear brand ethos is about the culture of savouring your Sunday, creating pyjamas that evoke the feeling of waking up with the entire day ahead of you to do whatever you want. 
Lowdown: Joel and Molly love their Sundays, but when they moved in together it became clear that Molly loved something even more….wearing Joel's shirts. Yes, he thought this was hot but the dry cleaning bill for the jam and morning coffee spills made it clear she needed her own. So, they set out on a mission to make her one like his, and founded Desmond & Dempsey.  They launched with a range of pyjamas that took the traditional men's shirt, reimagined it for the bedroom and tailored to fit her.  Sourcing the finest cottons the brands collections are inspired by their travels and Sunday adventures.  Their prints are exclusive to Desmond & Dempsey, working with artisans to create unique designs season after season.  Along with their popular women's range, the brand has recently introduced their first men's collection, so Joel can have is own pyjama's too.
Price: Byron Long Trouser Set, £165. Byron Short Set, £150
Where: Online here.