We all need a bit of pampering from time to time; whether that's a long bath, a beautiful pedicure or a luxurious massage, it's important to show yourself some self-love. This month, we've been having our aching limbs massaged and our faces preened and perfected (in the name of journalism, you know), and can say these are five spa treatments you can't miss this April:
1. For New Spa Treatments: The Landmark London
What They Say: Combining natural active ingredients with cutting edge technology, Germaine de Capuccini brings rejuvenating skincare products and opulent treatments to The Landmark London Spa & Health Club. Using the finest ingredients and traditional ritualistic therapies, the new spa menu includes treatments focused on client's deep relaxation, balance and wellbeing through the use of aromatic spices and exotic ingredients.
The Treatment: Hot Pinda Paradise – 50 minutes
Price: £100
Expect: Using exquisite oriental flowers and macadamia oil, this deeply relaxing massage treatment uses steamed pindas containing exotic spices, such as cardamom, cinnamon and poppy seeds, dipped within the warm oil and then massaged over the body. This allows the aromas to be released whilst guests unwind with a firm and invigorating massage.
What We Thought: The massage is perfect if you've had a stressful week – the exotic spices and aromas will transport you out of yourself, and allow a new sense of peace and calm to take over. The skilled therapist is happy to adapt the pressure to your liking, and, if you're looking for something relaxing, we can't recommend this massage enough.
Where: 222 Marylebone Rd, London NW1 6JQ
2. For Massages: Aromatherapy at Jo Hansford
What They Say: UK's leading aromatherapist, Dee Stanford has launched her bespoke aromatherapy treatments at Jo Hansford. Dee has over thirty years in aromatherapy having trained with the doyenne of aromatherapy, Micheline Arcier. Her treatments include the bespoke aromatherapy facial, face and body treatment and full body massage where she takes an assessment of a client's lifestyle and any underlying health concerns to prescribe the aromatherapy oils and exact style of treatment. Dee uses her own apothecary collection of oils which she hand-blends to treat all manner of modern ailments from stress to exhaustion.
The Treatment: Aromatherapy Body Massage – 60 minutes
Price: £95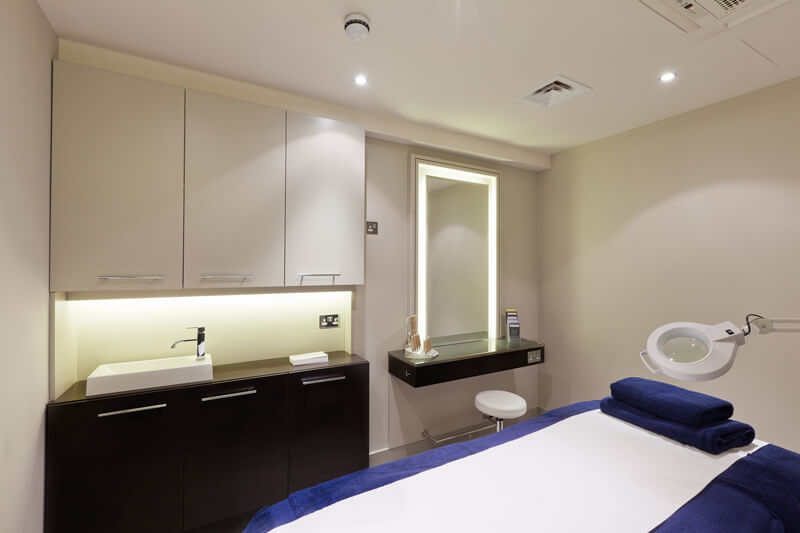 Expect: Total heaven. Dee Stanford is London's best kept-secret; she has over thirty years experience in beauty therapy, and seriously knows her stuff. This massage will focus on the back, backs of the legs and feet, front of legs and feet, stomach, arms, neck and shoulders, working on particularly fatigued and tense muscles. It's all about the aromatherapy; Dee has explored the powerful healing potential of aromatherapy and pioneered her own innovative treatments, developing her own apothecary of aromatherapy oils.
What We Thought: We loved it. You'll get a very personal, relaxed treatment with Dee; each experience is truly bespoke to the client. Dee takes an assessment of her client's lifestyle before prescribing the oils and style of treatment – the oils that are used in her treatments are personally hand-blended in small batches, with the finest ingredients. Whether it's deep relaxation or a much-needed energy boost, Dee works in tune with each client's personal needs to provide a healing experience whether it's a facial or body massage. Glorious.
Where: 48 S Audley St, Mayfair, London W1K 2QB
3. For a Hair Treatment: Electric Salon
What They Say: Rejuvenate and relax with the intensive hot towel treatment and step into the salon for bubbles and a boost of hydration. Electric's exclusive hot towel treatment, using Electric's own formulated nourishing masque which is enriched with a trio of oils; Coconut, Olive and Wheatgerm.
Expect: An amazing hair treatment, which will leave your hair super silky. This treatment encapsulates the hair shaft to lock in moisture and form a protective barrier that keeps the cuticle well hydrated without weighing it down. Whilst you relax, your hair is wrapped in a hot towel to enhance the masque's effects and lock in the ingredients leaving you with hair full of energy and shine.
Treatment: Hot Towel Treatment
Price: Starting from £17
What We Thought: A simple, easy treatment which has some seriously good results. The hot towel treatment is a great add-on if you're getting a cut or colour at this lovely Marylebone salon, and will make you feel like a princess. They've also got an intensive treatment masque (£17), which is a great for a moisture boost. If you're looking for a little colour boost, try one of the colour toners, which is fantastic for giving the hair extra shine.
Where: 29 Thayer Street, London, W1U 2QW
4. For a Facial: Fernskinclinic
What They Say: Founded by skincare specialists Lisa Collins and Nicki Giles in 2004, Fern Skin Clinic has become the North London's address for beauty treatments galore. With over 30 years experience in the beauty industry between them, Lisa and Nicki feel that skincare is not just about pampering and luxury, it's about getting serious, long-lasting results.
The Treatment: Fern Facial – 60 minutes
Price: £72
Expect: Fern Skin Clinic offers an urban sanctuary with a recently-rejuvenated premium environment, where you can be instantly transported to a calm and sumptuous space. It's all about the personal; tailored for each client, every facial is laser-built, to meet the individual's needs – you can expect the finest service here.
What We Thought: It's not a sexy topic. Blackheads. Call it a bad point about living in dirty London. Ok we get all the fun pop-ups, but our face must also take a battering of pollution. But there is something you can do about them. Whether your skin is dehydrated, congested, oily, or maybe all three, the therapists will customize the treatment for you using the very best. All facials include a deep cleanse, exfoliation, extractions, massage and masks.
Where: Fernskinclinic, 18 England's Ln, London NW3 4TG
5. For a Body Treatment: Four Seasons Hotel
What They Say: Your journey to total relaxation and well-being begins on the hotel's 10th floor, where a spectacular, one-of-a-kind rooftop sanctuary includes the Spa at Four Seasons Hotel London at Park Lane, a relaxation lounge, and their state-of-the-art Fitness Centre.
The Treatment: Detoxifying Seaweed & Eucalyptus Body Wrap – 80 minutes
Price: £160
Expect: Designed to rid the skin and body of toxins, this head-to-toe treatment starts with a full body skin brushing and exfoliation performed with a nourishing seaweed, eucalyptus and lemon body scrub. You will be cocooned in a warm, mineral-rich seaweed and eucalyptus mud wrap as you enjoy a stimulating cedar and rose hip scalp massage. Your ritual concludes with a stress-relieving back, neck and shoulder massage using a detoxifying body oil.
What We Thought: Pure heaven. You couldn't get a better location. Surrounded by greenery in the heart of Mayfair, the luxurious and redesigned Four Seasons Hotel London at Park Lane is unique in London, yet still true to the city. Each of their nine luxury spa treatment rooms features floor-to-ceiling windows, allowing the room to be bathed in natural light while you enjoy the views, then darkened during treatments to provide privacy and a relaxing atmosphere. Private relaxation pods are another of the rooms' unique features.
Where: Hamilton Pl, London W1J 7DR