Bored of hitting the cross trainer? We feel you. If you're in need of some motivation, or a new gym class – we've discovered 5 new workouts in the capital. From getting fit for free, to a new dance class – it's time to feel the burn:
1. For Outdoor Training: FitMiBODY
The Run-Down: London training studio FitMiBODY are ditching the confines of the indoors by taking their classes outdoors for the summer months. You'll find the team at Finsbury Square (a short walk from Moorgate Station) for sessions every Tuesday at 12.30-1.15pm. Just rock up, take part, and pay what you want. 
The Class: Classes include Bootcamp – a 45 minute total body intensive workout held by their team of strength and conditioning specialists. A great afternoon workout to sweat, strengthen and improve your total body fitness. Other classes include Total Body Conditioning which focuses on everything upper body, arms, back, shoulders and lower body. A great way to target the specific body parts you want to work on as well as strengthening and toning your body.
Where: Finsbury Square, Moorgate, London
The Run-Down: After recently opening their Flagship gym on Tottenham Court Road, and more recently, Farringdon – F45 Training have expanded their timetable to include their new class, Bears. The new and innovative cardio based workout is one of their most challenging sessions to date.
The Class: The 45 minute class sees members work across 18 intense stations, performing supercharged cardio moves, such as burpees, mountain climbers, high knees, along with dynamic compound movements for an unparalleled workout, designed to target hard-to-reach muscle groups. Classes are suitable for all regardless of age and fitness levels, enabling you to workout at your own pace as you challenge yourself and progress to reach you own goals.
Where: Denmark House,9-13 Cowcross St, London EC1M 6DR
3. For Yoga Techniques: Another Space
The Run-Down: Another Space have just added two new yoga sessions to their diverse timetable. Yoga Unwind focuses on breathing deeply and slowing down, allowing greater muscular release and mental relief. And Yoga Conditioning is not a flow class, instead, the half and hour focuses on mastering techniques.
The Class: This 30 minute session is designed to compliment the things you do in your regular yoga flow. Centered around drills and technique work, it will strengthen your body and muscle memory for the trickier parts of your practice. The focus of the class will shift weekly, helping you in all the areas you need.
Where: 4-10 Tower St, London WC2H 9NP
Photo Credit: Rich Maciver Photography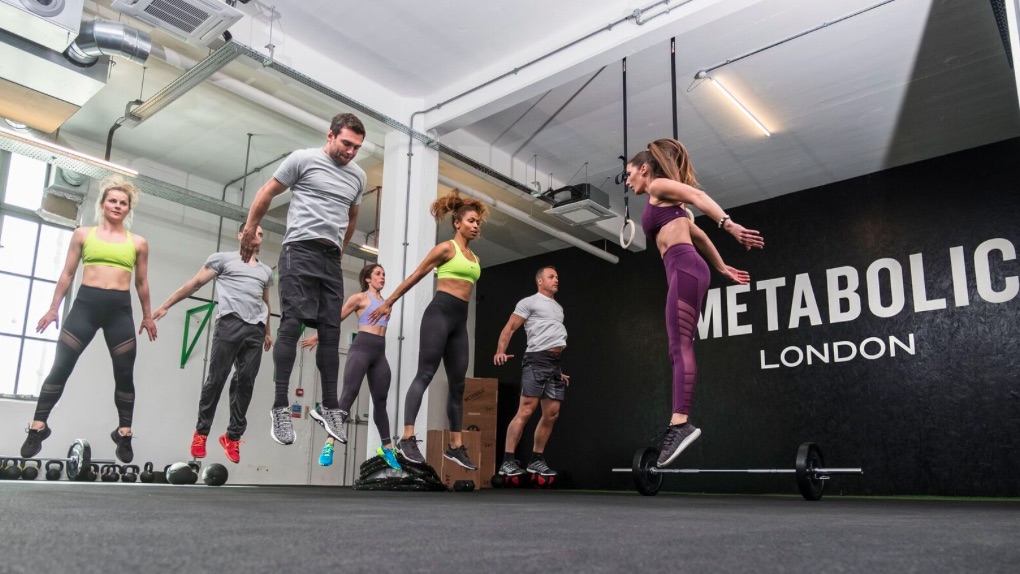 The Run-Down: London's newest fitness studio has recently opened in Mornington Crescent, and with it, a new fitness concept. Moving away from the nightclub-esque fitness studios that London has acquired, Metabolic's studio is the polar opposite: no unnecessary frills, nor a DJ insight, just consistency, integrity, informative education and transformative results. The new Meta-Row class is sure to get you sweating.
The Class: Meta-Row is not for the faint-hearted – it's a brutal workout and will test the best. Lawrence Hannah has formulated a class that is a guaranteed game-changer in the market, with a one-of-its kind offering of a low impact total body cardio interval workout on the rower mixed with strength and conditioning drills. Meta-Row is made up of row/total body circuit intervals with 4 rounds of hard work.
Where: Greater London House, Hampstead Rd, London NW1 7FB
The Run-Down: Xtend Barre can't get enough of dance based workouts. Aside from their new 6-week long ballet course and a signature class at the top of the Shard in August, they've just launched their new class, Dance Sweat.
The Class: Everyone can dance – even if you have two left feet. This 55 minute class will have you sweating from head to toe. Dance Sweat focuses on improving cardiovascular stamina, burning calories and stimulating the brain whilst still having fun. Suitable for all dance abilities, this literally is a class for everyone.
Where: 49 Marylebone High St, England W1U 5HJ