Top 5: New Health and Fitness Collaborations in LondonBy Angelica Malin
If you're bored of your daily gym routine – you've come to the right place. We've discovered 5 new fitness collaborations which are taking place in London over the next month. From rooftop voga to a charity spin class and brunch workouts – it's time to sweat:
1. For Fashion, Fitness and Finesse: House of Voga x Coq d'Argent 
What: House of Voga is returning to City rooftop restaurant Coq d'Argent with a special voga and brunch class on Sunday (4th February) at 11am.
The Lowdown: Classes are the perfect blend of fashion and fitness, combining yoga with the art of vogu-ing (think Madonna with a ton of sass). Attendees are then invited to dine at the restaurant for a special vegan menu focused around root vegetables, as part of D&D London's Mindful City campaign. In partnership with Nuffield Health nutritionist, Jessica O'Dwyer, head chef Damien Rigollet has created the Back to Roots menu which list all nutritional benefits and properties alongside each dish including Carpaccio de betterave heritage (golden and red beetroot carpaccio, black truffle, spirulina, basil and balsamic vinaigrette); Celerie fume (baked and smoked celeriac, chargrilled on sourdough toast); and Brownies au chocolat (Dark chocolate brownie with turmeric and coconut sorbet).
Price: £35 including a two course brunch. Tickets here 
Where: 1 Poultry, London EC2R 8EJ
2. For a Charitable Cause: Boom Cycle x Coppa Feel
What: Boom Cycle always strives to inspire change in Boomers' lives, which is why the Boom team have partnered with breast cancer awareness charity, CoppaFeel! Part of a quarterly event series, the first event dubbed 'Tits & Lazers' takes place at Boom Cycle's new Monument studio on Tuesday (30th January) at 6.30pm.
The Lowdown: Why 'Tit's & Lazers'? Well, as with any change comes a little adversity and following some less than positive feedback from a member of the public regarding the news: 'I neither want, nor need lazer beams, or breasts in my face to enjoy a spin class', Boom Cycle wanted to turn that frown upside down and show their new crowd why riders return time and time again to enjoy the BIKE, BEATS, BOOM! Twisting a negative into a full positive, Boom Cycle will be welcoming all to the studio and donating the proceeds from the ride directly to CoppaFeel! to support their mission to stamp out late detection and misdiagnosis of breast cancer. The evening includes a Boom Cycle 45 minute empowerment themed ride, followed by hair braiding with Get Braided and a talk hosted by a CoppaFeel! boobette. The CoppaFeel! team will be on hand to educate people on the importance of checking their boobs regularly (not just for women either!) and knowing the signs and symptoms of breast cancer.
Price: Each ticket includes a 'You're Awesome' charity vest, pink bubbles and treats aplenty! Grab a ticket here.
Where: 8 Lombard Court, London, EC3V 9BJ
3. For a London First: Ice Rink Canary Wharf x Plateau x DEFINE.London
What: Ice Rink Canary Wharf and D&D restaurant, Plateau, have announced partnered up with new fitness brand DEFINE.London, to bring a barre class to the ice, followed by a plant-based Botanical Brunch on Saturday (3rd February).
The Lowdown: Former American Broadway actress, Ashley Verma, will be welcoming people to the ice to take part in a class made up of two 30-minute sessions, on yoga mats (without the need for ice skates!). The first of the sessions will be comprised of a half hour barre-based full body workout, incorporating a combination of postures inspired by ballet and other challenging fitness disciplines, and the second session will be a relaxing 30-minute stretch class to help increase muscle control, flexibility and range to ultimately allow muscles to recover. Brunch afterwards includes dishes such as crushed avocado on sourdough toast; buckwheat galette with spinach and salsify; and Beetroot tagliatelle, smoked beetroots topped with toasted pine nuts.
Price: £38 pp (includes class and brunch plus a Sweaty Betty goodie bag). Buy here.
Where: Canada Square Park, Canary Wharf, London E14 5AB
4. For a Sense of Calm: The London EDITION x Sound Sebastien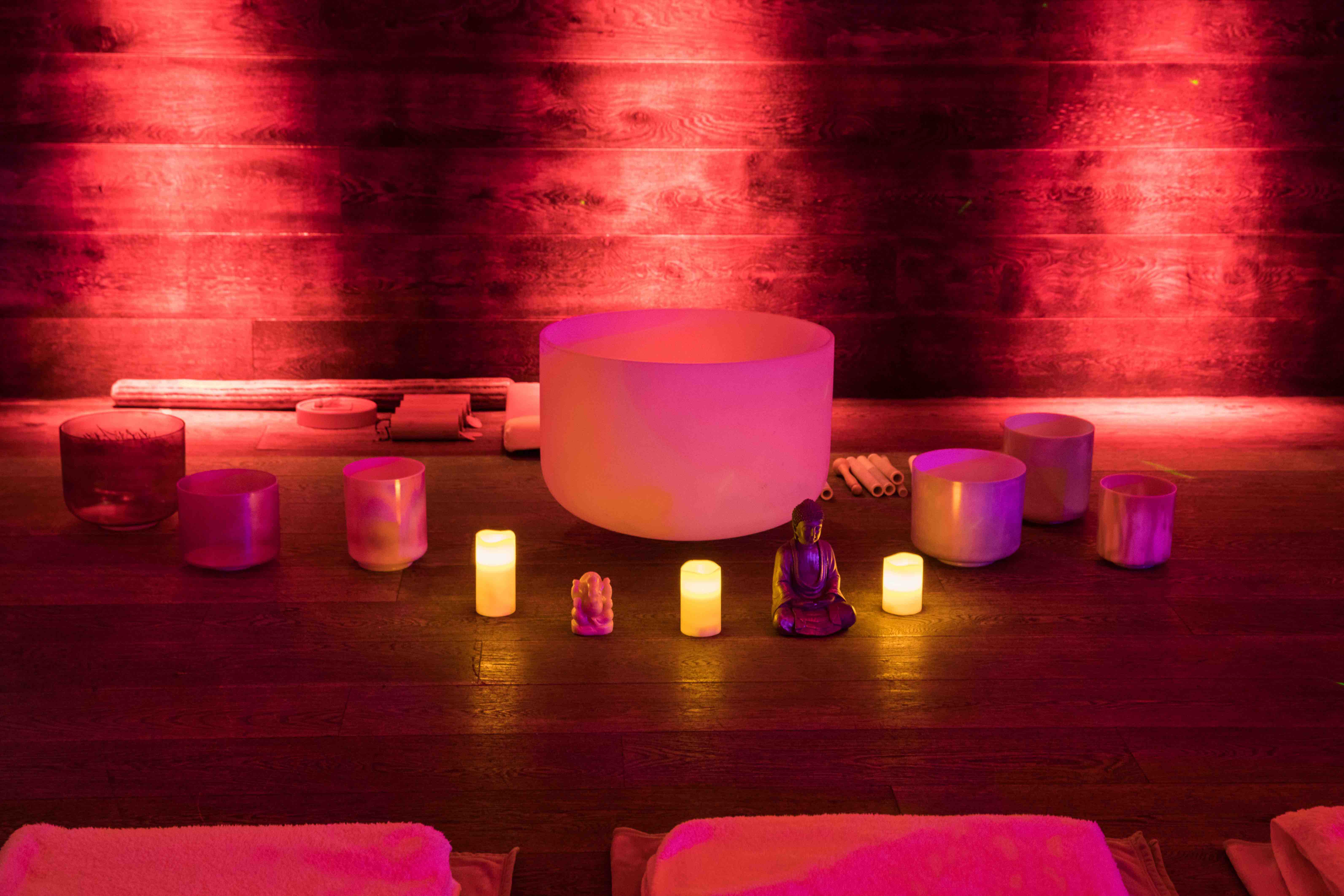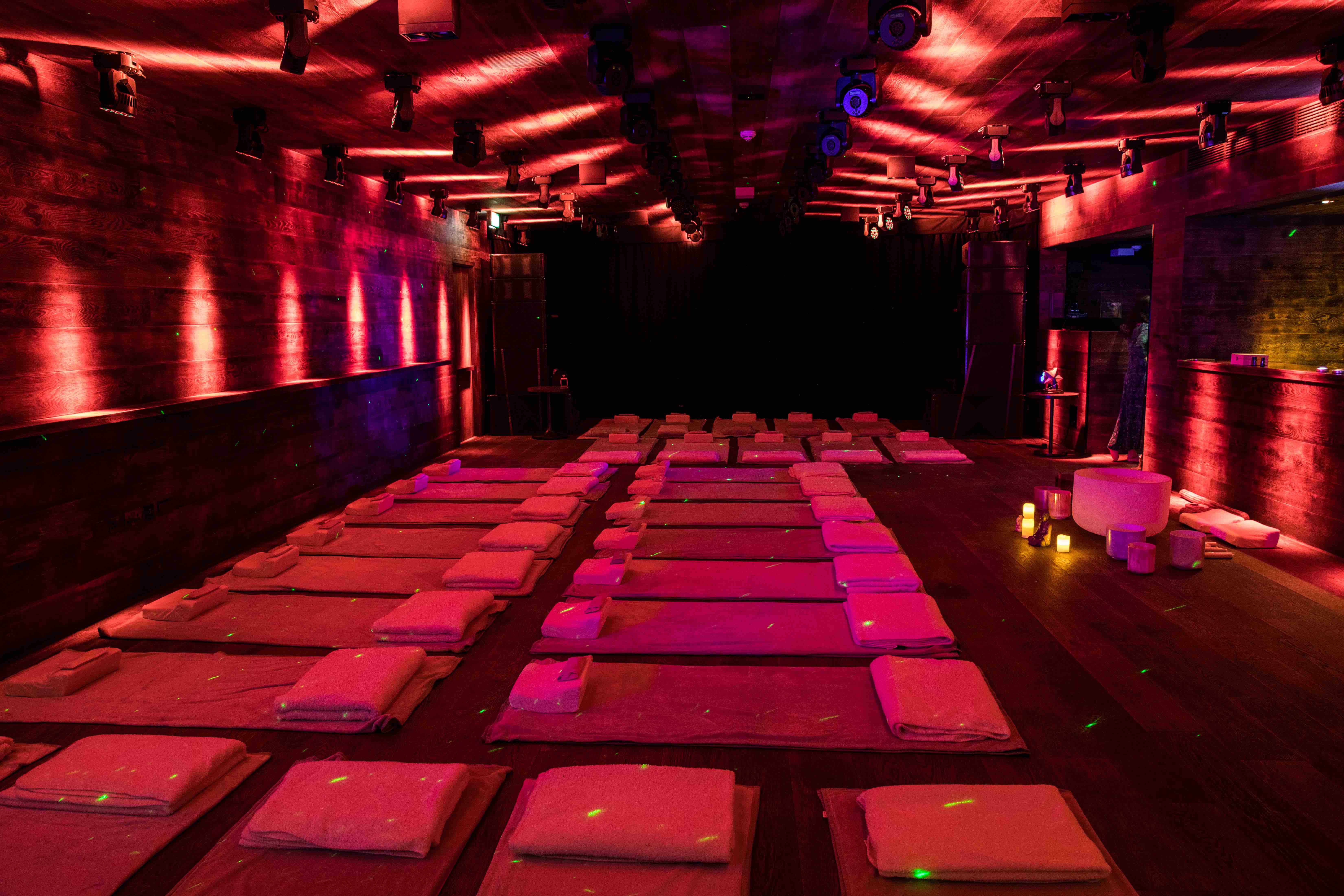 What: Founded and curated by Jasmine Hemsley and Toni Dicks, Sound Sebastien creates a sensory experience through the therapeutic tones of a unique collection of Alchemy Crystal Singing Bowls to calm the mind, open the heart and nourish the spirit – creating the ultimate antidote to hectic city living.
The Lowdown: Sound Sebastien was born through Jasmine Hemsley and Toni Dicks' mutual love for the ancient practice of sound and its ability to calm and curate good vibrations for the ultimate in relaxation. During each session, guests are invited to reset and renew through a sound-induced meditative state. All relaxation needs are catered for; from Tempur foam pillows and essential oils to cosy blankets and silk lavender filled eye cushions.
Price: £35 per person. Book here. Next sessions: 5th/12th/19th February
Where: 10 Berners St, Fitzrovia, London W1T 3NP
5. For Mindfulness: German Gymnasium x The Being Well 
What: On Tuesday (30th January), German Gymnasium will be hosting a meditation class with Dr. Sherylin Thompson. Following the session, all guests wishing to stay at German Gymnasium for breakfast will be offered 20% off their bill.
The Lowdown: Taking place within their private dining room between 8 am and 9am, the class will be hosted by Dr. Sherylin Thompson, from The Being Well, who will give a seminar exploring awareness of the mind through a series of repetitions to train the muscle that is the mind. Dr. Sherylin Thompson uses a laid back approach to help people from all walks of life to build resilience and move closer towards leading more fulfilled and contented lives.
Price: To book or for more information on the event, please contact: sherylin@counsellingcanarywharf.co.uk
Where: King's Blvd, Kings Cross, London N1C 4BU