Looking for the best summer health supplements? The search ends here. We dosed ourselves up on vitamins, shakes and minerals to discover 20 health supplements you need in your life this summer. The results are in, read on to find out more:
Best Summer Health Supplements: For Energy
1. For a Daily Boost: Equi London
Name: Equi London – Fundamental (£55 for 1 month supply)
The Lowdown: Fundamental delivers your daily multivitamin alongside antioxidants, omegas, probiotics, amino acids, balancing herbs, medicinal mushrooms and nutritious superfoods. A revolutionary all-in-one supplement, expertly formulated for the busy urbanite. Each ingredient has been carefully chosen to work both in isolation and in synergy – with x20 pills worth in one daily scoop.
Health Benefits: A total all-rounder! Comprehensively nourishing the body, supporting energy, immunity, adrenals, detoxification and digestion to effectively create noticeable results from the inside out.
Stockist: Online here and Net-A-Porter, Harrods, Fenwicks, Planet Organic and Active In Style
2. For Busy Bees: Power Ginseng
Name: Power Ginseng (£7.90 for 30 capsules)
The Lowdown: Power Ginseng, the herbal remedy from leading supplement manufacturer Power Health, consists of the highest quality four to six year old Panax Korean Ginseng Roots, regarded as the most potent ginseng in the world.
Health Benefits: In Chinese medicine, Ginseng is hailed as an all-healing herb, and it has been used to help with cognitive function, memory, energy levels and mood – perfect for supplementing our busy lives. Ginseng also helps reduce the symptoms of stress and fights fatigue, depression and anxiety with its energy boosting properties, whilst promoting relaxation. The Ginseng is combined with beeswax, hailed for its skin-soothing properties. Beeswax provides protection for the skin against irritants and offers anti-inflammatory, antibacterial and antiviral benefits making it helpful in treating skin irritation.
Stockist: Online here
3. For Female Health: Nature's Best
Name: Premtis for Women (£10.50 for 120 tablets)
The Lowdown: Premtis is a unique formula designed for women of menstruating age, and is one of the few multis available that has a high level of Vitamin B6 plus an impressive level of magnesium.
Health Benefits: The Vitamin B6 is included for its role in the regulation of hormonal activity, and the normal function of the nervous system. Premtis is also a high potency multi, with all the most important micronutrients well represented. The other B Vitamins are important for their role in releasing energy from food, chromium for helping to avoid sugar cravings, zinc and vitamin C for the immune system, and iron to replace the monthly loss.
Stockists: Online here
Best Summer Health Supplements: For Beauty
1. For Beauty from Within: Lumity
Name: Lumity (£79) 
The Lowdown: LUMITY is a simple, two-step beauty supplement that supports health, vitality and beauty from within. Teams of targeted ingredients nourish and sustain the body's ageing defences to maintain optimum efficiency. 
Health Benefits: LUMITY is the result of years of scientific research and patient trials which studied and observed the processes involved in ageing, identifying key nutrients that collaborate to nourish and sustain youth. LUMITY supports and enhances your body's tendency towards health and youth over inefficiency and ageing, rather than trying to correct or change how the body functions or unbalancing the complex health of the body's interconnected systems. LUMITY is the brainchild of Sara Palmer Hussey (PHD), Cambridge University scientist and ageing expert. Sara crafted her holistic scientific breakthrough by creating the first supplement on the market to address all the ageing processes that are ongoing in our bodies to bring about real benefits that can tangibly improve our experience of daily life.
Stockist: Online here
2. For a Chocolate Supplement: Esthechoc
Name: Esthechoc (£42.50 for a 21 day supply)
The Lowdown: After many years of research and lab experiments, the team at Cambridge Chocolate Technologies have created what some would term the 'holy grail' – chocolate that is enjoyable, healthy, does not raise insulin levels and has been proven to improve skin health in just 3 weeks. And the best results come from eating it daily!
Health Benefits: Esthechoc has been clinically proven to improve the health of the skin with two very important and powerful antioxidants. It contains Astaxanthin – a strong anti-inflammatory substance (6000 times stronger than vitamin C) and Cocoa Polyphenolic Epicatechins, which increases oxygen transport in plasma and microcirculation. These ingredients provide antioxidant protection, reduce inflammation, boost microcirculation to the skin and maintain healthy oxygen levels to the skin, all resulting in healthy, youthful looking skin. The components in Esthechoc are resistant to the stomach acid and are not degraded straight after absorption. They go directly through the lymphatic system and the thoracic duct to the venous angle and from there, directly to the tissues.
Stockist: Harrods and online here
3. For an Overall Beauty Boost: Dr. Jack
Name: Skin + Nails + Hair
The Lowdown: London's leading anti ageing specialist, Dr. David Jack launches hew new capsule three step beauty program and oral supplement range – Integrative Beauty available at his clinic and via his 
Health Benefits: Formulated using seaweed and blueberry extracts, together with MSM, HLA, Glutathione, Zinc, Biotin and Vitamins C and E, Skin+Hair+Nails is a supplement designed to support and enhance the function and structure of healthy skin, hair and nails.With optimised dosing and using highest quality ingredients, we recommend this product for anyone with any issue affecting the skin, hair or nails.
Stockists: Online here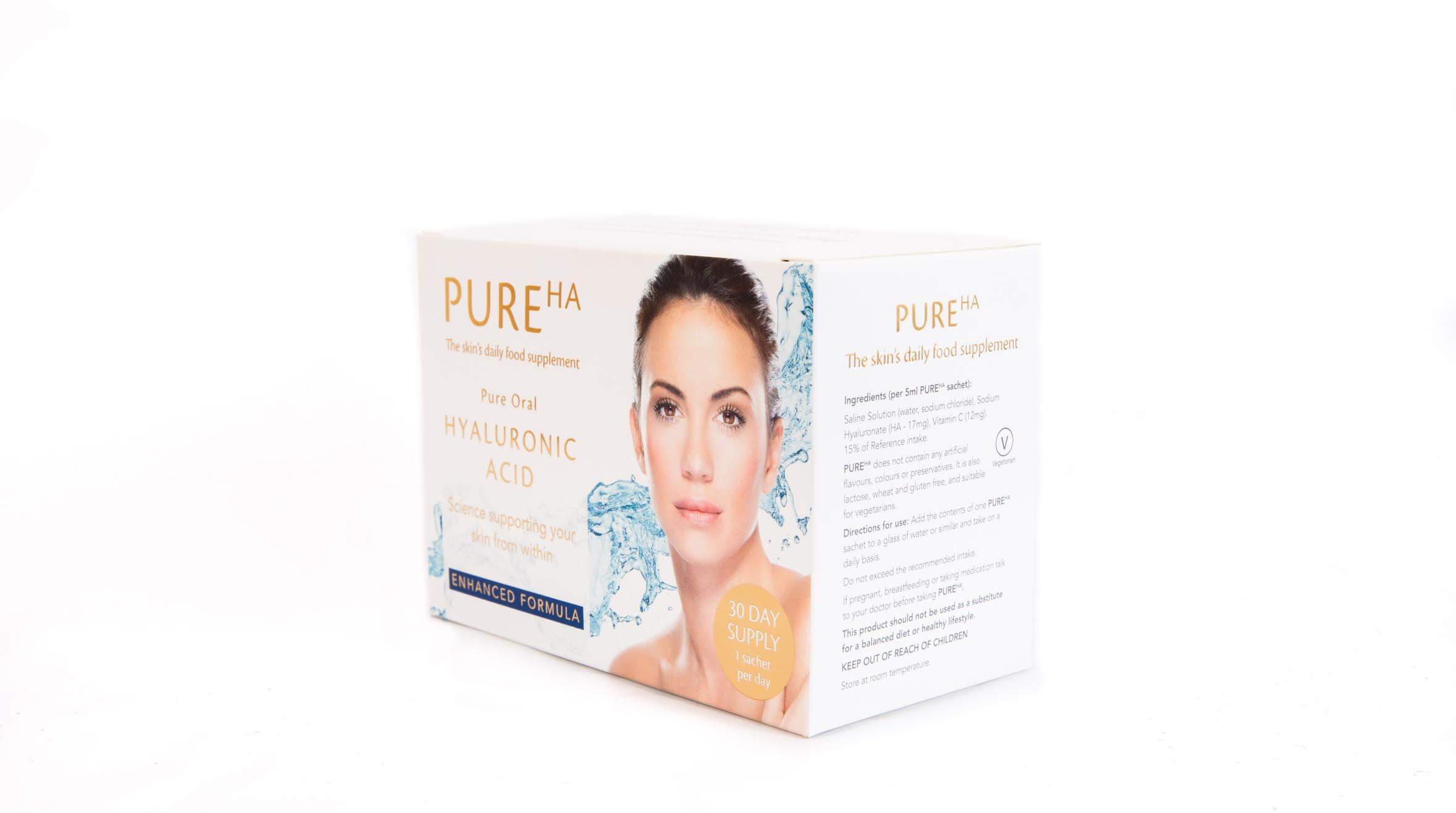 Name: PureHA (£29.95)
The Lowdown: PureHA's new enhanced formula is the new and exciting answer to anti-ageing. Using extensive scientific research, this clever beauty breakthrough provides users a daily dose of pure hyaluronic acid and vitamin C to effectively hydrate and nourish the skin from within. Available in a handy sachet, the clear, tasteless liquid is simply added to any soft drink to help you achieve a more hydrated you.
Health Benefits: Hyaluronic acid is the key ingredient responsible for creating the skin's smooth appearance. However, as we age the body's hyaluronic acid levels are significantly reduced which contributes to the visible signs of ageing. PureHA provides a tangible answer to this as it effectively replenishes the body's natural hyaluronic acid, boosting moisture levels helping to slow down the ageing process.
Stockist: Available from www.pureha.co.uk and Waitrose stores.
Best Summer Health Supplements: For Overall Wellbeing
1. For Omega-3: UnoCardio 1000
Name: UnoCardio 1000 (£33.75 for 60 soft gels)
The Lowdown: An independent study published in January 2017 named UnoCardio 1000 from WHC as the "must-have" fish oil to incorporate into your daily health routine for the third, consecutive year.
Health Benefits: Omega-3 supplements have been proven to make a positive difference to heart and brain health, as well as improving the skeletal system and general wellbeing. When tested against 50 other fish oil supplements, UnoCardio 1000 was the only product tested to be awarded a top 'A' grade rating. Oily fish, and fish oil supplements also contain anti-inflammatory properties, and can reduce your skin's susceptibility to getting burnt.
Stockist: Online here
2. For a Wonder Supplement: Mikei Red Reishi Mushroom
Name: Mikei Red Reishi Mushroom Essence (£47.99)
The Lowdown: Red reishi is an ancient Japanese herb known as the "mushroom of immortality." For thousands of years, Eastern medicine's most trusted method of preventative health has been a daily dose of red reishi mushroom extract. Mikei Red Reishi Essence uses the highest quality red reishi and the most advanced Japanese production techniques to ensure only the best results.
Health Benefits: Red reishi mushroom, taken in concentrate form as a daily capsule, makes the active ingredients from the mushroom more potent and easier for your body to absorb. The traditional uses of Red Reishi include fighting hepatitis, inflammation of the kidneys, hypertension, arthritis, fatigue, insomnia, bronchitis and asthma. It is understood in modern day that these mighty mushrooms can help with upporting the immune system, balancing energy levels, reducing stress, supporting cardiovascular health and much more.
Stockist: www.mikei.co.uk, Harrods, Planet Organic, Revital
3. For Brain Health: Saffrosun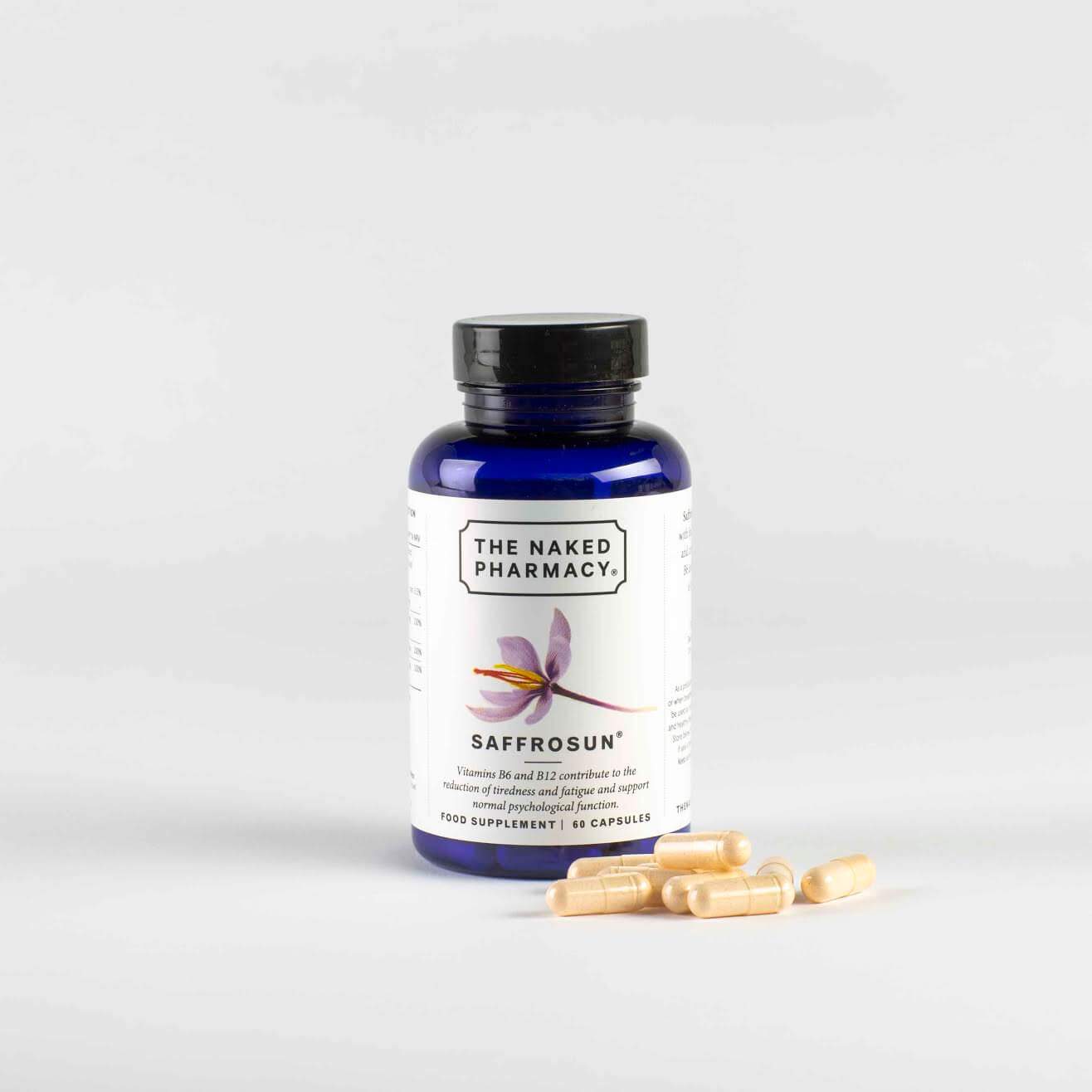 Name: Saffrosun; 30 capsules (£18.95)
The Lowdown: Do you feel 'out of balance' psychologically or emotionally? Do you struggle with frequent tiredness? Do you suffer from poor quality sleep? If yes, then Saffrosun is ideal for you.
Health Benefits: Saffrosun is a very effective natural supplement that uniquely contains the world's strongest, premium grade Saffron stigma extract sourced from La Mancha, Spain, combined with Vitamins B6, B12 and D3. Saffrosun contains the world's strongest, premium grade Saffron stigma extract, sourced from La Mancha, Spain, and is combined with Vitamins B6, B12 and D3, known to promote brain function, energy levels and vitality.
Stockist: Products are available to purchase from selected health stores, pharmacies and via the website here.
4. For a Multi-Vitamin: Chris James Mind Body
Name: Magical Multi (£30)
The Lowdown: In theory we should be getting all of the essential vitamins and minerals we need from a healthy diet. Unfortunately, even the best diet can no longer supply us with all the nutrients you need from your food, because of soil depletion. For example, compared to the 1930's, the fruits and vegetables we eat contain an average of 20% fewer minerals (magnesium 24%, calcium 46%, iron 27% and Zinc 59%). We appreciate that it's easy to become overwhelmed when looking at the dietary supplement shelves of a health food shop or even your local supermarket. So, this company decided not to hold back when creating the most advanced and superior quality everyday formula on the market.
Health Benefits: Their Magical Multi multi vitamin is an advanced everyday formula rich in antioxidants, designed to help defuse free radicals, fight off cell oxidation, and damaged tissue. Magical Multi includes a full complement of vitamins and trace minerals, which assist in bone formation, energy production and help maintain blood alkalinity. All wrapped up in heart-healthy CoEnzyme Q10. A daily multi vitamin supplement can help bridge the gap between diet and nutritional requirements for those less than perfect days. Recommended intake 2 capsules on each day.
Stockist: Wholefoods Markets, Style.com, Naturismo
5. For Overall Health: Tom Oliver Nutrition
Name: Tom Oliver Nutrition Omega–3 Herring Caviar supplements (£22.99)
The Lowdown: Tom Oliver's Omega 3 Herring Caviar is a superior source of Omega 3 phospholipids from sustainably sourced Herring Caviar. Tom Oliver's Herring Caviar capsules are a rich source of EPA & DHA and help support health, cardiovascular, vision and normal brain function.
Health Benefits: What doesn't it do? It's anti inflammatory, promotes good brain function, speeds up muscle recovery, aids bone and connective tissue health, thickens genetically fine hair, boosts libido, improves condition of the skin and slows down the first signs of ageing. Prince Harry even has boxes of it delivered to Kensington Palace.
Stockist: Holland and Barrett
6. For a Super Supplement: Super Berry Powder
Name: Super Berry with Acai (£58)
The Lowdown: Super Berry Powder with Acai delivers a powerful dose of antioxidants to protect against free radical damage. It is derived from a combination of berries including raspberry, blueberry and Dr. Perricone's #1 recommended super food, Acai, which is packed with vital nutrients, minerals and essential amino and fatty acids. Acai is also known to boost energy and deliver an overall sense of well being.
Health Benefits: The supplement protects with antioxidants, improves brain communication and boosts energy. Super Berry with Acai, a powdered supplement that provides anti-oxidant protection, helps improve skin's appearance and provides instant energy.
Stockist: Online here
Best Summer Health Supplements: For Protein
1. For Vegan Protein: Nature's Plus Pea Protein
Name: Nature's Plus Pea Protein
Price: £22.50
The Lowdown: Nature's Plus Pea Protein is a great source to power you though the day, or simply as a boost after a workout session. Additionally the protein powder comes straight from the pea plant delivering all the natural benefits without any added additives.
Health Benefits: The protein contributes to the growth and maintenance of muscle mass it is also sugar free with added digestive enzymes to help gut health and 100% vegan.
Stockists: Online here
2. For a Morning Boost: Primrose's Kitchen
Name: Primrose's Kitchen Organic Energy Juice and Smoothie Booster (£8.95)
The Lowdown: This Juice and Smoothie Booster is an energising combination of powdered plant foods and sprouted hemp protein to fuel you through your day.
Health Benefits: The booster contains the vitamin, mineral, anti-oxidant and amino acid rich Moringa powder that is a complete health product providing your body with increased digestion, improved immune function and boosted energy levels. Banana powder, high in potassium this tasty fruit will act as a natural energy enhancer. Hemp protein contains essential fatty acids (EFA) in the correct 3:1 ratio the human body needs. These fatty acids are excellent sources of energy. They also improve circulation. Hemp protein powder contains the highest percentage of Edestin of all plant species and Edestin is considered the most edible and readily digestible form of protein by far.
Stockist: Online here
3. For Multi-Source Vegan Protein: Vega
Name: Vega® Essentials (£29.99 for 613g tub)
The Lowdown: A nutritional powder made from a complete multi-source blend of pea, flaxseed and hemp, and with ingredients made from leafy greens and vegetables, Vega® Essentials gives you the nutritional building blocks to start your day strong. Whether you're looking for a product to support your active lifestyle or simply want to improve your diet with more nutritional value, Vega Essentials is an easy way to fuel whatever your wellness goal is. Try teaming a scoop of Vega Vanilla Essentials with coconut drink and strawberries, or a serving of Vega Chocolate Essentials with almond drink and banana for a tasty breakfast smoothie. You can discover more products or recipe inspiration here.
Health Benefits: Vega is high in protein, with 20g per serving, high in fibre, with 4g per serving and high in minerals with 13 essential vitamins. It's also high in omega-3, low in sugars and all of the Vega range is non-GMO, suitable for vegetarians and vegans, gluten-free and dairy-free.
Stockist: Available from Amazon.co.uk, Planet Organic, Whole Foods and Holland & Barrett
4. For Chocolate Vegan Protein: Prana Protein
Name: Prana Chocolate Protein (£14.99)
The Lowdown: 'Prana' means 'life force' in Sanskrit, which dates back over 2,000 years from ancient India, where it was the main language used by philosophical and scientific scholars. Prana Protein embraces natural nutrition at its purest, respecting its benefits as the vital link between what we eat and what we achieve, driving everything that we do.
Health Benefits: Thoughtfully sourced, GMO Free, 80% vegan protein blend exceptionally high in plant based proteins, chocolate flavoured with natural sweetener.  
Stockist: Online here
5. For New Vegan Protein: Linwoods
Name: Linwoods Hemp Protein+
The Lowdown: Hemp Protein+ is a new range of protein products from Linwoods, they are an ideal supplement to the daily diet as the combinations pack a powerful punch and contain an impressive 15g-16g of protein in a 30g serving. Not only are they highly digestible sources and loaded full of protein; they are vegan, gluten, dairy and GMO free.
Health Benefits:  Hemp Protein+ range are all natural and have no added sugar, as well as being high in Omega 3 ALA, packed with vitamins, minerals and fibre.
Stockists:  Available at Linwoods online as well Holland & Barrett, Ocado and a number of independent health food stores and online
Best Summer Health Supplements: For a Boost
1. For Memory Boosting: Memoraid
Name: Memoraid (£24.99 per pack – 60 capsules per pack)
The Lowdown: Memoraid is the first memory and energy supplement formulated by pharmacists that supports four pillars of brain health: memory, focus, energy and protection. Memoraid was created for those who are worried about their memory, lack energy, and who want to take a proactive approach in their brain health optimisation. The supplement offers a unique combination of 15 natural ingredients including Sage, Ginkgo, Ginseng, Blueberry extract, Vitamin B Complex, Vitamin E and Vitamin D, which are known for their energising and brain boosting qualities. It has been shown that the more focus we put on brain health during our younger years will help slow down the decline we experience in our memory in our later years.
Health Benefits: Ingredients in Memoraid provide a gamut of health benefits. The supplement boosts neurotransmitters, improves blood/oxygen flow, refines neuron connections, protects neurons, supports immune system, enhances neuronutrition, and contains antioxidants. Memoraid is caffeine-free, gluten-free, allergen-free and suitable for vegetarians.
Stockist: Local community pharmacies and online here
2. For Stress Management: Pukka Herbs Ashwagandh
Name: Pukka Herbs' Wholistic Ashwagandha (£16.96 for 30 capsules)
The Lowdown: Classed as a modern-day 'adaptogen', ashwagandha adapts to the needs of the body, helping to support it and reduce negative changes during times of emotional and physical stress. Stress normally causes a surge in the adrenal hormones – adrenaline and cortisol – that increase alertness. Ashwagandha tackles the problem at the root as it acts directly on the trigger of stress by regulating the imbalanced cortisol level and nourishing the adrenal glands.
Health Benefits: Whilst some of us are still to learn of the benefits of ashwagandha in the UK, it has been used for hundreds of years in India to not only manage stress-related conditions but also help with chronic fatigue, insomnia and adrenal fatigue to name a few. This is made all the more effective when the whole herb is used, as it can treat a number of conditions instead of just targeting one. Wholistic Ashwagandha is made using only organic and natural plant ingredients, meaning no chemicals or synthetics are used. Pukka uses the highest quality, medicinal grade organic ashwagandha, carefully selected from India's fertile soils to capture the essence of this incredible herb.
Stockists: Online here, independent health food stores, Wholefoods, Planet Organic
3. For Superfood: Aduna Super-Cacao
Name: Aduna Super-Cacao Powder (Starting from £5.99)
The Lowdown: Aduna Super-Cacao is the first cacao powder to be scientifically proven to support heart health. It is made from specially-selected, high-flavanol (a plant-based antioxidant) beans, blended with luxuriously rich cacao from small-scale producers in Ghana. Aduna Super-Cacao contains 2x the flavanol content of regular cacao and is also a rich source of protein & fibre and a source of potassium & magnesium. It has a rich and chocolatey taste, delicious in hot chocolates, smoothies, or used as a nutritious alternative to cocoa powder.
Health Benefits: As well as its heart health benefits, Aduna's Cacao Powder is bursting with skin-loving antioxidants and helps to give a smooth, healthy glowing appearance. It also contains a powerful mix of beneficial natural compounds and endorphins that have been shown to enhance mood and create feelings of euphoria. A natural way to feel good this summer!
Stockist: Holland & Barrett nationwide and online here