Looking for a mid-week boost? We hear you, this weather is doing nothing for our mood. But luckily, manicures do. Here's ten of our favourite ways to improve your week in London. It's time to get a pamper on:
1. For Hair Colour: Darren Scott
What: Colour Correction (120 minutes)
The Lowdown: Darren Scott is a qualified hair stylist and make-up artist who has worked his magic on some of the biggest celebrities in the world. Darren Scott believes that a visit to the salon should not just be to get your hair cut, coloured or styled – it should be about the experience. He has personally trained all stylists to ensure great standards are always met, and new techniques are shared and delivered.
What We Thought: An amazing salon experience in London. Darren Scott really knows his stuff – expect a super personal, professional experience, where the client's desires are put first. Darren is attentive and sensitive to your needs, and makes sure you're getting the best hair style, colour and treatment for you. The kind of place you can easily spend an afternoon chatting with the lovely team, drinking tea and getting a pamper on. If you're looking for extensions, they are London's first stockist of the revolutionary hair extension company Ethical Extensions and offer a full hair extension service.
Price: From £60
Where: 117 Shirland Road, London W9 2EW
2. For a Warming Treatment: Ushvani Spa
What: Warming Herbal Ritual (90 minutes)
The Lowdown: Ushvani is London's most luxurious day spa – an oasis of tranquility situated in the heart of Chelsea. The spa offers everything from massages to facials, using philosophy based on ancient Asian culture of spiritual harmony and natural treatments. It's all about quality here – they use of purest botanicals and Ushvani's treatments incorporate natural herbs, spices and flowers for total wellbeing.
What We Thought: A lovely treat for September, the Ushvani Signature Massage has been given a warming twist to get you through the cold, dark months of winter. Expect a warming massage ritual inspired by traditional Nuad Bo-Rarn Thai massage, Thai reflexology and Shiatsu massage. The treatment includes herbal compresses to warm your muscles, alongside three blends of herbal oils, blended with Ushvani signature oils, the Ushvani Oil and Coconut and Hibiscus Oil. Glorious.
Price: £200
Where: 1 Cadogan Gardens, Chelsea, London SW3 2RJ
3. For a Pop-Up: Ruuby x No.6 Mortimer
What: Gel Manicure (60 minutes)
The Lowdown: Looking for a pamper? On-demand beauty app Ruuby has a new temporary home in Fitzrovia and we're loving it. If you don't know, Ruuby prides itself on catering to all the beauty obsessives out there and provides the solution to all London-based beauty needs. With the simple touch of a button, a Ruuby client can summon whatever services they need to the comfort of their own home. Ruuby is quickly becoming renowned as the go-to luxury beauty service in London and they're currently running a great pop-up salon.
What We Thought: Ruuby x No.6 Mortimer provides a dynamic space with great beauty services, including brows, manicure and hair. Ruuby has paved the way to get a salon quality service with the ease and convince that is needed in this hectic, 21st century world. The No6 x Mortimer Street salon space is beautiful – a real oasis for a bit of peace and quiet in hectic Central London.  We love.
Price: From £15
Where: No.6 Mortimer Street, Fitzrovia
4. For a Health Check-Up: London Doctors Clinic
What: Vitamin and Mineral Screening (45 minutes)
The Lowdown: London Doctors Clinic is a convenient and affordable private London GP practice providing GP Services exactly when and where you need it. Their 9 central locations, experienced GPs, and long opening times are perfect for any busy commuter or visitors. Different than a traditional private walk-in clinic, they offer same day doctor appointments right up to the last minute, so no waiting in a queue.
What We Thought: An amazing, professional service, which is great for checking your averall health. These blood tests and screens can evaluate levels of vitamins and minerals, revealing if there are any nutrition or vitamin deficiencies in as quick as 5 days. The tests require a 15 minute consultation with one of their private GPs to talk about the test, take the blood, and go over the results when completed. One of the best private health experiences we've ever had.
Price: From £285
Where: Locations here
5. For Releasing Tension: Suzanne Wylde
What: Resistance Stretching (60 minutes)
The Lowdown: Have you ever wanted to stretch, or feel that you need to be more flexible, but don't know how? Moving Stretch is a form of resistance stretching created by Suzanne Wylde that can help you to stretch in a powerful and intuitive way, helping you to become stronger, more flexible and boost your posture.
What We Thought: Totally amazing. Using the power of resistance, Suzanne helps to re-condition our fascia (the tissue that gives us our shape), freeing us to move better, feel lighter, taller and have great posture. It's also super relaxing, and I wouldn't be surprised if you find yourself drifting off during the delicious, relaxing massage.
Price: From £80
Where: triyoga Camden. Book here.
6. For a Manciure: Limoz Logli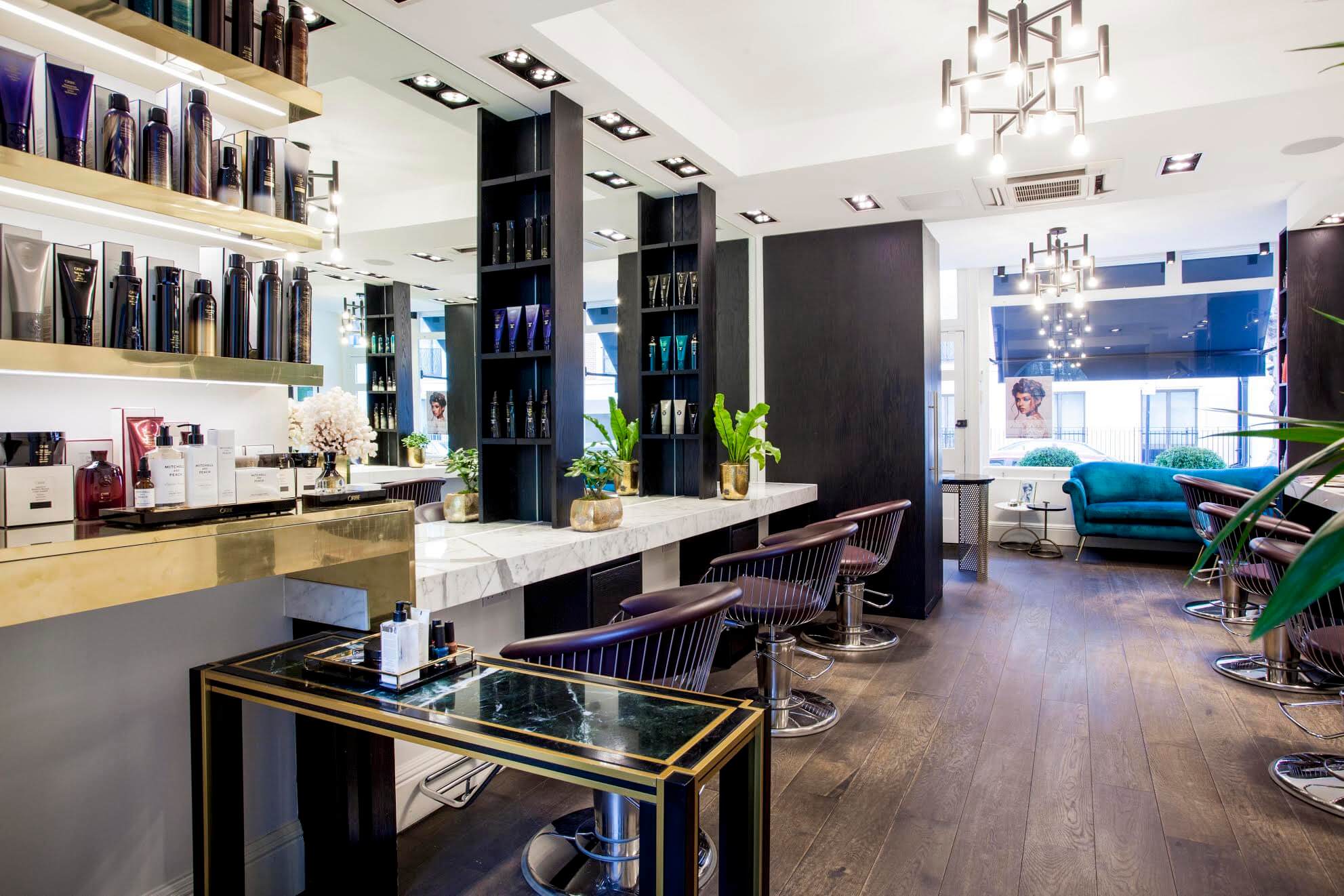 What: Gel Manicure (60 minutes)
The Lowdown: Limoz Logli's luxurious Chelsea salon is a truly exclusive hair experience. They are specialists in styling, colouring, and hair extensions, as well as manicures and beauty treatments. Come here for the best manicure around – expect a file and complete cuticle tidy, with a deep relaxing moisturising hand massage and shellac 2 week polish to finish.
What We Thought: Limoz Logli is a name adorned in the little black book of London Elite. Situated in the exclusive borough of Kensington & Chelsea, the two storey salon is a hub of pure glamour which has the power to transport its clients back to the golden age. The best place to pamper in style.
Price: £40
Where: 78A Chelsea Manor St, Chelsea, London SW3 5QE
What: Intravenous Light Therapy (75 minutes)
The Lowdown: EF Medispa is one-stop spa, with a combination of aesthetic treatments and traditional complementary therapies in London. Esther Fieldgrass  launched EF Medispa n 2006, as one of the UK's first medical spas, a one-stop location providing intelligent skincare, face and body treatments, ranging from non-invasive and  minimally invasive solutions right through to surgical options.
What We Thought: Clean, professional and expert in their knowledge, you're in safe hands at EF Medispa. Intravenous Light Therapy is an innovative treatment that can help to improve your overall health and wellbeing by accelerating the replenishment of your blood cells, using visible wavelengths of red, green and UVA light.
Price: Single treatment £400 | Course of x3 £1050 | Course of x6 £2000
Where: Locations here
8. For Glowing Skin: Skin Aspirations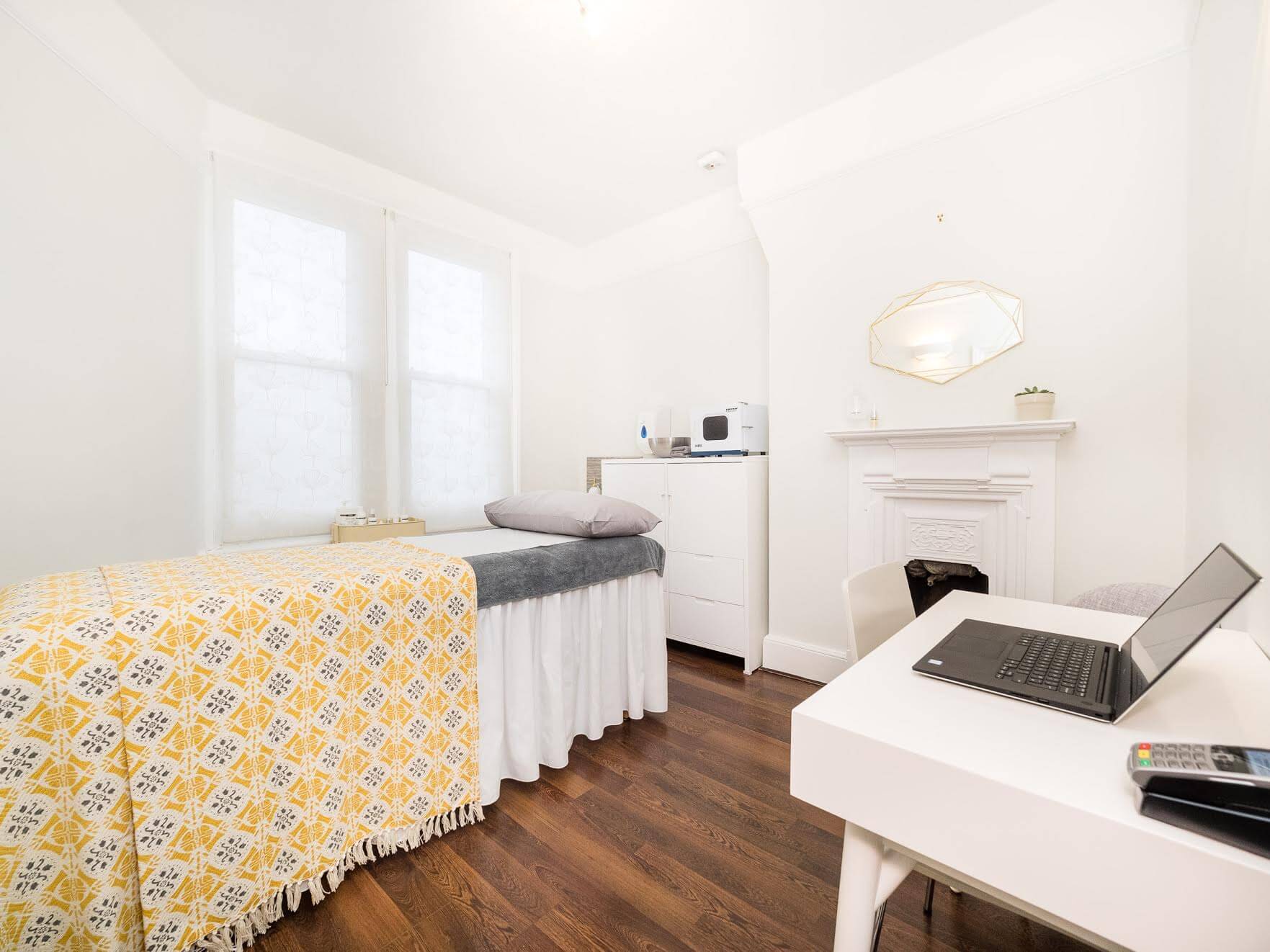 The Lowdown: Skin Aspirations is a great skin clinic in Chelsea, run by skin therapist Simona Mazenyte. After extensive experience in Harley Street clinics, Simona opened Skin Aspirations in 2017 to provide end-to-end bespoke facials to thoroughly address her clients' skin complaints. Her signature facial is the DMK Enzyme Therapy Facial which has over 40 years of research behind it.
What We Thought: Where some traditional style facials treatments only act on the surface of the skin, DMK Enzyme Therapy facials works with the skin. The Enzyme Therapy facials enhance the skin's functioning by working with its cellular structures to increase circulation, oxygenation and lymphatic drainage. This boosts the function of the immune system of the skin, increasing the skin's resilience. The proprietary Enzyme Therapy mask flushes away toxins and free radicals while stimulating collagen production. The result is that clients walk away with healthy and glowing skin. Super, super, super.
Price: £150
Where: 106 Draycott Ave, Chelsea, London SW3 3AE
9. For a Bespoke Facial: Harley Street Skin Clinic
What: The Princess Facial (90 minutes)
The Lowdown: Need a boost? The Princess Facia at London's Harley Street Skin Clinic is designed to leave you with softer, smoother and brighter looking skin. It's perfect for anyone wanting to freshen up dull-looking skin, you'll leave glowing and relaxed. They also do totally bespoke facials, if you're looking for something made just for you.
What We Thought: The Princess Facial is for a true princess, using the Microdermabrasion Mask – containing crushed diamonds and pearls – it gets to work straight away, refreshing and brightening your complexion. The combination of massage and serums allow the products to penetrate skin more effectively, giving you truly amazing results.The treatment is finished with a consultation for the home maintenance kit to ensure your skin is looked after at home too. The best part is, unlike most fairy godmother's wishes, the results won't wear off over night.
Where: 48 Harley St, Marylebone, London W1G 9PU
10. For a Health Concierge: Tate Wellness
What: Tate Wellness Subscription
The Lowdown: For modern day men and women juggling busy lifestyles fitness expert, Si Tate is on hand to help with his London based health and wellness concierge. Your journey begins with a health assessment and the chance to set out your goals. You then have a series of starter sessions from PT to physio which helps to create a health and nutrition programme entirely tailored to you with what your body, mind and schedule needs.
What We Thought: It's like having your health on speed dial! His philosophy of championing health through realistic, attainable programmes with central luxury locations for ease and a little black book of experts will make you want to question why you haven't signed up yet. And if you're looking for some clothes to get comfortable in, try this fast t–shirt printing service in London.
Price: From £225 per month
and ONE for Luck
11. For the best yoga toy in Town: Feet up Trainer 
The Lowdown: This genius piece of equipment allows for beginners and those with injuries to perform headstands. 
Why: Going upside down has multiple health benefits, stimulating blood flow to the brain, face and scalp and it is also just a bit fun and a return to one's childlike state. On days when we feel scared or nervous, just going upside down can give you such confidence. Dont believe us. Try it? 
What We Thought: We are obsessed with this, it has completely revolutionised our yoga practise with inversions now a possible part of the practise, but taught us it's ok to go upside down, actually it feels pretty special especially first thing in the morning. Added bonus its elegant design means it fits seamlessly into Scandi- esque living rooms.
Price: £120