Looking to upgrade your beauty routine post workout? From sprays to oils and cleansing cloths – we've discovered the best gym bag beauty essentials you need to know about. And why not get a jutebag to store all your items. Happy sweating, people:
1. For a 3 in 1 Stick: Frances Prescott 
What: TRI-BALM (£46)
The Rundown: TRI-BALM is a cleanser, exfoliator, and moisturiser in one glorious solid stick balm. TRI-BALM delivers great skin in one easy, 3-in-1 step: cleanse – a blend of botanical oils enriched with starflower and oats melt away impurities and make-up; exfoliate – enzymes from pumpkin seeds provide an extremely gentle daily exfoliation to freshen and brighten; and moisturise – hyaluronic acid locks in moisture as antioxidants vitamin E and blackcurrant neutralise free radicals to protect.
We Say: This balm is great for travelling, as you don't have to worry about unwanted leakages. It's quick, easy to use, and the balm left our skin feel subtle and smooth. Worth the money and the tube lasts ages – a beauty must-have.
Stockists: Buy online 
2. For Pre and Post Workout: Pretty Athletic 
What: Workout Glow: Hyaluronic Vitamin Tonic (£17.50)
The Rundown: For beautiful skin no matter how hard you sweat, try cleansing your skin pre and post exercise with Pretty Athletic's Workout Glow. Pretty Athletic was designed for active women in mind; their products are 95% natural, vegan, and packed with scientifically-proven actives. The beautiful rosewater tonic gently cleanses, nourishes and hydrates. Just spritz, wipe and go.
We Say: Exercise and sweat is a killer combo for our skin. After a couple of uses, we found our skin more radiant and hydrated. Use the tonic before applying make up after an exercise session (putting make up onto an already sweaty face is never a good look).
Stockists: Buy online 
What: INGLOT Sunrise Drop Facial Oil (£21)
The Rundown: Having pH level under control, Sunrise Drop Face Oil also improves skin elasticity, flexibility and its tension. Focusing on true hydration, this carefully chosen combination of oils is the guard of your skin, protecting it from the excessive moisture loss after exercise.
We Say: Facial oils have a tendency to be quite heavy, leaving skin oily rather that hydrated. However, the INGLOT oil easily absorbs, leaving a lovely glow rather than chip pan shine.
Stockists: Buy online 
4. For Clean Locks: Dr. Bronner's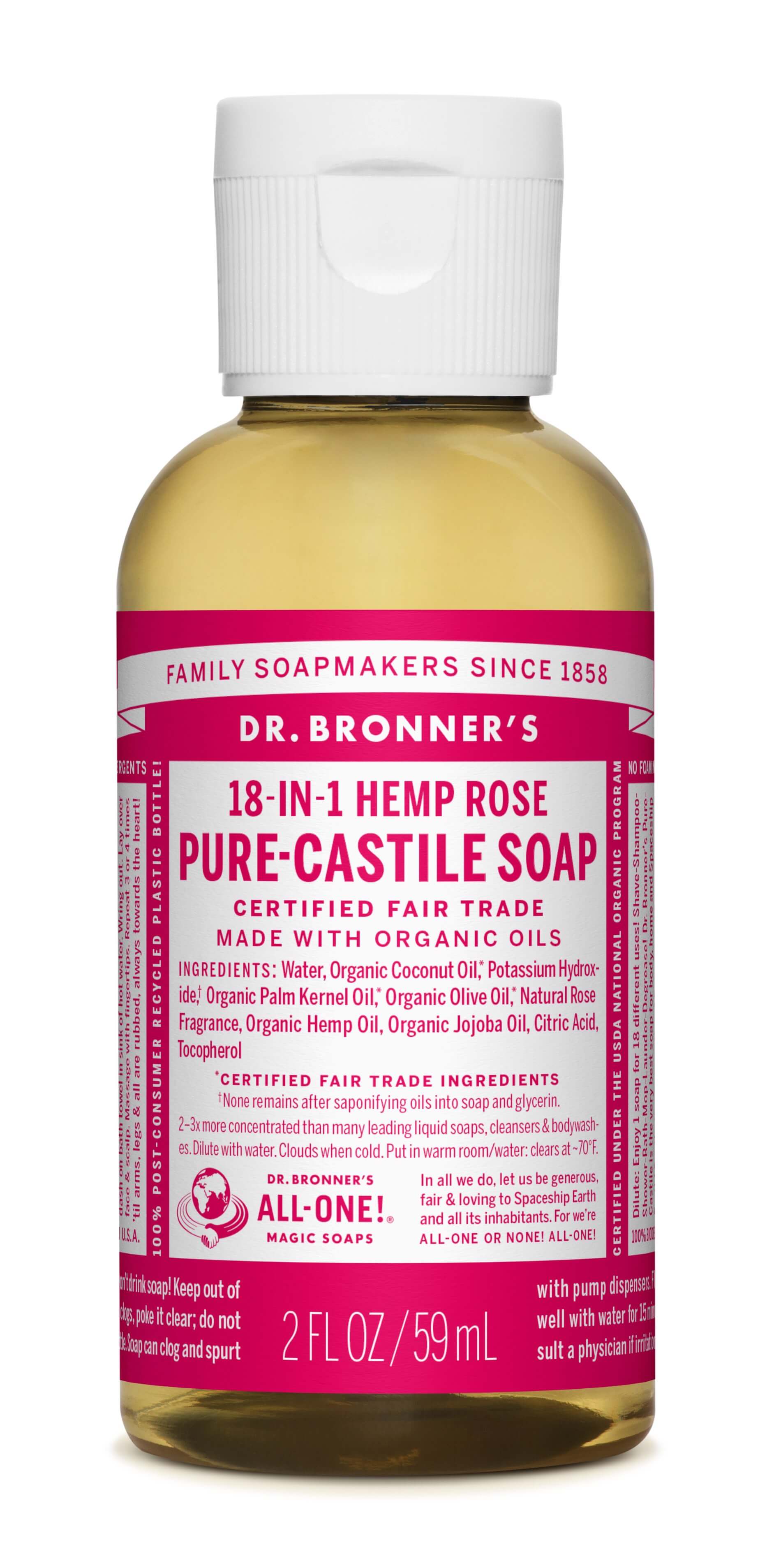 What: Dr.Bronner's Magic Liquid Soap (£2.15)
The Rundown: A must-have for your post workout kit bag is the multi-tasking Dr. Bronner's Magic Liquid Soap which makes light work of any serious exercise session. Simply shower off with organic liquid soap, a nourishing blend of the finest essential oils combined with moisturising Jojoba, Hemp, Avocado and Coconut oils. This 100% natural liquid soap restores moisture lost by sweat, cleansing the body, hair and face.
We Say: A lifesaver. A gym lifesaver. Our gym bag is a graveyard to empty of bottles lotions and potions – it's handy to have just one bottle for the full works. And the smell is heavenly.
Stockists: Planet Organic and Tesco
5. For Dry Shampoo: Maria Nila
What: Maria Nila Travel Size Style and Finish Dry Shampoo (£8.99)
The Rundown: Maria Nila is not the usual hair care company; all of their 100% vegan and cruelty free-certified products have been developed with love for nature, animals and your hair. With one easy spray, the dry shampoo  freshens up greasy hair, and can add volume to fine hair too. If you're stretched for time after your gym class – just spray, style and head to the tube.
We Say: Not your average dry shampoo, the Maria Nila leaves no pesky white specs and, they're not lying about added volume. We had bouncy hair for hours.
Stockists: Buy online 
What: Déodorant Roll-On (£23)
The Rundown: An alcohol-free, roll-on alternative to deodorant spray. Aesop's deodorant contains zinc ricinoleate, wasabi extract, and a complementary blend of essential oils to reduce and mask unpleasant odour.
We Say: All of Aesop's products are beautiful, yet practical. We love the natural ingredients, and the smell transports you out of the muggy gym changing rooms and into the roaming English countryside. Pricey, but worth it.
Stockists: Buy online 
7. For Fresh Breath: Swish To Go 
What: Swish To Go (£3 for six sachets)
The Rundown: The unique waterless, powder-based system turns to liquid on the tongue, where it can be swished for 10 seconds then swallowed to deliver cleaner teeth, healthier gums and long-lasting fresh breath wherever you are.
We Say: You probably don't need to brush your teeth after a spin class, but we never say no to minty fresh breath. Easy to use, and great for travelling too. And who wants to be lugging round a toothbrush and a tube of toothpaste all day…not us.
Stockists: Boots
What: Cleansing Micellar Water (£12.50
The Rundown: A'kin's philosophy is simple; pure, authentic and beautifully aromatic skincare. The soap-free micellar cleansing water infused with organic coconut water, green tea, cucumber and lavender leaves skin feeling cool, soothed and refreshed.
We Say: Day to Day, this micellar water is the dream. It's great for sensitive skin, and as it contains no alcohol, there's no dryness or irritation. We love.
Stockists: Whole Foods and online 
What: BRYT Day (£18.50)
The Rundown: Suitable for all skin types, this light, mattifying day moisturiser contains SPF15 and hydrates the skin without clogging the pores, while simultaneously absorbing excess serum. Natural antioxidants help to protect the skin against free radicals which damage DNA.
We Say: The pump dispenser makes it so easy to use, and there's no heavy scent or greasy residue. Ideal for post workout and on-the-go.
Stockists: Buy online 
10. For a Cleansing Cloth: Magnitone 
What: Microfibre Cleansing Cloth (£15)
The Rundown: The Magnitone WipeOut cleansing cloths are perfect for gym bunnies who want to get rid of post workout panda eyes in a flash. These super soft micro fibre cloths gently yet effectively removes even the most waterproof of mascara in one sweep. The innovative micro fibres swell on contact with warm water and grab onto makeup and impurities found deep within your pores removing them effortlessly without tugging at the skin or having to use a separate cleanser and toner.
We Say: This is not a drill: these cloths actually remove water proof mascara, and you don't have to scrub your eyes off.
Stockists: Buy online