About Time: You Discovered London's Latest Yoga TrendsBy Angelica Malin
Looking to discover London's best new yoga trends? We love mixing up our workouts, especially when good music is involved. From Hip Hop Yoga to Acro Flex, here's the quirky yoga classes you NEED to try this month:
The Lowdown: Disco Yoga is a fresh new concept inspired by a new generation who want fitness to be fun, fresh and uplifting. It's for everyone – the health-conscious who love to train and party hard, disco lovers, yoga bunnies and for first timers looking for a new way to unwind and socialise.
What to Expect: Hosted by Disco Divas Sarah Hunt and DJ Darlo, Disco Yoga will reboot your booty and revive your spirits with blissful, strengthening yoga sequences to a glorious mix of disco favourites. We love.
Price: £16
Where: Tuesdays 19:30-20:30 at Trapeze Bar, 87 Great Eastern Street, London UK, EC2A 3HX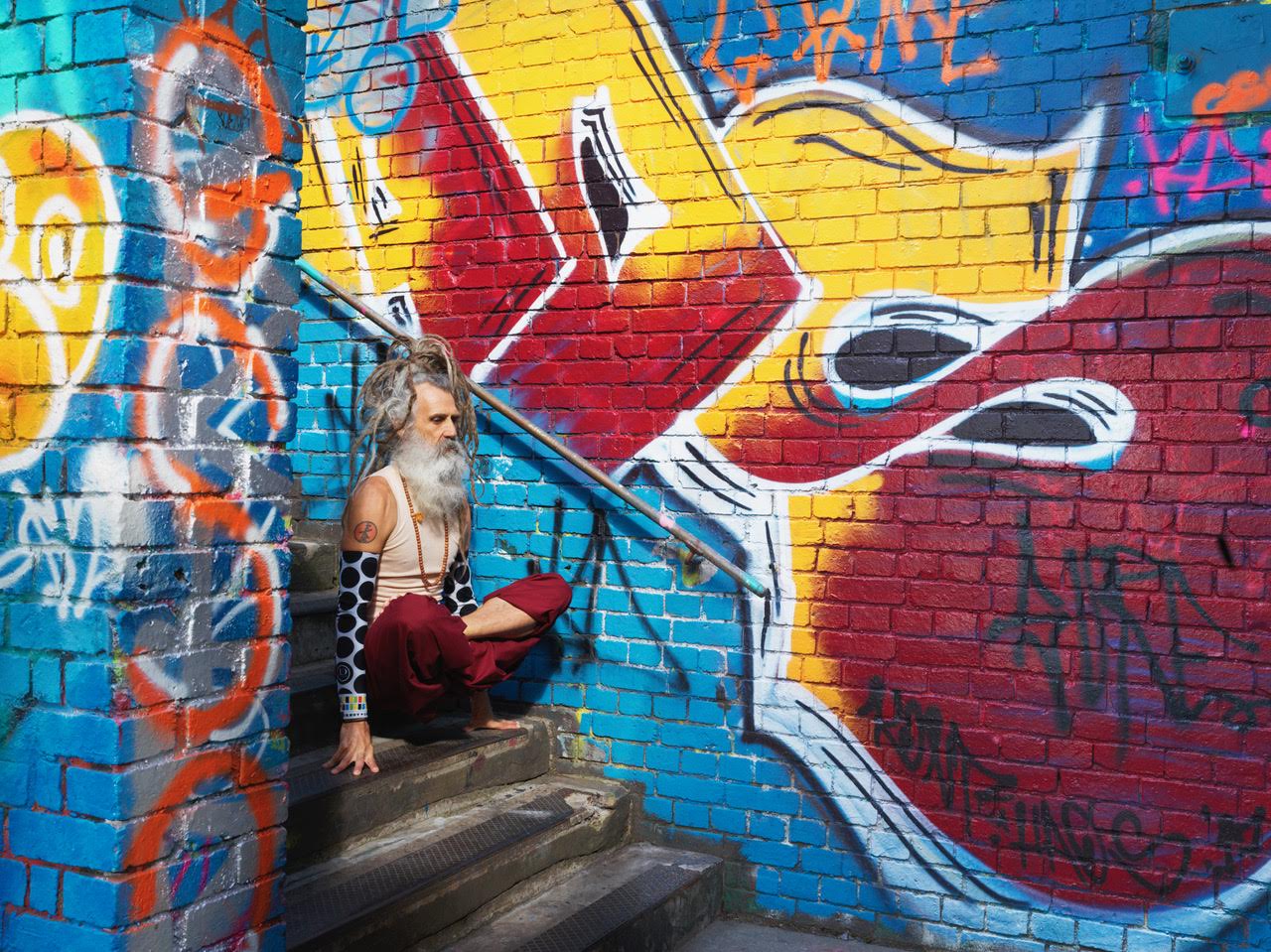 The Lowdown: triyoga has picked up on the trend of truly mindful movements and brings you their new Chair Yoga class – easy access for anyone who wishes to move and breath in a gentle way. Launched last month at the brand new Shoreditch centre and soon to be available across all centres.
What to Expect: Taught at triyoga's newest branch in Shoreditch, in a truly stunning space three minutes walk from Shoreditch Box park. The class is taught using a chair and makes yoga accessible to a wider group of people, in true triyoga style. The class will include simple movements, adapted yoga postures, breath awareness, mediation and relaxation and the body will be honoured no matter its physical challenges or limitations.
Price: From £17
Where: triyoga Shoreditch, 10 Cygnet street, London E1 6GW
The Lowdown: Yoga for boxers. BoxingYog is a powerful yoga-based training system open to all fitness levels and backgrounds. BoxingYoga is all about improving physical strength and flexibility to maintain optimal health, prevent injury and maximise performance. Born at Total Boxer in London in 2012 to support both recreational and competitive fighters, BoxingYoga is a challenging work-out whatever your level of fitness or sporting background.
What to Expect: BoxingYoga pushes individuals to reach their potential, it increases whole-body power and strength through emphasising on correct form and multi-strengthening exercises in sequence. What's more, the class loosens up and counter-stretches tight muscles to help prevent  injuries, expand range of movement and flexibility.
Price: 
Where: Locations and timetable here
The Lowdown: Hip-Hop Hot Yoga is a brand new yoga flow for people who love fast paced yoga and for those who 'don't do yoga'. Designed to not only sculpt your body, but also unplug you from your working day with your favourite beats.
What to Expect: Hip Hop Hot Yoga is perfect for cardio junkies, who love high-energy, result driven workouts. Expect the Hip-Hop music to take you into a continual rhythm of fast vinyasa flow. While not quite Bikram hot, ONE LDN uses infrared heat to warm the studios to heat the room to 35 degrees to provide a better cardiovascular exercise and deliver a high calorie burn, whilst maximising flexibility. The workout syncs a 50-minute long Vinyasa flow to the beat of the music which is expectedly fast-paced and will therefore leave you dripping in sweat.
Price:
Where: Locations and timetable here
The Lowdown: ChromaYoga™ is a revolutionary new approach to practising yoga. Combining light and colour therapy techniques, brain stimulating soundscapes and bespoke natural scents to creative an immersive, multi-sensory yoga experience not yet seen before.
What to Expect: Based in Shoreditch, East London, the ChromaYoga studio is a one of a kind space, cut off from the outside world which transforms as it moves through the colours of the spectrum. Each ChromaYoga class is held in a ergonomically designed room bathed in a specific colour of light. The teacher guides the class through a set of sequences which correspond to the healing properties of that colour.
Price: From £11
Where: ChromaYoga, 45 Charlotte Road, London EC2A 3PD
The Lowdown: Not for the faint hearted – strap on and load up. Come and add a new element to your practice with Loaded Yoga, a special yoga classes with the addition of weights to work up a sweat. We love the quirky, fun classes at Gymbox – they are always unexpected and great.
What to Expect: Breathe, sweat, and feel the burn with a combination of Vinyasa flow, plyometrics and conditioning, with wrist and ankle weights to seriously maximise your workout.
Price: Information here
Where: Timetable and locations here
The Lowdown: Rocket Yoga, otherwise known as "The Rocket" is a style of Yoga developed by Larry Schultz in San Francisco in the 1980s. It is rooted in the Ashtanga Vinyasa practice of yoga. Linking movement with breath creates an intense heat and sweat, whilst calming the nervous system.
What to Expect: Prepare to get a sweat on. This fast-moving, challenging class is all about creating fire within the body, and focusing on the breath. We love trendy new KXU Gym for all the latest fitness crazes in London.
Price: Information here
Where: Timetable here
The Lowdown: Fat Buddha Yoga is a modern approach to the ancient art and science of yoga for the next generation of urban yogis founded by DJ, yoga junkie and Nike yoga trainer Jessica Skye. Come and join the fun for a sunset flow up on level 42 of the iconic Leadenhall Building with panoramic views of the whole city.
What to Expect: FBY specialises in pop-ups, corporate classes and holds numerous residencies around London at venues ranging from sunny rooftops, night club basements to five-star hotels. Always welcoming good vibes and open minds, FBY never takes yoga (or life) too seriously. Expect a dynamic, releasing and energising flow class as we watch the sun go down over London.
Price: From £15
Where: Locations and timetable here
The Lowdown: Equinox Kensington holds meditation classes on Sundays in a Yoga Nidra format. Yoga Nidra is among the deepest possible states of relaxation while still maintaining full consciousness. It helps to alleviate stress and anxiety and especially complements HIIT training, it's powering down to power further.
What to Expect: The format is Yoga Nidra, which essentially means 'yogic sleep' where your mind is stimulated but your body is in savasana. You'll be taken through a series of conscious exploration of thoughts, feelings, and expectations to bring clarity of purpose. Themes may explore happiness, peace, health, abundance and prosperity.
Price: Equinox Kensington membership is £205 a month, this also gives you access to all Equinox fitness clubs in the USA and Canada.
Where: Sundays 6.30-7 at 99 Kensington High Street, W85SA
The Lowdown: Not Just Yoga is the first lifestyle and wellness concept space to reside in Californian-style restaurant Pomona's. They believe a healthy body promotes a focused mind, which is key to reaching life goals.
What to Expect: Acro Flex is one to do with your partner, bestie or solo. This Acro-Vinyasa inspired session takes yoga from the floor to air. Inspired by traditional yoga asanas and L-based acrobatic flying, this progressive yoga system includes both solo and partner practice. Bringing a refreshingly playful approach to an ancient tradition. This practice is fun, challenging and out of the ordinary.
Price: £10 using the code LAUNCH10
Where: Mondays 18:30 – 19:20 at 47 Hereford Rd, London W2 5AH