About Time: You Relaxed at The Spa at The Midland, ManchesterBy Roberta Lister
Living in the heart of London, it's easy for things to get a little too much. Combining rush-hour commutes with constant social media and never-ending diary dates, I regularly feel on the brink of insanity. Don't get me wrong – I love my city, but sometimes a little pause is essential to bring me back from the brink of burnout. The only problem is – where to go? I'm fully on board with the secluded spa weekend, send me to the countryside with patchy phone signal and I'm happy – while my other half is all about the bustling city break.  But last week, we found the perfect compromise.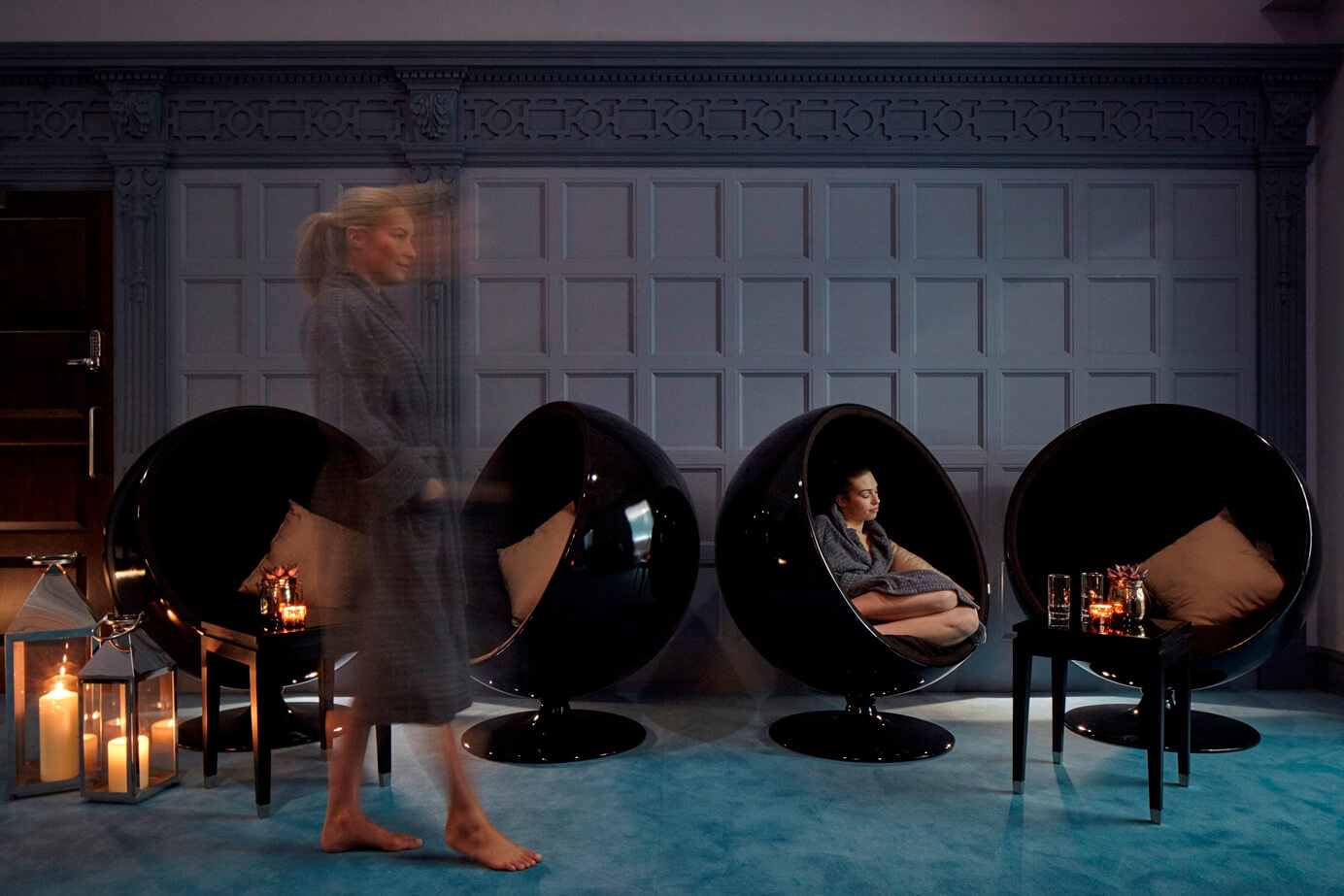 Opened in June last year, The Spa at The Midland is Manchester's shiniest and most seductive hideout, placed right in the centre of the city. We checked in for the Indulgence spa day, which includes an hour-long treatment, lunch, and endless hours of chilled-out bliss.
As we descend into the serene, dimly lit space, it's hard to believe that the energy of the city lies right outside the doors. We're greeted by potentially the friendliest group of girls ever – no stony faces or uptight pretensions here – and whisked away for customised treatments.
A weak massage is one of my biggest spa-day let downs, but I'm pleased to report that no such thing exists here. My therapist uses Espa oils (a firm favourite) and happily increases the pressure to tackle my knotted shoulders.  It's rare that a masseuse can conquer the tension in my neck, but this lady is a master. Our treatments conclude with a facial massage and hair mask, by which time I've lost all sense of space and time. Even my boyfriend, a fidgety spa sceptic – says he's never felt so soothed.
After our treatments we float over to the chilled-out café for lunch. Spa food can often be a bit of a stumbling point, but not at the Midland. Here, the tasting menus come from Simon Rogan's double-AA Rosette kitchen upstairs, and manage to feel light and healthy yet totally indulgent. There's something so decadent about sampling sliver-thin Carpaccio and soy-marinated salmon while wearing a fluffy white robe and slippers, and we love it.
We spend the rest of the afternoon discovering the extensive facilities. As well as the usual suspects there's a Himalayan salt-infused sauna, experience showers, and a swan-neck massage fountain. The relaxation room is also highlight – there's a thoughtful magazine rack, swinging cocoons, and beds – yes, actual beds!
One of the best things about The Spa at The Midland is that it's expansive, yet feels completely intimate. Our Friday afternoon visit was busy, yet we rarely bumped into anyone. Large groups are limited, and given their own relaxation room, so there's no risk of your nap being interrupted by a hen do – and the rooms are expertly planned to offer maximum privacy, even at full capacity.
Based on the brilliance of the spa's lunch menu, we decide to spend our evening at the hotel's fabled restaurant, Mr. Cooper's. After a couple of cocktails in the cosy bar, we sit down to a feast of Cumbrian rib steak with smoked brisket ravioli, and Red mullet with crispy saffron gnocchi. Desserts here are a must – the white chocolate mousse cake with pineapple compote is a perfect end to the most decadent day.
Price: Spa days start from £79, or £129 with overnight stay
The Midland, 16 Peter St, Manchester M60 2DS