In Pictures: Best of LFW Backstage Beauty SS15By Kate Rooney
Backstage is where the fun starts.
It's where the models are prepped and preened and where the designers poke their heads in and out to check that all is running on time. There is nothing like the buzz of backstage, so this season I captured our LFW backstage beauty highlights on film. Consider me Beauty Editor, chief brunch Instagram-mer, and film director (almost).
London Fashion Week in a summary: far too much coconut water was drunk, daily 11pm Pop Chips were consumed and the entire top shelf of my fridge resembled "rescue my eyes" (AKA: Rodial Dragon's Blood Eye Masks, Verso Super Eye Serum, and Sarah Chapman Eye Recovery).
Here's our favourite beauty looks from this season:
#1 EUDON CHOI
EUDON CHOI | HAIR BY: BUMBLE AND BUMBLE | MAKE UP: MAC
Spotted: Bumble and Bumble Prep & Thickening Spray being applied (in abundance) pre-style to create a matte, slightly textured look.
Loved: The detail of the spray chalk in the centre of the chignon. Inspired by artist Georgia Keefe, mimicking the look of a flower bud. Incredibly pretty.
Noted: Wear this. It's easy to achieve and perfect for an off-duty look. Fresh, low maintenance and subtly on trend.
#2 DANIELLE ROMERIL 
DANIELLE ROMERIL | HAIR BY: BUMBLE AND BUMBLE | SKINCARE: DERMALOGICA
Spotted: Bumble and Bumble's Pret a Powder being used to loosen the plaits amongst the rough waves to create a more 'lived in' look.
Loved: The use of NARS' Multiple in South Beach over the cheeks (see film). I hadn't even seen the collection but the girls were already looking like they were fresh from a country side walk.
Noted: Uneven waves with braid or two. Effortlessly beautiful hair. Try it at home.
#3 HOLLY FULTON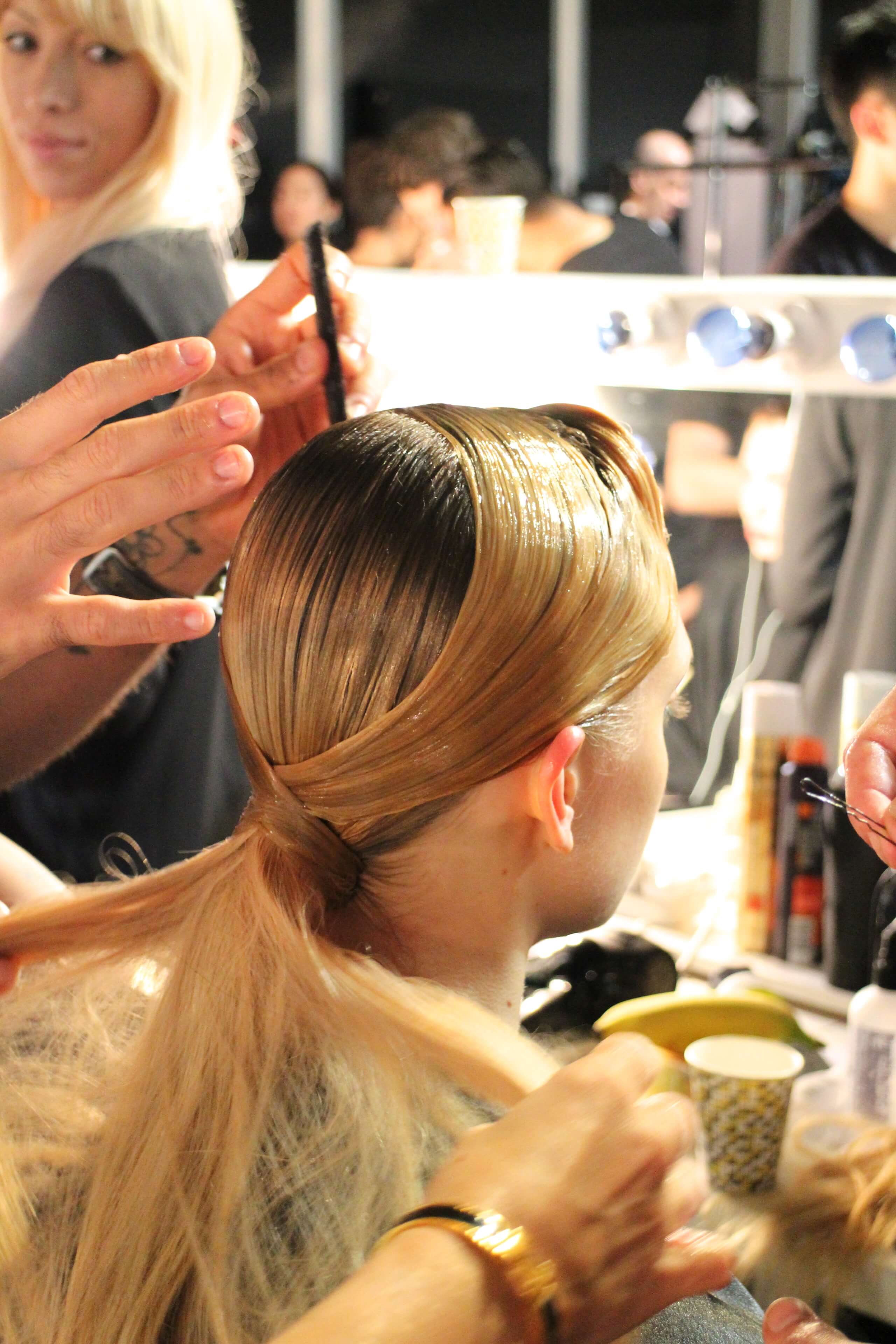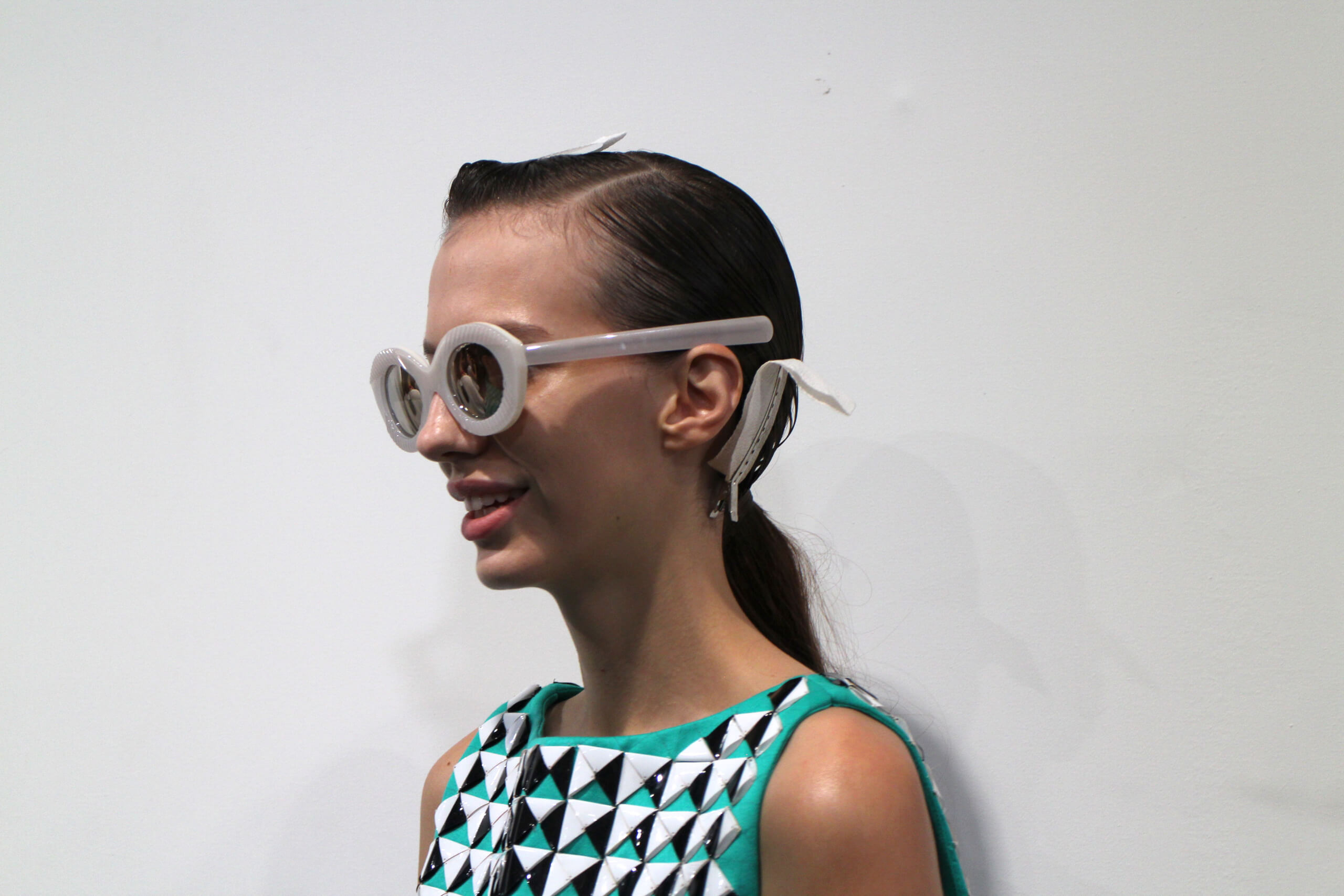 HOLLY FULTON | HAIR BY: L'OREAL PARIS | MAKE UP: MAC | BODY: SILK'N
Spotted: A delicate wash of bright blue eyeshadow on the lower water line. Watch out, the 70's are making a comeback.
Loved: The sleek finish of the pony tail at the back. The low pony just got a whole lot more chic.
Noted: Holly Fulton coffee cups, that's all.
#4 WHISTLES
WHISTLES | HAIR BY: BUMBLE AND BUMBLE | MAKE UP: L'OREAL PARIS
Spotted: Maeve tones over the lids – L'Oreal Paris mono shadow in Cafe St Germain with Opalescent in the inner corner to brighten and open up the eye. Curled lashes, no mascara.
Loved: The youthful, radiant skin using L'Oreal's Lumi Magique Primer. Applied over the cupids bow, cheek bones and along the bridge of the nose creating a more defined lumized complexion.
Noted: The post LFW shopping list is growing rapidly show by show – L'Oreal Paris Mono Shadow in Cafe St Germain, the entire Whistles SS15 collection and Bumble and Bumble's Dryspun finish.
#5 XIO LI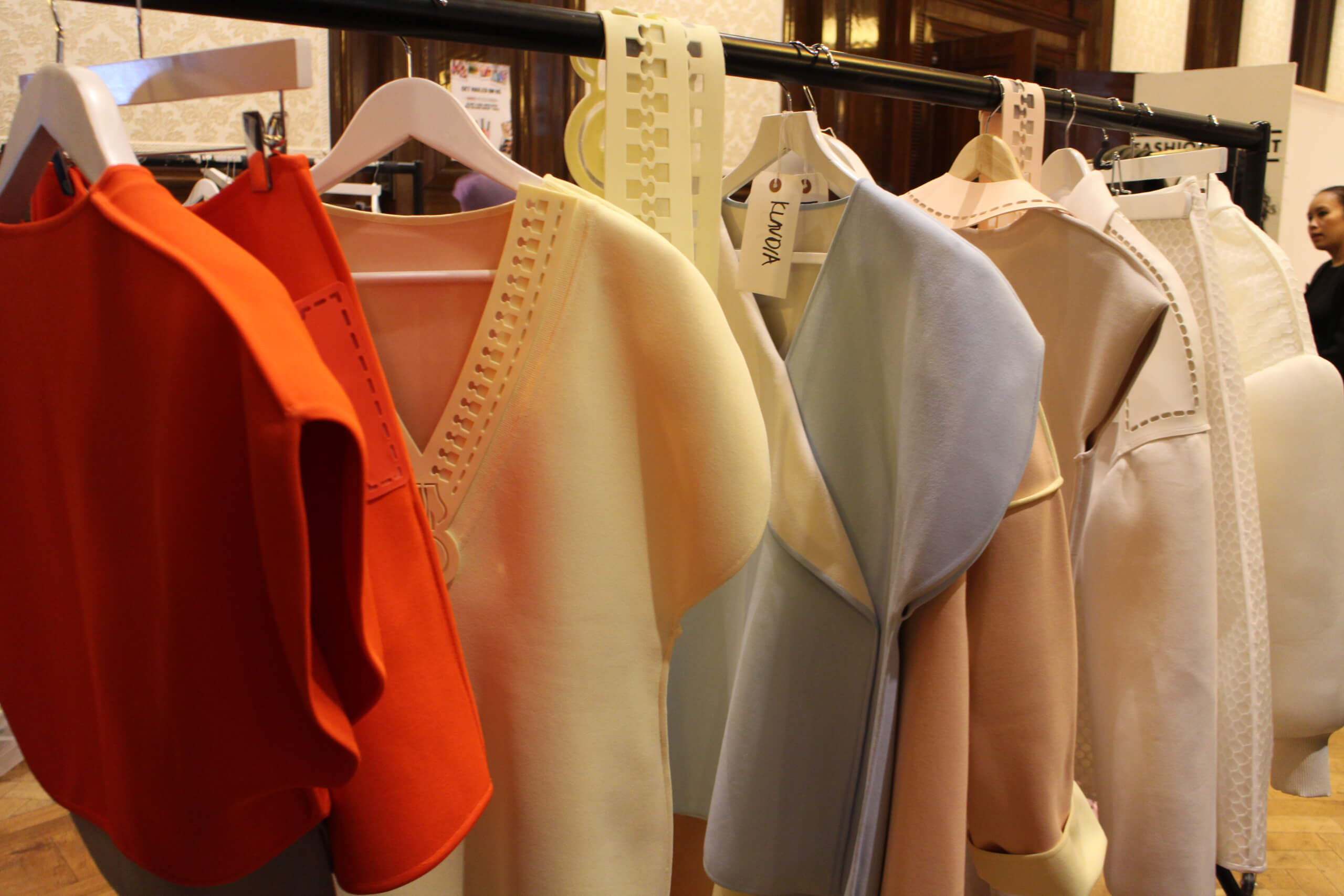 XIO LI | HAIR BY: LABEL M | MAKE UP: THE BODY SHOP
Spotted: Neon pink lips, minimal eyes and clean, radiant skin. AKA the perfect Spring/Summer makeup look.
Loved: The use of The Body Shop Vitamin E Facial Mist to prep the skin. It's a staple in my beauty stash and is perfect for giving the skin a boost when it's tired or dehydrated.
Noted: Pop lips are back. Can it be SS15 now?
#6 EDELINE LEE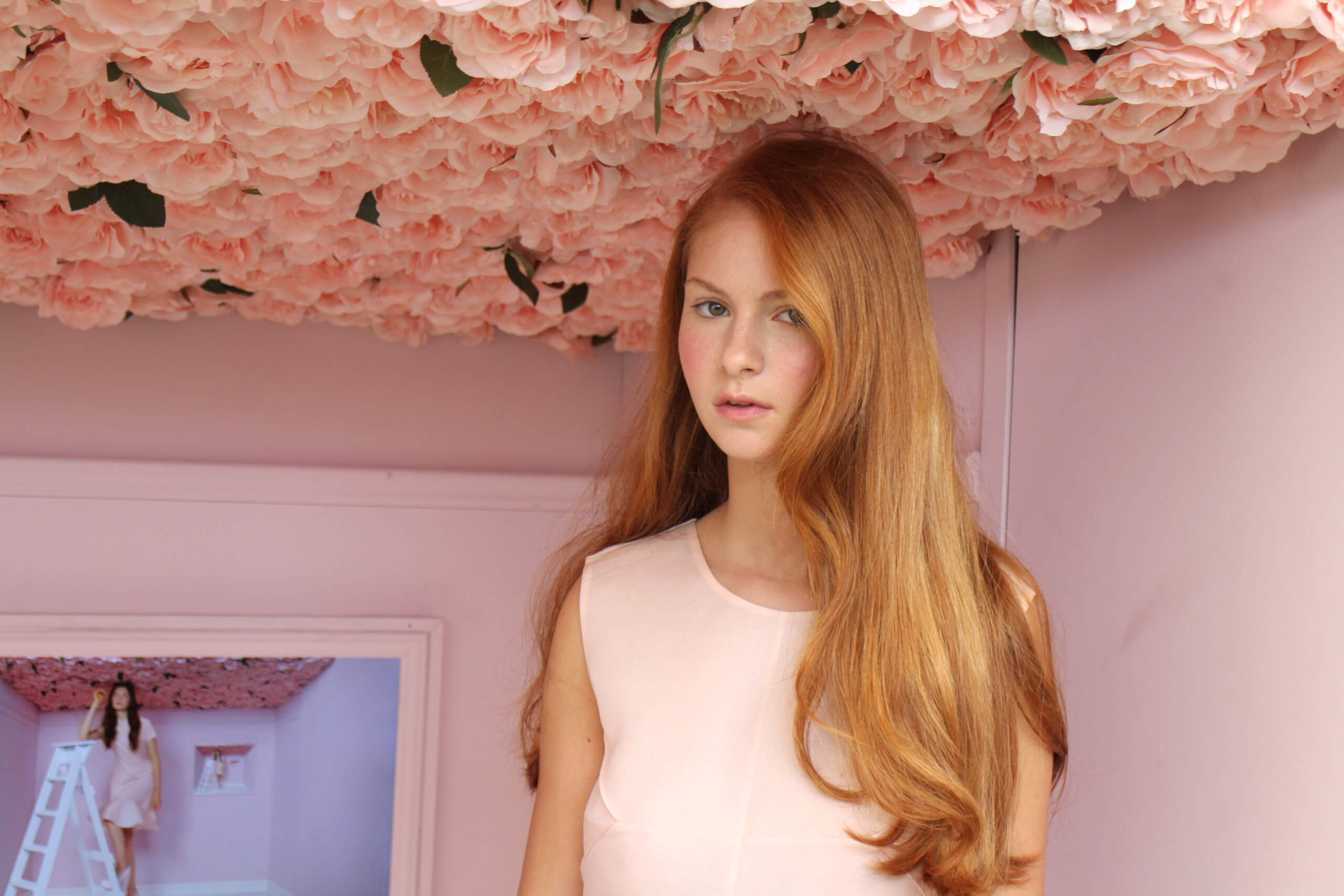 EDELINE LEE | HAIR BY: SASSOON SALON | MAKE UP: MAC
Spotted: A loose, bouncy wave created from deeply nourished locks using Sassoon Salon's Halo Hydrate – a firm favourite of ours at ATM.
Loved: The soft, simplistic, feminine feel of the entire beauty look. Capturing perfect hair without the visual of heavy amounts of product. Beautiful.
Noted: Side partings. Trend alert.
#7 PRINGLE
PRINGLE | HAIR BY: BUMBLE AND BUMBLE | MAKE UP: MAC
Spotted: Sam Rollinson. In regards to hair – super sleek and swept off the face from the front, with natural movement at the back.
Loved: Everything. One of my favourite beauty looks across the shows at LFW. Brown mascara, big brows and English rosy cheeks using Lady Blush by MAC.
Noted: Trends are emerging. Sleek hair, less-is-more lashes (no mascara/brown mascara), very naturally finished skin.
#8 TIMUR KIM
TIMUR KIM | HAIR BY: BUMBLE AND BUMBLE | SKINCARE: JURLIQUE
Spotted: Bumble and Bumble hair chalks in action (with shapes inspired by Kim's collection). With incredible, sharp results.
Loved: Watching the full effect of Tom Ford shade and illuminate. I've seen it countless times in make-up artists' kits over the years but it looked particularly incredible over the skin once it'd been prepped using an entire base of Jurlique skincare.
Noted: Another incredibly sleek hair look.
#9 EMILIO DE LA MORENA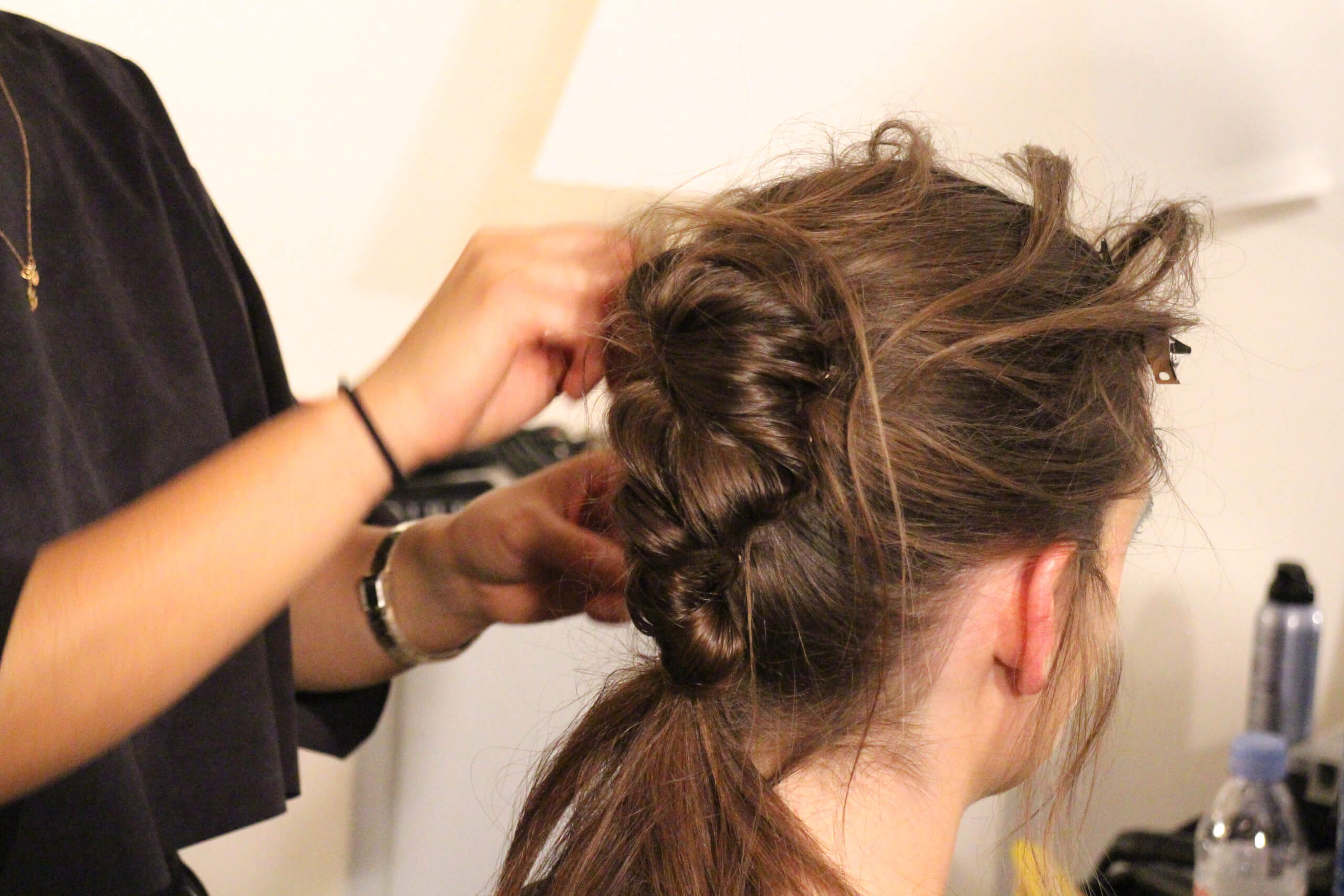 EMILIO DE LA MORENA | HAIR BY: BUMBLE AND BUMBLE | MAKE UP: MAC
Spotted: Yet more blue eyeshadow. Undone/done hair with lots of BB. Dryspun Finish. 80's Ibiza vibes through and through.
Loved: The intricate pony chignon, paired with windswept wisps of hair from the front.
Noted: Bumble & Bumble's Invisible Oil Primer can be used as a base for even the most "tousled" of looks.
ALL PHOTOS BY KATE ROONEY