When it comes to wellness in London, the capital's creativity knows no bounds. You want a matcha latte? We'll give you them by the bucket load. You want a fusion TRX x HIIT x pilates workout? We've got a class for that. Whether you're looking for new fitness classes in London, killer luxe sports wear or healthy pre-workout snacks, we've got you covered with our October Edit of health and fitness in London – see a related site here. Put down the digestives, here's where to get your sweat on this month in London:
Fitness Classes in London: The Sweaty Ones
For a Butt Like Beyoncé: Booty HIIT x Alex Fitness
The Lowdown: Alex Fitness is a new boutique gym in Fulham; the gym is home to advanced high quality training facilities, plus a MMA and boxing studio, pro-cycling studio and a flex and core studio. The foundation of Alex Fitness is the quest for excellence, helping every member find the right training path to suit their goals and lifestyle.
The Class: One of our favourite new fitness classes in London, Booty HIIT is a class suitable for those who are looking to gain a perfectly toned posterior (aka a Beyoncé bum). Through low intensity movements, the class aims to strengthen, tighten and sculpt your butt, quads, hamstring and calves in no time.
Price: Single entry gym facilities + any class drop-in – £20
Where: The Boulevard, London SW6 2UB
For the Wet T-Shirt Experience: Bhuti Burn x Bhuti 
The Lowdown: Bhuti is a new wellbeing escape set in the heart of leafy Richmond. The space is big on positivity and offers everyone the chance to relax, unwind and recharge. Bhuti promotes alternative treatments, offering more than 35 weekly expert-led yoga, pilates, meditation and fitness classes to all levels from beginners to advanced. 
The Class: Bhuti Burn is a HIIT-inspired workout, which burns the brown adipose fat more effectively than low-intensity exercise (up to 50% more efficiently). Apparently, it speeds up your metabolism which helps you burn more calories throughout the day. What's more, Bhuti Burn improves both your aerobic and anaerobic systems for endurance, helping future workouts. Beginners welcome – the body will only work as hard as the mind pushes it.
Price: Drop in – £16
Where: 50 Hill Rise, Richmond TW10 6UB
For a Military Operation: No 1 Boot Camp in the Park 
The Lowdown: No. 1 Boot Camp operate week-long military style training regimes in Norfolk, Marrakech and Ibiza. Their boot camp in the park is for those who strapped for time, and wanting to dip their feet into what to expect at their longer adventures. All of their day-long boot camps are led by a team of military physical training instructors, who ensure that the emphasis is as much on fun as it is on hard work.
The Class: One of the best fitness classes in London if you're looking for a serious workout. The full days sessions start at 10am and finish at 4pm. Over the course of the day, you'll undertake body weight exercises, cardio and partner work. The exercise camps in the park provide a great opportunity for people interested in boot camp exercises, losing weight or kickstarting their fitness routine, to enjoy a fun boot camp session packed full of various fitness exercises and bootcamp training.
Price: Check availability and price here
Where: Last Sunday of every month at Outer Circle, Regent's Park, London
For the Best of Both Worlds: 50:50 x Centric: 3Tribes
The Lowdown: Centric:3Tribes is a new gym in Crouch End, offering a combination of classes to push your body to new extremes for results in record time. Of course, all exercise is good exercise, but doing the same gym routine every day can mean that your body will not progress or grow stronger. They believe that the key to progression is to continually surprise your body – using different muscle groups in new ways is the key to unlocking that next level.
The Class: We love the challenging, innovative classes at Centric:3Tribes which mix different disciplines. 3Tribes is the only place in London that offers a 50:50 mix of spinning or HIIT and yoga, so within the hour, you raise your heart rate, burn calories and more importantly, sweat. After the cardio, hop off the bike to your yoga mat for vinyasa and deep long stretches. One of the greatest new fitness classes in London, we say.
Price: Drop in – £15 per class
Where: The Exchange, 71 Crouch End Hill, Crouch End, London, N8 8DF
For Serious Sweat: Hollywood Class x F45 
The Lowdown: The class that everyone's talking about: F45 combines the industry trends of group training and functional fitness for an explosive workout. Their new training, and often hardcore techniques, leaves competition and clients gasping for air; F45 is the most innovative, challenging and systemised team training workout in the world.
The Class: Now this is a serious sweat, and one of the toughest fitness classes in London! The signature class of F45 Training "Hollywood" is sure to put you through your paces at their first London studio in London Bridge. An hour-long super circuit offering a combination of strength and cardio exercises, made less painful with the help of live music from their resident DJ. Don't let the party atmosphere fool you though – these are 27 of the toughest exercises of the week, This class will leave you panting and on an endorphin high like no other. The post class vegan shakes by protein gurus Neat Nutrition definitely make it worth the sweat. Hopefully. 
Price: Check out their introductory offer – 7 days for £7
Where: 140 Borough High St, SE11LB SE1 1LB
Fitness Classes in London: The Stretch Ones
For Bending and Flexing: The Works x bePilates
The Lowdown: Inspired by the joy of movement, bePilates offers you a fun and challenging workout with attentive, high-quality instruction and an education about the body that can be applied in lasting ways. The team live by one mantra: 'you don't have to punish your body to get results'. Thank you very much.
The Class: The Works is the latest class at bePilates, which gets all the muscle groups working and gives a lovely, deep stretch. Work at a pace that is comfortable and challenging for you, while you enjoy the full breadth and depth of the pilates repertoire. You'll be working on all of top range studio equipment, with up to 6 clients in a class. Expect a bespoke workout that pushes you past limitations to provide lasting results.
Price: Single session – £32
Where: 78a Chiltern Street, Second Floor, London W1U 5AB
For Ballet Moves: Barreworks x Fusion WorkOut
The Lowdown: Barreworks is one of our favourite places for fitness classes in London; an exercise studio completely dedicated to barre and ballet-based workouts. Think exercises that involve static movements, isometric holds, strengthening and luxurious orthopaedic stretching. With origins in Lotte Berk and New York City Ballet Methods, their unique classes give you a low-impact but high intensity full body workout and fast results for a long, lean physique.
The Class: The Barreworks Fusion WorkOut is the perfect blend of barre work and deep stretching. A totally unique class set to high-energy music, it incorporates challenging flow sequences with isometric barre exercises, focusing on held-postures, core strength and flexibility. The class has been specifically designed to help improve muscle tone and develop flexibility, for the optimal balance between muscle strength and length. This 60-minute, complete body workout includes a nurturing relaxation session. And breathe. 
Price: Trial class £15
Where: Barreworks Studio, Vestry House. 21 Paradise Road, Richmond, TW9 1SA
The Lowdown: Looking for a deep, intense stretch in London? Ten is the the leading reformer pilates provider in London, and they also offer a broad range of other classes, including HIIT, TRX and Barre. They've just launched London's first reformer based stretch class and Ten physio approved yoga, and we're totally loving it.
The Class: Ten Stretch focuses on increasing your range of motion around many of the joints of the body. Expect steady and controlled positions and movements, carefully aligning the body to produce isolated stretches to specific muscles. Less intense than their standard reformer classes, you will explore how it feels to stretch, allowing the body to absorb the feeling of being freer, and improving your flexibility and ultimately your posture as a result. One of our favourite fitness classes in London when you're feeling a little sore and achey; this class will do the job.
Price: £30 per class
Where: Locations here 
For Muscles: barreSCULPT x barrecore 
The Lowdown: Barrecore isn't just a workout. It's a community of like-minded individuals working toward a common goal: to achieve a strong, lean physique and a better lifestyle through health and wellness, while enjoying the process. Barrecore offers some of the best ballet-inspired fitness classes in London, with a range of classes offering something for everyone.
The Class: Partnering signature barrecore moves with resistance bands to build intensity, barreSCULPT enables clients to better understand how to work muscles isometrically and eccentrically to feel a greater 'barre' burn. During this class, you will also find it easier to feel the movements correctly as the bands provide a restricted range of movement. barreSCULPT allows clients to focus on deeper, intrinsic muscles, building technique that can be applied to any of the other barrecore classes. Get involved.
Price: £28 per single 60-minute class
Where: Locations here
The Lowdown: Pilates Squared is a boutique studio in South West London, founded by Caron Bosler. Caron has been teaching Pilates for 25+ years, and has always strived to be on the cutting edge of what embodies pilates today. The result is a mixture of everything Caron has learned and absorbed from her training and studies. The team mix pilates, dance, yoga, TRX, minitramp and strength training to give you the long, lean and toned body.
The Class: One of favourite fusion fitness classes in London! Unlike other pilates hybrids, this one uses reformer machines – the pulley contraptions favoured by Gwyneth, Madonna, Sharon Stone and Jennifer Lopez. You do exercises in quick succession on the reformer machine, during a one-hour work out in order to build intensity, break a major sweat and burn calories. It combines principles of Tabata, reformer pilates, classical pilates, and HIIT. By combining cardio with dynamic pilates, you can expect all of the changes typical to pilates – better posture, muscle tone and definition, flexibility, range of motion.. Only faster.
Price: £42
Where: 27 Emperors Gate, London, SW7 4HS
Fitness Classes in London: Personal Training
The Lowdown: Opus in Ladbroke Grove is a personal training gym offering clients a fresh and inspiring approach to working out. The gym is ideal for beginner gym bunnies, people recovering from operations and injuries and those looking to achieve certain goals and targets.
What to Expect: OPUS trainers have exceptional knowledge of the human body and a particular interest in corrective exercise (there's a strong focus on developing postural control, muscle symmetry and core strength). Opus select different trainers for different guests; whether the goal is to improve the status of an injury, to enhance sports performance or to change body shape, OPUS has a trainer with the relevant skillset to help achieve the desired result. Opus is ideal for anyone intimidated by the gym floor, or in need of nutritional guidance, or are looking to shake up their rather dull gym routine.
Price: Information here
Where: Olympic House, 317-321 Latimer Road, London W10 6RA
For a Personal Training App: Bidvine
The Lowdown: Need to find a personal trainer? Bidvine can help. If you're not familiar with the service, here's what you need to know. Bidvine is an online marketplace where customers can receive up to 5 quotes from local service professionals ranging from personal trainers to yoga teachers and nutritionalists (there's loads of other services on the website, too). It's the place to come if you're looking for a trainer quickly.
What to Expect: To sign up and get involved is super quick and easy. You highlight what you're interested in, and what you budget is and area you wish to train. Bidvine will hook you up with the service professionals who will run down what they can offer. There's a superb variety of personal trainers who can tailor different gym routines, plans and eating plans to your goals…. Easy peasy.
Price: Prices range per trainer
Where: Visit the website here
Fitness Retreats Around the World
For De-Stressing: Restore, Rebalance & Rejuvenate x Ibiza Retreats
What: Leading the way in year-round wellness breaks, Ibiza Retreats offers a diverse range of luxurious, pioneering and truly transforming group and tailor-made retreats for everyone through the year, from those seeking to deepen their yoga or meditation practice. The retreats enable people to switch off from their daily lives and tune back into their true natures. This subsequently restores lost clarity regarding their deeper wishes, their mental, physical and emotional wellness needs and their true-life goals, enabling positive long-term change.
Why: Restore, Rebalance & Rejuvenate is ideal for those seeking something to address their general fitness as well as their wellness needs. The retreat focuses on inspired, healthy nutrition, with a mix of yoga, fitness classes, hiking and relaxing meditations. And for those who prefer hitting the beautiful beaches, they're no more than 10 minutes away!
Price: Restore, Rebalance & Rejuvenate at Ibiza Retreats costs from £995.00.
Where: Can Amonita, Ibiza
For a Fitness Getaway: OptFit+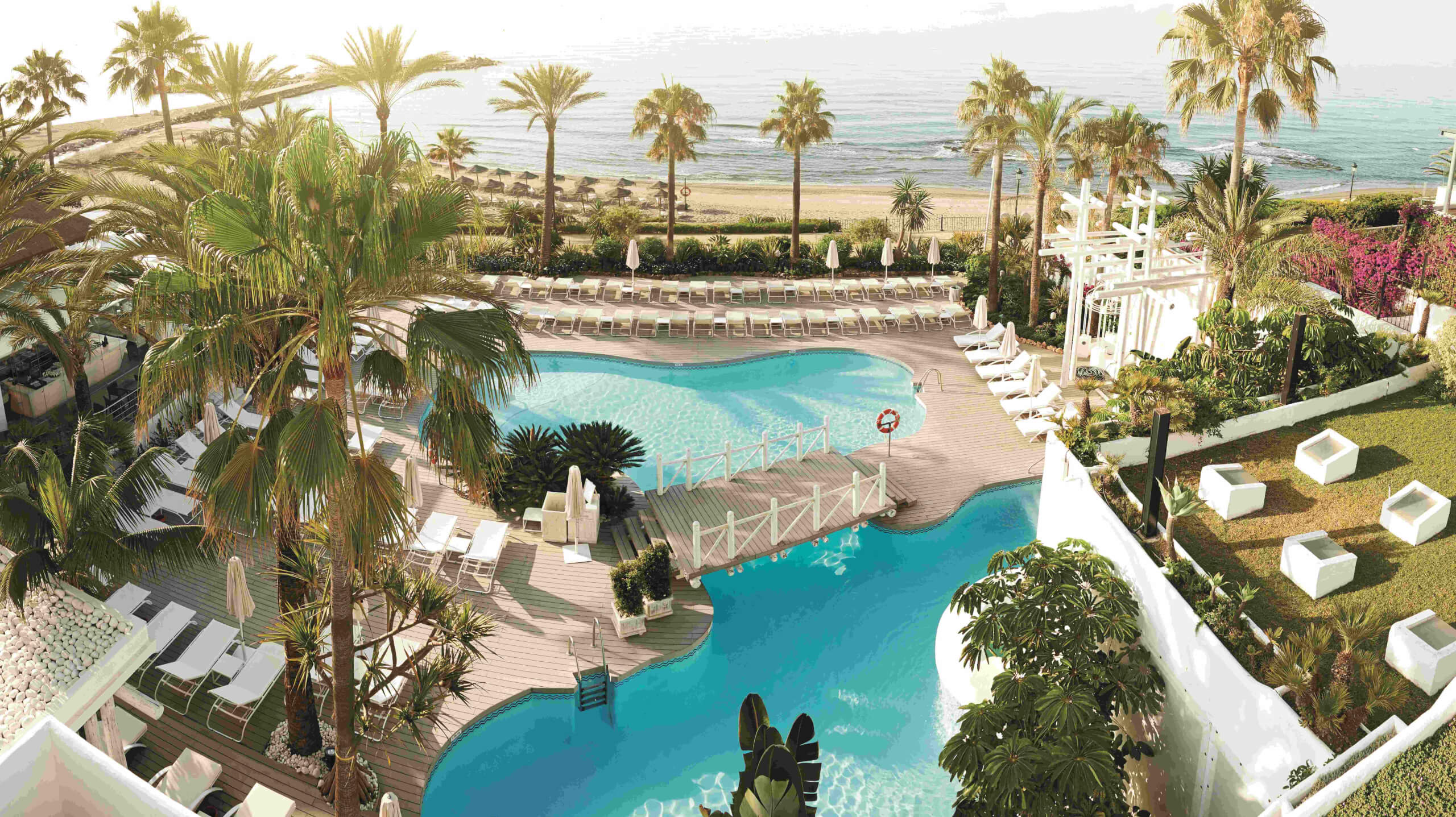 What: OptFit+ is a premium fitness experience held at the luxury Puente Romano Beach Resort & Spa in Marbella. It's absolutely not a low calorie bootcamp experience. Yes, you'll lose weight, shape up and feel amazing, but you'll be able to take new habits and self-confidence back into everyday life and integrate it.
Why: The retreats usually last for 6 days (with the option of extending), and include lunch or dinner each day in a variety of restaurants and cafes. There's various types of exercises classes and techniques on offer –  HIIT, yoga, boxing, suspension training, running, functional equipment training all feature. There's also down time to disengage from everyday life, and support and advice from experts to meet your fitness and nutrition goals
Price: Full prices start from £2,325 sharing and £2,775 single including lunch or dinner each day
Where: Bulevar Principe Alfonso von Hohenlohe, s/n, 29602 Marbella, Málaga, Spain
For a Digi Detox: The Abundant Goddess and Yoga Retreat
What: Goddess Acumen empowers women to feel like the Goddesses they are, unleashing every aspect of their femininity and aiding their journey to finding more purpose, freedom and balance through one-on-one sessions, group events, inspirational talks and writing. Goddess Acumen offers Emotional Freedom Therapy (EFT), Hypnosis and Neuro Linguistic Programming to aid women to release negative energy, learn new skills and through greater insight about themselves, to allow the most authentic them to emerge.
Why: The 6 goddess archetypes are Athena (career and your potential), Artemis (your wild side), Aphrodite (love and pampering), Hera (your power), Persephone (letting go) and Demeter (taking care of you). The premise of the retreats is that these archetypes are metaphors for how we live our lives but we may only be tapping into one source, like Athena with the focus on work. We may also be struggling to tap into another, like Demeter, as we experience a loss or a significant life change. Each day at the retreats is dedicated to a different goddess utilising the luscious surroundings of Barbados: surfing, Caribbean cookery and exploring the island with the goal being to wake up those goddesses that are dormant.
Price: Packages which include flights from the UK, most meals and accommodation start from £2999pp
Where: The Legend Garden Condos, Barbados
Fitness Classes in London: What to Wear
For Funky Leggings: Bellum Active 
The Brand: Bellum Active is a UK sports and activewear brand which launched in 2015. The founder, Jodi Kerschl, has taken inspiration for her designs from her love of nature and the great outdoors. The designs are a reflection of a woman's femininity and of their strength, and with this in mind, they've created a stylish, functional performing collection with modern technical features to make it a truly unique sports and activewear brand.
The Garment: Made using premium quick-drying fabrics and designed to feel like a second skin, these leggings keep you cool whilst working out. The leggings also benefit from power mesh panels which are strategically placed for maximum ventiliation. There's also a hidden, waterproof back pocket to keep your gym locker key safe.
Price: £55
Where: Buy here
For a Sports Bra: Anita Active 
The Brand: Anita sports bras are the perfect blend of design and function. Their long history gives them deep-rooted, comprehensive product knowledge allowing them to create a product that is more like a second skin than a bra.
The Garment: DynamiX star sports bra has an innovative Power-X back which creates complete stability and a "less bounce" effect. It's still easy to put on and take off however, due to its adjustable straps located at the front of the bra. The concealed moulded cups are lined with hydrophilic terry cloth, and are separated by a transparent mesh which serves to keep the skin cool while giving the impression of a lower cut neckline.
Price: £52
Where: Buy here
The Brand: GlideSoul create innovative waterwear including neoprene swimwear, wetsuits, surf leggings and crop tops. GlideSoul's designs focus on flattering silhouettes, bright colours and high quality materials with UV protection. Perfect for stand up paddleboarding, SUP yoga, surfing and swimming. GlideSoul is owned, designed and run by a team of passionate women who wanted to create a brand focused on waterwear pieces to bring fashion from the store to the shore.
The Garment: Active girls need dynamic swimwear that can withstand active use, that's why luxury neoprene is GlideSoul's fabric of choice. It shapes and supports the body to create a flawless silhouette that stays put and offers total body confidence.
Price: Pieces start from £19
Where: Buy online 
For High-Performance Leggings: Proskins Co
The Brand: Since 2005, the experts at Proskins have been driven to create innovative and high quality health and beauty garments. They are committed to sourcing and implementing only the most innovative fabric solutions. From micro-embedded natural minerals, HiG precision compression, stay fresh sweat wicking and body temperature regulation – only the very best technology is used inside Proskin products.
The Garment: Slim by Proskins provides an innovative new way to smooth and shape your body. Slim is constructed from patented micro-encapsulated yarn containing active slimming ingredients. These ingredients combined with high tech compression improves overall skin condition, leaving your skin soft, smooth and firm.
Price: £49.95
Where: Buy here 
For Running Wear: Beat Cancer Now x M&S
The Brand: Breast Cancer Now have joined forces with top brands including M&S, Asda, ghd, Avon, Debenhams and Damart who have unveiled exclusive products set to conquer this high street this autumn and raise vital funds for research. And these are just the start, with more brands set to add to our Breast Cancer Awareness Month collection.
The Garment: The specially designed running top Quick Dry fabric features an open structure that helps you to stay dry and comfortable. Our Breathable fabric features an open structure that allows air to move freely which keeps you feeling fresh.
Price: £16
Where: Buy here
Fitness Classes in London: Healthy Snacks
For Protein Snacks: Bounce Energy Bites 
What: The lovely people at Bounce are passionate about nutritious, balanced and convenient snacks, so have created Bounce Bites as a perfect partner for smarter snacking throughout the day.
The Lowdown: Made with high-quality whey protein, Bounce's Protein Energy Bites contain none of the added free sugars that fuel temporary energy boosts. Instead, the great tasting, chewy mix of protein contains natural ingredients that help to keep you going when your energy levels start to drop. Available in three flavours; Coconut Cranberry, Sweet and Salty Almond, and Cacoa Orange.
Stockists: Holland and Barrett
For a Crisp Alternative: Snackettes 
What: Linwoods has introduced its new creation, Snackettes – a slow cooked, natural and nutrition-packed alternative to unhealthy nibbles.
The Lowdown: The dynamic little triangle-shaped treats are 100% organic and packed full of natural goodness. Available in three appetising flavours; Banana and Coconut, Spicy Tomato and Superseeds. With no added salt or sugar, Snackettes are 100% natural and organic – a great source of Fibre, Protein and Omega 3.
Stockists: Online, Ocado and select health food stores
For a Dairy-Free Milk: Plenish M*lk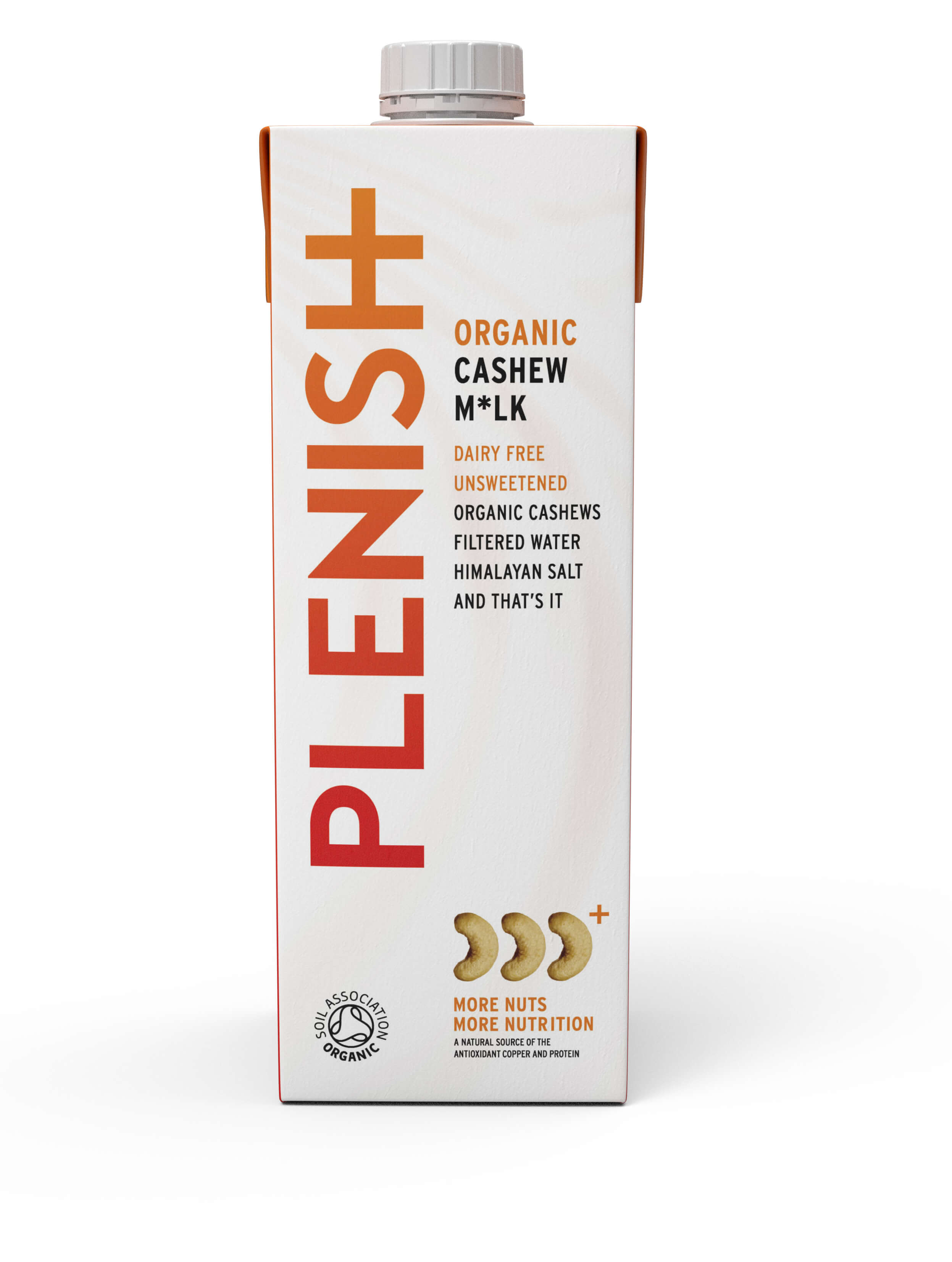 What: Plenish M*lks are a natural source of plant protein, which can help maintain healthy muscles and bones, and contain heart-healthy monosaturated fats. Proud to provide great-tasting, power-packed drinks to fuel full-on lifestyles, Plenish has created a nut-rich, nutrient-dense, organic product that is bursting with plant powered goodness and a every day dairy alternative.
The Lowdown: The long-life Organic Cashew M*lk, contains a wholesome 6% cashew content sourced responsibly from Vietnam and West Africa, this m*lk has a delicious, refreshing taste and a smooth texture. Containing three simple ingredients: cashews, filtered water and a pinch of Himalayan salt – that's it. The M*lks can directly replace the traditional variety, providing a creamy finish to a vegan latte, a protein boost to the morning smoothie or can be used as a store cupboard ingredient for preparing a huge variety of dishes.
Stockists: Waitrose
For a Do-It-Yourself Snack: In The Nood 
What: In the Nood is a 'roll your own' make-and-go energy ball that can also be jazzed up by adding additional ingredients. The brains behind In the Nood are Alex and Sam Lai, a husband and wife team from Gloucestershire, who created their 'roll your own energy ball' to stop those mid-week, mid-afternoon cravings and add a healthy dose of the good stuff, instead of the usual sweet treats.
The Lowdown: In the Nood come in three flavours: Orange and Cacao, Crunchy Cacao Chip, and Hired Muscle (which contains pea protein). The packs have no added sugar, are suitable for vegans, and are gluten free – making them a great addition to a healthy eating regime.
Stockists: Online here 
For a Posh Milkshake: Nutriseed 
What: Nutriseed is website, selling high quality healthy foods, that won't break the bank. The Nutriseed philosophy is simple; every mouthful of food should be both health-giving and tasty. They only use natural, wholesome ingredients, without any nasties and GMO produce.
The Lowdown: Nutriseed's Total Superfoods contains: Cacao Powder, Acai Berries, Goji Berries, Hulled Hemp Seeds, Spirulina, Maca Root, Chia Seeds, Ground Flaxseed, Camu Camu, green tea leaf and Baobab Powder. It's 100% vegan friendly, and high in vitamin C, fibre, vitamins and minerals. Whizz in a blender with coconut milk and a few berries. Divine.
Stockists: Buy here
For Healthy Corn: Willy Chase's Fit Popcorn
What: After 8 years away, William Chase has returned to the snacking market. He is delighted to be back in the food market, this time, not "making people fat, but making people fit". Of Tyrrells Crisps and Chase Distillery fame, William is a highly regarded entrepreneur. Along with his 'magic touch', William is passionate about making sure his customers get his products how he wants them to have it. He genuinely cares. That's why he does everything on his family farm, preferring to keep an eye on the quality himself.
The Lowdown: Lovingly crafted on his farm in Herefordshire, 'Willy Chase's Fit Popcorn' is a brand new range of air-popped popcorn, introducing a snap, crackle and pop of never-before-tried flavour combinations. Unlike fried popcorn that relies on unhealthy amounts of oil to do the popping, their corn kernels are air-popped instead: relying on heat alone, whilst retaining the positive properties of the small amount of unheated English rapeseed oil used. Add to this their home-cooked seasonings – and the result is an altogether lighter, crunchier, yummier and fitter popcorn.
Stockists: Buy here