We know Christmas is all about presents for your family and friends, but won't somebody think of the dogs! Anyone who has a pooch knows that our four-legged friends are basically seen as family, so obviously it's vital to get them a gift, surely?
Whether you're looking for a blow-out present or fancy giving your pooch a festive surprise – we've got you covered.
Dog-Friendly Gift Guide: Beds
The Lowdown: Don't just take our word for it… Rated 4.7 stars on Amazon and awarded Amazon's Choice for orthopaedic dog beds, this cosy dog sofa is a fan favourite. With a  memory foam base and a stylish sofa arm perfect for resting a tired snoot, it's not only good for your dog, but will look great in any living room. With a removable and washable cover and a separate water-resistant liner, the bed is easy to clean if a muddy paws situation or an accident should occur.
Perfect For: Pampered pooches.
Where: Buy online, from £53.99
The Lowdown: Comfort for four-legged friends comes first, but as expert dog people designing for other dog lovers, Charley Chau also understands the practicalities of living with pets. The Snugg Bed are suitable for all dogs that love to snuggle under blankets, particularly Terriers, Hounds and Sighthounds. Deep-filled luxury mattress makes the bed suitable for use directly on the floor and it's constructed with internal wall panels to stop the fibre filling from clumping so that the mattress stays soft and supportive over time.
Perfect For: Burrowing hounds.
Where: Buy online, from £100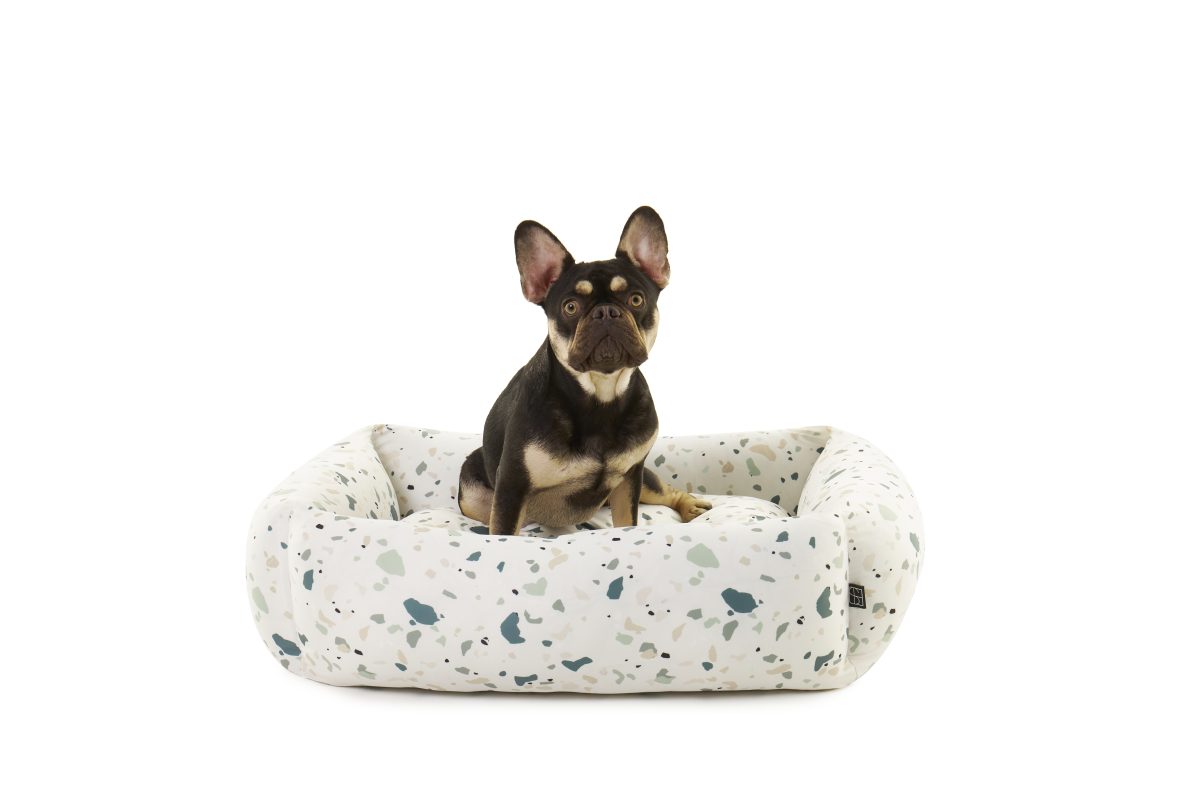 The Lowdown: Settle re-imagines the dog bed through sustainability and style. Settle use the most sustainable process possible in fabric printing – digital sublimation, and the covers are made from 78% recycled material, including one of the world's worst polluters, the plastic bottle. Eco-friendly and beautiful? Count us in.
Perfect For: Eco-Concious pet owners.
Where: Buy online, from £124
Dog-Friendly Gift Guide: Treats and Food
The Lowdown: We get it: dogs need to indulge in delicious food over Christmas too. Tails' Christmas Curiosity Box is the ultimate festive celebration. Filled to the brim with treats, including Cold-Pressed Duck Rewards, Superfood Salmon bites, a special eco-friendly teddy or monkey toy, a Christmas Treats Cracker with gifts inside, a LickiMat, two trays of Tails' brand-new Premium Wet Food, and a card featuring their special Christmas menu.
Perfect For: Good dogs who deserve a treat.
Where: Buy online, £30
The Lowdown: Edgard & Cooper has the perfect eco-conscious Christmas doggy gift box, ideal for pet parents looking to make sustainable purchases and to show their pets they really care. The reusable storage tin is packed full of a seasonal selection of dinners and treats, a bow-wow bow tie so your dog sparkles in family photos, a hidden recipe, so your dog can enjoy tasty snowballs this Christmas, and a thank you note. With this gift, you're contributing to helping animals everywhere (1% of Edgard & Cooper's annual sales are always donated to the Edgard & Cooper Foundation).
Perfect For: Healthy pups.
Where: Buy online, £19.67
The Lowdown: Lily's Kitchen limited-edition Christmas range features the much-loved advent calendars and complete Christmas dinners, as well as a new gift that's perfect for dogs: The Cracking Festive Treats tin that comes in a reusable tin for woofers to enjoy all year round. As with all Lily's Kitchen food, the treats are made with natural ingredients and without any nasties, so that pet parents know their furry friends are getting the best treats on Christmas Day (and for the other 11 months).
Perfect For: Pets on the nice list.
Where: Buy online, from £2.75
Dog-Friendly Gift Guide: Toys
The Lowdown: Wood Green have created The Festive Dog Box – personalised to suit your dogs toy preferences (Bouncy? Hard-wearing? Soft?), how old they are, and breed. As well as enjoying tasty treats, that lucky dog in your life will benefit from the other items Wood Green have thrown in, such as the Kong toys. These fantastic enrichment products provide plenty of mental and physical stimulation – helping them stay happy and healthy. 100% of profits made from Wood Green products go towards funding the charity's vital work – giving homeless pets a second chance at happiness.
Perfect For: A puppy starter pack.
Where: Buy online, £40
The Lowdown: Beco's new hard-wearing, recycled toys are the perfect present for pups to find under the tree. Beco's new Australasian inspired range of Rough & Tough toys can withstand even the most hearty chews and wrestles during playtime. The toys are made from a mix of recycled materials, with the range including an average of 6 recycled plastic bottles in each toy, helping to keep our oceans clean and free of rubbish.
Perfect For: A gift that gives back.
Where: Buy online, £8.99
Dog-Friendly Gift Guide: Harnesses and Leads
The Lowdown: You know what's better than a harness? A tweed harness. Hugo & Hudson's harnesses feature double-stitched seams, stainless steel rivets, and are designed to help prevent your dog from pulling, whilst reducing pressure on their neck. And if you want to go all out, you can purchase a matching Aqua Checked Tweed Dog Collar, bow tie, bandana and lead. Tres chic.
Perfect For: Trendy winter walks.
Where: Buy online, £26.50
The Lowdown: For a treasured gift, British lifestyle brand Kintails offers simple and functional products for dogs, made with quality materials and skilled craftsmanship to last a lifetime. The leather dog collar (there's loads of different colour to choose from), is distinctive with its O-ring detailing representing the never-ending bond between owner and dog. Plus it's made to withstand the rough and tumble of everyday life.
Perfect For: Looking good in the Xmas photos
Where: Buy online, £40
The Lowdown: If you want your dog to be the most stylish mutt in town, look no further than Cocopup's gift set – available in a trio of eye-catching prints. The bundle includes: a matching collar, lead, a snazzy bone-shaped soft toy and a cosy travel blanket (pawfect for car rides and pub lunches).
Perfect For: Cuteness overload.
Where: Buy online, £54
Dog-Friendly Gift Guide: Grooming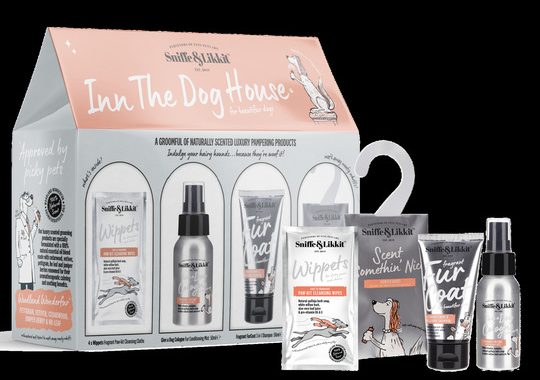 The Lowdown: The Inn The Dog House is the ultimate grooming set for pampered dogs. FeaturingGive A Dog Cologne Fur Coat Conditioning Mist, Fragrant Fur Coat 3-in-1 Shampoo, 4 x Wippets fragrant and refreshing paw-kit cleansing wipes, and Scent Somethin' Nice hanging scented sachet to help waft away woofy whiffs.
Perfect For: Well-groomed pooches.
Where: Buy online, £17
The Lowdown: Anicura creates high-quality skincare products that help pets prone to itchy, sensitive skin, dry and flaky skin or other skin conditions. The lineup includes a shampoo, conditioner, spray and gel ointment which leave pet's coats smelling fresh, and removes any build-up which can cause irritation on the skin… Because our pet's skin needs the same TLC as we do. An ultra-nourishing and truly thoughtful gift to give to any pet owners this Christmas.
Perfect For: Pooches with sensitive skin.
Where: Buy online, from £9.99